The rank of Honorary Fellow is conferred upon a person who is not a member of the Society but who (1) has achieved eminence in the field of technical communication or (2) has performed a significant service for the Society.
2020 – None awarded
2019 – Peter Morville
2018 – Dr. Annetta L. Cheek
2017 – None awarded
2016 – None awarded
2015 – Dr. John Carroll
2015 – Dr. Temple Grandin
2014 – Alan Alda
2013 – David Pogue
2011 – Tim O'Reilly
2010 – Erin McKean
2009 – Jimmy Wales
2007 – Simon Singh
2006 – Vinton G. Cerf
2006 – Robert E. Kahn
2005 – Felice Frankel
2004 – Maxine Singer
2003 – Natalie Angier
2002 – David Macaulay
2001 – David T. Suzuki
2000 – Stephen Jay Gould
1999 – Timothy J. Berners-Lee
1999 – Charles F. Goldfarb
1998 – James Burke
1997 – Edward R. Tufte
1996 – Donald A. Norman
1995 – Patricia Wright
1993 – Carolyn Leach Huntoon
1992 – Alvin M. Weinberg
1991 – Eugene Garfield
1990 – Walter W. Horn
1989 – Walter E. Massey
1988 – Martin Meyerson
1987 – Norman R. Augustine
1986 – Robert A. Frosch
1985 – Norman Hackerman
1983 – Murray L. Weidenbaum
1982 – Curtis T. Youngblood
1981 – Herbert A. Simon
1979 – Irving S. Bengelsdorf
1978 – John J. McKetta
1977 – Edward T. Hall
1976 – Philip H. Abelson
1975 – S. I. Hayakawa
1974 – Frank E. Winship
1974 – R. Buckminster Fuller
Alan Alda – 2014 Honorary Fellow
Award Citation: For your long-standing and continuing effort to emphasize and promote the importance of good scientific communication and teach scientists to communicate clearly and simply, with both The Flame Challenge and the Stony Brook University Center for Communicating Science.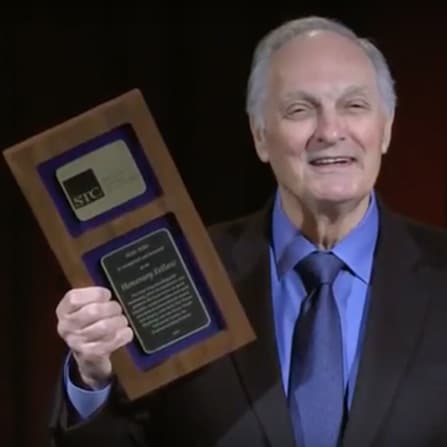 Alan Alda, a seven-time Emmy Award–winner, played Hawkeye Pierce on the classic television series M*A*S*H and appeared in continuing roles on ER, The West Wing, 30 Rock, and The Blacklist. He has 33 Emmy nominations as actor, writer, and director, and is a Television Hall of Fame inductee. On film, he has starred in, as well as written and directed, many features, and was nominated for an Academy Award for his role in The Aviator. He has appeared often on the Broadway stage, where he received three Tony nominations.
His long-time interest in science and in promoting a greater public understanding of science led to his hosting the awardwinning PBS series Scientific American Frontiers for eleven years, on which he interviewed hundreds of scientists from around the world. In 2010, he hosted a science series on PBS called The Human Spark. On Broadway, he appeared as the physicist Richard Feynman in the play QED. In 2002, he had the honor of giving the commencement talk at Caltech, where Feynman himself had delivered the commencement address 28 years earlier.
He is a visiting professor at Stony Brook University's Alan Alda Center for Communicating Science, where he is helping develop innovative programs that enable scientists to communicate more effectively with the public. Together with Stony Brook University, they host the annual Flame Challenge, which challenges scientists from around the world to communicate complex science in ways that would interest and enlighten an 11-year-old.
See his video acceptance of the award below.