The 2015–2016 Salary Database is now available for download. All 2017 members receive a free copy via email of the Salary Database PDF, which includes charts, maps, and an evaluation by an economist, as well as the Excel Workbook. Nonmembers may purchase the publication for $149. Visit https://www.stc.org/salary-database/ for full details.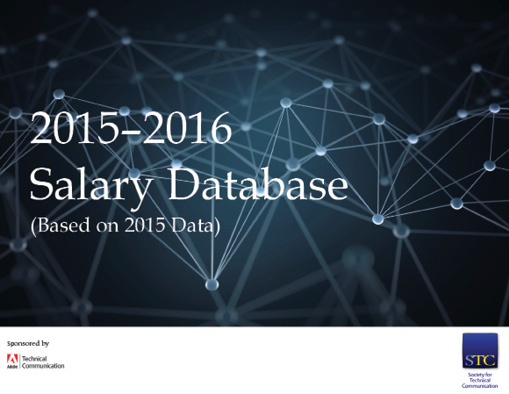 The STC Salary Database is a tool that can be used to conduct more powerful job searches, make a strong case for a raise, or prepare department payroll budgets. The data in the Salary Database are drawn from the United States Bureau of Labor Statistics' (BLS) Occupational Employment Statistics (OES), the main resource of human resource departments across the United States.
Use the STC Salary Database if you are:
An employee looking for solid facts to back up a raise request
A manager seeking salary figures to assist with setting budgets or bidding for projects
A freelancer investigating average hourly fees for a different industry or city
A job-seeker needing insight on what industries and what geographic areas hold the most new jobs
A global technical communicator looking for rates to charge or pay for a project or consultant in the United States
Any technical communicator in need of either annual or hourly wage information
This year's data offers new insights into how the emerging recovery has and will continue to influence the demand for technical writers. The most dramatic story is the growing importance of export markets to the U.S. economy, but the Database also shows a shift from traditionally large markets for technical writers both regionally and by industry. The Database also highlights the largest and fastest-growing industries and geographic areas in terms of both wage growth and job growth.
2017 members now receive the Excel Workbook for free, which can be used to format, analyze, and manipulate the data easily. Visit https://www.stc.org/salary-database/ for more information on the Salary Database.