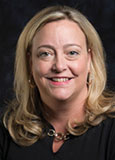 I was really intrigued by Ben Woelk's interest and research in introversion and his 2016 Summit session on introversion and leadership. This is a new topic for Intercom, and I was thrilled when Ben agreed to be the February 2017 guest editor issue of an issue on personality, temperament, and technical communication. Ben has assembled a wonderful collection of articles on the topic that address a wide range of types and how personalities and temperaments inform professional technical communication work.
Ben Woelk is a Senior Member and former STC Director who has served STC in a number of capacities. In his professional life, Ben is Information Security Office Program Manager at the Rochester Institute of Technology where he has designed a leading cybersecurity awareness program. He also teaches courses in technical communication and in cybersecurity. A frequent presenter on cybersecurity, technical communication, and leadership subjects at conferences, Ben is developing an introverted leadership mentoring, coaching, and speaking practice and will be offering a workshop at the 2017 Summit conference, Revive and Thrive: Strategies for Introverts in the Workplace. He welcomes conversation around leadership and introversion.
Thanks to Ben and all the authors of this fascinating issue of Intercom. Share your thoughts on the articles in this issue online at www.stc.org/intercom.