By Viqui Dill | STC Senior Member
Musical technical communicators, this one is for you!
The Washington, DC–Baltimore (WDCB) Chapter invites you to a special event at the 2017 Summit: The Rough Drafts are back! As the host chapter for this year's STC technical communication conference, the WDCB Chapter wants you to join us at the party of the year, featuring STC's own rock band, the Rough Drafts.
The party will be on Tuesday, May 9th at 7:00 PM, immediately following the Honors Reception in the Cherry Blossom Ballroom at the Gaylord Hotel. The event is open to friends and family members who may be nearby while you are attending the Summit, so feel free to bring your travel buddies and friends.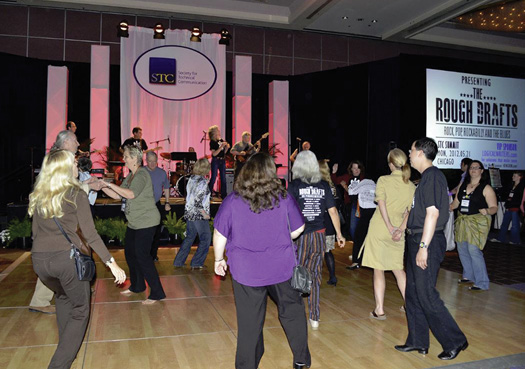 The Rough Drafts are a rock band made up of technical communicators and friends who perform your favorite dance tunes, old and new. The band has performed at Summits throughout the years and has featured performers from all across the world.
This year's band will feature STC members Rich Maggiani on drums, Stephen Adler on guitar, Richard Hamilton on guitar, and Viqui Dill on bass. They will be joined by Keith Dill, Viqui's award-winning husband, on guitar and fiddle.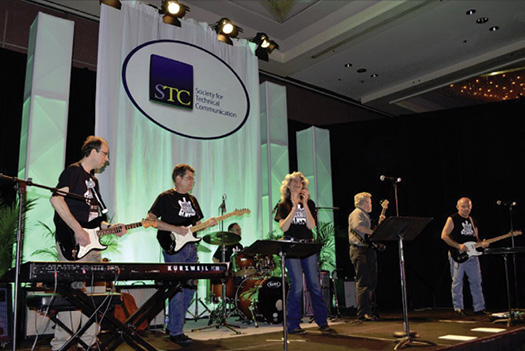 The Rough Drafts performing at the 2012 Summit in Chicago. (Photographer: Rachel Houghton)[/caption]Over the years, the Rough Drafts have featured the talents of many other talented technical communicators, including Tommy Barker, Robert Hershenow, Bruce Poropat, John Hedtke, Carolyn Klinger, and Tristan Bishop. Here's a list of the years and venues that have featured the band at STC Summits:
Nashville 2002
Dallas 2003
Baltimore 2004
Seattle 2005
Las Vegas 2006
Minneapolis 2007
Philadelphia 2008
Chicago 2012
Atlanta 2013
Washington, DC 2017
As in past years, the band invites you to join them on stage to sing or play. Musicians who would like to join the Rough Drafts on stage are urged to contact Viqui Dill before the Summit. Don't be shy. We welcome you!