By Jamie Gillenwater | STC Senior Member
Plain language ensures your audience can find, understand, and use written materials to meet their needs. To assess whether your document uses plain language, ask yourself these questions:
Does the document focus on the audience, rather than myself or my organization?
Is the main message first?
Is the information clear and concise?
Am I using active voice to clearly define the doer and the action?
Let's look at how to review your document for each of these concerns during your revision.
Audience
To focus on your audience, you must first understand your audience. Consider who they are, along with where and when they will be using your information. Ideally, the writer defined your audience before creating the document; revisit this reader profile before editing the document.
Once you know who your readers are, focus on their needs, not your own. Instead of asking, "What do I want to say?", ask "What does my audience need to know?" Review the organization and context of your document to focus on what your readers need.
To communicate clearly with your audience, consider using pronouns throughout the document. When it is clear, you may use "we" to represent your company and "you" to refer directly to your reader. While editing your document, look for consistent use of these pronouns.
Emphasis
One of the easiest ways to serve your audience is to put your main message first. Help them know whether the information applies to them. Readers today sort through more written and visual information than ever before. Make sure you identify your purpose and the document contents early.
Today's readers are distracted. Use visual design to help your reader quickly navigate through the document and find the important information. Their eyes typically travel down the left side of their screen or page. Use left-aligned headings to define each main topic. Use charts and tables to emphasize important information and make it easier to understand.
Clear and Concise
It is easy to get too close to our documents. We often assume that the information is clear because we understand the topic. As time allows, take a day or two to step back from your document. Approach it with fresh eyes. Read the document out loud to make sure the text makes sense. Then you can apply changes where they make sense.
Conciseness is increasingly important. A distracted audience needs to be able to find details quickly and on the go. Use as few words as possible to explain your topic. As Albert Einstein said, "If you can't explain it simply, you don't understand it well enough." As you edit your document, consider whether the document contains all that your reader needs but nothing more.
One way to decrease wordiness is to remove or replace unnecessary phrasing. For example, replace "afford an opportunity" with "allow." Other wordy phrases include "in order to" and "close proximity." Replace these with "to" and "near." Instead of nominalizations, such as "give consideration to," use active verbs, like "consider."
Active Voice
Help your reader quickly identify who is responsible for each action. Review your document to ensure active voice is consistently used, even if it is an understood you. Some writers and subject matter experts believe passive voice is more formal, so it seems to be the better choice for business or technical writing. However, it can cause confusion as to who must complete each step of a process, which muddles technical agreements and company policies.
Additional Resources
Plain Language is a legal requirement for many state and federal agencies, along with certain industries. Federal and state governments have created many resources, such as the USDA Plain Language Reviewer's Checklist.
Audience

Who are the readers?
What do the readers need to know?

Organization

Is the information presented logically?
Is the purpose of this document clear for the reader?
Does the most important information come first?
Can the reader quickly and easily find what they are looking for?
Are heading, subheadings, lists and tables used?

Words

Does the document use the terms "I," "we," and "you"?
Are any unfamiliar terms and acronyms defined?
Does the document avoid using jargon?

Sentences

Is the document written in active NOT passive voice?
Does each sentence only have one idea?
Does the document avoid using double negatives?

Paragraphs

Do paragraphs begin and end with transitions?
Is the overall flow of the document cohesive?
Table 1. USDA Plain Language Reviewer's Checklist
Microsoft Word Options
Use Microsoft Word's spelling and grammar check to automate much of your plain language editing. Select File > Options > Proofing > Settings (beside Spelling & Grammar).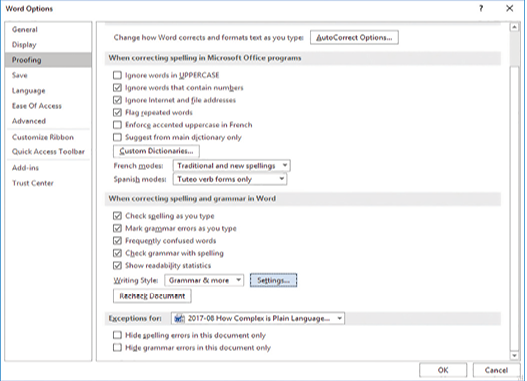 Within these settings, select plain language issues to search for and highlight with the Spelling & Grammar check. Most of these issues fall under the Clarity and Conciseness category, which includes passive voice, wordiness, jargon, and nominalizations.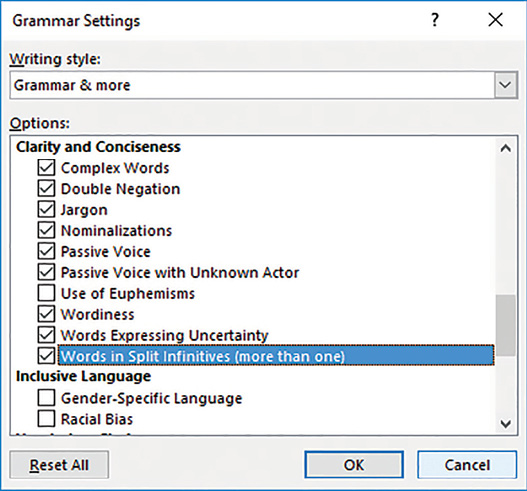 Creating Reader Profiles
If you don't have a reader profile for the document you are editing, refer to Technical Communication Today by Richard Johnson-Sheehan. He defines the four types of readers; explains how to assess their needs, values, and attitudes; and offers four types of context to consider for delivery.
More Information
For more information about plain language, refer to the following sites:
With more than a decade of experience in the communications industry, JAMIE GILLENWATER, is a skilled technical communicator. She is an independent consultant with clients in oil and gas, pharmaceutical, manufacturing, and real estate industries. She leads a variety of courses, including business writing for federal employees, training for the Certified Professional Technical Communicator certification exam, and Adobe InDesign courses. Jamie is a member of STC Carolina, the Consultant & Independent Contractor SIG, and the STC Nominating Committee.