By Edward Malone | STC Senior Member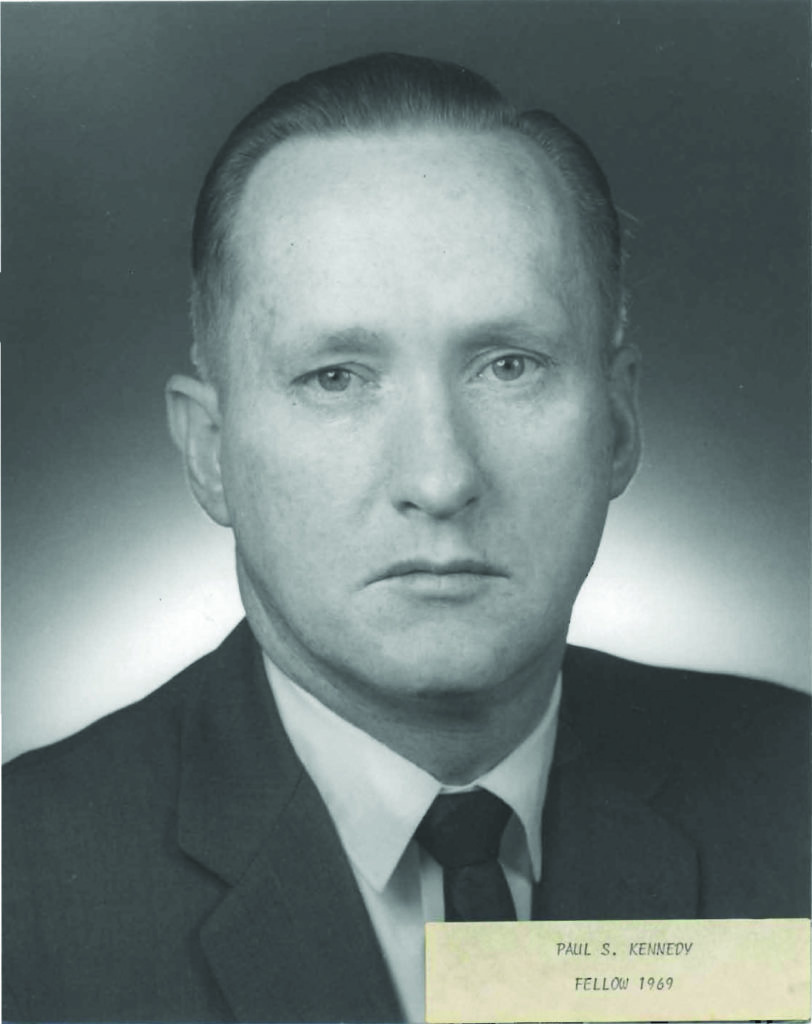 STC Fellow Paul S. Kennedy (Figure 1) died on September 6 at age 95. He was the last surviving member of the group that started the Society for Technical Communication in 1953.
Paul was a technical editor at Battelle Memorial Institute in Columbus, Ohio, when he joined the group of technical writers, editors, and librarians who were starting a national organization. Although he did not attend the April 1953 workshop in Washington DC, where the organizing effort began, he did attend the next meeting of the group in November 1953. At that meeting, he and other attendees paid a dollar in dues and signed a membership roster for the organization that would eventually become STC. Kennedy's name was first on the roster (Figure 2).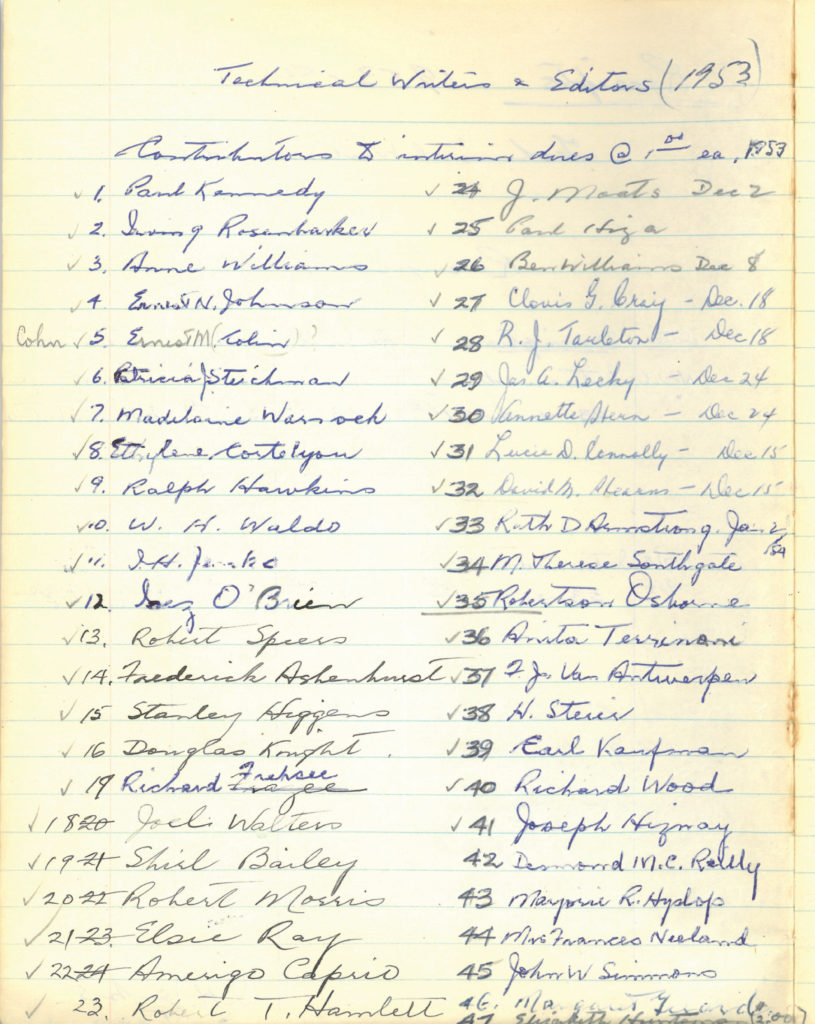 Among the papers that Paul donated to the archives at STC headquarters was a series of trip reports detailing his attendance at meetings in Washington DC, Cleveland, and New York City. These reports chronicle:
– The formation of the Association of Technical Writers and Editors (TWE) from 1953 to 1955
– The merger (Figure 3) of TWE and the Boston-based Society of Technical Writers (STW) to form the Society of Technical Writers and Editors (STWE) in 1957
– The merger of STWE and the Los Angeles-based Technical Publishing Society (TPS) to form the Society of Technical Writers and Publishers (STWP) in 1960
STWP would change its name to STC in 1971.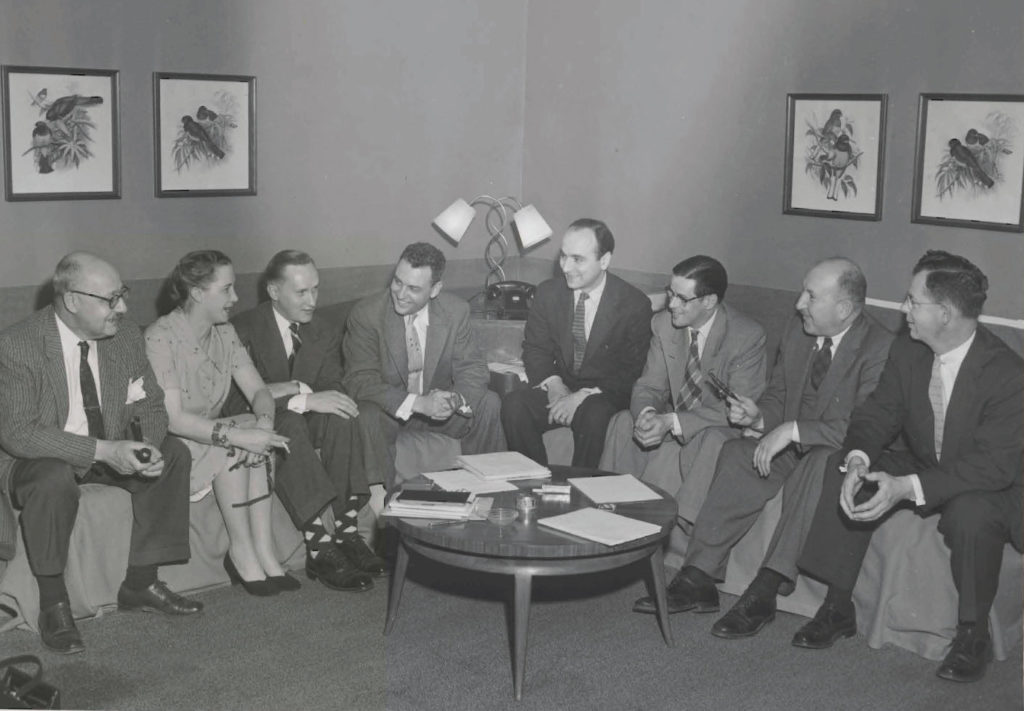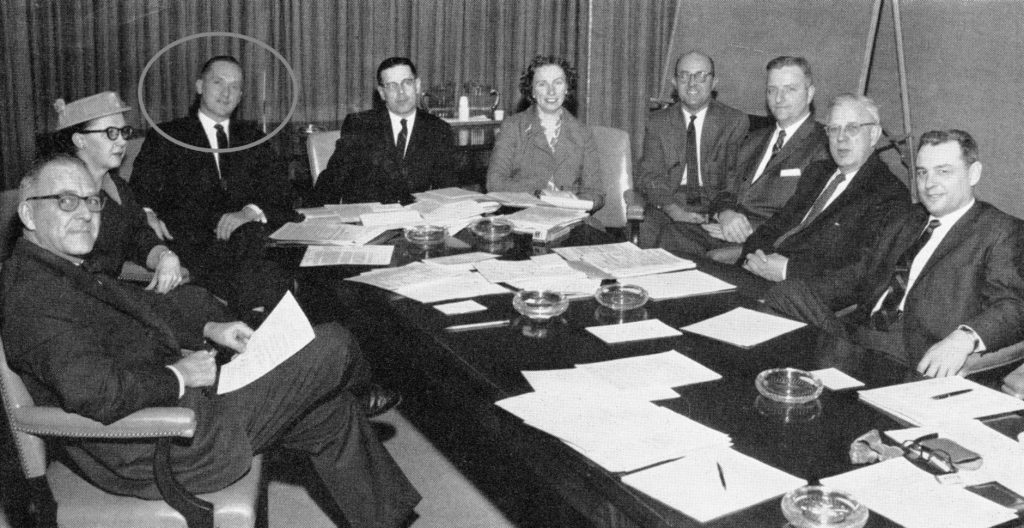 Paul and I exchanged about two dozen emails over a ten-month period in 2008. In that correspondence, he discussed his life and career and his work with STC.
A native of Michigan, Paul graduated from Mt. Pleasant High School in 1940 and enrolled at the University of Michigan as a chemical engineering major. His education was interrupted by the draft in January 1943. After completing chemical warfare training in Alabama, he shipped out to Africa, joining the 21st Chemical Decontamination Company in Algeria. He traveled through Tunisia and Sicily, stopping finally in Palermo, where he worked for some time as a clerical assistant at the Seventh Army's headquarters. Near the end of the war, he moved with the Seventh Army through war-torn France and Germany.
Paul returned home in late 1945 and soon resumed his studies at the University of Michigan. "A generous Sam enacted the G.I. Bill that let me return to my alma mater-to-be," he wrote. But he decided to change his major from chemical to metallurgical engineering. "Organic chemistry and I just could not get along." At about the same time, he married Norma Wood, and a year later, they had a son, Jonathan. Their marriage would last for 67 years, until her death in 2013.
With a degree in hand, Paul worked briefly for the Climax Engineering Company in Iowa and the Cadillac Division of General Motors in Detroit. In 1951, he began his nearly 40-year employment at Battelle, first as a metallurgist and then as an editor of "droves of reports from over forty research divisions embracing practically all of the physical sciences; seemingly countless numbers of pages across his desk annually and the consequent strain on his mental agility."
This challenging work drove him to seek fellowship with other technical writers and editors, and in 1953 he joined Elsie Ray, Henry Steier, and others in forming TWE. Over the next several years, Paul would help to form TWE's Central Ohio Chapter, represent TWE in its merger negotiations with STW, and serve as national Treasurer of both TWE and STWE.  He was a member of the STWE Board of Directors when STWP was formed (Figure 4). His home in Columbus served as the national office of STWE/STWP from 1958 to 1966. His wife, Norma, was the society's first office manager. Elected a fellow of STWP in 1969, Paul remained active in STWP/STC for many years.
On the eve of STWE's merger with TPS in 1959, STWE president Irving Jenks summed up Paul's contributions as follows: "I well remember the very first meeting of the small group who founded the Association of Technical Writers and Editors. Paul was there, and right from its inception, his contributions were invaluable. As year succeeded year, he was always among the small group of people who served very long hours and expended mightily of their efforts. He helped to solve almost every major problem that confronted the technical writing and editing movement in those days."
Figure 1. Paul Kennedy when he attained the rank of Fellow.
Figure 2. The original 1953 member list, signed by Paul Kennedy (#1).
Figure 3. The 1956 TWE and STW merger meeting.
Figure 4. The STWE Board of Directors, 1958-59.