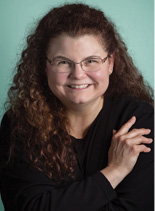 The definition of collaboration is "the action of working with someone to produce or create something" (dictionary.com). Seems simple enough: Pull together a few people, get to work, et voila! Something awesome results, right? Sadly, in my experience, it's not quite that simple.
The definition of plain-old collaboration doesn't work for me, as I am always striving for that je ne sais quoi…that magical collaboration. The kind of collaboration where one plus one seems to equal three or five or even 25. To me, that is true collaboration.
I suspect we've likely all experienced the magic of true collaboration at least once. It can happen at many levels, from brainstorming to strategizing to implementation. I'm lucky enough to see and experience it almost daily at the level of ideas in my mastermind and coaching groups, and it is truly magical.
Here's what it looks like: You pull together the right people, dive into the right work (high-value, high-impact, high-priority, strategic…), et voila! Something truly awesome does result, and the collaborators all feel something magical during the process. I get goosebumps just thinking about it! That, to me, is the awesomesauce of collaboration, and frankly, the reason that I do what I do!
Paying homage to the many moving parts and complexities of achieving true collaboration, this issue of Intercom is packed with magical goodness. The authors have taken on the collaboration theme with gusto, and I believe you will find much to help you implement a true collaboration project of your own!
First up, Jennifer Schlotfeldt and Nic Sauriol give us a real-world case study of meta collaboration in "Collaborating to Build Collaboration: The Role of Content Experience in Real-Time Support for a Newly Virtual Conference," by giving us a peek behind the curtain of a recent IBM virtual conference experience.
In "Sharing your authoring solution with other teams," Ken Schatzke provides a process for collaborating with other teams by sharing your learnings with them—in this case, learnings gained from implementing a soup-to-nuts authoring solution.
Marsi Fein Miller delves into the intersection between collaboration and organizational change to provide a set of questions you can ask yourself as you join or embark on new projects in "Six Questions to Ask About Collaboration and Organizational Change."
In "Collaborative Job Hunting: Beating the Sinister ATS," Jack Molisani introduces us to the technique of collaborative job hunting with a human as we battle the rise of the machines in any modern quest for a new job.
Next up, Alyssa Fox argues that a more integrated, and thus better, customer experience is dependent on a more integrated approach to content—requiring collaboration across content functions—in "Content Collaboration: The Foundation for a Stronger Experience."
And last, but certainly not least, Kit Brown-Hoekstra revisits a topic that is especially pertinent to the challenges of pandemic living—virtual collaboration—in "Five Ways to Improve Your Virtual Collaboration."
We have a great column lineup for you, as well.
In Ethics, Russell Willerton presents a timely and highly relevant ethics discussion, exploring "Ethical Perspectives on Captain Crozier's Letter" to postulate about how ethics operates in our new pandemic-oriented world.
In Meet The Change Agents, Scott Abel interviews Kristina Halvorson to better understand the changing landscape of content strategy.
In Ask a Manager, Kit Brown-Hoekstra and Cindy Currie—our "Dear Manager Abbies"—provide insights into searching for a job during a pandemic, uncovering fake job ads, and transitioning back to the office after working from home.
Finally, Kirk St.Amant strikes the last chord (for this issue, anyway) in the pandemic symphony in Health and Medical Communication, discussing "Communication During Public Health Crises."
Finally, don't miss all the STC news that's fit to print in the Society Pages. This is your society, so be sure to stay informed and get involved. Consider writing for Intercom or Technical Communication, for example! If you're not sure how:
Now months into the COVID-19 pandemic, the situation is top-of-mind for everyone, including our feature authors and columnists. You can see this theme running through columns and features alike. Personally, I take this as a very positive sign that we're talking about it, experimenting with ideas, questioning convention, and moving forward together to find the most constructive and uplifting ways to overcome the uncertainty we're experiencing. I thank all who were able to draw on their grit and focus long enough to contribute exceptional pieces to this issue during the earliest (and possibly the most unsettling) phase of the pandemic—no mean feat, I assure you.
Until next time: To your wildly collaborative success!
— Andrea L. Ames