By Timothy Esposito | STC Fellow
One thing I've learned in life is that when you develop a good skill set, you learn to apply it to multiple situations. Technical communication skills fit into many roles outside the workplace, and the more skills you have, the more places you'll find to use them. In some cases, they are used for volunteering, and others purely for social enjoyment. In the moments that I'm not working, playing with my son, or volunteering with STC, I've found a couple of engaging pastimes.
Several years ago, I was offered the opportunity to join my township's historical commission, which was a good fit for a History/English major. The Cheltenham Township Historical Commission maintains a colonial-era historic house museum, the Richard Wall house, just outside of Philadelphia (https://bit.ly/3dL6RL4). The commission needed a financial secretary and an update to their email communication newsletter. Fortunately, my experiences with volunteering with the STC – Philadelphia Metro Chapter (STC-PMC) put me in a place to handle both. For STC-PMC I served as treasurer and publicity, so I was comfortable examining finances and using MailChimp to create and send electronic newsletters. Within a short time of joining the commission I upgraded their email list from a plain text message to a more professional, monthly, email newsletter. Even the commission's bi-annual printed newsletter, the Wall Paper, is now included as part of the monthly email newsletters, reaching a wider audience than ever before, including residents of our namesake town in the U.K.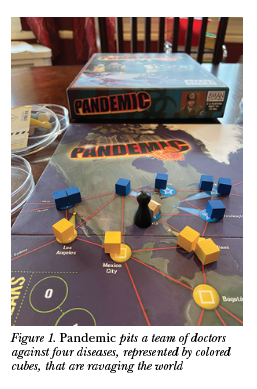 The Historical Commission's latest initiative is to create interpretive historical posters to educate visitors on local history, from notable events (first public reading of an abolition proclamation in America) to famous residents (ranging from Civil War financier Jay Cooke to a Titanic victim for whom Harvard's library is named). Again, my technical communication skills are proving helpful as we collaborate on creating instructive materials that will appeal to educators and tourists.
While working on historically themed projects is stimulating, my other, more relaxing, passion is playing tabletop games with my friends and family. Most people will think of Monopoly and Scrabble as example tabletop games, but I am more interested in the new generation of tabletop games. Some of these games, such as Carcassonne, come from Europe and have a very different feel from traditional American games. One of my favorite game mechanics is cooperative gaming, where the people collaborate to beat the game itself as a team, rather than compete against each other. An excellent and timely example of such a cooperative game is Pandemic, where each player represents a scientist racing to treat and cure diseases before sickness overwhelms the earth. If the diseases spread too far, everyone loses the game, so coordination between players must occur to ensure a shared victory. However, competitive games are also great, and with my family I enjoy Ticket to Ride, where players vie to build railways across the country, connecting cities to score points. Some games sate my interest in history, such as London where you rebuild the devastated city following the Great Fire, and Concordia, an ancient Roman empire-themed game centering on production, trading, and expanding your commercial network.
Teaching the game rules to new players can be a fun form of technical communication. Modern tabletop games are a great way to bring together friends, family, and even coworkers. I regularly play tabletop games (now online due to the pandemic) with the tech writers in my office, and even with STC members from across the country.
TIMOTHY ESPOSITO (tmesposit@gmail.com) loves to make history approachable by tying it to local places and events. After collecting more games than anyone should own, he enjoys teaching friends how to play them. To join other technical communicators for online board games, sign up here: https://bit.ly/3siQjhQ.