By Gabriel Lorenzo Aguilaror
For about three years, I've been studying how to improve the technical communication between humanitarian organizations and the recipients of aid. I'm investigating communication issues that these organizations often overlook — and who can blame them? Humanitarian organizations are often stretched thin while keeping the humanitarian goal in mind: giving aid to people in dire need. One such organization, Humane Borders (HB), needs to convey technical information effectively, and it has a special need to do so ethically. This column describes how I've redesigned a resource that Humane Borders publishes for migrants in need of water; at the end, I provide an open-ended heuristic that can help the field consider the ethics it takes to specify humanitarian aid.
Deriving Meaning from Data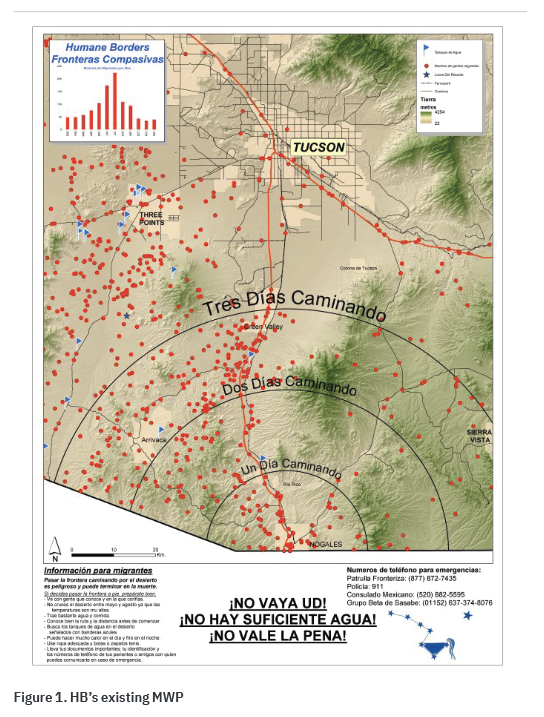 HB is a large and highly organized operation that distributes water to migrants in the Arizona desert via 80 water stations. HB creates a lot of technical communication that not only helps volunteers and employees distribute water efficiently but to also help migrants find water. They frame their posters as a deterrence to avoid claims that they encourage migrants to cross the desert. These maps are printed and distributed across the border as a part of HB's humanitarian goal.
HB "Migrant Warning Posters" (MWP) show both the location of water stations and the locations of where migrants have died (Figure 1).
There are three key pieces of visual information here:
Water stations (indicated by a blue flag)
Locations where migrants died (red dots)
Length of travel (arches labeled "Un Dia Caminando" or "One Day's Walk")
Migrants are also warned to "Not Make the Journey," and that there "Isn't enough Water," and "It's not worth the danger," along with life-saving advice to migrants in smaller print.
The original poster was overwhelming as the sea of red dots made it difficult to distinguish how different parts ofthe desert effected migrants differently. I found that these red dots hide so much of migrants' humanity: What are their names? What are their genders? What are their ages? What are the different ways migrants have been harmed? How can I/we help alleviate some of that harm? I used HB's archival database to investigate.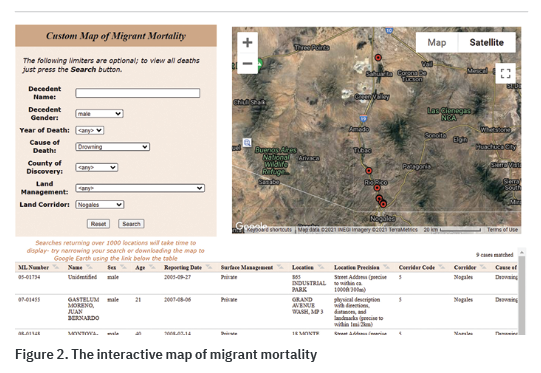 The "Map of Migrant Mortality" (Figures 2 and 3) is an open geographic information system (GIS) initiative between the state of Arizona and HB. It allows users to sort more than 3,000 deaths by name, gender, year of death, cause of death, county of discovery, land management, and land corridor. There are critical differences along the lines of sex, age, location, trajectory, and time, all of which can save lives. Yet on the map, the diversity of migrants gets reduced to a sea of red dots.
Further, as has been well noted by Sam Dragga and Dan Voss,1,2 reducing people to rigid depictions of data — especially people of color3 — can remove the humanity of those who have been harmed. In the case of the Migrant Warning Posters, the readers (often potential migrants) have limited opportunities to connect a red dot with personal characteristics. This limitation not only dehumanizes the deceased people in the poster but also can harm potential migrants.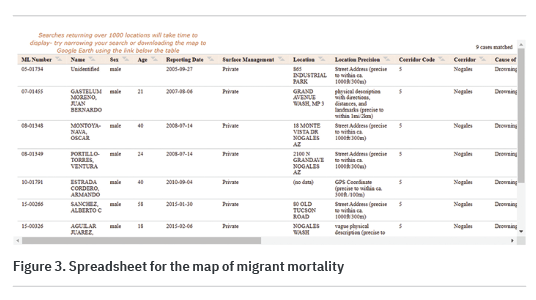 Redesigning the Warning Poster for Those at Highest Risk
There are dozens of maps that could be redesigned from the data used in the Map of Migrant Mortality. However, there are significant differences in death rates from exposure for men and women. The disparity is evident across all land corridors in Arizona, with some places having 100% of migrant women deaths caused by exposure, compared
The redesigned map demonstrates how one could improve technical communication by presenting the most relevant information. There are 26 women who have died by exposure in Nogales, according to the database. My goal is to both humanize these 26 women while making it clearer to future migrant women that they are under an increased risk of dying by exposure. I used the time-distance markers (Un Dia Caminando, Dos Dias Caminando, etc.) from the original poster for reference. I opted to highlight three zones where the highest concentrations of women were found: grupo amarillo (yellow zone), grupo morado (purple zone), and grupo rojo (red zone) (Figures 4 and 5). to 23% of men. Nogales, the land corridor represented in the redesigned Migrant Warning Poster in Figure 4, shows 49% of women died of exposure compared to 37% of men.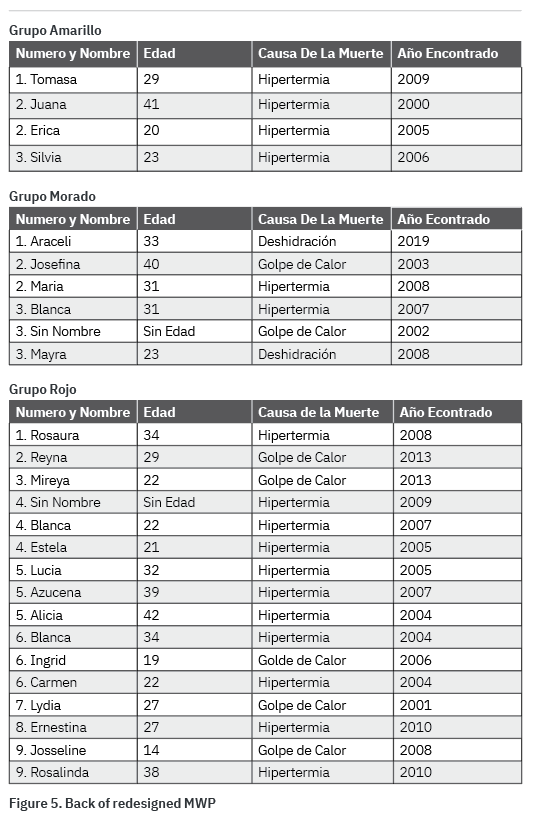 Organizing deceased migrant women in zones can better allow potential migrant women to see the most perilous parts of the desert while simultaneously humanizing the 26 deceased women. These color-coded zones make it clear that there are different risks associated with the trajectory of travel. For example, all deceased migrant women who have traveled eastward died of hyperthermia (hipertermia), while dehydration (deshidración) and heat stroke (golpe de calor) become factors when migrants travel westward. This information is valuable in the preparation migrants need when traveling.
The other benefit to the groups is the potential to humanize the women in the archive. I replaced the anonymous red dots with a numerical system where each woman is assigned a number that corresponds with a table on the backside of the redesigned poster that provides the name, age, cause of death, and year found. Not only are these 26 women humanized in this redesign, but potential migrants are also given valuable information on the age and cause of death of that person — information that can help migrants better prepare for travel.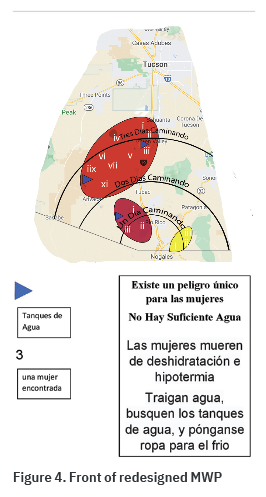 A Heuristic for Moving Forward
Humanitarian technical communication needs our critical, and ethical, attention. My redesigned map reflected ethics based not only around questions asked by Dragga and Voss, but also other areas such as feminism,4 social justice,5 and critical race theory.6,7 These areas of our field address issues that are relevant to humanitarian organizations, and it's important to engage with these issues in the hopes of bettering humanitarian aid.
---
I leave this column with a heuristic that I hope we can expand upon:
Is this providing the most relevant information for the audience?
Does this data homogenize the people represented in it?
What is not being said or represented in the data?
How could a new or redesigned depiction of the data improve the communication to a target audience?
How could one diversify a dataset?
Where could one go to find more contexts on demographics?
How could a specific group benefit from a new or redesigned depiction of data?


---
By applying these criteria, we can present data that is both relevant and personal.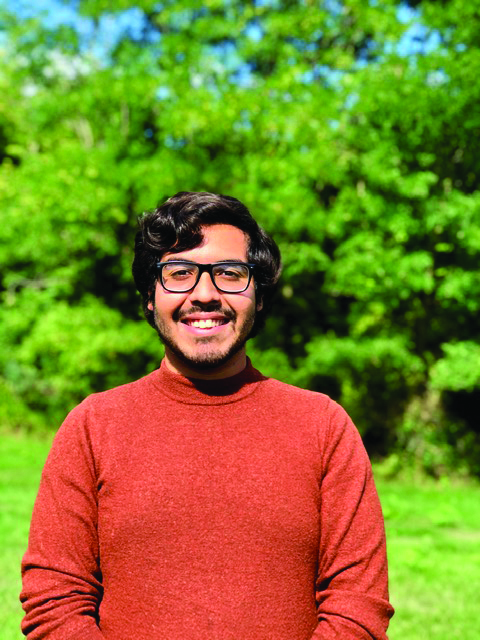 GABRIEL LORENZO AGUILAR (gla22@psu.edu) is a PhD student at Penn State studying Rhetoric and Technical Communication. His main research interest is in investigating how to improve the technical communication between humanitarian organization and the recipient of humanitarian aid. Additional areas of focus for Gabe are in Chicanx, border, and feminist rhetorics.
References
Dragga, S., & Voss, D. 2001. "Cruel Pies: The Inhumanity of Technical Illustrations." Technical Communication, 48 (3): 265–274.
"Hiding humanity: Verbal and Visual Ethics in Accident Reports." Proceedings/STC, Society for Technical Communication Annual Conference, 50 (1): 457–461.
Hartman, S. 2008. "Venus in Two Acts." Small Axe: A Caribbean Journal of Criticism, 26 (June): 1–14. https://doi.org/10.2979/sax.2008.-.26.1
Petersen, E. J., & Walton, R. "Bridging Analysis and Action: How Feminist Scholarship Can Inform the Social Justice Turn." Journal of Business and Technical Communication, 32 (4): 416–446. https://doi.org/10.1177/1050651918780192
Jones, N. N. 2016. "The Technical Communicator as Advocate: Integrating a Social Justice Approach in Technical Communication." Journal of Technical Writing and Communication, 46 (3): 342–361. https://doi.org/10.1177/0047281616639472
Agboka, G. Y. 2014. "Decolonial methodologies: Social justice perspectives in intercultural technical communication research." Journal of Technical Writing and Communication, 44 (3): 297–327. https://doi.org/10.2190/TW.44.3.e
Blake, A. M. 2011. "Audible Citizenship and Audiomobility: Race, Technology, and CB Radio." American Quarterly, 63 (3): 531–553. https://doi.org/10.1353/aq.2011.0049