By Society for Technical Communication
Quality content can improve your organization's bottom line
We know intuitively that good content brings value to the organization, and that it isn't simply a cost center. Good content educates, informs, and is the cornerstone to solid relationships. What, then, is the business value of content?
And of course, like all things, the answer is "it depends."
Content in and of itself doesn't have any inherent value. What matters is how it's used to support the needs of customers and the organization.
Professional communicators have a unique understanding of users and needs. "Without an intimate understanding of our users and their needs, how can we design information intended to assist them, or help them do their jobs more efficiently?" asks Elizabeth Filippo in the December 2007 issue of Intercom.1
Good content:
Puts customers' needs first
Reduces complexity and improves understanding
Allows customers to solve their own challenges
Improves the customer experience when assistance is needed
Reduces friction in the sales cycle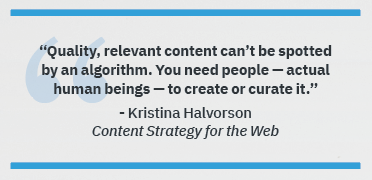 "Content must be consistent across the omnichannel environment, enabling customers to receive the same information from a phone call, a chat, an email, or a text," explains Dr. Liz Herman, STC Associate Fellow. "Content is the fulcrum of [the customer experience]."2
When content does these things, it reduces costs and improves the organization's bottom line.
Customer Service Isn't Cheap
The average service desk spends nearly 70% of its budget on staffing costs.3 The remaining 30% is overhead.
The differences in the business cost of customer service are largely influenced by the cost of labor. The average cost per service desk call ranges from $6.31–$8.84 in the U.K. (with only 25% of surveyed companies measuring cost per call),1 to an average of $15.56 for U.S. companies.4
The cost of resolution increases with higher levels of support. Not only do these calls take longer, but they also involve more highly paid staff.5
We need to look at the cost of customer service on a continuum. In figure 1, we see examples provided by HDI showing the escalating cost of customer support.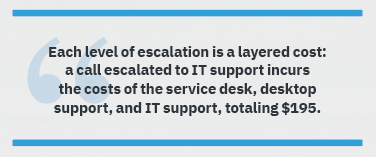 As we can see from the data, content that can prevent incidents or resolve them through self-help resources cost just a fraction of what a service desk call would cost. Incident prevention not only costs nothing, it also makes the customer and the organization happy.
Also note that each level of escalation costs a total of the cost to the service desk, desktop support, and IT support. For example, a call that needs to be escalated to IT support costs $22 + $69 + $104, for a total of $195 for a single help ticket.
Reducing the Cost of Customer Service
How can these costs be avoided? By providing quality content that puts customers' needs first and allows them to solve their own challenges.
There are three obvious ways to improve the company's bottom line:
Spend less — usually on labor by placing call centers in lower-income areas.
Have better self-help content so customers can address issues without call center intervention.
Have a better knowledge management center so customer service reps can quickly and efficiently find the resolution to the customer's issue, avoiding the need for long calls or escalation to higher-tier support.7
According to Zendesk, most users prefer to opt for self-servicing.8 Technology that allows users to self-service improves customer satisfaction, limits the demands on the help desk to handle issues that are easily resolved, and reduces support's cost per call.

Takeaway
A quality knowledge base, a self-service help portal, interactive voice response (IVR) messaging (in the event of an outage or crisis), and proactive communication can reduce the need for service desk calls, saving companies money.9
The Hidden Cost of Poor Customer Service: Customer Retention
Customer service calls also have a hidden cost: the cost of customer satisfaction. No one wants to have to pick up the phone, navigate the menu options, and listen to gravelly hold music just to get their issue resolved. It's no surprise, then, that Zendesk found that customers want to help themselves. In fact, 69% want to resolve as many issues as possible on their own, and 63% always or almost always start with a search on a company's online resources when they have a problem.10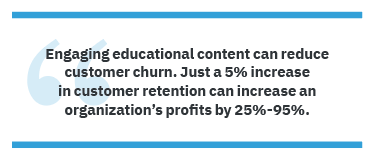 There is general consensus that customer acquisition costs five times what it takes to retain an existing customer.11 This is not simply because of the literal costs of acquisition, but also the impact of dissatisfied customers sharing their negative stories with friends, colleagues, or on social media.12 Conversely, companies benefit from satisfied customers who refer other qualified customers, building the sales and customer pipeline.13
U.S. companies lose $136.8 billion each year due to avoidable customer switching14:
American Express found that 33% of customers will consider switching after just one instance of poor customer service.15
Eighty-nine percent of businesses see customer experience as a key factor in driving customer loyalty and retention.16

Increasing customer retention rates by just 5% can increase profits by 25%–95%.17 One customer experience agency found that loyal customers are five times as likely to repurchase, five times as likely to forgive, four times as likely to refer, and seven times as likely to try a new offering.17
Engaging educational content can reduce churn by 6%.18 This includes:
Investing in customer service (with proper content to support the CSRs)
Providing positive customer experiences (through content and communication)
Delivering quality information, when and where it's needed, at all stages of the lifecycle
Good Content Takes Work
Good content doesn't just happen. It needs to be written by professional communicators.
What can your organization save if you don't lose dissatisfied customers? Let's use a software subscription model as an example.
Losing just 100 customers a month at $14.99/month = $116,922/year
Retaining just 25% of those customers through good customer service = $29,230.50/year savings
Takeaway
The quality of customer service affects the retention rate. Ninety percent of customers have stopped giving their business to a company after a poor service experience.19 Customer retention through high-quality content can have a positive impact on the bottom line.
The Cost of New Customer Acquisition: The Sales Team
Especially in the big-ticket business-to-business (B2B) space, salespeople aren't cheap.20,21 The number one challenge facing inside sales teams is improving productivity and performance.22 The answer to this improvement lies in content.
Do your sales reps have the resources that they need to sell? Do they have a consistent elevator pitch to get them in the door? Do they have a consistent slide deck that they can use for customer presentations? Do they have documentation on hand for technical questions? Or are they creating these things ad hoc?
If you assume the national average of $34/hour for a sales rep — not including benefits, incentives, and bonuses — poor content for salespeople costs your company money:
Recreating the elevator pitch: $34/hour times .5 hours/rep = $17 cost per rep
Recreating the slide deck: $34/hour times 2 hours = $78 cost per rep per client
According to Selling Power magazine's Selling Power 500 list for 2018, there are more than 25 million salespeople in the U.S. alone.23 If even one tenth of those salespeople are spending time recreating their elevator pitch, that's more than $42 million in lost productivity.
Improving the Value of Sales Training
Sales reps' solo efforts negate the value that a company put into annual sales training, which is staggering.24 These events usually include sales reps, upper management, marketing, technical specialists, and outside speakers/facilitators.
Airfare: $800/person
Hotel, 3 nights: $600/person
Meals, 3 days: $450+/person
Other transportation: $200/person
Group activity/speaker: $350/person
That's an approximation of $2,400/person, not including facility fees. The content and training that they receive at these events needs to be high quality to make it count.
Takeaway
Anything that can be done to reduce friction can accelerate the sales cycle and reduce the cost of sales. This can include traditional marketing messaging (web content, datasheets, white papers, sales decks), as well as what was traditionally thought of as post-sales technical content (documentation, support, etc.).
How Can Companies Avoid Churn and Retain Customers?
How do we retain customers? By building trust. And we build trust through communication and content.25
Organizations need to take a proactive approach to customer service. Anticipatory service eliminates problems before they occur.25 Over 85% of companies say that efforts to improve customers experiences have a positive business impact.26
Good Content Transcends Silos
There is a blurring of the lines between technical communication and marketing communication. Customers don't make a distinction between the two; communicators need to be empathetic to their needs, which is separate from internal silos. Customer retention is a byproduct of customer service and experience. Create a good experience, that's consistent and predictable, and you have a shot at customer retention.27
Takeaway
Good experiences drive customer loyalty.28 Communicate well. Educate customers with good content. Proactively understand and address their problems to create a smooth and positive customer experience that respects their time.29
Customer Satisfaction Demands Quality Content
The most effective channels used for customer acquisition or retention are content-driven16:
Email
Social media
Content marketing
Referral marketing
SEO
Display/mobile advertising
Video
Documentation
Service
Putting the creation and maintenance of these tools in the hands of professional communicators will improve outcomes, reduce costs, and directly contribute to the organization's bottom line.
This paper was created for STC Roundtable in 2020. It is intended to stimulate thinking about ways that content can be viewed not as a cost center, but as a powerful catalyst for business performance.
References
Filippo, E. 2007. "Merging Usability Practices with Document Design and Development." Intercom, December: 8–12.
Herman, L. 2020. "Customer Experience and Content: The Field of Dreams." Intercom, March/April: 7.
Greene, Jessica. n.d. "35 IT Help Desk Statistics: How Does Your Team Stack Up?" atSpoke. https://www.atspoke.com/blog/it/it-help-desk-statistics/.
Service Desk Institute. 2020. "Benchmark Your Service Desk." https://www.servicedeskinstitute.com/insight-resource/benchmark-report/.
Rumburg, Jeff. 2017. "Metric of the Month: Service Desk Cost Per Ticket." HDI. https://www.thinkhdi.com/library/supportworld/2017/metric-of-month-service-desk-cost-per-ticket.aspx
Rumburg, Jeff. 2017. Metric of the Month: First Level Resolution Date." HDI. https://www.thinkhdi.com/library/supportworld/2017/metric-of-month-first-level-resolution-rate.aspx
Lawes, Tim. 2018. Service Desk Basics: The Real Cost Per Ticket." Orange Matter. https://orangematter.solarwinds.com/2018/01/18/service-desk-basics-the-real-cost-per-ticket/
n.d. "The Zendesk Customer Service Benchmark: Stand Out from the Crowd." https://www.zendesk.com/benchmark/
Wieder-Frieden, Dena. 2018. "Five Ways to Reduce Telephone Calls to Your IT Help Desk." Last modified August 21, 2018. https://www.sysaid.com/blog/entry/5-ways-to-reduce-telephone-calls-to-your-it-help-desk.
Wren, Hannah. 2020. "Five Ways to Use a Customer Portal to Foster More Trustworthy Customer Relationships." Last modified September 2, 2021. https://www.zendesk.com/blog/five-ways-use-customer-portal-foster-trustworthy
-customer-relationships/
Wertz, Jess. 2018. "Don't Spend 5 Times More Attracting New Customers, Nurture the Existing Ones." Forbes, September 12, 2018. https://www.forbes.com/sites/jiawertz/2018/09/12/dont-spend-5-times-more-attracting-new-customers-nurture-the-existing-ones/#1965b8805a8e.
Marketing Charts. 2013. "Bad Customer Service Interactions More Likely to be Shared Than Good Ones." Last modified April 5, 2013. https://www.marketingcharts.com/digital-28628.
Tidey, Will. 2018. "Acquisition vs Retention: The Importance of Customer Lifetime Value." Hüify.
https://www.huify.com/blog/acquisition-vs-retention-customer-lifetime-value.
n.d. "CallMiner Learning Center." https://learn.callminer.com/whitepapers/callminerindex-us-consumers-switch-by-sector
American Express. 2017. "#WellActually, Americans Say Customer Service is Better Than Ever." Business Wire. https://www.businesswire.com/news/home/20171215005416/en/WellActually-Americans-Say-Customer-Service-is-Better-Than-Ever
Saleh, Khalid. n.d. "Customer Acquisition Vs.Retention Costs – Statistics And Trends." Invesp. https://www.invespcro.com/blog/customer-acquisition-retention/.
Experience Matters. "ROI of Customer Experience." https://experiencematters.blog/category/roi-of-customer-experience/.
Yonatan, Reuben. 2017. "20 Data-Driven Customer Retention Strategies." Saaslist. Last modified July, 27, 2017. https://getcrm.com/blog/customer-retention/.
Geraghty, Shauna. 2014. "Quality Customer Service Affects Your Company's Retention Rate." Talkdesk. Last modified April 9, 2014. https://www.talkdesk.com/blog/quality-customer-service-affects-your-companys-retention-rate/.
n.d. "Salary for Skill: Business to Business (B2B) Sales." https://www.payscale.com/research/US/Skill=Business_to_Business_(B2B)_Sales/Salary
n.d. "How Much Does a B2B Sales Representative Make?" Last modified September 30, 2021. https://www.glassdoor.com/Salaries/b2b-sales-representative-salary-SRCH_KO0,24.htm
West, Jesse. 2017. "What's the Average Salary of an Inside Sales Rep at a SaaS Company?" ringDNA. https://www.ringdna.com/blog/what-is-the-average-inside-sales-reps-salary
Selling Power. 2018. "Selling Power 500 Largest Sales Forces (2018)." https://www.sellingpower.com/resources/2018/selling-power-500
Altman, Ian. 2014. "How Much Does Sales Training Cost?" Forbes, December 1, 2014. https://www.forbes.com/sites/ianaltman/2014/12/01/how-much
-does-sales-training-cost/#3371f51053ee.
Galetto, Molly. 2015. "What is Customer Retention." NGDATA. https://www.ngdata.com/what-is-customer-retention/.
Yonatan, Reuben. 2017. "20-Data Driven Customer Retention Strategies." SaaSList. Last modified July 27, 2017. https://saaslist.com/blog/customer-retention/
Stringfellow, Angela. 2014. "Customer Retention Strategies: 46 Experts Reveal Their Top Tactics for How to Retain Customers." NGDATA. Last modified December 3, 2014. https://www.ngdata.com/how-to-improve-customer-retention/.
Nolinske, Terry. n.d. "How Customer Service Drives Customer Loyalty." National Business Institute. https://www.nbrii.com/customer-survey-white-papers/how-customer-service-drives-customer-loyalty/.
The Daily Egg. 2018. "Customers, Come Back! Learn How to Use Customer Retention to Your Advantage." The Daily Egg, Crazy Egg, September 7, 2018. https://www.crazyegg.com/blog/customer-retention/