By Jennifer Fell and Andrea L. Ames | STC Fellow
Flipping the done-for-you model of business on its head
With nearly 70 combined years in the technical content industry, we've seen many approaches to the "business"  of content. . .approaches that range from order-taking (à la Starbucks barista) to bringing on armies of contractors in times of crisis (attempting to thwart the Mythical Man-Month) to well-meaning attempts at collaboration and empowerment (often resulting in death by a thousand committees).
We've seen just as many different forms of sharing and building knowledge, learning, and skill building, including (but certainly not limited to) agile guilds and chapters, internal conferences and workshops, work time set aside specifically for professional development, and training budgets for attending external classes.
As we pursue content business utopia, we consider the many models of business that we scrutinize for running our own consulting organizations. As a result, we've found many interesting and viable parallels that can bring a content team well into the realm of a "business" within the larger organization, as well as business models that can apply to pieces of a business, such as building organizational capability.
The Many Faces of Capability Building
Many popular approaches for successfully managing business functions can apply to managing team capabilities. Here are a few examples (not an exhaustive list):
Systems and standard operating procedures (SOPs)1,2: As instructional content professionals, we understand the value of a good, well-documented procedure! This internal "documentation" for a business's operational processes is fundamental to growing and scaling.
SOPs can also function as an effective knowledge repository. That repository can be unwieldy, however, when there are many SOPs, requiring a significant time investment to document and test for accuracy, and additional time to consume and understand. Some activities — in particular, those that require significant analysis and strategy development for complex systems — are best communicated in ways other than written documentation.
Redundant systems, such as cross-training and assigning backups to activities: This is not "redundancy" of the "layoff" type. This is planning for expected or unexpected gaps or "failures" in the activities with backups. Cross-training team members and ensuring that critical members have backups when they are away is good common sense.
Redundant knowledge and skills across multiple team members can also function as a human knowledge repository. It's best when the human repository has a document repository, as well. And it works until it doesn't, such as when a backup leaves their project, role, team, or the company.
Various forms of collaboration, such as pairing and apprenticing: Small businesses (and teams) typically feel the cost of pairing (two employees performing a single activity together, such as in pair programming3) to be prohibitive, but there are benefits to be exploited from significant collaboration in an activity. Apprenticing is a time-honored way to bring a learner to a new level of skill by leveraging an existing expert.4
Collaboration is not only an imperative in the current workplace; it is also an extremely valuable way to build organizational capability. We have had remarkable success with the Idyll Point™ Content Leaders That Deliver™ Mastery Model of apprenticeship (Figure 1), but we found it difficult for content professionals to accept the idea that they might be an apprentice working under an expert.
Enter the Done-With-You Model
Services businesses historically have had a done-for-you business model. You hire them. They do the agreed-to work. You pay them. End of story. That works fine for some types of work, and not so well for others.
The work that Idyll Point™ Group does, for example, of consulting, facilitating, training, mentoring, and coaching content teams to operate as businesses within their organizations doesn't fit the done-for-you model. Trying to do that work for our clients would be like going to the gym for someone else — you work out, and they get the fitness. It doesn't really work that way.
We've also found that information architecture and content strategy work — with deep roots in analysis, complex systems, and strategy — is best learned through experience. Again, experience isn't something you can do for someone else.
The done-with-you business model is a much better fit for this type of work. In a services business context, you hire them and agree to a mode of work that includes collaboration, training, and mentoring. Knowledge transfer is a key deliverable of the agreement. When the experience and work is over, you pay them. But it's not the end of the story. And the more savvy you are, as a client, about taking advantage of this type of engagement, the longer, more far-reaching, and ultimately more valuable the impact of that experience will be.
SODOTO
The "see one, do one, teach one" approach is a paradigm popularized by William Halsted, an early 20th century surgeon. While it seems to us (non-surgeons though we are) incautious to perform a surgery after seeing it done only once — or to teach someone else to perform one after doing it only once — as a general model, it's got value for teaching other, not-life-threatening pursuits. The done-with-you model for building organizational capability leverages this concept to transfer knowledge.
For example, imagine a team that wants a content strategy and wants to build more capability on the team for that. They identify an expert (either internal or external) and a learner. The expert begins the relationship doing most of the work and ends the project in a purely support and advisory role. The learner starts off learning by watching, increasing their performance of the activity over time, and ends the project as the primary owner of the strategy, responsible for its maintenance.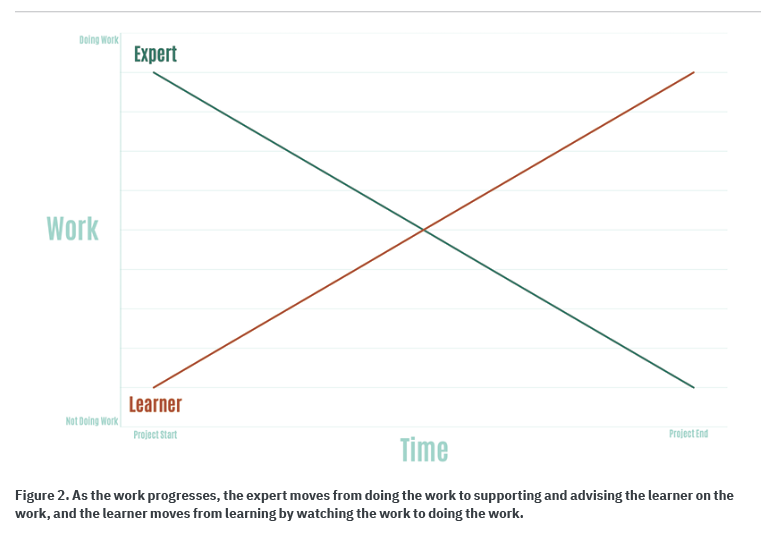 Over time, knowledge is transferred, and the learner gains experience with support from the expert (Figure 2). A relationship is built that the learner can leverage in the future, if unfamiliar situations arise. The team has doubled its experienced strategic staff — or created capability where none existed before if the expert was brought in from outside the organization.
Making Done-With-You Mentoring Work
There are some critical elements of the done-with-you mentoring approach that ensure its success. Here is the benefit of our experiential learning with tips that are especially important if this is your first time working in a model like this.
Know what you want: It's crucial that everyone involved is clear on the capability you want to build. As with any work, you will get what you ask for, so be sure it is what you want.
Create a clear agreement for who does what and when: Even if the expert and the learner are on the same team, an agreement will ensure that both participants in the work are clear. It doesn't need to be super-formal, but it does need to be detailed enough that both parties can demonstrate their understanding. We recommend co-creating this with everyone involved.
Ensure outcomes and success factors are well understood: What are the participants being measured on? What is the expected output? How will you know if the work is successful?
Be experimental and curious: If this is your first time trying the model, you can take some of the pressure off the work by encouraging a risk-taking and experimental attitude among sponsors and participants.
Check in regularly and frequently: Issues in the relationship can be fatal to an initiative like this. Challenges can be uncovered, aired, and resolved more easily if you catch and address them early.
Find a real expert: Ensure that they've done this work and can take your team to the next level.
Ensure your expert is a good mentor: It might not be possible to find an internal expert who is already a good mentor or coach. To ensure success, it's worth the time and effort to get your expert some training in this area.
Ensure your learner is coachable: No matter how senior the learner is, there is always room for growth. Even executives have coaches! A great learner has great potential to consume, grasp, and apply the knowledge and is open to the coaching and mentoring being offered by the expert. This is especially important if the knowledge involves "soft skills."
With clarity, an open and coachable learner, an expert mentor, and the space to take risks and experiment, there's a great chance that your first foray into done-with-you capability building will be successful — and will not be your last!

When You Need More Help
At the end of the day, for most teams, finding an expert is the hardest part of this approach. If you're trying to build some specific capability on your team, it's often the case that you don't have any of it.
If you're in a large organization, you might be able to find it on another team. Don't discount other content teams, even if they are not focused on technical content. Marketing content teams often have great strategy resources, and learning content teams often have great architecture resources, due to the modular nature of training content. Leverage all of your company's resources where you can!
When you need outside help, don't let the perceived cost negate the investment you are making in your team's capabilities. Be smart. Ensure the agreement is written such that the external resource must deliver on knowledge transfer. Be sure to pick a team member to work with the external expert who not only has the potential as a learner, but also has potential as a mentor and can be the new expert on your team. Set up the dominoes so that the legacy of that investment is "generations" of learning!
Remember: A great external expert has knowledge and experiences that can guide your team on the straightest path to success and build capability during the done-with-you project. The time and effort someone on your team might spend trying to muddle through it could cost you far more in time, effort, frustration, and relationships in the end. g
References
Dib, Allan. 2021. "How to Put a Business System Together." Forbes. https://www.forbes.com/sites/forbescoachescouncil/2021/03/17/how-to-put-a-business-system-together/
Lynn, Aaron. 2020. "The Complete Guide to Creating Systems and SOPs in Your Business." Charles Ngo. https://charlesngo.com/systemsandsops/
Agile Alliance. n.d. "Pair Programming." https://www.agilealliance.org/glossary/pairing/.
Jackson, Jesse. 2020. "Adopting a Modern Apprenticeship Model." Chief Learning Officer. https://www.chieflearningofficer.com/2020/03/31/adopting-a-modern-apprenticeship-model/
---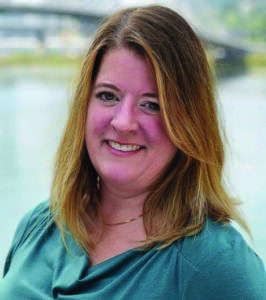 JENNIFER FELL (jennifer@jfcontent.com) is an enterprise content strategy and information architecture consultant with over 30 years of experience in sales, marketing, support, documentation, and training content. With a passion for the business and art of helping clients succeed with content, she brings her experience with start-ups through Fortune 500 enterprises to provide enterprise-scale content solutions that leverage structured content to create better user experiences, while reducing the cost of content creation and maintenance. As a consultant and coach for Idyll Point™ Group, she leads clients through the done-with-you model to build organizational capability for clients. You can connect with her on LinkedIn (https://www.linkedin.com/in/jenniferfell/).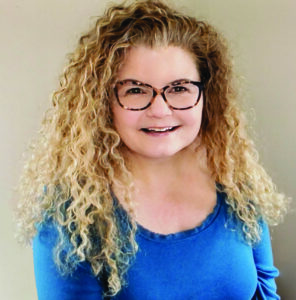 ANDREA L. AMES, MS, ACC, CPCC, CTHC, COTP (andrea@idyllpoint.com) brings more than 35 years of experience in the corporate, government, education, and non-profit sectors to her coaching, consulting, facilitation, and training work — all focused on her passion for making clients, colleagues, and the community at large wildly successful! CEO of Idyll Point™ Group, she brings her skills in customer retention strategy, organization design, content experience strategy and architecture, individual and organizational learning and curriculum design and development, gamification, change management, systems thinking, and product design and development to her individual, group, and team engagements and programs that serve business owners, entrepreneurs, executives, and mid-level leaders. She is also an STC Fellow and past president (2004-2005), a sought-after keynote speaker, an author of numerous journal and magazine articles and two award-winning technical books, and the Program Chair for the University of California, Santa Cruz, certificate in Technical Writing and Communication, teaching highly rated human factors, information architecture, and content usability courses in the program. You can connect with her on LinkedIn (https://www.linkedin.com/in/andreaames/) and Facebook (https://www.facebook.com/AndreaAmesClientKeepingCoach/).
---