By Kirsty Taylor | STC President
One of the most common ways the STC Board and staff seek volunteer help with the activities of the Society is through participation in various committees. Committee involvement is a great opportunity for professional development as well as a way to give back to the profession. I'm going to use committee as a general term to include committees, task forces, and advisory panels.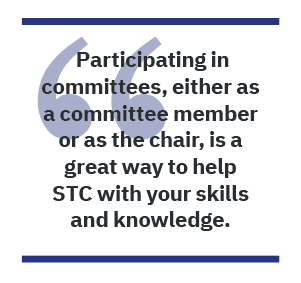 Each year, the new president is responsible for seeking volunteers and nominating chairs of most of the committees, which the Board then reviews and considers approving. Aiessa Moyna, who will be assuming the role of president in May, has begun her search for volunteers to ensure that all committees will be fully staffed and ready to work at the start of the new board year in June.
There are three types of committees in STC: bylaw committees, board committees, and staff committees. Some committees, such as the Nominating Committee, are governed by STC's bylaws, which might state specific requirements for the chair or committee members. Other committees, such as the Distinguished Community Service Award (DCSA) Committee, are general board committees whose members serve at the will of the Board. Other options include staff committees, which the STC staff convene (the Membership Marketing Committee is an STC staff committee), or the advisory panels for STC publications, which the publication editors are responsible for.
This year, we've been reviewing the charters and templates for the STC Committees. Sometimes, the nature of a particular committee can change — for example, when STC had a staff member who was director of education, the Education Committee was an advisory committee. Now the Education Committee is responsible for STC's education calendar and activities (excluding the Summit).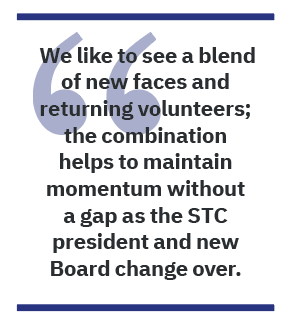 Participating in committees, either as a committee member or as the chair, is a great way to help STC with your skills and knowledge. In seeking committee chairs for my presidential year, I tried to find some different members to be involved and I encouraged new participants on committees. We like to see a blend of new faces and returning volunteers; the combination helps to maintain momentum without a gap as the STC president and new Board change over.
If you're interested in serving, potentially chairing a committee, or simply learning more, please get in touch with me or our 2022 incoming president, Aiessa Moyna (amoyna.stc@gmail.com).
---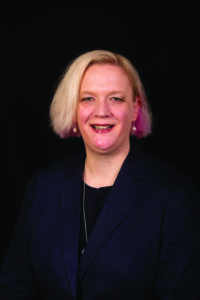 KIRSTY TAYLOR (ktaylor.stc@gmail.com) is the 2021-2022 president of STC. Her recurring column will provide updates and insights on Board activities and solicit member feedback to guide ongoing decision-making.
---