By Matt Milsop | STC Member
My blogging started because I had no idea what to do.
After years of effort and countless applications, I had finally gotten a real technical communication job. But I had no idea how to proceed. I wanted to stay ahead of the proverbial curve, see the tends as they were coming, learn what I could do with this, and develop myself appropriately. Not knowing where to go, I contacted TJ Cardenas, NY Metro Chapter STC president, to bounce some ideas around and get some information.
I wanted to eventually go into contract technical communication work. TJ had said the best way to get leads for that kind of work was to network. The best way to network was to volunteer, and NY Metro needed content for its page. He saw I had done a bit of blogging and journalism, so the work of interviewing people seemed like the natural direction to head. It also allowed me to continue to make connections, even during the isolation of the pandemic.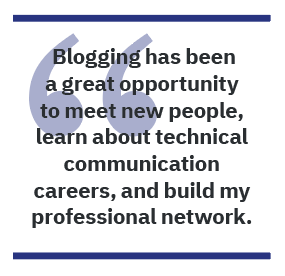 The grand irony is I struggle with anxiety issues. Yet when I worked for a local newspaper here in northern New Jersey, I found I really enjoyed interviewing people. It only seemed logical I would do that with this blog. It would be a great way to not only help myself learn more about technical communication but also to build name recognition by sharing that experience with others.
I began to collect names, learn what I could about the interviewees, and build questions around that. I kept it simple. Who were they and why did they choose to get into this? I dug a little deeper on their backgrounds and experiences. Soon I wanted to add a little more life to the process, so I began to ask about favorite projects or nightmare projects. I had topics I wanted to learn more about, and if they specialized in those areas, I would ask them. There are more potential stories in those interviews — stories I could come back to and explore.
I take on topics that interest me and I feel would make a good story. For example, I am very curious about artificial intelligence. What is it, really? How far can we go with it? If you read the news meant for the general population, you might think artificial intelligence will be replacing all of humanity in a few short years. The world will either be a paradise, or everyone will be poor and destitute. I want to understand how we can grow with it. How can we, as technical communicators, utilize it? How will we use it to communicate complex ideas to those who have no training? How can we use it to create?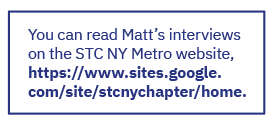 Blogging has been a great opportunity to meet new people, learn about technical communication careers, and build my professional network. If you'd like to learn more about starting your own chapter blog, please contact me at my email address below.
---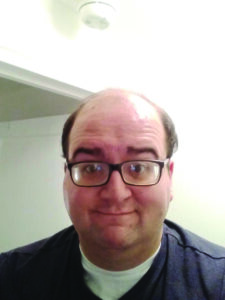 MATT MILSOP (matthewmilsop.writer@yahoo.com) is a technical writer based in New Jersey. He enjoys writing and reading about history, technology, and psychology. He is open to freelance writing opportunities.
---