By John Clement | STC Student Member
The best classes actively engage students in the learning process. Online content brings challenges, but also opportunities for accessible, engaging learning.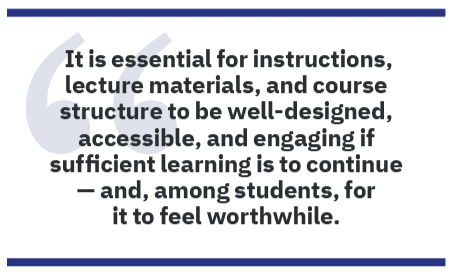 Online learning and online instructing is difficult. As compared to an in-person classroom, the virtual classroom strips away many of the things that typically facilitate learning — a physically present instructor for one, and a setting where you are surrounded by peers. Taking both away oftentimes forces the content of the class itself to shine. In a situation such as this, it is essential for instructions, lecture materials, and course structure to be well-designed, accessible, and engaging if sufficient learning is to continue — and, among students, for it to feel worthwhile.
Instructional Design in the Virtual Classroom
The goal of all classes is to teach students the skills they need in order to excel in a specific field or area of expertise. The best classes, though, are set up in a way that does not simply pull students along for the ride; they actively engage students throughout the process. A shared principle between instructional design and technical communication is that content must be presented effectively. In the classroom, principles of good instructional design must guide the course's content for the benefit of all students and learners participating.
In a typical classroom, instructional material and information may be facilitated by items such as handouts, videos shown during class, slides shown during lectures, and potentially an online platform that acts as a repository for the course's resources. In the virtual classroom, some of these elements may stay the same, but many change. In some setups, the slides may replace the physical instructor. Images and videos become a core facet of learning. The online course page becomes less of a repository and more of a home for the entire course. Important considerations must be made.
During my time as a university student, approximately two of my four years of my undergraduate degree were online. The transition startled everyone, notably instructors. Students — including myself — were left at the mercy of our professors' capability to transfer their instructional design skills to the virtual landscape. Notice how I say instructional design skills instead of just technical skills. I have had courses where the design of their online course pages was nothing I would call extravagant, but it was organized in a way that was engaging and facilitated learning. On the other hand, I have had courses where all the bells and whistles available on their website were put to use. However, it was done in a way that constrained the learning process and made navigation difficult — virtually, on the webpage itself, and mentally, through trying to remember where each piece of knowledge lived. Students have discovered that the strength of an instructor's design principles are what can make or break a course for its students.
Instructional design is vital to creating an effective learning environment. That said, what are some of the specific shapes a virtual class tends to take, what challenges come with each, and what considerations should you make when designing your own instructional material?
The Wild West of Online Learning
The "where" of a course is just as important as the "what" that is its content. Virtual classrooms must make considerations that come with lacking physical presence, but being online can take multiple different shapes. Which model your course or material fits into, or which one you choose, can and should guide the rest of the content design and teaching process. Each method has a different primary method by which content can be taught.
Fully online (asynchronous): This is the completely distant model of learning. There is no setting to meet with others face to face, including over video. Here, content is king, and self-drive is paramount. Challenges can arise for students if the online instructor is either not frequently communicative or the online course is structured poorly.
Live lectures: These are the most similar to in-person classes. When lectures still get to be taught live and students have incentive to log in at a regular time, the feeling in-person learning is emulated to a degree. Challenges arise without the classroom setting itself; there is less peer interaction, and it is harder to "walk" up to the professor before or after class for a question — which can be a quick but meaningful interaction.
Hybrid: This option often takes the shape of an in-person class occurring as usual but with an online Zoom-in option. While the versatility is beneficial, it is challenging to not alienate the online students. Just because in-person teaching is available in this scenario, it does not mean that the segment of students experiencing the online variant of the class should be subject to content with poor instructional design. Additionally, interaction with online students can easily be put to the wayside over in-person students.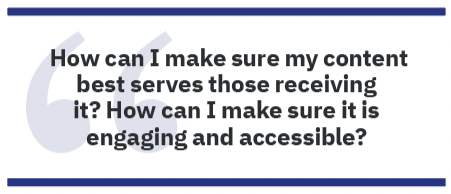 As an instructor, the platform that class is being taught through and the means by which students are accessing your content are each pieces of the puzzle to consider. You must ask yourself these essential questions when designing online course content: How can I make sure my content best serves those receiving it? How can I make sure it is engaging and accessible? How can I make sure my content can stand on its own two feet and continues to facilitate learning after the handoff is done?
Advice on Making the Best Online Content
There are multiple ways to make the most of an online class environment. As I mentioned previously, learning is not improved primarily by how many or which tools you make use of (though it certainly helps). The intention behind how you use each tool, tie it into the goals of the course, and use your own method of instruction make all the difference. Below are five different tips related to instructional design, which you should keep in mind when designing instructions, training, and course content.
Establish clear objectives. This includes both long-term objectives, such as what students can expect to learn by the end of the course, and short-term objectives, such as what the goal and tasks for each week or module are. A good syllabus or course introduction helps with this, and frequent reminders double down on that. The weight students can face in online courses can be overbearing, especially if they must do some self-teaching; these added benchmarks can help lighten that load and provide clarity on the directions they should take.
Structure your course well. An online course where all the resources, notes, and materials are lumped onto a single page or module can do more harm than good. The same goes for a course which has too many different tabs, modules, and links redirecting to various places. Refer back to your objectives for the course and look from the lens of the learner. What content is most important? Give that priority and emphasize it early on your course page or menu. What resources will students likely access most often? Give that similar treatment and consider placing related items under the same category. Make sure that someone looking at your content for the first time can easily find where they need to go and the structure answers the questions they enter with — even if that question is, "I have five minutes before my exam and I haven't studied yet. Where is that study guide?" Your considerations might same some academic lives.
Make your content engaging, appealing, and accessible. In doing so, consider what tools you'll need for the job. Images, diagrams, text, video, presentation slides, multimedia and interactive content — each supply a specific need and have situations where they work best. If you have a lot of information you want to teach and want to make it easier to remember, consider representing it visually, reinforcing the content with, or turning it into, images or video. If you have data, use charts. For locations, use maps. Split content that could be on one long page into multiple pages with their own distinct purpose. Good design can enhance and curate your instructional content. In doing so, remember to make it accessible. When possible, supply text, visuals, and possibly audio as well. For many students it will reinforce the knowledge, and for some, it will be a critical way of them receiving it in the easiest way possible. Give your content far reach and make it look good while doing it. You never know who your considerations might be able to help.
Encourage group collaboration when possible. One drawback of online learning is the difficulty of mimicking the classroom environment, which often includes group collaboration or discussion. In this case, intentionality is key. It is one thing to offer a live lecture and read slides from a PowerPoint, but what major good does that do over a video recording or solely slides? Create spaces for students to ask questions. Use tools such as Zoom's breakout rooms to make areas where students can discuss in a smaller group size. One reason students may be less inclined to participate while online is because of the vulnerability required when speaking up on a call. With asynchronous classes, look into creating asynchronous places for you and students to communicate. Discord, GroupMe, and Slack are all options that create spaces for engagement. Working with and hearing from others only increases the retention of content and instructions. They reinforce it with memorable moments and provide areas for questions to be asked and answered.
Communicate, communicate, communicate. What are technical communicators if not people who understand the value of just that? While your content should be able to speak for itself through good structure and high quality, nothing beats hearing from the instructor themselves. Be present however possible. Provide your contact information, set up times when you're available to talk, make announcements, and post reminders once in a while. It all goes a long way. On top of all that, too, ask for feedback. You don't know what you don't know. Communication is a two-way street, and through the vulnerability of asking for feedback on how you are teaching your content, you may find ways to improve and aid your students in ways that you never would have thought of. Every student and group is different, so it will help you to accommodate for individual needs and learning styles.
Good content is nothing without good design. The key to succeeding in making effective content, especially for the virtual classroom, is to create it with your audience in mind. Understand which content they need and where they would be able to find it easiest. Appeal to as many learning styles as you can and reinforce your information with media. Above all, make sure the structure of your content is solid, the place where it lives is navigable in a way that makes sense to students, and it reinforces the goals of the learning. Online classes are here to stay, but for all the challenges that may arise from them, they also make room for opportunity. The best and most curated content tends to be that made under restraints. Oh, and please keep that study guide in an easy-to-find place. Your students will thank you.

---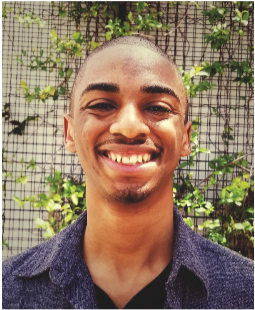 JOHN CLEMENT (johnclement.stc@gmail.com) is a student member of STC and an active volunteer. He is currently a senior at the University of Central Florida, graduating this May with a BA in English: Technical Communication. In STC, he also serves as the Student Outreach Director on the Community Affairs Committee (CAC) and a member of the Membership Marketing Committee. At UCF, he serves as president of the Future Technical Communicators club (FTC), which has strong ties to the STC Florida Chapter. He is passionate about student involvement, community building, and networking. Connect with John on LinkedIn (https://www.linkedin.com/in/john-clement-profile/).
---