By Saul Carliner | STC Fellow
The pandemic forced a sudden and dramatic shift in learning,
highlighting the importance of effective instructional design.
One of the major stories of the COVID-19 pandemic is the virtual move that it spawned. Work, religious services, community events, city council meetings, exercise classes, and even STC conferences: they all moved online.
So did most higher education courses and workplace learning activities, and, in doing so, affected the instructional designers who prepare these courses and activities. To be fair, instructional designers have been preparing online instruction since the 1970s (yes, you read that correctly), with growing frequency since the dot-com era in the late 1990s and early 2000s, but never anything close to 100 percent of all higher education and workplace learning since March 2020.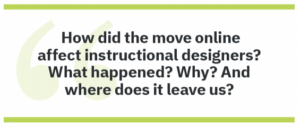 So two years into this pandemic, the question arises about how this move online affected instructional designers. More specifically: What happened? Why did it happen? And where does it leave us?
This article shares five observations about the impact of COVID-19 on instructional design in higher education and workplace learning: observations about the readiness of different education sectors to move online; how the move online showed gaps in our understanding about the limits of online instruction; about the demand for instructional designers; about changes to instructional design services; and about learners' reactions to online learning, which ranged from enthusiastic to revulsed.
Observation #1. Some sectors of education were better prepared than others for the transition to remote teaching
When the World Health Organization declared a pandemic in mid-March 2020, many work and learning activities continued remotely using an existing technology infrastructure. Just as some employers were better positioned for remote work than others, some sectors of education were better prepared than others for the transition for remote teaching.
Higher education and many continuing and professional education groups had been slowly but steadily strengthening their online teaching presence. In fact, despite a downward trend overall in undergraduate enrollments in higher education, online learning was growing in double-digit percentages in the years leading up to the pandemic. Most institutions also supported in-person classes with online resources, including posting materials and resources on course or learning management systems and facilitating meetings with virtual meeting software (like Zoom). As an example, STC has offered online certificates for well over a decade.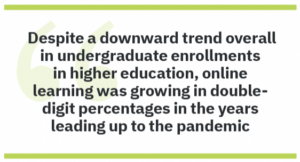 Similarly, nearly half of all workplace learning has been online since the late 2000s, although most of that was in the form of self-study e-learning (up from less than 10 percent at the turn of the millennium). Employers weren't anticipating a pandemic; they merely sought a more efficient and cost-effective way of training workers.
By contrast, pre-K and K-12 were never designed for extensive online learning (except for students who were out on medical leave or live in remote areas); these groups had limited technology infrastructures and few instructional materials. More significantly, a large percentage of students had either no access to the Internet, lacked a device with which to connect to the Internet, or both.
Observation #2. The transition highlighted gaps in the understanding of online learning
On the one hand, a half-century of research on technology-based learning had established that online learning is just as effective as classroom learning and those findings held true across all sectors of education (pre-K, K-12, higher education, workplace learning, continuing and professional education, and lifelong learning).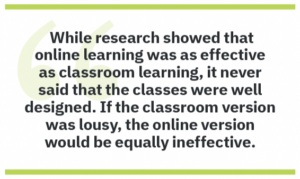 On the other hand, three issues arose that educational technology specialists had previously overlooked or downplayed. The first is that the research merely found that learning under the two conditions was about the same. It never said that the courses under study were well designed, meaning that if the classroom version of the course was lousy, the online version would be similarly lousy.
The second issue is that the research only looked at whether online learning could be as effective as classroom learning. It rarely considered the unique affordances of in-person teaching at different levels and the roles those play in a "complete" education. For example, children learning at home require adult supervision, which has an effect on parents. Certain vocational education programs require hands-on sessions that cannot be replicated online, such as training to drive big rigs and most construction trades. Similarly, one of the unique advantages of a top-rated in-person MBA program is the one-of-a-kind networking opportunities it offers. Although networking virtually is feasible, students do not perceive it has similar value as the in-person approach.
Third, the move to remote teaching showcased most classroom instructors' lack of training in remote teaching. This posed a challenge for K-12 teachers, who receive extensive training and coaching on in-person teaching but also rely on materials designed for the medium of instruction (and nearly all K-12 materials at the start of the pandemic were designed for in-person use). This posed an even greater challenge for instructors in higher education, continuing and professional education, and lifelong learning, and for some workplace learning instructors, most of whom receive little to no training in how to teach, much less how to teach in a student-centered way, which is central to effective online teaching.
Observation #3. After initial layoffs, demand for instructional designers skyrocketed
In the first days of lockdown, instructional designers — like so many other workers — received layoff notices. This especially affected the program in which I teach because the capstone for most of our students is a four-and-a-half-month instructional design internship. Most work locally and because one of the major industries in Montreal is the aerospace industry, when air travel ground to a near halt, so did the internships. In fact, several students who were supposed to start internships in late April and early May 2020 learned that the companies cancelled them.
By mid-May, however, we had as many as three opportunities for each seeking an internship. Nearly all of the demand came from higher education institutions seeking workers to help instructors shift their courses online for the fall 2020 term. Many employers initially contacted us to hire workers; we asked them to consider interns.
The short-term good news indicated some key shifts, however. One is a shift from training departments in companies or in service providers to the e-learning and faculty development units of higher and continuing education groups. (Faculty development groups provide ongoing training and consultation to instructors of in-person classes; e-learning units typically develop self-study online courses.) The other major shift observed is that nearly all of the work was contract or short-term. Many instructional designers in higher education were hired as contract workers prior to the pandemic, but this distinction was even more pronounced during the pandemic.
Observation #4. Some universities and training departments moved beyond one-size-fits-all services in instructional design
Before the pandemic, most e-learning groups in higher education designed and developed self-study e-learning courses, usually from materials used by instructors in in-person classes. They provided a complete service — from needs assessment to administering the completing course. The service was thorough but also slow — about a year from start to finish, often longer.
The pandemic changed two things. First, "online" no longer just meant self-study. Courses could be offered using the Live Virtual Classroom (aka Zoom). Second, no one had time. So the e-learning units in some higher education institutions began offering a slimmed down service, which would could complete the conversion of a course to an online format in a matter of months or weeks. Some of the reduction of time resulted from the use of live virtual teaching, which reduces development time from the 79 hours of effort for 1 finished hour of self-study instruction to 40 to 60 hours of effort for 1 finished hour of live virtual instruction. Analysis primarily consisted of the instructional designer familiarizing themselves with the course content and structure, rather than learning it in-depth. Design involved revising rather than rewriting course objectives and assessments, and the adaptation of existing activities to an online format rather than completely redesigning those activities. Some of the quality checks needed for self-study e-learning were not necessary for live virtual teaching.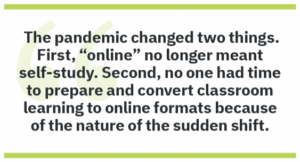 In addition, many institutions supported a further slimmed-down do-it-yourself (DIY) approach, in which instructors could attend an expanded selection of workshops on teaching to build their repertoire of skills in remote teaching. The number of full-time instructors attending these workshops grew extensively as instructors recognized that they lacked training for remote teaching. Faculty development groups also used this opportunity to raise awareness of student-centered teaching techniques and Universal Design for Learning (UDL) — which not only seeks to make courses accessible to students with disabilities, but also inclusive to all students.
Workplace training departments expanded their offerings to include producing live virtual training in addition to self-study e-learning, and boosted their collaborations with providers of libraries of online learning programs. Large providers like Coursera, edX, and LinkedIn Learning not only provided immediate skills training like advanced Excel and negotiation skills, but in-depth preparation for long-term skills shifts, like coding schools and analytics training.
Observation #5. Different groups of students reacted differently to learning online
Despite the exceptional growth in online learning in the past two decades, many people still had limited experience with it before the first lockdowns.
No more.
To the disappointment of some instructional designers, the reviews were mixed. In general, the majority of K-12 students and their parents continue to prefer in-person over online learning. Some of the preference arises from practical issues: the need for adult supervision of children studying online that also affects parents' abilities to work, the lack of physical activity, and the lack of social interaction and development, all exacerbated by the challenges with connecting to the Internet, finding devices to use, and the limited educational materials. Educational technology researcher Neil Selwyn once observed that, despite the many issues that people have with schools, they also have some desirable traits. The pandemic highlighted those.
Similarly, most traditional undergraduate and some full-time graduate students prefer in-person teaching. Some of it was the classroom experience but some of what these students seek is the on-campus experience. By contrast, most mature undergraduates and part-time graduate students, and some full-time graduate students seem to prefer remote teaching. Most of them have jobs and family responsibilities and the convenience of learning anywhere saves hours in commuting to campus.
The reaction among workplace learning, continuing and professional education, and lifelong learning students is harder to gauge. The move to online learning long preceded the pandemic; the pandemic merely forced the remaining programs online. The one exception was conferences, only a few providers offered online conferences before the pandemic. (The Learning Guild is one of them.) At the height of the pandemic, conferences moved online but some conferences immediately moved to a hybrid in-person and live virtual format as soon as possible. Those that tried to move completely back to in-person settings experienced reduced attendance and high cancellations when COVID waves rose. But the desire to meet in person continues despite the growing viability of online events.
So, What's Next?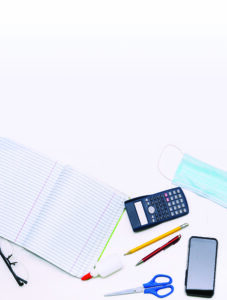 If the pandemic transitions into an endemic (that is, we learn to live with COVID in our communities) and in-person activities resume,
the question arises about how the extent to which online learning remains a part of the higher education and workplace learning ecosystem.
Although I cannot predict with certainty the long-lasting impacts of the pandemic on learning in these two sectors, these observations described above offer insights into what could likely happen. Expectations for the availability of online learning resources have grown as has comfort in learning online, and opportunities for instructional designers appear to be strong as the pandemic shifts to an endemic.
---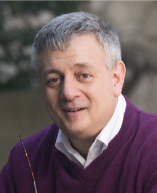 SAUL CARLINER (saulcarliner@hotmail.com) is director of Graduate Programs in Educational Technology at Concordia University in Montreal, the author of several books on e-learning as well as the recent Career Anxiety: Guidance for Tough Times, president of the Canadian Network for Innovation in Education, fellow of the Institute for Performance and Learning, and a fellow and past international president of STC.
---