By Elizabeth Kuehn | STC Member
Stories help us to share knowledge and build culture in easy-to-follow ways. They help us to understand the "why" behind the things we do and the decisions we make as an organization.
Why Do We Do What We Do?
In my first job out of college, I joined a large, approximately 100-person technical writing team at a fast-growing software company. Each month, my writer friends and I walked across the company's sprawling campus to join the rest of our colleagues in the auditorium for an all-staff meeting. We each grabbed a box of popcorn and a soda on our way in, and then settled into our seats for the morning's proceedings.
These all-staff meetings were often long but always interesting. This was a company with a deep commitment to organizational culture and knowledge sharing; the level of sharing could be described as candid and transparent. In the meetings, we heard about customer successes and failures, about colleagues' triumphs and tragedies, about the company's financial performance, and about changes that were on the horizon. Besides the latest news and updates, the meeting also featured several recurring topics, one of which was titled "Why We Do What We Do."
The why we do what we do (WWDWWD) topic was an opportunity to explain to newer employees and remind more long-tenured employees about the reasons for a particular company policy, practice, or tradition. While our CEO often led this topic, it was just as likely to be led by someone at any level of the organization. Sometimes the tone was deterrent, while other times it was lighthearted, ironic, or even side-splittingly hilarious. For example, a topic might illustrate something like how the company's all-hands-on-deck spirit originated from the team of founders coming together and pulling an all-nighter to land their first client.
Fast-forward to the present. Sitting in an all-staff meeting not too long ago staring at a seemingly endless PowerPoint presentation densely packed with data regarding fourth-quarter earnings and long-term objectives, my mind wandered to consider why I've never felt engaged in this type of meeting in the same way I did back at that first job. The answer came to me almost as soon as the question had entered my mind. . . .
The difference is the stories.
The Power of Stories
Stories have been used by people for centuries to share knowledge and pass pieces of their culture down from one generation to another. The staff meetings at my first job similarly used stories to share knowledge and build culture, all while keeping a room full of employees with extensive to-do lists back at their desks engaged, sometimes even captivated, for three-plus hours each month.
What is it about stories that makes them so powerful?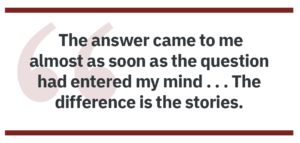 Stories follow a familiar structure. Stories are easy for us to understand because they follow predictable patterns. Since we were small children, we have been exposed to stories in almost all areas of our lives. From the fairy tales we read to our children, to the sitcoms (or even professional wrestling matches) we watch on television, to the phone calls with our mothers sharing all the latest news about the family, we're constantly being inundated with stories. Because we know what to expect with the structure of a story, we can focus all our cognitive attention on the new or novel information that the story is conveying, and we have the mental structures and resources available to easily remember it.
Stories pack a punch. Stories are efficient because they can convey a large amount of information in a small package. A complex concept that normally might take a page or two to explain in detail could potentially be distilled into a punchy, one-paragraph story that gets the same points across.
Stories center around the characters. Stories become personal to us through their characters. The characters add the human element. The more closely we can identify with the characters, their plights and struggles and the obstacles they face, the more likely we are to insert ourselves into the stories we read or listen to. And, as we become more personally invested, we become more engaged, we pay closer attention, and the story's lasting impact becomes even stronger.
Stories have morals. The moral of the story is the lesson it is designed to teach. The moral might be cautionary, or it might be inspirational or motivational. Positive or negative, it offers a takeaway message for the story's audience. When the takeaway message equates with the most memorable part of the story, the author has hit the sweet spot in crafting a great story. It's been more than 10 years now, but I can still remember many of the WWDWWD lessons.
Why Is the 'Why' Important?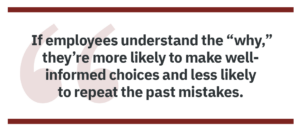 In my staff meeting example, the moral of the story correlates with the "why." The WWDWWD stories examined what lessons employees had learned in the past that altered their course or caused them to adjust their processes or practices. No one wants to be told to do something just because "that's the way we've always done it." If employees understand the "why," they're more likely to make well-informed choices and less likely to repeat the past mistakes. Understanding the why also affords them the opportunity to reevaluate their assumptions and question whether they are still valid in the current context. Perhaps the reason the organization does it this way is obsolete and there's a better way to do things going forward. Employees will never realize this if they don't understand the "why."
One key tenet of knowledge management is getting information out of the heads of "experts" and into the hands of others who need it. That's not always an easy task. Oftentimes the knowledge is tacit, and the experts can't easily share it using typical means, like job aids with linear instructions. That's where stories can help. In this context, stories serve almost like "rules of thumb," illustrating a scenario that an employee might face and recommending what to do or not to do to address it.
The Storyteller's Role
As technical communicators, we are well equipped to help our organizations maintain and share their "why" through stories. Many of us have been trained as storytellers, perhaps as journalists, as fiction writers, or as information designers. Even if we haven't, we can familiarize ourselves with the basic storytelling principles and combine those with our familiar principles of clear and effective communication to develop our own stories and to help our colleagues develop their stories.
Teaching about organizational culture and norms is just one example of the way we can employ stories in a business context. And there are many possible avenues to share these stories beyond an all-staff meeting, though that's a great place to start. Other contexts where we might share them include internal social media channels, team blogs or intranet posts, or division meetings. The context that we decide upon will help us to determine whether to share these stories verbally or in writing.
When we're crafting the stories to share within our organizations, it's not always necessary to stick with the facts. Just like in the movies, our stories can be fact, fiction, or "based on a true story." We might find that sharing an allegorical story is more effective at getting our point across. When we venture outside the lines of nonfiction, we just need to be transparent and make sure our audience is aware of our story's "genre."
By adding storytelling to our technical communication toolkit, we can help our organizations preserve and share valuable insights and equip employees with information that helps them do their jobs more effectively. Plus, we might just find that we have fun crafting and sharing the stories along the way.
---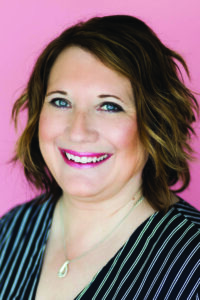 Elizabeth Kuehn (ek@ou.edu) is an STC member of the STC Philadelphia Metro chapter. She is a technical writer, instructional designer, and knowledge manager with nearly 20 years of professional experience.