By Alyssa Fox | STC Associate Fellow
As company executives increasingly recognize the importance of great content in their organizations, the visibility of technical communicators continues to rise. As a result, those communicators are often participating in and driving strategic initiatives across their organizations.
A business case helps drive an organization's strategic plans by giving the full story of the value of solving a particular problem. We'll look at how to write a solid business case to convince stakeholders to invest in key content initiatives.
For the purposes of this article, we'll use an enterprise-wide content strategy as the example proposal for which we're writing the business case.
Preparing to Write the Business Case 
Most of the time and thought spent writing a business case is in the preparation, not the writing itself. A comprehensive and accurate analysis of your current situation, a thoughtful recommendation for improving the current situation, and a well-constructed set of benefits are essential to a solid business case.
Analysis and Recommendations
Before you propose a new solution or strategy, set the context for why you are making your proposal. Grabbing the attention of your audience and aligning them to your assessment of the current situation makes them more interested in your proposal. Once you have their attention, communicate your suggested resolution clearly, outline next steps, and highlight the benefits your audience will see as a result of your proposal.
An approach I like to use for this preparation is the SCIPAB framework. This communications framework lets you explain the problem, recommend a solution, and detail the benefits of acting in just a few sentences. The SCIPAB components are as follows:
Situation — State what you know about your audience's circumstances that is relevant to your discussion, e.g., current state of their business, technology, industry, or plans.
Complication — Identify the critical issues (changes, pressures, demands, etc.) that are impacting the Situation and creating problems, challenges, or opportunities.
Implication — Show the personal or business consequences of failing to act on the problems or opportunities described in the Complication.
Position — State clearly and confidently your opinion about what needs to be done to solve your audience's problem.
Action — Help the audience understand the role you want them to play, or the questions you'd like them to consider.
Benefit — Describe how your recommended Position and Action address the audience's specific needs. State the results clearly and quantifiably.
In our example of proposing an enterprise content strategy, the completed SCIPAB framework could look something like this:
Situation — Our goals for our content include:

Generating leads for our business
Providing relevant information to users for them to get the most value from our solutions
Engaging with our customers to show value
Enabling our salespeople to sell our solutions

Complication — Factors that prevent us from completing our goals effectively include:

Siloed content creation
Reinvention of the wheel that delays content delivery
Too few resources (people, technology)
Accelerating rate of content demand from the business and prospects/customers
Difficulty in connecting the dots across our business's content to show our breadth of understanding and solutions, making us less differentiated among our competitors

Implication — If we don't address some of these complications, we will have the following:

Inefficient content production and delivery
Missed opportunities to tell a coherent and consistent story
Missed opportunities to demonstrate value in the buying cycle with both technical and marketing content
Increased costs due to all the above

Position — We need an enterprise content strategy to more efficiently build and weave together content across our organization. Content strategy guides the creation, management, and delivery of useful, usable content that meets our business goals. Content strategy also operationalizes the creation, use, and governance of content in the most efficient, measurable, and improvable way.
Action — Initially, we're requesting the creation of an enterprise-wide content strategy committee to build the initial content strategy and run a six-month pilot project on the content for one of our product lines. The pilot project will include conducting a content inventory, conducting a content audit, creating content models as needed, and designing initial content creation and governance workflows.
To realize the full benefits of a global content strategy, a content management system (CMS) is required to facilitate content reuse, review, and storage across multiple departments. Requirements for the CMS and its implementation will be fully formed after the pilot project completes. (Note that this portion is not part of the initial request but is important to include so your audience understands there could be additional investment needed later.)
Benefit — Having a unified content strategy will allow us to:

Accelerate unification of the marketing story and the technical story of our solutions
Increase the efficiency of our internal content processes, reducing costs
Multiply the effectiveness of created content
Supplement marketing content creation Align around the new brand message throughout all customer interactions
Enable more effective use of limited resources
Once you list the benefits of your proposal, you can go into more detail about how you plan to realize those benefits in your business case if you like. In this example, we could include specifics such as increase to productivity, faster content creation, reduction in costs, etc. Any relevant statistics or graphics are also good additions.
Writing the Business Case 
Once you've completed your SCIPAB analysis, convert that assessment to the outline of your business case. You can do this in several ways but making the headings simple and easily scannable is key. A 1:1 mapping of the SCIPAB components and headings is not required—in fact, often you'll find that parts of your SCIPAB assessment fit into different sections of your business case.
Start the business case with an executive summary that gives an overview of the problem, the value in solving the problem, and your proposed solution. Often, it's easiest to write the executive summary last after you've filled out the subsequent sections.
---
Common sections of a business case include:
Executive summary
Description of the concept or deliverable you're proposing
Problem statement
Business drivers or goals for the recommendation
Financial information
Recommendation including project definition and plan outline
Potential risks of proposed solution and mitigation plans
Next steps
---
There is no set number of pages required for your business case but be as concise as possible, while also including the appropriate information for your audience to make a decision. Also, keep in mind that your audience often focuses most on your executive summary. Make it as clear, accurate, and compelling as you can to set the stage for background details. Don't start from scratch — use one of the many free business case templates on the web.
Financial Analysis and Details
Aside from "What's in it for me?", the next question to anticipate is "What is this going to cost me?" Know your audience and what their challenges are. If you're proposing a change to executives, they are responsible for profit and loss, and care about the bottom line. In other words, how will your proposal make them money or save them money? If you're proposing a change to middle management, they might care about how the change will affect their teams and how much time it will take. And when proposing to the team members implementing your proposal, they care about how it will make their jobs easier.
I've included an example cost/benefit comparison for you to use as a starting point. Yours will vary depending on your specific proposal and needed investment, but this visual can help you with your layout and items to include. Commentary on what's included here and why follows.
Cost/Benefit Comparison
Best Case (first year)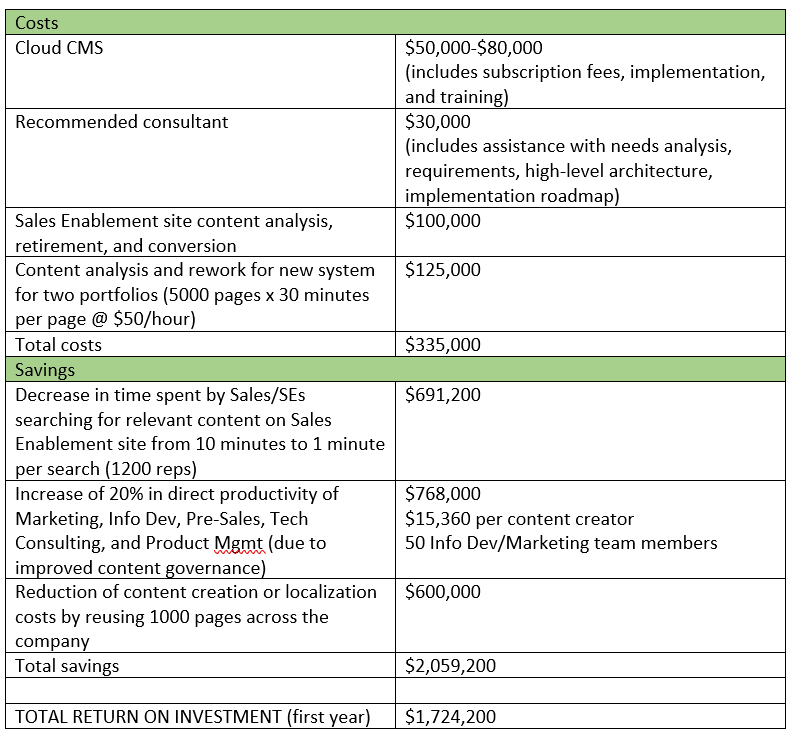 Worst Case (first year)

Investment Considerations 
For our example of an enterprise content strategy, the largest monetary cost would likely be some sort of content management system (CMS) if you don't already have one. Other straightforward monetary costs to consider are professional services fees for setting up a new system, consulting fees for training on a new system (or re-training on an existing system to get all users in alignment) or assisting with analysis or migration to a CMS, and any software you might need for content inventory and audit. Usually, it's easy to get quotes from vendors and consultants for their products and fees for you to add to your business case.
After you work out the estimated straightforward costs, it's time to look at the people you'll need to implement your proposal and how the cost of their time factors into your proposal. This section involves a lot of math, but it's important to make it as accurate as possible using real numbers.
You'll need to know the HR cost of a full-time equivalent (FTE) employee from the various departments you're including to be able to accurately calculate the cost of creating content, as well as the savings realized by your recommendation. In our example, we're including both creators and consumers of content such as Technical Content, Marketing, Sales, Product Management, and Professional Services/Tech Consulting, so we need the FTE costs of employees in each of those departments. You'll also need to know your company's estimate for creating a page of content (in collateral or PDF format), or how you calculate web content creation cost as well. Your HR department and content production department can help you if you don't know these numbers.
Investment Calculation Tips
I highly recommend building out a best-case and worst-case scenario when it comes to your investment request. Best case includes less expense and more return on investment, and worst case includes more expense and less return on investment. This inclusion gives your audience a range to work with when reviewing your proposal, rather than a single number that could easily fluctuate.
Create a separate document with your calculations on content creation and delivery time, team productivity, time savings, and cost savings. Your audience might ask how you got the numbers you did regarding time spent searching, time spent creating content, etc. It's a much faster and easier conversation when you hand them a document showing your work than if you try to explain the math with no visuals.
Finally, be clear about whether your expenses, potential savings, and potential revenue will be the same every year, or if it's substantially different the first year than it would be from following years. In this example, first-year expenses are higher due to implementation of and training on a new CMS. While licenses for that software continue year to year, those upfront costs won't, so your return on investment will be larger for year two and beyond.
Working the Numbers
Following are some examples of just a couple of the calculations needed for a business case for an enterprise content strategy.
Reduction in costs of content production due to content re-use 
1,000 pages * 2 hours per page to create = 2,000 hours of work
2,000 hours * $50/hour = $100,000 to create 1,000 pages of content once
Multiply that by 7 and total cost of creating 7 "versions" of that content is $700,000.
$700,000 – $100,000 = $600,000 savings in content creation costs
Scenario and Calculation for Enablement Site Search Decrease (best and worst case) 
Sales spends a lot of time looking for content on the enablement site. Due to the inefficient search, large amounts of out-of-date content, and content tucked into PDF files, they often don't find what they need. Sometimes they write their own content based on things they've tried that work and share them "off the books" with other salespeople. That valuable knowledge never gets built back into the official enablement content provided by Marketing.
Number of salespeople/SEs using the site: 1,200
Time spent for a single search in current system: 10 minutes
Time spent in the new system with current content and improved search: 1 minute
Required cost of Sales Enablement site content analysis, retirement, and conversion: $150,000
Assuming 2 searches per week per sales rep, that's a time savings of 18 minutes per rep per week. In the old system, 2 searches x 10 minutes = 20 minutes/week per rep. In the new system, 2 searches x 1 minute = 2 minutes/week per rep. 20 – 2 = 18
Best case: Time saved for all 1,200 reps, per week = 18 minutes x 1,200 reps = 21,600 minutes (360 hours)
Best case: Cost savings per week (assuming $48/hour) = $17,280
Best case: 40 working weeks/year x 17,280 = $691,200/year
Worst case: Time saved for 600 reps, per week = 18 minutes x 600 reps = 10,800 minutes (180 hours)
Worst case: Cost savings per week (assuming $48/hour) = $8,640
Worst case: 40 working weeks/year x $8,640 = $345,600/year
Even with a $150,000 investment, total savings runs from $195,600 to $541,200 per year.
Conclusion 
Business cases have a significant effect on organizations in which projects their executives agree to take on. Employees with higher business acumen demonstrate that knowledge through a well-written business case highlighting an awareness of problems in the organization, ideas for improving those problems, and an understanding of the financial and human resources needed for that improvement. And once your business case is approved, you have more influence on additional projects and the organization, paving the way for stronger content that ultimately impacts the bottom line.
Additional Reading
Bailie, Rahel Anne, and Noz Urbina. 2012. Content Strategy: Connecting the Dots Between Business, Brand, and Benefits. XML Press.
Casey, Meghan. 2015. The Content Strategy Toolkit: Methods, Guidelines, and Templates for Getting Content Right. 1st ed. New Riders.
Eby, Kate. n.d. "Free Business Case Templates for IT, Project Management, and More." Published 25 June 2018. https://www.smartsheet.com/business-case-templates
Muir, Heather. n.d. "What is SCIPAB?" Mandel Communications. https://www.mandel.com/blog/what-is-scipab
---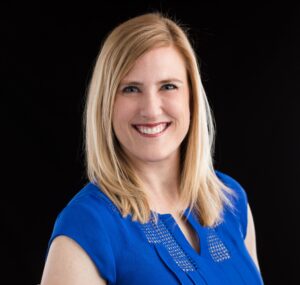 Alyssa Fox, (https://www.linkedin.com/in/alyssafox/), is an Associate Fellow of STC and past President. She is a marketing leader and content strategist who thrives on improving customer and partner experience through strong relationships and tailored marketing strategies. With extensive experience in technical and marketing content, Alyssa has a passion for leveraging content as a business asset to drive demand, revenue, and customer retention. Alyssa is a member of the American Marketing Association and active volunteer in STC. She speaks at conferences around the world about various leadership, strategy, marketing, and content topics. She loves traveling, reading, good grammar, eating slow, and driving fast.