By George F. Hayhoe | STC Fellow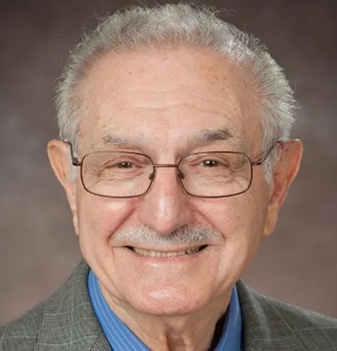 Ernest D. Mazzatenta, STC Fellow and Past President (1983–84), died at the age of 91 on February 11, 2023, in Hendersonville, North Carolina. Before retiring to Hendersonville, Ernie lived in Warren, Michigan, where he worked for 26 years as a science writer and educator for General Motors Research Laboratories. More than 1,300 GM engineers and scientists graduated from the technical writing and business communication courses that he developed and taught there.
Ernie was one of five long-time members honored at the Society's annual conference as Exemplars in 1999, which included people whose friendship and support had made a difference to many of our careers and professional lives. I was honored to interview Ernie at a conference session that day, and looking back at that conversation, I realize that much of what he said that morning crystallized both his working and his retirement years.
When I asked Ernie that day what single idea was the best he had come up with in his time in STC, he quickly answered that it was the annual publications competition that he founded at the chapter level. That idea gradually spread to other chapters, and evolved into the international technical publications, art, and online competitions that were annual Society events until just a few years ago. That idea of Ernie's still survives in a few chapter and regional competitions today. The impact of these competitions? Ernie said, "The winners told us that they gained new respect at work from their peers as well as from their management. They were given new and challenging assignments in some cases, and some told me that they were even promoted. I can't say that the competition was the only reason, but certainly their communication skills had a great deal to do with their advancement."
Recognition of communication and leadership excellence was a big deal to Ernie. He delighted in his role as manager of the STC Fellows Committee, which vets the credentials of nominees of Associate Fellows for advancement to the rank of Fellow. Many of us old timers remember him in that role proudly presenting plaques to new fellows at honors banquets held during annual conferences.
No one who knew Ernie will be surprised that after retirement, he continued teaching for many years. He was a senior adjunct instructor at Montreat College's School of Professional & Adult Studies in Black Mountain, North Carolina, where he taught managerial communication and public speaking. And from 2012 until three weeks before he died, Ernie volunteered a monthly grammar column called "Speaking of Words" for the Hendersonville Times-News, blending his loves of the English language and educating others. His daughter Maureen recalled that when she arrived at the hospital when Ernie became ill in early January, "his main concern … was ensuring [that his editor] had received the two articles Dad submitted in advance of the holidays, so his column could run uninterrupted. He did not want to let the Times-News down." That concern speaks volumes about Ernie's character.
One final role that Ernie took on in retirement was serving more than 20 years as a volunteer mediator for the Mediation Center of Hendersonville. There, he helped resolve 250 disputes, served six years on its Board, including three as President, and chaired various committees. In our 1999 interview, Ernie attributed his ability to act as an intermediary to the versatility that is second nature to technical communicators. Anyone who met him knew that Ernie was first of all a gentleman's gentleman, with a melodious voice that undoubtedly served him well in the role of mediator.
Ernie was predeceased by his wife Joan. He is survived by his children Mark, Michael, and Maureen (herself a medical writer); their spouses; and two grandchildren.