By Shawneda Crout
The Interaction Design Foundation defines information visualization as "the process of representing data in a visual and meaningful way so that a user can understand it." Information visualization objectives and actions align closely with "data visualization," which at times are used synonymously by information practitioners. The trend of consumers and audiences growing more dependent on and preferring visual breakdowns of information is reflected in three jobs on the rise in 2023 that rely on the ability to produce data visuals: data governance manager, content designer, and director of bioinformatics.
Data governance managers provide oversight for the infrastructure, maintenance, security, and related best practices, policies, and proper procedures for an organization's data. Content designers can be considered the newest evolution of technical writers that includes all audience-facing content types, including social media; researches the audience accessing the content; and collaborates with engineers and UI designers to create a user-centric content experience. A director of bioinformatics is a senior level data practitioner who reports directly to C-suite executives and is responsible for providing strategic insight, statistical analysis, and predictive strategy recommendations based on previous portfolio performance coupled with market experience. Entities focused on achieving sustainable profit margins while developing scalable products employ data-informed strategies for all departments, especially customer-facing areas like marketing and communications.
As consumers continue to become more technologically savvy and gain more access to information, brands must be able to visually present complex information that demonstrates the efficacy of a solution. From medical writing to software documentation, presenting complex concepts, data sets, and analytics in an easy-to-digest way has been a part of information visualization in technical communication. For an information visualization practitioner working in a startup space or at an established brand, recognizing the symbiotic relationship between marketing and technical communication will lead to creating information visualizations that benefit future and current customers.
Marketing
Information and data visualization in marketing helps customers understand how a company's product will solve their problem. Presenting complicated information in a clear, effective visualization can help the customer digest product benefits or features faster, leading to making a decision to purchase sooner. Visual assets can help confirm a customer's analysis of dense data by presenting it in a different way that is easier to understand, retain, and regurgitate to decision makers.
For examples of complex data sets translated into stunning infographics and visualizations, visit www.informationisbeautiful.net. For example, you'll find information that can be used to show the best performing Marvel movies. "Which is The Best Performing Marvel Movie?" is a resource a design firm could use in a pitch deck to explain how connecting the product aimed at movie goers who watched Spiderman and Shang-Chi will fare better than trying to connect the product to those who watched Incredible Hulk or Iron Man 2. Another example is, politicians looking to prove that fear-driven campaigns were intended to undermine the medically supported treatments for COVID can refer constituents to the "COVID-19 Coronavirus Data Dashboard" to see how prescribed and rumored treatments fared on a global scale for treating patients for the duration of the pandemic.
Technical Communication
Presenting high-level data and information in technical communication is beneficial for improving the clarity and effectiveness of a complex product. Information visualization often includes using varied colors and different chart types to explain complex information.
Visualization assets can be used to help the audience explore dense, complex data using visual cues that align with key performance indicators (KPIs) and goals, whether qualitative or quantitative. Some of those assets can include:
Graphs
Bars
Scatter plots
Icons that represent large populations
Maps
Working to be a trusted resource, no matter what industry you're a part of, is a positive business use case for content design and technical communication, and for building a positive bridge between marketing and experience teams. Strengthening the relationship between technical communication and marketing by using information visualization at the intersection of marketing and technical communication can support long-term business success. From a financial standpoint, technical communication is an extension of marketing that matters the most—after you've made the sale, and that is involved with the customer the longest. Showing your customer you're committed to supporting existing products while exploring new revenue generating solutions helps improve customer retention.
A positive customer experience when accessing support documentation can reinforce the reason a customer chose your solution, providing reasons for your customer to continue doing business with your brand. Well-developed technical communication contributes to the long arm of marketing known as customer retention. Retaining customers by ethically presenting complex information with information visualization builds trust with your brand. A supported, satisfied customer is a kept customer.
References
Brush, Kate, and Ed Burns. "What Is Data Visualization and Why Is It Important?" Business Analytics, TechTarget, Last accessed December 8, 2022. https://www.techtarget.com/searchbusinessanalytics/definition/data-visualization.
Gaur, Chandan. "Advanced Data Visualization Techniques and Its Features." XenonStack Inc, Last accessed December 1, 2022. https://www.xenonstack.com/blog/data-visualization-techniques.
Interaction Design Foundation. "What Is Information Visualization?" https://www.interaction-design.org/literature/topics/information-visualization#:~:text=Information%20visualization%20is%20designed%20to,help%20persuade%20someone%20with%20data.
LinkedIn News. "LinkedIn Jobs on the Rise 2023: 25 U.S. Roles That Are Growing in Demand." LinkedIn, Last accessed January 18, 2023. https://www.linkedin.com/pulse/linkedin-jobs-rise-2023-25-us-roles-growing-demand-linkedin-news/?trackingId=agHeer8qRJeDpkD6BWCLkg%3D%3D.
---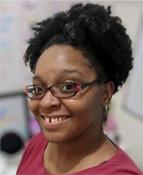 Shawneda Crout is a technical project manager and an author. When she isn't "wielding her pen" to solve for NGOs, SMBs, or clients, you'll find her working on her next novel.