Technical communicators have many choices when it comes to project management tools—this case study examines three useful ones to consider.
By Dr. Liz Herman | Fellow, Celeste Graeff, and Kelly Kaiser
A comprehensive project plan includes creation and maintenance of a project schedule. Technical communicators should, at a minimum, be included in the project schedule and should understand how to schedule their work within a larger project schedule. In some organizations, the technical communicator may be responsible for managing the project schedule in total with input from the project manager and the project team. Management of the schedule entails ensuring all discrete tasks are included, owners are assigned, dependencies are charted, and task statuses are kept current.
There are numerous software tools to use for project scheduling, from the simple to the complex. The selection of a project schedule tool is directed by the complexity of the project, the availability of the tool, and even user preference. While a table created in Microsoft® Excel® might work for a simple, small project with two or three team members, a complex project, such as revising an entire training curriculum with multiple tasks, milestones, and designers, requires something more robust. Regarding project management tools, your organization may dictate what project teams use to track. You may have a personal preference when it comes to selecting a project management tool—something you are already familiar and comfortable with.
Project scheduling tools can vary during a project. For example, on a recent project, the team's project schedule migrated from Jira software to Microsoft® Project. In addition, Smartsheet was the scheduling tool of choice for a subset of content management tasks. This article introduces each of these project scheduling tools and how each tool benefitted the project at specific times during its lifecycle. Pros and cons of each will be shared to give technical communicators a solid understanding of these tools, should they wish to use them on future projects.
Software Development Project Management
At the beginning of the project, when the overall customer service product was being developed, the team used Atlassian Jira Issue and Project Tracking software. Jira, an agile project management tool, was chosen by the software development team. Because the content and training team was developing content and training materials for how to use the software being developed, it made sense for them to use the same project management tool. Moreover, at that time, the entire project was following an agile approach to project management. The Project Management Institute defines agile as "an iterative approach to work that helps teams deliver value faster and with fewer headaches. Instead of betting everything on a big launch, agile teams deliver work in small, consumable increments." With the software development team and several other project teams, the content and training team was on the Agile Release Train (ART), which the Scaled Agile Framework® (SAFe) defines as a "long-lived team of Agile teams that incrementally develops, delivers, and often operates one or more solutions in a value stream."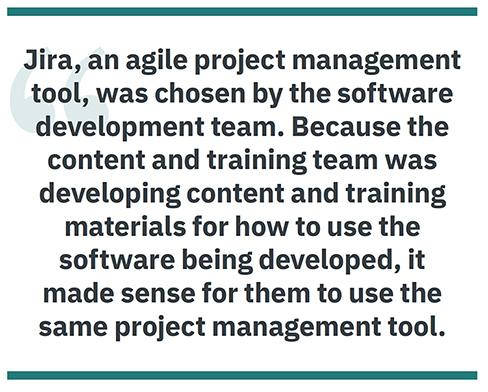 The content and training team's agile charter outlined team responsibilities, work item types, working agreements, success measures, acceptance criteria that tasks were complete (the definition of "done"), key interaction points with other teams on the ART, and key stakeholders. While on the ART, the content and training team developed content during two-week sprints within a 12-week program increment. This cadence naturally provided start and stop dates during which team members worked tasks, which the product owner and scrum master had prioritized. Because the charter specified team interdependencies and acceptance criteria (as two examples), those tasks did not necessarily need to show up explicitly in Jira as tasks were created and moved through to completion.
The team was part of the ART and used SAFe for 18 months. Like any project management tool, one hurdle was training new team members on its use. Technical communicators are in a terrific position to develop training materials and job aids to help new team members learn how to use the project management software. In this situation, team members who were not familiar with agile project management also needed to be educated on that methodology, plus learn how to use Jira. This added a layer of complexity to the use of the Jira tool. Time for education must be factored in when the tool is used with agile project management. Less experienced project managers could inadvertently omit time to create instructional materials and onboarding new team members from the overall project plan.
Complex Project Management
When the project was in steady-state mode, the team chose to leave the ART. While the Agile methodology worked tremendously well for the team when the entire project was aligned to a product release, that cadence was no longer necessary after the product was in production. However, leaving the train created a gap. Without the team tied to sprints and without the selection of a project scheduling tool, tasks generally took longer to complete given the lack of assigned deadlines or project milestones. Going into a new team-specific project to update all of the customer service training materials, it was apparent that a scheduling tool was needed.
Given the scope and complexity of uplifting the existing User Training for the product curriculum and the abbreviated timeline for completion, Microsoft (MS) Project was the project management software selected to support the successful delivery of the project. MS Project has a variety of capabilities to track tasks, sub-tasks, start and end dates, and resources, as well as many other data points, in a very clear and organized fashion. Also, one does not need to be an expert with using the software to successfully leverage many of its core capabilities.
Because this was a new team project and a new Project Manager (PM) was selected to manage this training project, a clear approach to designing the project plan was needed to achieve the goals for the effort. Discussions concerning tasks and sub-tasks, resourcing, and project delivery timing were critical. The PM and the lead Instructional Designer collaborated to identify the main tasks and subtasks to enhance the existing content of approximately 60 training lessons. The decided approach was to carefully identify these tasks before drafting the plan to ensure that a replicable, task-based approach could be consistently used for the enhancement of each learning module's content with as little plan rework as possible.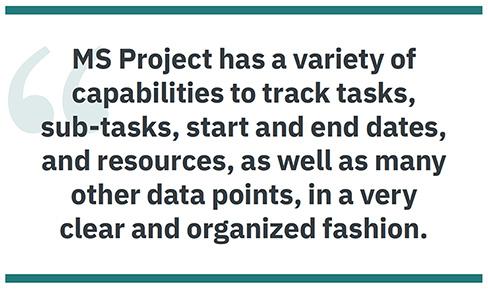 After the full training uplift tasks, subtasks, and resources were determined, they were added to the tool. For each lesson, there were 16 replicable subtasks that defined the team's training uplift cycle. These included analysis, design, quality assurance testing, SME feedback, training pilots, exam updates, and learning management system hosting verification. The resulting plan, which took approximately 20 hours to create, update, and proof, exceeded one-thousand lines.
Adjusting the Project Management Plan
To easily navigate the tasks, subtasks and other information, the original plan was separated into four smaller plans based on lesson skill-level groupings. The content uplift tasks and subtasks noted above remained consistent for each lesson in each plan. The Start Dates and Target Completion Dates were forecast within each plan but were regularly adjusted due to factors such as Subject-Matter-Expert (SME) availability, and other competing, business-related priorities that affected resourcing. Each team member was initially tasked to make updates to the plans for their respective project assignments; however, this approach became cumbersome as co-authoring capabilities were not available. Ultimately, the PM assumed the responsibility of updating all task start dates, completion dates, and resourcing, gathering the information during brief, Agile-inspired daily project meetings, to ensure that the project plans were always current.
After the task update approach was refined, the Gantt Chart view in MS Project enabled everyone on the project team to know the status of their task assignments as well as the overall project. The data captured in the plan's Duration field will help the team improve forecasting the time necessary for future training content uplift efforts. This benchmark of the team's current capabilities will be a helpful measure as they work toward becoming more efficient with training content development.
Task and Milestone Project Management
While the training team tackled their project using MS Project for task and project management, the content team chose a different project management tool called Smartsheet to help them deliver customer service scripts, job aids, and informational alerts.
The team members who handle content creation of items such as job aids, SOPs, and knowledgebase articles identified another gap after no longer relying on Jira for project management. Requests for new content or updates to current content were coming in from multiple sources and landing in the Inboxes of several members of the team. It became clear that there was no process for the intake and management of these various requests, so the team decided to use Smartsheet.
Smartsheet is a robust, cloud-based solution that offers various features to help with the management of project logistics, details, and communication. It helps users easily create, manage, and report on tasks to make a process more streamlined and automatic. It combines features available in several other tools into one simple platform. Smartsheet has scalable, dynamic features with automatic, live updates that can rapidly respond to changes.
The team likes that Smartsheet has similar features to Excel® and PowerPoint®, because the learning curve for new users is small. Since no coding skills are necessary, Smartsheet is very user-friendly and intuitive to learn. The built-in automation features make Smartsheet so much more robust than a simple spreadsheet program. It also integrates and works easily with the team's existing tools including Microsoft Office and Teams, and others like Salesforce, Jira, Adobe Creative Cloud, DocuSign, ServiceNow, Okta, and Slack.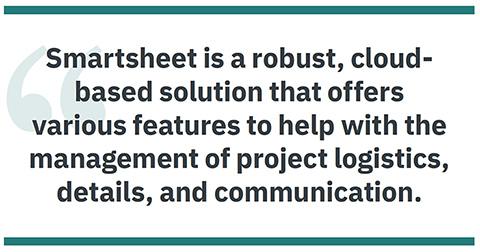 The intake process for data/tasks can be done by entering them into a spreadsheet, or using one of the customizable, robust, branching forms that enables the user to add attachments. Our team uses the form for the intake of requests, so that other teams can complete and submit the form, and it automatically populates a sheet with a list of all the requests.
The sheets can be viewed as a spreadsheet, Gantt Chart, calendar, or task cards like Jira, so it was an easy transition for the team. Comments can be created and tied to a whole sheet, task card, or row. This makes communicating about each request easier and more streamlined for the team members—no more searching through email threads to see the progress of a task! The team likes the ability to assign tasks and have Smartsheet automatically send notifications and reminders. We also set up alerts to let us know when the assignees made updates to their tasks. The review/approval process in Smartsheet allows our team to either proofread and approve content and images from within the sheet, or use documents attached to each row/request in the sheet.
Reporting to colleagues and leaders on the various requests and tasks is easy with the auto-populated reports that are always accurate with the most current information. The reports automatically feed the chosen data into fully customizable dashboards that house the various metrics and graphs. The metrics are automatically gathered and populated into dashboards from the reports with dynamic, automatic, live updates as users made edits in the sheets. The tool provides unique URLs for sheets, reports, and dashboards to easily share with those who don't have a subscription.
There are also different levels of permissions/access, so we can control who is able to only view and who we want to be able to edit the sheets as well as the reports and dashboards. We also set up others as administrators to help manage the access to certain data.
The drawbacks to using Smartsheet include the requirement of a subscription service (either individual or enterprise) and the need to make separate purchases for premium features. Otherwise, it is a wonderful tool that provides an easy, robust experience for our team to make work intake and managing projects and tasks more efficient and automatic.
Technical communicators have many choices when it comes to project management tools. The tools above—Jira, MS Project, and Smartsheet—offer three options to ensure the overall success of your project plan.
Are you creating a project schedule tied to software development (planning, tracking, and product release)? Jira may be the natural choice.
Creating a project schedule to track a complex effort with variable tasks and an abbreviated timeline (task and resource management)? MS Project enables you to organize and track easily.
Creating a project schedule where automation is built in, and no coding is necessary (collaboration and workflow management)? Smartsheet could be a viable option.
Choose one or accept the risk that failure to include a schedule as a necessary part of a project plan can lead to cost and scope issues. Ultimately, without a schedule and without good governance around the maintenance of said schedule, the project could fail in total. Technical communicators can prevent this through advocating for and managing the project management tool for their projects.
---
| | |
| --- | --- |
| | Dr. Liz Herman, STC Fellow, is currently serving as Vice President on the STC Board of Directors. A long-time knowledge management advocate, she leads teams focused on improving the customer experience. |
---
| | |
| --- | --- |
| | As a former teacher, Celeste Graeff uses her extensive instructional experience to help end users more easily understand complicated issues through documentation. Her teaching past has aided her in being patient, flexible, and an apt problem solver. She is analytical, logical, and as a lifelong learner, loves to use new tools to create documentation. She travels the US with her husband and son in their huge RV full-time and loves working remotely so she can pursue her personal and professional dreams simultaneously. |
---
| | |
| --- | --- |
| | A true learner at heart, Kelly Kaiser is a Human Capital Manager for Accenture Federal Services (AFS), who specializes in training and development, learning technologies and executive coaching. She is passionate about the role that she plays in helping clients to better leverage training solutions and technologies to achieve their goals. Kelly also enjoys supporting individuals in their professional development, providing executive coaching and mentoring support. With AFS since 2021, her prior work experience is in the industries of fintech, healthcare and retail. Kelly lives with her husband in Virginia, and is devoted to volunteering, pet rescue and wine tasting. |