By Ferry Vermeulen
The idea for this article was born after the massive response that followed after a webinar I did at an online summit organized by The Content Wrangler, where I spoke about my location independent lifestyle. It was then that I realized that all technical communicators can easily be digital nomads or live a location independent lifestyle.
As a full-time manager of my own tech comm business, a presenter, and a travel writer, I have the freedom to work from anywhere. And although my income is created entirely online now, I have traveled to over 50 countries, and try to work as much as possible from beaches, hammocks, and co-working spaces, I didn't just create this lifestyle in one day.
In this article, I will tell you exactly how you can make the transition to location independence as well.
1.  Learn technical writing
Although you can study technical writing, you don't need a degree to be a technical writer. With self-study, the right skills and experience, and a portfolio, it will be easy to win gigs or impress employers. Online platforms such as Udemy or Coursera offer some basic courses to get you started.
Some of the skills that you need to master are:
Communicative skills for interviewing and listening
Technical skills
Writing skills
Learning new tools quickly and efficiently
Design skills
Usability and testing skills
I was a recently graduated university student when I started my product development agency. I was trying to make a living by designing products for clients, and hoped to become rich with some of my own products. I wanted to create a decent business and have the freedom to do what I want: create new things!
But we were mainly working for SMEs with innovation subsidies from the government. Although the business went quite well, it didn't give me any satisfaction, knowing that most companies worked with us because we were cheap. Also, our own products didn't work out that well due to lack of experience.
But what I really struggled with was that most of my fellow graduates had excellent jobs with big corporatations like Heineken, Philips, or G-Star. I felt like I was missing out. At one particular moment, I was at a birthday party, and someone I knew from university said: "Oh, so you still haven't found a real job?"
The government stopped the innovation subsidies, which literally killed our primary source of income.
Then one of our clients asked if we could also create user instructions for the barbecue grill that we designed for him. I was able to combine my usability skills (for creating user-friendly texts), 3D skills (for creating excellent illustrations), design skills (for creating appealing documents), and legal knowledge (I always found it interesting to sort out what legal product safety legislation there was. This legislation also gives requirements on the content of the user instructions), to create great instructions. A new company was born.
From that moment on. I took courses such as technical writing, information mapping, minimalism in techcomm, simplified technical English, product safety, single sourcing, and more.
2.  Find a way to generate income online
Search engine optimization (SEO) was about to become popular back then. I claimed some strategic URLs, put content on them, and BANG, we were on spot #1 on Google for many relevant keywords. After being live for a week, the phone rang. It was the Japanese company AKAI, whose manuals my former company still makes.
I sold the shares of my company to live my dream and moved to Berlin. I wanted to live location independently. I took my online marketing skills with me to build a new business, but this time without a physical office and staff. This was a process that took me two years. Now, my team lives all around the world, and my people work from home or co-working spaces. I have a virtual assistant (whom I met in person last May this year) and a virtual office for picking up the phone. I maintain my blog to keep the traffic going and win new gigs.
Setting up an online business is just one way you can generate income online, but you can also find a remote job or work as a freelancer. For both freelancing and a remote job, establishing an online presence is essential. Make sure that your LinkedIn profile is up to date. For freelance gigs, I suggest creating a profile on Upwork, a freelance platform that connects businesses with freelancers. Remoteok.io is a platform for remote jobs. If you are an in-house employee now, you could consider asking your current supervisor if there are any remote work opportunities. In the past few years, I learned that if you do your work well and promote yourself online, clients will eventually come to you.
3.  Test-run the nomadic lifestyle
Before you sell or rent out your house and move to the other side of the world, you can give the location-independent lifestyle a trial run. By doing so, you can dip your toes in the water to see if you enjoy it.
I tried several things before giving up my regular life. I started with co-working sessions with other business owners that lived throughout the Netherlands. We sat together, worked according to a schedule together, and had breaks at the same time.
I also went to a 'workation retreat' for a week. There a several co-working/co-living places like that all over the world. I also spent two months in Italy, Croatia, and Slovenia, traveling between AirBnbs. You can also consider going to a Digital Nomad Camp, as organized by the DNX community, or visit one of their conferences and meet like-minded people.
When doing these trial runs, I learned the following:
Location and internet are your most important assets. I spent time in beautiful Airbnbs in the impressive countryside of Tuscany. Although most places had good internet, there were some spots where the internet sucked. It was impossible to make any Skype calls with clients or my team members, for example.
When finding a new place to stay, I double check if there is WiFi available, and I always read the reviews to see if I can find information about internet speed. If not, I contact the owner of the place. What someone else (and in a different country) thinks is doable might not be the same as your standard.
Although working from a hammock looks ideal, and you will definitely be able to spend some time in one for your Instagram, the reality can be different. Where there are hammocks, the internet is likely to be absent, so you can't do too much there. From an ergonomic point of view, there are better postures possible! I once picked a campsite in Bavaria, Germany, with the famous Neuschwanstein in the background. The internet was fast, but I had to work from a tiny cubicle with four blind walls on a plastic garden chair while it was raining cats and dogs outside continuously for a week.
When working in the most beautiful spots in the world, you need to learn to work efficiently and to be very disciplined so that you can enjoy the surroundings and the sun. I trained myself to get out of bed each morning, do my morning routines, and do most of the work in the morning, so that I can take it a bit easier in the afternoon now and then.
Do not rush! In the beginning, we stayed only one week at the same spot. I wanted to work during the week and travel on the weekends. That was very exhausting! Once the week starts, you are tired because of the travel, and you don't have any time to enjoy yourself at all. Stay for several weeks or even months in the same place. Relax, find your routines, and enjoy yourself as well.
4.  Figure out the technical stuff
Once you know that the nomadic lifestyle fits you, it is time to prepare for the real deal. There are quite a few things that need to be arranged.
Insurance/healthcare: Make sure that you find out how to insure yourself. When traveling, you most likely will need expat insurance. When living location independently for an extended period, you might need to get local insurance. Also, inform yourself about what requirements exist in the country where you are traveling. For some countries, health care is not covered, and you will need additional insurance. Check if your insurance covers activities you'd like to do, such as diving and surfing.
Registration and Taxes: You will need to pay taxes on the income you create. Some countries require you to pay taxes based on your nationality. However, most countries do not require you to pay taxes when you are not living there. That means that you pay them where you reside. You should also think about where to register your business or where to have a bank account. I had quite a few problems with PayPal, as PayPal blocks your account when you log in too often from abroad. There are also ways to reduce your tax to almost zero. Estonia has the e-residency program which makes it possible to start and run a global business in a trusted EU environment. Make sure you discuss your situation with a qualified accountant before you start your traveling.
Finances: Make sure to stop your subscriptions and monthly payments for services that you won't use anymore.
Mail/internet/phone: As a technical writer or small business owner, you may need to be able to receive mail. For new projects, clients send me products for which we need to create user manuals. I have virtual offices in both Germany and the Netherlands that can receive mail. My virtual assistant knows how to make videos of the products and sends them to the involved team members. Buy a SIM card locally and make sure that your phone is unlocked. When you are always on the road, you can consider getting satellite internet. Get a Skype number and make sure to give it to everyone.
Visa and entry requirements: Check the visa requirements for the country that you are visiting. Get your permits in advance.
5.  Your launch
When all has been sorted out, the next thing you want to do is to get rid of your stuff. Sell what you don't need, give things away, and store items that you want to keep. Your essentials are a backpack, clothes, toiletries, and a laptop.
An empty house is a waste of money and space, so sell or rent out your home. We sold ours in Amsterdam about four years ago. Do what you feel comfortable with. When you rent your home, make sure to find someone who will be the contact person for your tenants.
Now you can focus on your first destination, if you have not already done so. Find out where you want to stay before you arrive. Check out favorite digital nomad hotspots or other places from which you can work. Network with fellow nomads in Facebook groups or, for example, within the Couchsurfing community to get some information about the area. When you are sure about the first destination, get your ticket!
---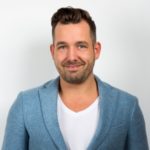 About Ferry Vermeulen
Ferry is the director at INSTRKTIV. INSTRKTIV specializes in creating compliant and user-friendly user instructions. Ferry speaks regularly at conferences. In his latest blog post you can read how to create compliant user instructions.