The Jay R. Gould Award for Excellence in Teaching Technical Communication honors the distinguished teaching career of Professor Gould, whose academic mentorship of technical communication students guided many men and women into the profession. The award was initiated to acknowledge the importance of academic programs to the science and practice of technical communication, and to encourage excellence in the academic community by honoring those who have made an outstanding contribution to teaching the body of knowledge in this area. Innovative and creative teacher-scholars, the recipients of this award have a record of successful students and a pattern of acting as a mentor, which is exemplified by being inspirational and involved in student activities outside the classroom. In addition, their research has contributed to changes in the way technical communication is taught.
Jay R. Gould Award Winners 2020
Miles Kimball
The citation reads: For an impressive record of collaborating across institutions with the goal of improving the teaching of technical communication: a willing and gracious mentor who encourages students and colleagues to innovate and explore.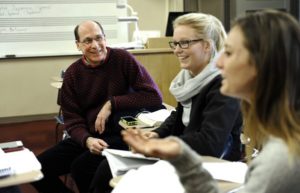 Bruce Maylath
The citation reads: For substantive, long-ranging contributions to the profession including the design and development of international student collaborations, and for connecting students to the kinds of cutting edge theory and praxis that have helped them to succeed in a number of industries.
Congratulations to Miles Kimball and Bruce Maylath on their achievement!