By Liz Herman
It is our second virtual Summit and I am excited even though I will not be able to see my STC colleagues and friends face-to-face. Do I miss them? You bet. Will I still be able to learn and laugh at the virtual Summit? Absolutely. In fact, last year's Summit ranks as one of my all-time favorites. If you know me, I am a life-long learner who thrives on humor. Thinking back to last year, I learned so much from the speakers and there was so much laughter and fun in the social events. I think I may have started a trend of Summit pet photos when I shared a photo of me and my dachshund Mousse participating in an education session.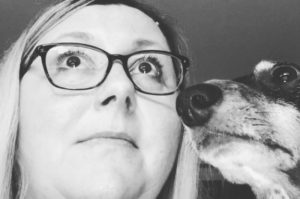 As I review the Summit schedule for this year, I see that the STC Summit Committee is creating another terrific virtual conference. Beyond the wonderful and varied education session offerings, here are a few events you should not miss according to an extremely informal poll I took among Summit registrants. Find the full schedule at
summit.stc.org/entertainment-and-social-events
.
Exhibit Hall (7 – 9 June | 8:30 am to 6:00 pm ET): I try to never miss the Exhibit Hall. Though I won't be picking up notepads, pens, and other cool merch, I can't resist the raffles giving away coveted prizes like conference or workshop registrations, software subscriptions, books, and electronic gadgetry. The best part is that I don't have to lug anything home in my suitcase! Note: The Exhibit Hall closes at 5 pm ET on the final day of Summit, 6/9.
Speed Networking (7 June | 1 pm ET): I've watched these networking events at past Summit conferences and always kicked myself for not signing up. Participants had a blast as they got acquainted with one another in a fast-paced, non-threatening environment. I'm excited to see how this works online instead of with groups huddled around a table.
STC Honors Event (8 June | 1 pm ET): The Honors Event is a great way to support our colleagues' achievements and recognize their many accomplishments to STC and the profession.
Trivia Night (8 June | 4:45 PM ET): The trivia event is a fun social time and an opportunity to showcase my knowledge chops while simultaneously being humbled by what I didn't realize that I didn't know.
Like many of our STC members, I am not able to attend every Summit. What is exciting this year is that you can attend two events without being registered for the Summit:
STC Honors Event on Tuesday, 8 June from 1:00 pm to 1:45 PM ET
SIG Open House on Wednesday, 9 June from 12:45 to 1:30 PM ET
Stay on the lookout for how to participate in these two events!
In addition, I have found that following along via social media helps me stay engaged, build my network, and continue to feel part of the larger STC community. For example, when I am not attending, reading the tweets from STC (
@stc_org
and
@STC_Summit
) and my STC friends attending the conference provides great takeaways and offers me the opportunity to follow new faces in technical communication. If you have a Twitter account, follow along using the hashtag #STCSummit. I also encourage you to follow the #summit channel on the
STC Slack workspace
.
Is it the same as attending the Summit? No. But to me it always beats the alternative of feeling like I was missing out. The FOMO is real! Finally, if you read about a session that sounds interesting, think about contacting your chapter or SIG leadership to see if they can connect with the speaker post-Summit for an encore presentation to your chapter or SIG. Many speakers are happy to work with chapters and SIGs to offer content.
Whether I see you (and your pets) at the Summit or along the way at some other STC event if you are not attending Summit this year, I would also like to mention that I am a member of the STC Nominating Committee and we are looking for candidates! If you are interested in running for the STC Board or the STC Nominating Committee, please do let me know.
About STC's Virtual Technical Communication Summit
This year's virtual event features 80+ education sessions, a Virtual Exhibit Hall, networking opportunities, and social events. Education sessions are divided into three content tracks: Content Design and Delivery; Tools and Technologies; and Management, Leadership, and Career Development.
Attendance at the 2021 Virtual Technical Communication Summit provides 8 CEUs toward  
Certified Professional Technical Communicator (CPTC)
currency.
Full Summit Registration includes access to all session recordings through 31 August! One-Day Registration is also available. Please note, One-Day Registration does not include access to Summit OnDemand recordings.
For more information, and to register, visit 
summit.stc.org