In this post, we'll look at some of the challenges and decisions technical communicators face when designing a website for their business. To help illustrate this, we'll include some examples of  technical communication companies' websites.
Designing a website for your technical writing business: how hard can it be?
One of the first decisions you have is whether you design and build the website yourself or get someone else to do all or some of it for you. Technical communicators can suffer from "cobbler's shoes"—you're so busy with work for your  clients that you neglect using your professional skills to help yourself.
The visual aspect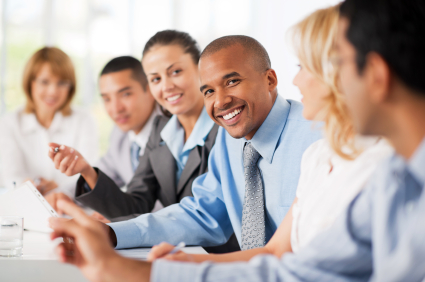 Creating the graphics, in particular, can be a big issue. Do you have the skills to create the "look and feel" for your site, and can you create professional looking images?  You'll need to decide if you want to use a graphics designer, license stock images, or create some yourself.
We used stock images for a number of years. Unfortunately, you can often find the image you've chosen appearing in lots of other places. I remember walking into a bookshop in Germany and seeing one of "our" images on the cover of a self-improvement book. They can also be very generic, as can be illustrated by the "meeting full of handsome happy people" image above.
You also need to decide what imagery to use. If you want to move away from the perception that technical communicators only write manuals, you probably shouldn't have a picture of a manual as your main image.
The Content Rules Inc website uses images of  a cow, balloon, lion, and a compass as a metaphor for what they do. It's an approach I like, but you obviously need to come up with metaphors that makes sense to the reader.
If you adopt this approach, you also need to be aware that Nielsen Norman Group has found that, if done incorrectly, auto-forwarding carousel images can annoy users and reduce visibility.
At the moment on our website, you'll see a few lines of text at the top of Home page. We don't have an image, but we're in good company, as it's the approach that's used by Kristina Halvorson on her website BrainTraffic.com:
Our website:

The writing aspect
As technical communication experts, you'd think the writing aspect would be straightforward. However, that also has its difficulties.
The real challenges lie in defining the purpose and audience for your website. Are you "selling" or "telling"? Technical, enabling, information-rich content is becoming more important in the sales process and to your search engine rankings. However, your website will need "selling" as well as "telling" copy, which means you will need a writer who has some marketing copy expertise.
People will expect a high standard from you—it's very embarrassing if your website contains any typos.
Who is your audience?
Another issue is defining your audience. Are you speaking to managers who have budgets to spend? If so, how much do they know about technical communication, such as the tools and technologies? You might need to explain how these will solve their problem. Are you selling to Google—is your goal to be ranked highly in the search engines?
What do you want readers to do?
You might want your readers to:
Contact you
Buy or download something
Recommend you
Be reassured you're credible.
For example, Danielle M. Villegas's TechcommGeekMom.com website demonstrates her expertise and builds trust with potential clients. Content Rules Inc. encourages visitors to download one of their free ebooks, an idea we decided to adopt on our site as well.
Defining the purpose of your website will help you decide whether you need to create an online brochure, a community, a blog, or something else.
The advantages of being in a niche
If you are in a niche, it's generally easier to create a clear message. For example, if all you do offer is training in RoboHelp, you can focus on selling that single service.
Often, technical writing companies have multiple product offerings and a number of different audiences. For example, Cherryleaf offers writing services, recruitment services, training, and consultancy. We sell to technology companies, but a recruitment enquiry might come from someone in HR. A technical writer will book one of our training courses, but a project manager is likely to be the person engaging our documentation team. It means there's a danger you'll end up with a confusing message.
You also need to be aware you are solving someone's problem. You need to understand the issue from their viewpoint, in order to communicate your solution in terms that will make sense to them. Being so close to the solution makes this very hard to do.
Design dilemmas
Website design is evolving over time, as we understand more about usability, the technology develops, and fashions change.
One of the most popular designs at the moment is to have a single column layout "above the fold", followed by a a long page of content below. Right at the end of the page, you often see three columns containing dynamically changing content (such as a list of links to blog posts).
We've recently changed our website design to this single column layout (previously it had a skinny right hand column for related information).
If you have more than a few pages of content, it can pose some navigational challenges. In most situations, you're relying on users clicking inline hyperlinks, or finding information via the search box or drop down menus.
To TOC or not to TOC
It's very tempting for technical communicators to provide a table of contents—it's what they do in Help files, so why not do it on a website as well?
Two-column layouts work less well than single-column layouts when viewed on a mobile device, which is why many websites have moved to a single column layout.
It's also hard to design a table of contents that works for all the different types of people who will visit your site. One solution is to offer faceted navigation.
Faceted search. Image by Tom Johnson
Should it be an example of your work?
Some technical communications companies use their website as an example of their own work. A Dita consultancy might write and publish their website using DITA software. A Doc-to-Help expert might design their website so it looks like a Help file.
One of the criticisms of DITA is the output can look a bit dull. If you look at the websites of the technical communication companies that specialise in DITA, you often see them using WordPress as the CMS for their website. If your site is there to promote your company, this may be a sensible choice. DITA is designed to provide a solution to technical content—it's not really optimised for marketing content. Also, we don't know if these companies are creating their content in DITA and using a DITA-WordPress tool to upload this content into WordPress.
You can design great looking websites using technical authoring applications. MadCap Software, Atlassian, and Componize all "eat their own dog food," and use their own software to create their websites. MadCap Software's site is a great example (although I suspect you'd have to create the website on your PC and then upload the files to your website each time you wanted to make a change):
 MadCap Software's website. Image: Paul Pehrson
What is your definition of  a great website?
Our website is there firstly to generate leads and sales. We measure its success by how many enquiries it generates for us. Some companies don't care about website design, as long as it serves the purpose of selling products. I couldn't find any extreme examples of this from the technical communication community, so let me use LingsCars.com as an example. Lings Cars is a very successful car leasing company whose website works despite/because it breaks the rules of good design:
Don't let your software platform limit you
Over time, we've moved our website from Author-it to Drupal, and then onto WordPress. Each time, we've had to stop ourselves from thinking about our website as a software issue and not an information design issue. It's easy to limit yourself, by assuming your authoring platform can only do this or that. If you step back and define what you want, you'll often find there is a way of doing it with a plugin or another way of extending the software.
For example, you can extend WordPress's functionality, so that it supports reusable blocks of content, embedded objects and faceted navigation.
Which technical communication websites have got it right?
Which technical communication sites do you think work the best? What are their weaknesses? User feedback has been enormously helpful to us in the past, so I'm sure everyone would welcome constructive criticism.
Ellis Pratt is sales and marketing director at Cherryleaf. Ranked the most the influential blogger on technical communication in Europe, Ellis is a specialist in the field of creating clear and simple information users will love.