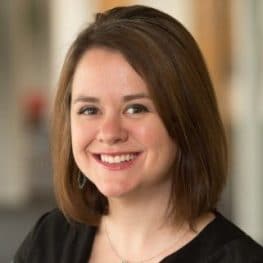 Laura M. Jacobs currently serves as director, Medical Science Marketing & Communications at the Alzheimer's Association, responsible for the marketing and communication strategies and positioning of global research initiatives. Laura has public relations, corporate communications and marketing experience in the non-profit, agency and corporate settings.

Laura plays a critical role on the association's Marketing Leadership and Scientific Engagement teams, with the purpose of enhancing science communications with staff and stakeholders through tools such as the Research Champions national program, brand tools dedicated to research, and the "Science Hub" mobile application.

Laura plays a role in developing the communications outreach and education strategies for engaging with healthcare providers and health systems. She is the lead marketing communications strategist for the three peer-reviewed journals, supports donor communications, informs the positioning of the international grant programs to key stakeholders, and prepares remarks for senior leaders related to the association's leadership role in driving Alzheimer's and dementia research forward.

Laura also currently serves as an adjunct professor of science writing and business communications at the Rochester Institute of Technology (RIT), and as a mentor at the Chicago-based technology incubator, 1871.

Prior to the Alzheimer's Association, Laura was director, Influencer Engagement, Marketing and events at the American Medical Association (AMA); Account Director at Discovery USA, a Publicis company, where she led account and science teams. Her work focused on marketing strategies to health care professionals, including medical education, speaker bureau training, and key opinion leader (KOL) engagement.

She had a variety of corporate and health care clients while at Ketchum and Weber Shandwick, providing public relations and marketing communications strategic counsel for health care associations, health care systems and providers, and pharmaceutical and medical device companies.

While at Baxter, Laura was manager, Corporate Communications, and supported Baxter's global, diversified, fully integrated BioScience business with global communications responsibilities, providing guidance to 20-30 communicators on regulatory issues and program planning for a $6 billion business with more than 10,000 employees.

Laura earned her Masters of Arts in writing from DePaul University, and completed graduate course work at Rosalind Franklin University (Finch University of Health Sciences) in physiology, biochemistry, molecular biology and neuroscience. She received her B.A. with honors from the University of Illinois at Chicago (UIC), majoring in English Literature, biology and chemistry.

While at UIC, she studied abroad in Japan at Chiba University, where she also performed independent laboratory research under Ichiro Tatsuno, MD, PhD, using osteoblast, cancer cell lines and protein assays, wrote and reviewed laboratory write-ups, including data analysis, and edited journal submissions after Japanese-English translation.