Abstract
Purpose: Is the current style guide helping our business? Does it give us an edge over our competitors in reaching out to people? Company executives ask these questions before allocating budgets and resources for the documentation team. A style guide is a rule-driven document that sets the parameters for consistency and acceptability of all written materials produced by an organization. But, is that the sole function of a style guide? This paper lays out key fundamentals of how to make an effective style guide and explores its benefits. The article also illustrates the process of developing a style guide in detail while satisfying the needs of the organization.
Method: To understand the best practices in the industry, a comparative analysis of five style guides of global software companies was done. Further, an online survey was administered to the technical writing community to collect more information. To get first-hand feedback from professionals, seven technical writers were interviewed and discussions in online technical writing forums were facilitated.
Result: In addition to generating document consistency, 82% of the survey participants concurred that an effective style guide helps in creating a distinct brand image. Word usage, new terminology, document formatting and meeting needs of global audience are important topics that need constant attention during designing a style guide.
Conclusion: A style guide will have a successful impact when it is supported by management, incorporates broader inputs from all its beneficiaries, is integrated into the day-to-day operations, and is updated periodically.
Keywords: style guide, document consistency, revision, updates, translation
Practitioner's Takeaway
This article establishes an argument that an effective style guide creates a distinct and unified presence for a company's brand.
It is important to make sure that style guides are updated to meet the changing demands of the market. The most common topics changed frequently in a style guide are word usage and new terminologies.
The survey also revealed that many people other than the technical writers are responsible for the design and development of a style guide.
The inputs from survey and interviews put forward reasons for frequent revisions and changes to a style guide.
Introduction
We, technical writers, are constantly asking various questions about style guides. Does every organization have a style guide? Is the style guide being regularly followed for documentation needs? Does the style guide contain all the necessary guidelines for developing any document or deliverable? Is the style guide worth all effort put in its creation and maintenance? Answers to these questions can help us understand how, in today's peer-to-peer social media environment, organizations are increasingly publishing documents that are concise, informal, and simple in language. Customers do not want documents written in pompous language and stilted styles that take time to decipher. Instead, they want instructions in simple and easy-to-understand language.
A style guide is a rule-driven document that sets the parameters for consistency and acceptability of all written materials produced by an individual or group. Style guides are not direct revenue generators, yet their benefits do affect the business's bottom line. Corporate style guides save money by enabling document consistency, promoting an ethos of professionalism in communication, serving as an effective training tool for new hires, and setting policy for document creation within an organization (Allen, 1995). The purpose of having a style guide is not to restrict the creativity of technical writers. Instead a well-rounded style guide provides them a structure within which they can work. As suggested by Bright (2005), a style guide improves the quality of communication by establishing specific style guidelines that promote consistency in tone, design, and format of any document.
Advances in information technology are forcing technical writers to continuously adapt and adjust to a world of new word usage and terminologies. Nowadays, technical writers are dealing with changes such as the transition of software programs to applications on mobile devices. New terms such as "touch" or "tap" and "slide" are developed frequently since terms such as "click," "double-click," "drag and drop," "hover the mouse," and "cursor" are no longer relevant for all platforms. Documentation teams are increasingly restructured to address the needs of a diverse audience. Jennifer O'Neil, in her article "Changing Times, Changing Style Guides" (2012), focuses on challenges faced by a documentation team trying to produce with tight budgets, documents for a market that operates in numerous languages. This demonstrates how the necessity of change challenges the documentation team to adjust to the emerging issues of language translation and globalization.
My interviews with documentation team personnel in software firms reaffirmed the above mentioned challenges faced by several global organizations today. Like other corporate employees, technical communicators are always hard-pressed for time. So, a tool like a style guide that helps the technical communicators maximize their efficiency is very valuable.
Problem Statement
In order to gain more insight into the problem, I relied on both a comparative style guide analysis and field research. This research aims to find answers to the following questions:
What are the commonalities in style guides among the companies having a global footprint?
How can an effective style guide create a distinct and unified presence for a company's brand?
Who are the key contributors involved in the process of reviewing an existing style guide in an organization?
What are the reasons that trigger a call for revision of an existing style guide?
What are the most common topics revised in an existing style guide? And more importantly, how often?
What are the methods incorporated for updating a style guide?
With the advent of globalization, big corporate houses rely on fast information processing for their businesses. This study emphasizes organizations that use style guides on a day-to-day basis. Nowadays every organization, small or big, profit making or non-profit, academic or government relies on a style guide for reaching out to the end users and improving consistency. The questions raised above are complex in nature and are intertwined with the role the style guide plays in any given organization and the way the changes are perceived. In the end, this research study enhances the understanding of how to make better style guides?
Methodology
Comparative Analysis of Style Guides – A Case Study
First, to understand the best practices followed in today's organizations, I did a comparative analysis of five style guides. I chose style guides of globally based software companies such as IBM, Cisco, SAS, Red Hat, and Progress Software. My analysis was targeted to find the commonalities and ease of accessibility to the style guides in these respective companies. The case study revealed that there were certain key topics that were common in all of these style guides. The next step was to figure out the process of how these style guides came into existence in their present form.
Field Survey
To gather more information from the people involved in the creation and use of style guides and usage, I created a survey. The survey was posted on the Qualtrics survey platform, qualtrics.com. The questionnaire was designed in consultation with my fellow technical writers and with helpful insights from my faculty. The numbers of questions were limited to twelve multiple-choice questions and one open-ended question to make the survey less tedious. The survey questionnaire was approved by the Institutional Review Board (IRB) at North Carolina State University before it was posted online. The participants of the survey were primarily in technical writing careers in the software industry.
Questions 1 and 2 of the survey were generic and covered basic information. The questions asked whether the respondents were using a corporate style guide at their workplace and how often did they refer to it for documentation purposes. This helped in filtering out random responses in my study. I gathered 51 responses within a span of seventeen days, of which 45 participants completed the survey in full. Questions 3-5 were directed toward collecting more information about the style guide functionality, such as
Does the style guide contain all the necessary guidelines for designing and developing any document?
How do different teams access the company style guide?
Questions 6-9 focuses on the key reasons that triggers revision of the style guide. The main objective of these questions was to determine the importance of the style guide in an organization and the urgency to allocate resources to keep the style guide functional. Question 9 was a direct question about finding the reasons that trigger a call for a change in the style guide. Questions 10-12 asked about the common topics usually revised, methods incorporated to install those changes and the contribution of a style guide to an organization's brand. There was an open-ended question at the end of the survey to provide suggestions for improving a style guide.
Interview
To further foster first-hand response and provide validity on the survey results, I interviewed and interacted with seven experienced technical writers working in the software companies mentioned above. A couple of my interviewees had more than 25 years of experience in technical writing and were very candid in describing the entire development process. They added valuable inputs on how style guides have evolved from past to present. They shared their experience and opinions about the benefits of having a corporate style guide, how changes are made in those guides, and its benefits for the users. We also discussed the current challenges faced by technical communicators and the effects of emerging technologies in the field of technical writing.
Online Discussion Forum
During my research, I also took advantage of online discussion forums to get input from a wide range of audience. I facilitated discussion in two of the LinkedIn forums,
Documentation and technical writing management and
Software user assistance groups
In these forums, I asked for opinions on some of the survey questions and was excited to see inputs from a lot of experienced writers who are familiar with the issues mentioned in the problem statement section.
Collecting information through all these above-mentioned sources evoked thoughtful responses and varied opinions from people working in the field of technical communication spread across the world.
Results
There are many reasons why every organization should have a style guide. Participants of my study have advocated that style guides are indeed an essential component of meeting effective documentation needs. Whether it is a small company, such as any start-up, or a bigger company with a global presence, a style guide serves as an indispensable guideline for meeting the documentation needs and maximizing the time of any organization. I report my findings below, which revealed
The impact a style guide has on an organization's image
The process of creating and developing a style guide
Primary contributors in its making
Reasons for frequent revisions
Most important topics updated in a style guide
Benefits of revisions and updates
Challenges and limitations of a style guide
Style Guide and Its Effect on Company's Brand
An organization's content, including its Web site, blogs, manuals and press releases create and nurture a strong brand if it is refreshing and consistent. On the flip side, if the content is not organized, it can quickly undermine the brand. Brands are unique and set you apart from the competition. Allen (1995) noted some common expressions from his survey participants, such as, "All the documentation looks so different and it's very unprofessional" and "It's so frustrating to see communicators' materials produced by large corporations appear in such non-professional, archaic, non-friendly format and usage." These responses show the need for a style guide and the potential impact it can have on a company's image. Chapman (2014) suggests that brand updates should be done in a way that's seamless and less likely to alienate your users. It should seem like a natural evolution, rather than a stark contrast. Table 1 shows below that 82% of my survey participants support the view that a style guide creates a distinct and unified presence for the company's brand.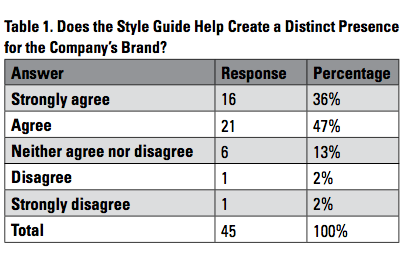 During my case study, I found that organizations have style guidelines specifying the use of their brand logo, graphics, and slogan in great detail. The Cisco Technical Documentation Style Guide has "Corporate Style Guidelines" as one of their topics addressing and specifying the use of the Cisco name, corporate address, OEM guidelines (industry terminology for partners or Original Equipment Manufacturer), format for writing telephone numbers, and ensuring proper usage of trademarks. Progress Software Corporation created a brand style guide in addition to their technical writing style guide explaining how to use their brand logo, graphics, language, tone of voice, and style of writing.
Creation and Development of a Style Guide
More than 80% of my survey participants supported the fact that a style guide is an essential document and should be followed to meet the documentation needs of any organization, irrespective of its size. However, for many firms, building an in-house style guide from scratch may seem like an arduous task. Online forum participants and interviewees suggested that in such scenario, companies can opt to follow any one or a combination of the available comprehensive style guides. For example, the Chicago Manual of Style, which is a well-known resource for copyright guidelines, grammar, and punctuation style, or a more discipline specific guide like the Microsoft Manual of Style for software documentation or the IBM Style Guide for its support for structured writing and DITA (Darwin Information Typing Infrastructure). One of my interviewees stated that in his organization, they have an internal style guide that was based on a combination of the Microsoft Manual of Style, Chicago Manual of Style, and Associated Press Style Guide. They also use several terminology and word usage databases, all set based on organizational requirements. He went on to mention the fact that if, occasionally, there is a discrepancy between a department's specific audience requirement and the company's preferred standard, they follow the guidelines determined by the editing team. He added, "But, those cases are rare."
In the Documentation and Technical Writing discussion forum on LinkedIn, a large number of participants agreed that they usually refer to popular, well known style guidelines for resolving their regular writing issues, but also follow their own internal style guide or style sheet for meeting department-specific audience needs. As rightly put forward by a forum contributor, "At some point you need to create your own style guide as, more than likely, there'll be unique phrasings, exceptions, and guidelines that aren't found in the Microsoft Manual of Style, The IBM Style Guide, etc. It doesn't need to be long, but should be there, especially to help new recruits."
Technology has vastly influenced the accessibility, role, and content of style guides. Ease of maintenance, availability, and accessibility have led to the migration from traditional paper bound guides to online media such as intranets, compiled HTML files, XML files (such as DITA), and Web sites. Table 2 below shows the different formats in which the survey respondents accessed the company style guide. Having the style guide integrated into the online system is a great way to keep it accessible and in use throughout the content development process.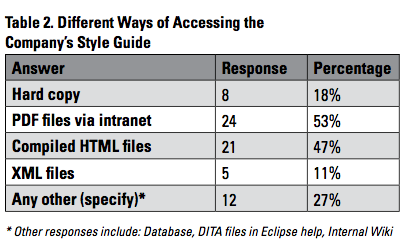 One of my interviewees, a senior technical author at BAE Systems Applied Intelligence said the shift to the online presentation of user documentation and away from print (hardcopy) is making certain older style conventions less relevant. Online documentation forces technical writers to produce short topics that can be skimmed and digested easily. Conciseness is very important, especially for instructions. Minimalism is highly encouraged, making authoring tools such as DITA popular in every organization.
Primary Contributors of Designing and Developing a Style Guide
It might be well assumed that technical writers and editors are solely responsible for the development of a style guide. That is mostly true, and from my survey results, technical writers (70%) and content editors (57%) are the main contributors of a style guide. However, it also revealed that there are some other people who contribute to the style guide development process, such as legal consultants (18%), product managers (16%), and usability testers (7%). Survey participants also mentioned having a layered team structure with defined roles, such as, corporate information development team, the core team of copy editors and technical writers, and a documentation manager. One of the participants specified that his company has a 'Word Nerd' team, which anyone who is interested in style issues can join and have a voice. Since a style guide serves as a company-wide tool serving all documentation needs, its contributors are also not restricted to a particular team or department. Table 3 below shows the survey results and proves how diverse the style guide committee is and how different people are involved in its creation.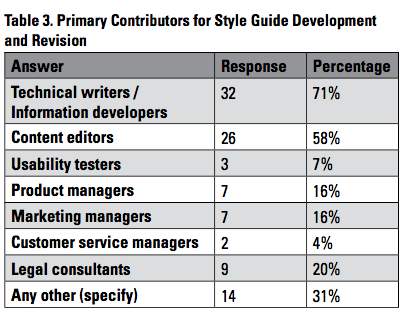 Reasons That Trigger a Call for Revising a Style Guide
One of the key benefits of the style guide is to save company resources, both time and money. Apart from that, the survey explored several other reasons why changes are needed for organizations that have an existing style guide. The topmost reason chosen by survey participants is for maintaining consistency across different design teams (see Figure 1).
One of my interviewees suggested that, to maintain document consistency and professional image, it is important that all the documents from the same company have the same voice and style. When changes are made to topics, organizations need to ensure that all the teams or departments are well informed about the changes so that each product team doesn't make their own (different) decisions. In order to prevent documentation inconsistencies, many organizations use automated word-processing templates, cascading style sheets, and code-tagging guidelines such as XML to enforce design criteria. In recent times, advanced style verification software such as Acrolinx is embedded in the authoring platform to assure information consistency for global documentation. Templates are designed based on predetermined organizational settings, and software tools such as Acrolinx help writers to self-edit their documents, thus reducing the time and effort of editors.
Another reason that many respondents chose was to meet the demands of a global audience in the field of technical writing. In my discussions with several technical writers, they unanimously agreed on the importance of translation and internationalization and how that is shaping the world of technical writing. Since most of the companies are competing internationally and products are delivered across the globe, companies are generating documents such as manuals and online instructions in various languages. Therefore, technical writers should be able to write and reuse content so that translation costs could be minimized. One of the technical writers working for a product based company explained that a style guide is a very territorial document because it has to be designed to suit its locale (target market) and from there comes the need for localization.
The Most Common Topics Updated in Style Guides
My survey confirmed that it is important to make sure that style guides are revised and updated to meet the changing demands of the market. I was curious to know what are the most common topics changed or updated in a style guide. Of the survey respondents, an overwhelming 91% responded that new terminology and word usage are updated most frequently. As new technology, products, and their acronyms are constantly creeping into the industry, organizations are always adding new terms to corporate glossaries and changing how words are used. Every style guide I reviewed in my case study has a section devoted to word usage that listed terms, abbreviations and acronyms that are frequently used in the company's communications. In addition, there are also topics that are unique and tailor-made depending upon the company and its services. There are detailed sections on corporate guidelines that helps maintain its corporate identity, such as proper logo, trademark use, and legal issues.
A technical writer from SAS reported that new buzzwords related to cloud computing, such as Chaos Monkey, Latency Monkey, Doctor Monkey, and Janitor Monkey, are making them contemplate how to use these words and explain their function. In addition, a lead technical writer from Cisco suggested that common word usage does not change very frequently, but new technologies are added all the time. In their group, they add new product acronyms and definitions for new routing protocols whenever necessary (for example, IPv4, IPv6, and so on).

Further, a technical communication professional from a global software firm shared her unique experience of changing word usage. She had a very interesting story about developers who often use the terms "master" and "slave" when describing technical configurations. A well-dressed, African-American man went into the company headquarters and told the legal department that he was deeply offended by the wording. He strongly implied that a lawsuit might follow if they continued using the terminology. The corporate style guide was promptly updated. All the departments throughout the company and the developers had to change all of the messages that used the wording. About six months ago, she was reviewing a draft and once again found a description of a "slave" computer. She promptly raised the issue, and the document and software were changed to say "client machine." These incidents emphasize the need to identify various definitions and terms and decide on correct usage. With changing industry trends and evolving word usage, adapting to new terminology is inevitable and all corporate style guides should have an elaborate section on appropriate word usage.
As more companies are delivering their products in foreign lands, the need for producing technical documents such as product manuals or online help for a global audience has become a necessity. Forty-one percent of my survey participants felt that language and proper usage of grammar is another important topic revised in a style guide. Online forum participants suggested that eliminating unusual grammatical constructions and building simple sentence structure can also ease the process of translation. Applying global English guidelines enables writers and editors to take the clarity and consistency of technical documents to a higher level, leading to faster, clearer, and more accurate translations (Kohl, 2008).
In a conversation with a Red Hat veteran, I learned that "the biggest challenge that comes to mind about writing for global audiences is that we want to avoid business jargon, idioms, slang, and metaphors, because they often do not translate correctly the first time and need human intervention, which adds to the translation costs." Thus, writing in simple language eliminates ambiguities and complexities, which can lead to misrepresentation.
A similar percentage of survey participants (41%) also reported the need for changes in document format and structure as another topic commonly updated in a style guide. A documentation manager in a software company supported the fact, saying that, "Changes in document format or structure might be a decision for a company to move to minimalist writing in which content topics are more task-based and less conceptual. There might be a document model that prescribes an overview topic, but the company moves toward a simpler model that doesn't include extra overview topics. This cuts down on translation costs and promotes minimalist writing."
Legal issues such as use of trademark, copyright, URLs, and IP addresses are matters that also need to be addressed with care while writing technical documents. Style guides of corporations like Cisco and SAS have separate sections explaining various legal issues of trademarks, company address, and so on. Forty-one percent of survey participants chose legal issues as one of the topics that is frequently updated to avoid any legal liability, which can cost or damage a company's image.
Revisions and Changes in a Style Guide
The need for routine updates has become critical to the successful usage of style guides. From the survey results, shown below in Table 4, we can see that most of the organizations revise their style guide periodically, mostly in the range of every 6 to 12 months. One of my survey participants mentioned that in his organization, revisions are a continuous ongoing process. Whenever changes appear necessary, such as acronyms for new products or technologies, updates are immediately made in the style guide. Another participant specified that her company has multiple style guides. The main style guide is rarely updated (+2 years), but their tool-specific style guides are updated every few months (3 to 6 months).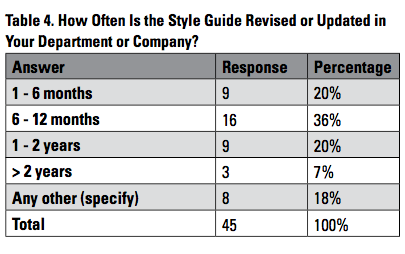 A senior technical writer working at a software multinational shared her experience of how she had seen the transition of the style guide from a monolithic hard copy to a searchable online document. Also, as a representative of the Style Committee, she illustrated how revisions or updates were made in the style guide. She explained that the style committee would meet monthly and discuss questions that the various technical writers and illustrators would bring to the meeting. The committee would brainstorm ideas, refer to older references, and eventually reach a consensus. She summarizes by saying, "It's great to have a style guide for the sake of documentation consistency; however, it must be a living document that can evolve and adapt to the needs of its users." This is well supported by my survey response, in which 83% of the participants believe that changes and revisions in the style guide are needed and beneficial.
Challenges and Limitations of a Style Guide
One of the biggest challenges in its maintenance as described by one of my survey participants is, "communicating the style guide standards, and where they can be found, to all writers. Experienced employees forget to review it; new writers don't know where to find it. So, regular communications about it is crucial." A limitation as stated by one of my interviewees is that "the style guide used for creating an online help may not be the same as for creating a requirements specification. The style guide cannot cover everything." Style guides are a component of the whole that typically focuses on language and grammar in writing. Nowadays, companies are competing worldwide, mergers and acquisitions are becoming common and are often heard about. In such a scenario, style guides should also try to specify what steps to take for standardizing documentation that comes with following a merger and acquisition. A lead technical writer annoyed with the issue commented, "I currently work with a team that was acquired, but there are no guidelines as to how to make the documentation come up to the standard followed by the parent company." Such inconsistencies and bad planning can cause frustration and loss of resources for the company.
Discussion
The findings of my study clearly indicated that a style guide is successful in generating effective documents if:
Management promotes it,
Broader inputs are taken from its users, and
Guide is easily accessible for reference
If style guides are not readily accessible, employees often end up not following them. Instead, they refer to their coworkers or rely on their interpretation and judgment of the style in the documents. To overcome such obstacles, companies can organize routine training sessions to orient employees with correct writing guidelines. An effective method could be to use the company's weekly communication to share some tips and tidbits from the guide. This will help people to stay involved and connected to the guide.
To ensure that employees are following style guidelines, software tools are run on the content they generate. The software checks for styles and word usage issues. This automated check reinforces the style guidelines by flagging certain items and giving an explanation about how to make a decision on whether to change and even what to change in the text. In addition, it is always beneficial for companies to create an internal style guide, which is largely driven by information mapping principles and customized to particular structured authoring and content re-use needs. Most companies create their own in-house style guide for the organization's internal use and specifically tailored for its needs and contexts (MacKay, 1997). Such means and methods are incorporated to get the writers to conform to the company's style guide. But there are challenges when one style guide may not be applicable for all types of information and all types of audience. For a company to create a unique corporate voice, many other elements are needed, for example, branding guide, document templates, and technical formats. Style guides are a component of the whole that typically focuses on language and grammar in writing.
A corporate style guide is only as good as its latest revision. Periodic reviews should be held to evaluate content and incorporate additions based on end-users suggestions and organizational changes. Collecting data using user-tracking reports, surveys, or interviews will help to distinguish useful content from the information that can be discarded from the guide. Changes such as document format and structure are often updated because companies are adopting more of a minimalistic approach, that is, defining information by concept or task, which is often combined with a move from traditional tools like Frame Maker to modern tools like DITA. There are also different formats that evolve for margins, fonts, and titles based on moving documentation from a PDF-centric model to a delivery format that is HTML-based or more conducive to online or mobile apps. New technologies and tools are forcing companies to adopt those for making the job of documenting more streamlined and also save resources, and such adaptations need to be updated in style guides so that every writer is aware of the new changes.
Even though a style guide is revised and updated with time, it is also important to keep the old style guide to refer back to. Dating by version numbers is a common strategy to keep track of the number of revisions or updates done and with a guide. As an example, Cisco's technical documentation style guide describes all the significant new and changed information in a concise tabular form to let the users know at a glance the latest updates in the guide. It helps to get the new updates in a condensed and easily searchable form.
Further, organizations are expanding globally and becoming more aware and understand the need for identifying culture-specific elements to make their documents accessible to many cultures. Factors such as translation, localization, and internalization were significantly stressed by a few study participants working in global firms and how these factors contribute to meet the demands of a global audience. Localization and Translation are terms that are often used interchangeably, but there are distinct and important differences.
Localization is an adaptation process in which a product, application, or document content is designed to meet the language, culture, and other requirements of a specific target market (a 'locale'). Translation is the process of changing a source version (usually English) of a product, application, or document content into a target-language version (any language) by simply changing the words from one language to another. Unfortunately, a word-to-word translation may often yield strange or sometimes even offensive literal translations. Localization is a combination of translation and adaptation of material in the foreign language market. It takes into account not only literal translation, but also adaptation of the target language by creating a linguistic equivalent. The most common topics addressed in localization are:
Numeric: date and time format
Use of currency
Keyboard usage
Collation and sorting
Symbols, icons, and colors
Text and graphics containing references to objects, actions, or ideas which, in a given culture, may be subject to misinterpretation or viewed as offensive
Varying legal requirements
I also learned from a senior technical writer that before one can localize a product, one has to internationalize it. Internationalization is the design and development of a product, application, or document content that enables easy localization for target audiences that vary in culture, region, or language. It is a way of planning ahead and involves designing and developing in such a way as to remove barriers to localization or international deployment. In a specific example from the software product development perspective, the process includes steps:
Using Unicode to support all manner of scripts, languages, and characters, such as non-Latin scripts like Chinese, Japanese, or Hindi
Using markup in the DTD (Document Type Definition) to support bi-directional text like Hebrew or Farsi.
Adding to CSS (Cascading Style Sheet) support for vertical text or other non-Latin typographic features.
Enabling code to support local, regional, language, or culture related preferences mentioned earlier
Separating specific elements of source code or content that could be localized, so that when localization changes are made the rest of the code will remain unchanged.
As translators are not likely to write the document in the first place, technical writers and project managers working in global firms need to assist in the localization process by preparing for it. Technical writers can confer with translators, include them in review and evaluation, provide definitions and other information, indicate core information and internationalize the document (Major & Yoshida, 2007). The findings of this study suggested that if documents from a global company come across to the end-user as if they were from different organizations, it will surely have a negative impact on the company's image and brand.
Conclusion
In a highly competitive market with emerging technologies, style guides are also evolving to suit the needs of various products and audiences. Data from my survey and interviews have shown that style guides are definitely an indispensable tool for all writers for maintaining conformity and the professional image of a company. Companies are upgrading to new tools and platforms to incorporate their style guides into their systems, which is generating more accurate and effective documents. A change in a style guide should be a well thought action to help create meaningful and consistent content. As organizations discover new opportunities and ways to communicate with their audiences, they also need to expand the scope of their style guides to circumvent the restrictions and potentialities of different media outlets, channels, and messages. Thus, creating and maintaining a style guide is a challenging and ongoing task. Also, its development process is not just limited to technical writers and editors. This article also stresses the fact that an effective style guide can create a distinct and unified presence for a company's brand in addition to generating quality documents. Style guides will have a successful impact when they reflect consensus in the organization, are integrated in day-to-day operations, and are revised periodically.
Acknowledgments
My sincere thanks to my advisor, Dr. Susan Katz, for her constant support and review of drafts of this article. I appreciate the helpful advice of the editors and reviewers of Technical Communication, and for the thoughtful responses of my study's participants, without whom this research project would not have been possible. I also thank Dr. Romit Dhar for his support and helpful insights.
References
Allen, P. R. (1995). Save money with a corporate style guide. Technical Communication, 42, 284–289.
Bright, M. R. (2005). Creating, implementing, and maintaining corporate style guides in an age of technology. Technical Communication, 52(1), 42-51.
Chapman, C. (2014). Why your brand needs a style guide, and how to create one. Retrieved from http://www.webdesignerdepot.com/2014/08/why-your-brand-needs-a-style-guide-and-how-to-create-one/
Cisco. (2014). Cisco technical documentation style guide. Retrieved from http://www.cisco.com/en/US/docs/general/style/guide/SGAug09/stylegd.pdf.html
Griffis, G. (2013). How to make style guides that people will use. Retrieved from https://blog.gathercontent.com/how-to-make-a-style-guide-that-people-will-actually-use
IBM. (2011). The IBM style guide – Conventions for writers and editors. Boston, MA: Pearson Education, Inc.
Kohl, J. (2008). The global English style guide: Writing clear translatable documentation for a global market. Cary, NC: SAS Publishing.
MacKay, P. D. (1997). Establishing a corporate style guide: A bibliographic essay. Technical Communication, 44(3), 244-251.
Major, D. L., &Yoshida, A. (2007). Crossing national and corporate cultures: Stages in localizing a pre-production meeting report. Journal of Technical Writing and Communication, 37(2), 167-181.
O'Neil, J. (2013). Changing times, changing style guides. In H. Yu & G. Savage (Eds.), Negotiating cultural encounters: Narrating intercultural engineering and technical communication (pp. 17-40). Piscataway, NJ: Wiley-IEEE Press.
Progress Software. (2009). Progress data direct – Documentation standard (4th rev.). Bedford, MA: Progress Software Corporation
Progress Software. (2014). Brand guidelines, V1.2. Bedford, MA: Progress Software Corporation.
Red Hat. (2014). Writing style guide – How to stay on the yellow brick road (2nd ed.). Retrieved from https://obriend.fedorapeople.org/WritingStyleGuide/
SAS. (2014). SAS style guide – User documentation. Cary, NC: SAS Institute.
About the Author
Esha Adhya is currently pursuing an MS in Technical Communication from North Carolina State University. This article is produced in pursuance of her research during the capstone project. Prior to pursuing MS, Esha worked as human resource consultant. She can be contacted at eadhya@ncsu.edu.
Manuscript received 27 April 2015, revised 25 August 2015; accepted 25 August 2015.