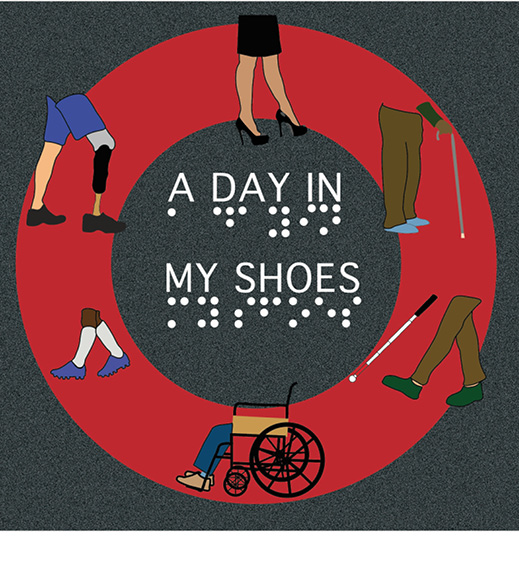 The people are making their way in a circle to represent the spectrum of abilities, backgrounds, and races that exist in today's society. They symbolize people of differing ability who may encounter difficulties with accessibility.
The red circle is indicative of the no symbol, most commonly used as a prohibition sign. The version that I have depicted is missing the slash in the middle, meaning there are no boundaries or limitations.
I chose to sum up the message of my image with the words "A day in my shoes" to provoke thoughts about how our privileges allow us certain advantages while our weaknesses prevent us from achieving some of our goals. Including this phrase in braille was important to bring across the message that people communicate in different ways, and we need to accommodate people's needs at a societal level.
About the Artist
As an undergraduate student in the Roy H. Park School of Communications at Ithaca College, Ella Sciocchetti is studying Integrated Marketing Communications. This Bachelor of Science degree encompasses advertising, public relations, and marketing. Ella is passionate about promoting causes and spreading positive messages in her designs. She is available at Esciocc1@ithaca.edu.