For the February 2018 cover illustration of Technical Communication, I wanted to visually depict how the evolution of technology has played a role in changing the standards of grammar and punctuation. The main components of the image are the numerous letters cascading across the image. The different typefaces represent the various dialects and flavors of the spoken language.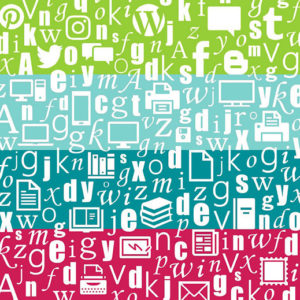 Also across the image are several icons placed in a seemingly random yet deliberate order. Starting from the bottom, the images depict the beginning writing tools used to instill grammar and punctuation: a chalkboard, a letter, a newspaper, a stamp, and a typewriter. The next step in writing is depicted using the various forms of paper and books which allowed for the distribution of writing and, in turn, the spread of grammar. The third stage introduces technology and computers, which changed how grammar played a role in the digital age. Lastly, the top of the image includes icons of several popular social media tools that have revolutionized writing and show how grammar has changed to fit the new forums. With every new written and technological evolution, the standards of grammar and punctuation have changed to adapt to the times.
About the Artist
Amra Mehanovic is a recent graduate with a Technical Communication degree from the Missouri University of Science and Technology (Missouri S&T) with a minor in Human-Computer Interaction and User Perspective. Currently, she is ardently pursuing the Master's program in Technical Communication at Missouri S&T. She enjoys designing, writing, doodling, watching soccer, and searching for the next great read. She is available at anmb8d@mst.edu.