Dawn S. Opel, Cathy Abbott, and William Hart-Davidson
Abstract
Purpose: As a part of a clinic transformation project, we studied workflow processes in a family health center in order to recommend interventions for a team-based approach to patient care.
Method: We conducted a needs analysis informed by Spinuzzi's (2013) Topsight, undertaken through over twenty hours of clinical observation, studying clinical communication practices by role in the clinic (provider, nurse, medical assistant, and front desk receptionist).
Results: Delivering quality care that extends beyond the patient encounter (the face-to-face appointment) takes a highly coordinated team. Although the Center's schedule was set up for teams, the work environment was not well coordinated except where individual providers were more team-oriented.
Conclusion: An Agile team approach to communicating may be an effective intervention for primary care clinics. Researchers in TPC and UX can usefully contribute to these kinds of inquiry projects in clinical settings, as our research methods offer viewpoints not visible to clinicians alone.
Keywords: clinical service delivery, project management, Agile, writing stewardship
Practitioner's Takeaway:
The expertise technical communicators bring to their work as researchers, writers, editors, and content managers is in demand in health care as chronic care demands highly literate, well-coordinated communication.
At first glance, teams appear to exist in clinical work environments, but professional roles may not be well-coordinated or focused on individual care providers' face-to-face encounters with patients rather than a coordinated approach to care across the lifespan of a patient.
Technical communicators and user experience professionals may contribute to bringing holistic solutions to health care providers' and administrators' needs for collaborative workflows, including emerging project management processes.
Introduction
Anecdote
It is our third visit to the family medical clinic and, after spending a few hours talking with health care providers and medical assistants (MAs), observing their work routine, our goal is to capture the communicative workflow they use to coordinate the handoff of their roles during a patient encounter. An encounter is a term of art in the clinic. It is what patients think of as their time seeing the doctor. But a lot of things have to happen among many roles for an encounter to be successful. Most of those things involve writing. What we find interesting is the way the documents themselves not only act to record information for use during and after an encounter but the way they also initiate shifts in responsibility between different roles in the clinic. They do the latter by acting as physical signals—visual and auditory—that cue the health team's actions.
The signal that an encounter begins is marked by the arrival of a document: A white encounter form comes off the printer, meaning that a patient has checked in with the receptionist. The sound of the printer alerts a MA who takes the encounter form from the printer to the MA station. The MA places it face up on a shared desk space—she will refer to it, but she is also making it available for others who may need to do so as well. It sends a message just by being in this space: Here is the next patient waiting for an exam room. The MA then pulls a record for the patient corresponding to the encounter form. She checks a post-it note and pulls information that the provider (a physician or physician's assistant) also asked to have ready for this patient, based on a pre-screen of the schedule the night before. Finally, the MA pulls blank copies of necessary intake forms for the patient; these will capture the patient's self-reported information during the visit.
Drawing on Hart-Davidson, Spinuzzi, and Zachry's (2007) framework for analyzing knowledge work, we note that there are two categories of information genres in play and two forms of inquiry represented in the encounter. The MA assembles archival information about the patient's history from records in the clinic and off site (e.g., from the local hospital or from a lab that conducts tests). The provider gathers empirical data and uses the encounter form to record observations, instrument readings, some patient self-reports, and other data that will be used after the encounter to update the patient record. Together, the provider and the MA will produce an intermediate genre that helps the health team stay coordinated. This genre is the official record of the encounter and is called "office notes."
While the MA assembles documents, another staff member readies an examination room. Once the MA sees that the examination room is ready, she goes out to the waiting area and greets the patient, carrying the encounter form and intake forms on a clipboard. She begins gathering the empirical data for the encounter by taking the patient's weight and blood pressure. Then she escorts the patient into the examination room. She gives the patient an intake form, along with the clipboard, for self-reporting and puts the encounter forms, facing inward so no information is visible, on the outside of the door, pulling it shut. The presence of the blank form hanging on the door signals to the provider that the patient is ready to be seen. The MA returns to the desk to assemble information for other patients, checking the printer to see if another intake form has appeared.
Though the process as described here was executed smoothly many times throughout the day, the health team members were nonetheless on edge during this visit, anticipating an upcoming change. A new electronic health record (EHR) system was about to go live in the clinic in a few days. And with it would come a big change in the routine genres used by the team. Soon, all their physical cues would go away. It turns out that they were right to be a bit anxious.
Literature Review
In his book Network: Theorizing Knowledge Work in Telecommunications, Spinuzzi (2008) creates a detailed portrait of an organization that performs technical writing as a core function. To succeed in its business and serve its customers, the telecommunications company at the center of Spinuzzi's study needs to do technical communication work routinely and well, much like a drug company needs to do science routinely and well to succeed in its business. When we think of a whole organization, rather than just a few individual workers within it, as the agent doing technical communication work, some immediate challenges arise.
One of these challenges is the way the work of writing is distributed across many roles, creating a network. Communication genres in organizations are used not only to send specific kinds of messages but also to maintain the network itself, to keep the writing organization writing well. Spinuzzi has developed a very useful methodological framework for handling the research-related complexities of studying writing organizations. You can see that methodology deployed in Network and described in another book, Topsight: A Guide to Studying, Diagnosing, and Fixing Information Flow in Organizations (Spinuzzi, 2013).
In this article, we present a Topsight-style analysis of a primary care clinic to showcase a second type of challenge that arises when an organization needs to write well in order to succeed. That challenge, also evident among workers in the telecommunication company Spinuzzi studied in Network, involves the need for people in the organization to stay well-coordinated about how to communicate with one another and with their primary constituents who, in our case, are patients. To put it simply, writing organizations need a category of work we call writing stewardship (Hart-Davidson, 2013). Writing stewardship was coined by Hart-Davidson (2013) to describe a phenomenon that, on its face, seems a bit curious when it comes to how technical communicators' roles change over time as their careers develop:
The more expertise they have about how to organize writing processes, and about concepts such as how genres work, the less likely they are to spend their time actually writing. The more experienced and senior they become, the more likely they are to adopt roles as researchers, strategists and managers; managers of content, yes, but also managers of projects and people. (p. 58)
When we approach the clinic to conduct a needs analysis project, we understand our work as part of an established scholarly conversation wherein technical communication and writing studies researchers engage with health services professionals in an attempt to improve care. We are guided in this project by the work of Lingard and Haber (1999); Schryer (1993); Schryer, Lingard, and Spafford (2003); and Heifferon and Brown (2008) who help center the expertise of writing studies and the methods of rhetorical analysis in particular as valuable for improving clinical education and practice. Specifically, the qualitative analysis of these scholars reveals that communicative challenges abound in the delivery of health care and, accordingly, analysis of communicative practices is a crucial first step to ensuring that quality improvement interventions—many of which are themselves changes to written or oral communication routines—can be successful. Technology makes communication in the clinic even more complex. As Koppelson (2009) has argued, the current age of Internet-connected providers and patients occasions new opportunities for those with rhetoric and technical communication expertise to investigate and provide insight to clinics as writing organizations.
Just as scientists' expertise is needed to look after the quality of science in a drug company, technical communicators' expertise is needed to ensure the quality of the writing processes and communication culture of an organization. Our expertise becomes an important part of the way good writing happens across a full network of roles and genres, because we can help identify where and how communication practices are working well and where they need attention. In our study of a family medicine clinic, we see that technical communicators' expertise is needed for the increasingly critical work of care coordination. The Agency for Healthcare Research and Quality has published an analysis of health care quality improvement standards that focus on care coordination, which it defines as encompassing five factors:
Numerous participants are typically involved in care coordination;
Coordination is necessary when participants are dependent upon each other to carry out disparate activities in a patient's care;
In order to carry out these activities in a coordinated way, each participant needs adequate knowledge about their own and others' roles and available resources;
In order to manage all required patient care activities, participants rely on exchange of information; and
Integration of care activities has the goal of facilitating appropriate delivery of health care services. (McDonald et al., 2007)
Care coordination, then, is a set of communicative practices that require attention. The current lack of writing stewardship in health care organizations must be addressed to improve the quality of care for American patients.
Project management frameworks, such as Agile, are currently gaining attention in the health care industry. Just as in other industries, health care now faces uncertain environments and a move from a fixed operations focus to an adaptive focus (Tolf et al., 2015). In an Agile framework, small, cross-functional teams respond to challenges through iterative and adaptable communication processes. Fundamentally, an Agile approach recognizes that teams must be learning all the time to be successful and that a successful team is one where members can all play multiple roles all while staying focused on a shared objective. The resilience and mutual trust to handle emergent challenges are the hallmarks of a truly "Agile" team.
We come to project management in this project with an understanding of it as strategic, inter-team communication, a framing we inherit from technical communication researchers such as JoAnn Hackos (2006) and Stan Dicks (2003; 2013). More specifically, Dayton and Barnum (2009), McNely et al. (2012), and Pope-Ruark (2014) have studied Agile project management methods as routines of genre-mediated communication. The study by McNely et al. (2012) is especially helpful for our work, as the researchers apply an activity-theoretic framework consistent with our approach in order to understand how teams adopt, adapt, and occasionally abandon genres over the course of an extended project in order to keep team members engaged and their goals aligned. For McNely et al., Agile methods function less as a coherent management technique than a set of communicative tools and habits for allowing team members to cope with work demands that are constantly changing (2012, p. 102).
We present our Topsight-guided needs analysis of a primary care clinic to show how technical communicators, acting as researchers and consultants, can help organizations engaged in the highly literate practice of chronic care, a growing context for care communication that is both critical to the health of those managing chronic illnesses—such as diabetes and COPD—and costly to the health care industry. Around half of all Americans have at least one chronic condition, and 25% have multiple chronic conditions to manage (Ward, Schiller, & Goodman, 2014). Management of these chronic conditions requires coordination that reaches beyond care providers in one clinic. These communication practices include coordination of community and family support and patient self-management, and are proven to reduce health care costs and improve health outcomes (Engelhardt et al., 2008). These communication practices comprise The Literate Care Model (Koh et al., 2013) promoted by the U.S. Department of Health and Human Services. Technical communicators can engage with health care organizations by observing writing networks, diagnosing discoordinations and breakdowns in the genre ecologies of those networks, and making recommendations for new kinds of literate practice that better suit the organization's goals and work styles.
Research Designand Methods
Origins of the Clinic Transformation Project
Authors Dawn and Bill came to this project as a result of an initiative called The Clinic Transformation Project that was underway at the Family Health Center at Michigan State University. The Family Health Center serves adults and children in the mid-Michigan area and is a federally qualified health center (FQHC), providing medically necessary services to patients regardless of ability to pay. The clinic has fourteen providers (MDs, DOs, and PAs) who all hold faculty positions at Michigan State, so they work part-time in the clinic and also teach and supervise medical students. Nurses and MAs work full-time in the clinic.
Author Cathy, a provider in the clinic, was one of the providers who, along with several administrators and other clinical professionals, instigated this project. The Clinic Transformation Project came from the providers' frustration regarding the level of care provided in the clinic. Providers, according to Cathy, felt there were many systemic issues that were preventing efficient care delivery and negatively impacting patients' experiences in the clinic. Previous attempts were felt to be "band aid" approaches and were not addressing fundamental issues. Because of this, providers wanted to obtain more data to try to get to a deeper understanding of why the clinic was inefficient and not making progress. Providers felt they had been set in their dysfunctions for so long they could no longer really objectively see what the dysfunctions were.
At the same time, the clinic was moving to a new electronic health record, which would impact patient care and workflow. It felt to the providers an opportune time to incorporate changes to workflow approaching that transition. Cathy notes that all providers in the clinic are educator-physicians in a school that built its reputation on primary care. Providers felt they needed to be an example of how primary care could and should be delivered. They desired to make their practice an example of excellence. However, they faced a challenge—that their academic practice included many part-time practitioners working a few shifts per week. These academic-practitioners could not be present to lead from inside the clinic full time.
Needs Analysis: Data Collection
To gather the data that the Clinic Transformation Project needed to make improvements, Dawn and Bill (referred to as "we" in this section) relied first, as earlier mentioned, on Spinuzzi's (2013) Topsight as a set of methods to structure our inquiry, a needs analysis. Spinuzzi (2013) defines a needs analysis as a qualitative workplace study that culminates in a set of recommendations to the client to inform an intervention to improve practice. Needs analyses may take different forms but are useful for a genre-based research approach (Molle & Prior, 2008).
For our needs analysis, we specifically focused on observation-based methods inside of the clinic. After IRB approval, we spent over twenty hours in the clinic, shadowing the roles of providers, MAs, nurses, and the front desk receptionist one-on-one as they went about their routine workflow processes. In total, we conducted seven observations of duration between two and five hours each, and shadowed two providers, five MAs, two nurses, and one front desk receptionist. Each professional shadowed signed a participant informed consent form pursuant to our IRB-approved protocol. The duration of each observation was determined by length of shifts for each role and also the ebb and flow of the practice that day (for instance, if there was a lull or repetitive procedures that we had observed several times on one shift, we would choose to return another day).
We did not observe inside the treatment room or record any patient data. Each observation included contextual inquiry, a method developed by Beyer and Holtzblatt (1998) to study workplace activities—actual use of workplace technologies—alongside the user in the context of the work being performed. This method allowed us to ask questions from time to time of the clinician to guide our observation of their work on a specific task. For observation itself, we created a form that allowed us to record all routine communicative practices chronologically by phase (pre-delivery of care, during care, and post-delivery of care) throughout our time visiting for that day. We also collected consent forms and photographs of artifacts relevant to our observation. These included photographs of physical documentation and communication: a patient room door flag, blank screening forms, the vertical file housing documentation for patient encounters, the documents at each MA station, shift schedules, a whiteboard with general notes for patients, and a handout for patients about the new electronic medical record system.
We also used a framework called relational coordination for the collection of our data. Relational coordination looks at how employees communicate and relate for the purpose of task integration. This framework focuses on helping researchers identify specific communication and relationship ties needed to drive coordination and performance in an organization (Hoffer Gittell, 2016). With this framework, researchers learn what communication takes place across what roles in an organization and what relationships with what roles are valued most. This framework has been used in industries as far ranging as automotive, higher education, banking, and now health care (Hoffer Gittell, 2016).
Data Analysis
Data from these observations and contextual inquiries were coded through two separate, first-cycle coding methods: attributive and descriptive coding. Attributive coding was used to code all observational data by the communicative "attributes," that is, what kind of communicative action was taking place at a given time. We created six attributive codes for our data: data entry, patient-specific data collection (empirical, archival, or observational), research (pulling evidence-based literature online or from lateral paper files), oral communication, and signatures. We also tagged each attributive code with its phase in clinical practice: pre-, during, or post-patient encounter. We used these codes to make findings related to when and how each role in the clinic communicates with other roles and in the electronic medical record, and when competing demands on a professional's time emerged. (An example of competing demands is when a provider is collecting data at a provider workstation during the patient encounter, when she is supposed to be face-to-face with a patient.) We refer to and elaborate on these competing demands in the analysis section as discoordinations, contradictions, and breakdowns.
Separately, we coded the data into descriptive codes, also known as topic coding (Saldaña, 2009), with codes that matched the "optimization" items to be addressed over the next year by IT professionals as the clinic transitions its electronic medical record system. These include: clinical workflow, clinical content, front desk issues, billing issues, and patient engagement. These first cycle coding processes were then used for subsequent thematic analysis.
Results
From the attributive codes and their relationship to the patient encounter, we found that providers had more instances of conducting research than MAs, nurses, and the front desk receptionist, whether it be patient-related or literature-based, before, during, and after the patient encounter. In the two observations of providers, eight times they took time from their patients to go to their computer terminals and look up records or literature in order to provide patient care. Despite the fact that we observed five MAs, we documented only four instances of similar work.
Providers are also doing more data entry than the other roles that we observed (MAs, nurses, front desk). The two providers entered data into the "office note" and/or the electronic medical record eleven times during our observations, compared to four for the five MAs we observed. This is further compounded by the fact that providers frequently postpone documentation for after their shifts, such that we could not observe all post-encounter/afterhours "charting." On the other hand, the MAs we observed spent more time seeking oral or written communications (including signatures) from providers. We recorded over 20 instances of MAs writing post-it notes to providers and placing them at their workstations, approaching providers to ask quick questions and attempting to find a provider in person to obtain a written signature for particular forms. Further, much of the MAs' time was spent in non-communicative actions with other roles (e.g., preparing rooms for patient encounters, rooming patients, exiting with patients, etc.). Last, the qualitative data also indicate lack of communication from MAs in two contexts—MAs sitting and waiting for instruction from providers and documents that could not be signed or approved sitting in piles at stations. These were not recorded as communicative actions, so this may reflect why the numbers of communicative occurrences are lower for MAs than for providers.
Nurses juggle all communicative tasks asynchronously, in phone triage or at their workstation calling patients. When we observed the nurse in phone triage, she performed almost all communicative actions at the same rate:
three instances of data collection,
five of data entry,
six of oral communication (outbound phone calls to specialists or other professionals),
and three of written communication to others (prescription forms, etc.).
It is important to remember that the nurse phone triage role operates outside of the boundaries of patient encounters (appointments), so her schedule is largely based on when in-bound calls from patients are returned. An "encounter" is the patient phone call, which lasted, during the observation, five seconds to twenty minutes.
What follows is a discussion of the themes that relate to one particular area for analysis: the need for a team approach to the coordination of care in the clinic.
Analysis
We organize this analysis section into three major recommendations that we gave to the Family Health Center based on the needs analysis. After each recommendation, we provide the evidence from the analysis that led to that recommendation, and we close each recommendation with discussion of how these recommendations were received and taken up by the Clinic Transformation Project. We do this intentionally to focus on actionable, team-based approaches in clinical practice and to show technical communicators how they might participate to improve the communication culture of a clinic.
Encounter Teams are Necessary
In The Birth of the Clinic, Foucault writes that the "formation of the clinical method was bound up with the emergence of the doctor's gaze into the field of signs and symptoms" (1994, p. 91). It is a pervasive cultural notion that the clinic is a practice in which a solitary provider views a solitary patient, makes a diagnosis, treats the patient, and sends the patient on her way. The reality of 21st century clinical practice is that the provider cannot operate alone due to the myriad communicative processes that drive complex service delivery and payment schemes. For this reason, clinics may discover that they need to be more intentional about their coordination strategies than they may be prepared to be on their own.
What literate practices did we see difficulties with?
Our needs analysis supported a recommendation that the Family Medicine Clinic must move to an encounter team strategy of coordinated care, as the lack of team cohesion was causing discoordinations, contradictions, and breakdowns in the daily practices of all observed roles in the clinic. At first glance, it looks like teams exist in the clinic. The schedule shows the roles accounted for in each daily shift (see Figure 1).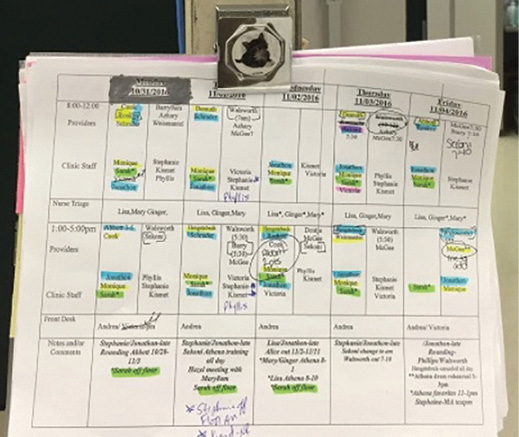 In our observations, we recorded many instances of discoordinations wherein failure to "hand off the baton" meant that one role (e.g., a MA) was waiting for another (e.g., a provider) in order to do that role's jobs. Often, this involved MAs waiting for providers to tell them what to do while providers did the work of MAs themselves. This is reflected in the number of instances in the data wherein the provider is doing the data collection, retrieval, and entry, while the MA observational data shows absence of this work, instead waiting on communications. This caused circular frustration. MAs expressed concern to us that they may not be doing enough or trained to do the work, and providers in turn felt the MAs were not doing what they were supposed to be doing. Much of this confusion was related to two issues: the scheduling of providers and the lack of training and professional development opportunities for MAs. As we mentioned earlier, providers are not in the clinic with enough routine to establish and lead a consistent team mentality. One provider we observed had a routine that encourages team approaches, whereas the other had a more independent management and work style. Furthermore, training and experience vary considerably among MAs such that processes vary widely depending on which MAs are on duty. This was particularly clear in terms of the relationship of the MA to data entry in the electronic medical record. In our observational data, only two of five MAs were entering data directly into the EMR. As a result, there is highly inconsistent workflow across the clinic by time and space.
From our contextual inquiries, all participants in all roles—providers, MAs, nurses, and the front desk receptionist—expressed, directly to us, feelings of contradiction between their perceptions of their role versus what they actually do every day. In the Family Health Center, the two nurses we observed perform asynchronous tasks, such as returning phone calls to patients rather than participating in the encounter, except for routine blood draws for patients checking medication levels. These appointments are not considered encounters or incorporated into a patient care strategy. As a result, one nurse expressed to the researcher a feeling of being sequestered and that her work feels more administrative than care-oriented. As earlier stated, two MAs in our study felt more empowered to do higher order work by particular providers, whereas others were left to do what they knew and expressed discomfort over their lack of technological know-how in the new electronic health record.
Finally, the front desk receptionist and billing administrator we observed work in isolation under the current model, with defined tasks that remove them from the machinations of the encounter. Both participants expressed their lack of connection to clinical operations. The front desk receptionist, in particular, mentioned how difficult it is when she is given a wait time to announce to patients when she had no idea how others arrived at that number. For this reason, the front desk participant felt disempowered from working on improving patient experience issues, such as wait time in the clinic.
As these discoordinations compounded, they led to significant breakdowns in workflow. The discoordinations and contradictions described caused slowdowns in practice workflow, which manifested in longer wait times for patients and the inability for providers to be able to complete charting tasks in the EMR at the conclusion of a patient encounter. As a result, charts are completed days after the encounter, which in turn can lead to a lag for claims and billing. Further, there is a perception of uneven quality of care based upon which provider is on duty and which MAs are assigned during that shift.
What did we recommend?
These findings led us to make several suggestions to the Clinic Transformation Project to improve the team dynamic in the clinic, including changing the scheduling process. Under the current system, the same MAs were assigned to the same "sides" every day (there are two equally sized physical sides to the clinic, "A" side and "B" side). Providers were also assigned to the same MAs on a particular side each time, and our needs analysis indicated that pockets of greater team acumen had developed with a handful of providers and MAs on one side. We recommended, then, that re-assignment take place such that this expertise was distributed across the clinic.
How did the clinic as a writing organization change?
As of the writing of this article, no change in this area has occurred. These changes require a difficult cultural shift in the clinic for all, as the highly performing pockets of clinical staff do not wish to lose their momentum as a practice group. Others do not wish to change their routine. As a result, this recommendation for intervention has not yet been implemented or tested.
All Clinical Professional Roles Must Participate in the Literate Practice of Care Delivery
Returning to Foucault's description of clinical practice, we find through this study that the same cultural stigma exists in the clinic for the role of the provider in terms of performance of literate practices in the delivery of care. This is particularly difficult given the increased research, information gathering, and documentation demands inherent in the practice of evidence-based medicine (Masic, Miokovic, & Muhamedagic, 2008). As the introductory encounter story shows, the literate practice of care delivery includes multiple research and writing tasks, which take place before, during, and after the encounter itself.
What literate practices did we see difficulties with?
Our evidence from this needs analysis suggests that providers do a disproportionate amount of this work in the Family Health Center, and, as a result, there are corresponding discoordinations and breakdowns in the clinic. Of the providers in the clinic, only two were assigning pre-encounter research tasks of any heft to MAs. Discoordinations took place during encounters when providers would exit the treatment room to conduct research in order to make decisions. This would often lead to a statement to the researcher with a corresponding contradiction they felt about their role, expressing, "I forgot to assign that to an MA beforehand" or "I forgot to look that up beforehand." Taken together, breakdowns occur when providers take all research and writing roles as their own. Office notes do not get completed during encounters. "Charting," or the practice of finishing up office notes and coding for billing purposes, is often left to days or weeks after the encounter. There are lost communications in those piles of charts, which can lead to phone calls into the clinic, causing more asynchronous communicative work for nurses and MAs. In our data, this appeared as unsigned or incomplete paper documents left in piles at the end of a shift or when one MA showed us piles of documents hidden in drawers in the mail room. Finally, the ad hoc manner in which charts are completed further creates fragmented communication inside of those EMRs for future research for the next encounter or patient inquiry. The written communication of the clinic, then, is almost always running behind or incomplete.
What did we recommend?
Our recommendation, then, was to integrate and coordinate MA, nurse, and provider roles in the literate practices of health care service delivery. Our particular focus was the gathering of empirical evidence (prior data about the patient relevant to that day's encounter) by an MA rather than by the provider. This would ideally take place prior to the day's schedule but definitely prior to each encounter visit. Instead of providers at their desk ahead of each encounter, furiously looking up information, they could instead be completing encounter office notes, completing coding of encounters, and remaining on schedule. Although this focuses on information gathering, other recommendations included increased training and professional development for all roles to use the EMR for writing tasks more confidently.
How did the clinic as a writing organization change?
With these recommendations in hand, the clinic staff began to implement a chart preparation "huddle" (a lightweight take on the Agile project management framework) in which similar kinds of encounters (annual exams, for example) were discussed at the beginning of the day and notes were made for the provider ahead of the encounter, filling in a template for that type of encounter. Adopting an Agile-like "scrum" appealed to the clinic staff for a few reasons. One of these was the way it helped providers and and MAs begin each work day by coordinating information gathering needs for patient visits. This included a training component for the searching of multiple EMRs and inputting of data into the new EMR system. Initially, the team meetings went well and were fairly successful when all providers started at the same time each day. Unfortunately, it was difficult to replicate in another "side" of the clinic, where there are staggered start-of-shift times for providers as well as the MAs. As a result, the pockets of team mindset have remained in certain areas of the clinic.
A Quarterback is Needed for Team-Based Approaches to Clinical Care
As mentioned earlier, the unique situation for teaching clinics like the Family Health Center is that the health care providers who work there are not full-time employees of that clinic. Providers are part-timers, even though they have the highest rank and authority. As a result, they simply cannot be tasked with coordinating the teams that must operate in that space.
What literate practices did we see difficulties with?
In our needs analysis, we witnessed that the nurses may be able to fill that quarterback role in the clinic. The two nurse participants in the study, ironically, had the most experience in clinical practice of all roles in the clinic yet did not work on encounter teams. The nurses indicated to us that their position in the clinic, doing primarily asynchronous phone tasks, was unfulfilling compared to direct client contact, and that they felt isolated and underutilized. Meanwhile, MAs, with far less experience, were working directly with patients and simultaneously increasingly performing many other communicative and clinical tasks.
What did we recommend?
We recommended that nurses perform a quarterback role in the future to coordinate the team-based approach to clinical encounters. In a study of a Lean thinking intervention in a primary care clinic, Bushell and Shelest (2017) discuss the importance of team meetings (we are calling them "huddles" here) with a variety of stakeholders to the clinical processes in order to obtain buy-in and increase the potential for lasting change. These meetings have to be coordinated and have to involve all roles. Although the focus for the meetings might shift from one communication process or workflow to another (in the Bushell and Shelest (2017) study, the meetings were for multi-day value stream mapping events), the need for oversight remains. Because the nurses are in the clinic full-time with a significant amount of time and expertise, and are not scheduled as rigidly as those that handle encounters, this seemed a natural fit. Further, the team meetings would integrate nurses into the encounter workflow process.
How did the clinic as a writing organization change?
The clinic did initially implement a morning huddle to plan the day along with a chart preparation process that was discussed earlier. The huddles in the morning, held prior to the first appointment of the day, were run by one of the nurses who also printed schedules and color coded encounter types (in particular, using an orange for patients with diabetes, blue for those with depression, and yellow for routine follow-ups). She also made sure that certain chronic pain patients and minors received appropriate forms and tests. She then oversaw a meeting with any MAs and providers who might add other tests or screenings needed based on those conversations. Although the huddles did not last due to scheduling difficulties, the nurses continued to try to meet with providers and provide the color-coded prep sheets. While losing some of the personal communication, which was highly valued, it still, according to providers, has improved communication and increased the likelihood that the provider has the information needed to complete each visit. It has also empowered the MAs to be more proactive and participate more in the documentation of the visit by entering screenings and preventative health data into the EMR.
Discussion: Challenges To Implementation
As we have already described, the Clinic Transformation Project has made incremental changes based on our recommendations, but it has been difficult to implement more substantive and structured interventions in the clinic. Why is this? We point to two issues of note for technical communicators and researchers to consider when working in health care organizations.
Change Requires the Buy-in of all Stakeholders to the Clinic, including Administrators
The most significant roadblock to change in a health care organization is the administrative structure that controls the scheduling and billing of the organization. Most of the interventions we suggested involved changing a role such that this role would need to spend more time asynchronously, or off of the appointment-encounter schedule, in order to meet and to plan, and communicate with other roles rather than in a silo by themselves. Although at first glance this does not seem difficult, especially considering the cost savings that may result from better-coordinated care across contexts, this is the crux of moving from a cost-based health care system (more revenue for more patients seen per day) to a value-based health care system (incentivizing a focus on preventive care and quality improvement).
Although the Clinic Transformation Project did include administrators and was supportive of the development of a transformative scheme, support broke down when it came to implementing a structured intervention. This breakdown was largely due to cost. Studies show that it takes time to see cost savings from a process improvement project (CMS, 2016). However, it is profitable for clinics with money to spend on the transformation or for clinics with funding to undergo the transformation. The Family Health Center is caught in the middle, with interest but no immediate funding.
Cultural Changes are Difficult in Professional Settings
A transformation requires change, and, here, we recommended changes that would change the nature of the work that all roles in the clinic do. Our recommendations also require more transparency around what kinds of communication (and with whom) some people are comfortable with, and what kinds they might not be as comfortable with. One finding from the study is that nurses, MAs, and front desk staff all valued their performance according to how well they performed in the new EMR system, although it was not customized to their own workflow in the clinic. When our recommendations included a change in role away from working within the siloed inboxes and outboxes in the EMR, and toward more networked writing, those roles expressed discomfort, because some felt they were already working hard and improving within the confines of that system. They perceived our recommendations as adding on to that work, rather than transforming it.
We also found that it is a difficult cultural change to focus less on the face-to-face encounter with the patient and more on communication with other professional roles, particularly for the providers. The provider role is still very much tied up in the performance of the doctor-patient relationship in the treatment room—our observations included providers who expressed frustration at having to leave the treatment room to answer questions as well as having to take notes while talking to a patient and time spent writing or communicating to other staff while patients were waiting. Health care providers may experience stress in having to network their communication practices. In a study of doctors and nurses in a heart clinic, Arnetz, Zhdanova, and Arnetz (2016) found that patient involvement in decision-making with providers caused both "uplift" and "hassles" for providers. This study sheds light on the unintentional side effects of involving more communicators in the work of the patient encounter.
Implications for Researchers and Practitioners
Our needs analysis presented here is but a glimpse of what we believe is possible if technical communicators, researchers, and health and medical professionals work together to study the communicative practices of clinics like the Family Health Center. Three major implications emerge from our study for technical communicators and researchers.
Communication Study in Clinical Practice is Needed
We describe earlier how care coordination is both urgently needed to facilitate the treatment and maintenance of patients' chronic conditions, and also how care coordination is, at its essence, a communicative practice. As clinical practices are incentivized to move from an individual role focus to a coordinated approach to care, they need communication strategies designed to assist their staff, particularly in writing stewardship. Today, many practices are turning to technological tools (such as, in our case, a new EMR system) for help, but our needs analysis revealed that the tool itself couldn't support team-based approaches when the users still work alone. In fact, as our opening anecdote makes clear, without a careful needs analysis, introduction of a new system may well disrupt communication patterns already in use in the clinic and have unintended negative consequences for members of the health team. Technical communicators are well prepared to spot these kinds of disruptions and breakdowns, and can have much to offer to the study and improvement communication practice in primary clinics.
Service Delivery Improvement Efforts Can and Should Involve Technical Communicators
For the Clinic Transformation Project, provider Cathy noted that having technical communication researchers involved was extremely helpful, as the researchers provided information about the different roles in the clinic—including their perspectives and priorities—in ways that team meetings did not reveal or capture. Although there is growing awareness of the need for "literate care" consistent with calls by Ass. Director of U.S. Department of Health & Human Services Koh et al., the reality is that transforming health care organizations is complex work that few clinicians are trained to do. Many private practices who can afford the investment are hiring outside consultants to perform this kind of work. But resident and community clinics may not have the resources for consultants. They may need to secure grant funding to conduct the kind of research to drive successful service delivery transformation. For these organizations, we see that technical communicators, both practitioners and researchers, can offer their expertise as writing stewards and user experience professionals to facilitate important, life-saving work.
Project Management Interventions Can Impact Quality of Health Care
The growing demands for clinicians to gather information and enter documentation, combined with the number of separate systems necessary to use to find and enter information, have created information overload for providers such that they work overtime and are constantly behind in their writing work. Our needs analysis shows that these tasks must be distributed and in a manner that is team-oriented and efficient. The Agile approach here that we have recommended to the clinic has promise to alleviate some of the breakdowns in continuity of service and improvement in the quality of care across clinical roles for the patient. However, there is much more research to be done to investigate which emerging project management processes best suit clinical practice.
Coda: Spotting Evidence of New Coordination Practices
We are optimistic that the changes Cathy and her team have begun to make will be meaningful and effective, because we not only see a new routine, but we also see that they have new ways of reflecting and acting on the communication work they do. Cathy's own account of their changes reflects explicit references to coordinative genres and aims that were not visible to them in the past. Here are her words to describe one of the changes that we highlighted above:
We began by implementing a huddle in the morning to plan the day, and attempted to implement a chart prep process. The huddles in the morning were run by one of the LPN nurse triage staff, and did include some chart preparation. She printed schedules and color coded visit types, in particular using an orange for patients with Diabetes, blue for those with depression and yellow for routine follow ups. She also made sure that MAPS were run for our chronic pain patients and that we had MICR for all of our patients under 20. She then oversaw a meeting with the MA who was in early and the providers, who would then add any other things that they saw would be needed for patients, like GAD 7 screens or PHQ-9 screens.
We also attempted to do chart prep huddles with a few MAs, focusing on annual exams, having them find the last pap smears, mammograms, colonoscopy, and tetanus, and psa's if they had had one, and copying it into a "bubble" that could be put into their notes once the visit for the day was opened. This was so that these items could be more visible and accessible to the provider. It has been especially important as not all data from the old EMR was inputted in a way that mapped into the new EMR quality button. This also allowed them to search the hospital EMR if the data could not be found in the new or old emr, and doing it as a team was more efficient.
Notice here the centrality of communication—again, both routine acts and genres (established and emergent)—to characterize the day-to-day work of care delivery. In the end, perhaps the best result of this needs analysis work will be the way we have made a category of work that had been almost completely transparent visible and intelligible to the health team so that they can work to improve upon it.
References
Arnetz, J. E., Zhdanova, L., & Arnetz, B. B. (2016). Patient involvement: A new source of stress in health care work?. Health Communication, 31(12), 1566–1572.
Beyer, H., & Holtzblatt, K. (1998). Contextual design: Defining customer-centered systems. San Francisco, CA: Morgan Kaufmann Publishers, Inc.
Bushell, S., & Shelest, B. (2002). Discovering lean thinking at Progressive Healthcare. The Journal for Quality and Participation, 25(2), 20–25.
The Centers for Medicare & Medicaid Services (CMS). (2016). 2016 CMS quality strategy update. Cms.gov. Retrieved from https://www.cms.gov/Medicare/Quality-Initiatives-Patient-Assessment-Instruments/QualityInitiativesGenInfo/Downloads/CMS-Quality-Strategy.pdf
Dayton, D., & Barnum, C. (2009). The impact of Agile on user-centered design. Technical Communication, 56, 219–234.
Dicks, R. S. (2003). Management principles and practices for technical communicators. New York, NY: Longman.
Dicks, R. S. (2013). How can technical communicators manage projects? In Johnson-Eilola, J., Selber, S. A. (Eds.), Solving problems in technical communication (pp. 310–332). Chicago, IL: University of Chicago Press.
Engelhardt, B., Kisiel, T., Nicholson, J., Mulichak, L., DeMatteis, J., & Tobin, D. R. (2008). Impact of a care coordination and support strategic partnership on clinical outcomes. Home Healthcare Nurse, 26(3), 166–172.
Foucault, M. (1994). The birth of the clinic (Vantage ed.). New York, NY: Vantage Books.
Hackos, J. T. (2006). Information development: Managing your documentation projects, portfolio, and people. Indianapolis, IN: John Wiley.
Hart-Davidson, W., Spinuzzi, C., Zachry, M. (2007). Capturing & visualizing knowledge work: Results & implications of a pilot study of proposal writing activity. In Novick, D. G., Spinuzzi, C. (Eds.), SIGDOC'07: Proceedings of the 25th annual ACM International Conference on Design of Communication (pp. 113–119). New York, NY: ACM. doi: http://doi.acm.org/10.1145/1297144.1297168
Hart-Davidson, W. (2013). What are the work patterns of technical communication? In Johnson-Eilola, J., & S. A. Selber (Eds.), Solving problems in technical communication (pp. 50–74). Chicago, IL: University of Chicago Press.
Heifferon, B., & Brown, S. C. (Eds.). (2008). Rhetoric of healthcare: Essays toward a new disciplinary inquiry. New York, NY: Hampton Press.
Hoffer Gittell, J. (2016). Transforming relationships for high performance: the power of relational coordination. Stanford, CA: Stanford University Press.
Koh, H. K. , Brach, C., Harris, L. M. , & Parchman, M. L. (2013). A proposed 'health literate care model' would constitute a systems approach to improving patients' engagement in care. Health Affairs, 32(2), 357–367. doi:10.1377/hlthaff.2012.1205.
Kopelson, K. (2009). Writing patients' wrongs: The rhetoric and reality of information age medicine. JAC, 29(1/2), 353–404.
Lingard, L., & Haber, R. (1999). Teaching and learning communication in medicine: A rhetorical approach. Academic Medicine, 74, 507–510.
Masic, M., Miokovic, M., & Muhamedagic, B. Evidence based medicine—New approaches and challenges. Acta Informatica Medica, 16(4), 219–225.
McDonald, K.M., Sundaram, V., Bravata, D.M., et al. (2007). Closing the quality gap: A critical analysis of quality improvement strategies (Vol. 7: Care Coordination). Rockville (MD): Agency for Healthcare Research and Quality (US). Technical Reviews, No. 9.7.3, Definitions of Care Coordination and Related Terms. Available from: https://www.ncbi.nlm.nih.gov/books/NBK44012/
McNely, B., Gestwicki, P., Burke, A., Gelms, B. (2012). Articulating everyday actions: An activity-theoretical approach to Scrum. In SIGDOC '12: Proceedings of the 30th Annual Conference on Design of Communication (pp. 95–104). New York, NY: ACM. Retrieved from http://dl.acm.org/citation.cfm?id=2379057&picked=prox&cfid=544110266&cftoken=96745940
Molle, D., & Prior, P. (2008). Multimodal genre systems in EAP writing pedagogy: Reflecting on a needs analysis. TESOL Quarterly, 42(4), 541–566.
Pope-Ruark, R., Eichel, M, Talbott, S., Thornton, K. (2011, Spring). Let's Scrum: How Scrum methodology encourages students to view themselves as collaborators. Teaching and Learning Together in Higher Education. Retrieved from http://teachingandlearningtogether.blogs.brynmawr.edu/archived-issues/may-issue/lets-scrum
Saldaña, J. (2009). The coding manual for qualitative researchers. Thousand Oaks, CA: Sage.
Schryer, C.F. (1993). Records as genres. Written Communication, 10, 200–234.
Schryer, C.F., Lingard, L., & Spafford, M.M. (2003). Structure and agency in medical case presentations. In C. Bazerman & D. R. Russell (Eds.), Writing selves/writing societies: Research from activity perspectives (pp. 62–96). Fort Collins, CO: WAC Clearinghouse and Mind, Culture, and Activity. Available from: http://wac.colostate.edu/books/selves%5Fsocieties/
Spinuzzi, C. (2008). Network: Theorizing knowledge work in telecommunications. New York, NY: Cambridge University Press.
Spinuzzi, C. (2013). Topsight: A guide to studying, diagnosing, and fixing information flow in organizations. Austin, TX: Amazon Createspace.
Tolf, S., Nyström, M.E., Tishelman, C., Brommels, M., & Hansson, J. (2015) Agile, a guiding principle for health care improvement? International Journal of Health Care Quality Assurance, 28(5), 468–493. doi: 10.1108/IJHCQA-04-2014-0044
Ward, B. W., Schiller, J. S., & Goodman, R. A. (2014). Multiple chronic conditions among US adults: A 2012 update. Preventing Chronic Disease, 11, E62.
About the Authors
Dawn Opel is Assistant Professor of Digital Media and User Experience in the Department of Writing, Rhetoric, and American Cultures at Michigan State University. A lawyer and community-engaged researcher, she works with nonprofit, government, and health care professionals to improve workplace communication and user experience with workplace information and communication technology. She can be reached at opeldawn@msu.edu.
Cathy Abbott, MD, is a family physician who had been in private practice for seven years before joining the faculty at Michigan State University. She practices a full range of Family Medicine, including Obstetrics, as well as teaching in the MSU College of Human Medicine's Shared Discovery Curriculum as a Learning Society Fellow. She has a vested interest in transforming the academic practice into a more efficient and enjoyable practice for providers, patients, and staff. She can be reached at Cathy.Abbott@hc.msu.edu.
William Hart-Davidson is a Professor in the Department of Writing, Rhetoric, and American Cultures and Associate Dean for Research in the College of Arts & Letters at Michigan State University. His research in health communication focuses on improving communication among care providers as well as shared-decision making between providers and patients. He can be reached at hartdav2@msu.edu.
Manuscript received 31 August 2018, revised 01 January 2018; accepted 20 January 2018.