Diane Martinez
Introduction
This series provides reviews of four books that fall under the umbrella of scientific communication. The range of subjects may be of interest to practitioners and instructors who teach science writing, because composing effective scientific communication involves using distinct approaches and strategies as well as understanding the impact and implications of what we write. The books in this series address theories and pedagogies, skepticism about how science is used in scientific writing, scientific writing as a craft, and "commonplaces" or common arguments found in environmental discourses.
Scientific Communication: Practices, Theories, And Pedagogies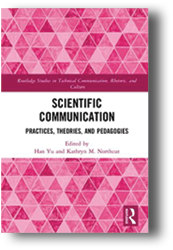 Contemporary, public scientific discourse is marked by a divergence of opinions as to what constitutes science and an even wider chasm over disputes about how science is used in public policies. This current turmoil is not only of concern to scientists; scholars in technical and professional communication are at the center of these discussions, too, due to the intersection between science and communication. In response to current issues regarding scientific discourse, Scientific Communication: Practices, Theories, and Pedagogies was written to specifically address how to "teach science students to produce more effective and ethical communication [… and] how to teach students in communication and rhetoric to be critical readers, writers, editors, and critics of scientific discourses" (p. 4).
The book is divided into two parts. Part I is dedicated to "Practice and Theory," which provides context for a variety of contemporary issues in scientific communication. Chapters in this section cover topics like differentiating between science communication and scientific communication; shifting roles of scientists from "one communicating to the public to one communicating with the public" (p. 33); examining ethical authorship; and, understanding scientific commercialization where information and results from studies are withheld from the larger scientific community, which directly opposes an open scientific society where sharing information is key to making scientific advancements. Other chapters address how scientific visuals shape perception of a topic; explore ways that science information is accommodated, distributed, and changed over social media; and examine public science communication through museum exhibits. "Practice and Theory" is a necessary scaffold for Part II, "Pedagogy and Curriculum."
The chapters in Part II relate directly to teaching scientific communication and espouse the viewpoint that "future scientists should be held accountable for engaging with societal values to further aims of a democratic civil society" (p. 207). In other words, these chapters echo one overarching theme in Part I: science is social and advances in science have social implications; therefore, those people like scientists or journalists who communicate science have a public responsibility. Chapter topics include the rhetorical nature of scientific communication and how to encourage students to critique and re-imagine current scientific communication practices rather than emulate them. Other chapters explore best approaches for teaching science communication in face-to-face and online environments, include a training model for teaching graduate students to provide meaningful feedback that helps students learn about conventions of science writing and improve their writing skills, and demonstrate how to use Wikipedia to teach about and improve science communication. All pedagogy chapters include helpful reading suggestions and example assignments.
Scientific Communication is a treasure-trove of information about contemporary issues regarding scientific discourse, theory, and practice of science communication. The only issue I noticed was the odd insertion of graphics in the middle of the book where the pages were unnumbered and the graphics were not titled. Aside from that anomaly, this book is a valuable and important resource for scholars and educators in science, rhetoric, and writing programs.
Scientific Method: How Science Works, Fails to Work, and Pretends to Work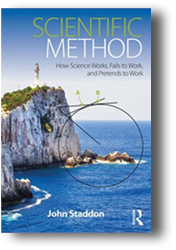 A subject of debate in the last few years is how scientific studies and research are used in the media and by governments, especially in terms of policy making. Numerous articles and books have addressed this topic, yet there is a persistent problem of citizens and government officials (whether they are scientists or not) either not understanding the scientific method or inaccurately applying data or results from research studies as the basis for public policies and regulations. I do not disagree that "there is a need for citizens to understand science […and] not just the major facts, but the methods used in different sciences, and their limitations" (p. vii); however, John Staddon's Scientific Method: How Science Works, Fails to Work, and Pretends to Work is not that book.
Staddon misses his goal of helping readers assess the deluge of scientific information that the public is confronted with daily. First, the book fails due to poor writing. Obviously, a book about the scientific method is going to use technical information and scientific studies; however, the book is a poor example of clear writing, most especially clear scientific writing. Figures and tables are not labeled or titled, which makes references to them ambiguous and confusing. Sentences, even paragraphs, are constructed without attention to style or audience, where the writing comes across as a long freewrite or a conglomeration of classroom lecture transcriptions. Non-stylistic fragments exist, and there are long-winded sentences that are difficult to follow, not because of the technical information, but because of the lack of attention to sentence construction and paragraph development.
Along with confusing writing, there is a plethora of "trust me" language where summaries of studies used as examples are not complete enough for readers to understand not only the experiments under discussion but Staddon's conclusions. This language is extended to the mention of past and present scientists, economists, investors, and even books that are pronounced as popular, great, brilliant, or problematic without follow through to support such claims. The writing is gendered by use of the generic "he" except when referring to experimental subjects or when a female is used as an example, and then there are statements like "Clever men […] will always gain a following" (p. 70) and off-handed, irrelevant comments like Keynes being "happily but improbably married to a strong-minded Russian ballerina" (p. 84), or "young women these days seem to favor deliberately torn blue jeans. These garments, which look as if they have been salvaged from the trash…" (p. 84). Even though the blue jeans are being used as an example, the latter comment is totally irrelevant to the discussion and there is no need to associate this fashion trend with women only, as men wear these types of jeans, too. And last, the selection of examples, the arguments presented, and the people and research that are held up or questioned are politically partisan that Scientific Method is biased, which detracts from its message.
The Craft Of Scientific Writing, Fourth Ed.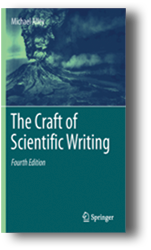 It is difficult to find a textbook that can complement the various ways a subject may be taught, but Alley's The Craft of Scientific Writing, 4th ed., may be one exception. Even though the first few chapters give the book a slow start where Alley makes a rather weak case that scientific writers have greater burdens than other writers, he shines from Chapter 3 on to the end through his discussions and examples on honing scientific writing. His approach to teaching about scientific writing is to examine writing versus a primer on genre. It is his approach that makes this book an excellent accompaniment to a variety of courses that deal with technical and scientific writing.
Like most writing books, this one covers audience, purpose, and occasion, as well as word choice to enhance clarity, avoid ambiguity, and sustain readership. Style is addressed through chapters on sentence construction, organization, and integration of graphics and equations. Genres of email, instructions, and proposals are also covered; however, instead of a section-by-section approach for each genre, Alley focuses on how intended audiences use and approach reading such documents. He then gives guidance on organization, structure, language, tone, and writing strategies. The focus on writing strategies allows instructors who might use this book to cover genre, drafting, and revision in ways that pertain to their own particular classes. One of the most effective aspects of each chapter is the color-coded examples. The red (poor) and blue (exemplary) examples give the content richness and foundation through this visual enhancement that makes it easier to spot differences in the compared examples and complements the explanatory text. Appendixes on sentences, punctuation, usage, and format are not the usual abbreviated grammar lessons; instead, they address the most common mistakes found in engineering and scientific writing. Alley gives thorough explanations and color-coded examples about what constitutes a problem and how to fix it, and visual indicators help readers discern the severity of issues being critical, distracting, or cosmetic.
The Craft of Scientific Writing is a book that can be valuable to practicing writers who want to work toward more effective, clear scientific writing for a variety of audiences. It could also easily be adapted to several classes that teach about technical and scientific writing, in which case it would be helpful to have writing exercises at the end of each chapter.
Commonplaces of Scientific Evidence in Environmental Discourses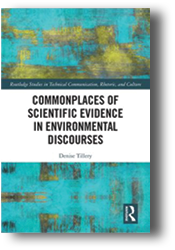 At a time when discussions about science and the environment are knotted with confusion and divisiveness about who is a "real" scientist or what is "true," Denise Tillery's Commonplaces of Scientific Evidence in Environmental Discourses offers clarity. Tillery identifies eight "commonplaces"—"common lines of argument circulating within a given topic" (p. 16)—as recurring themes in environmental discourses. These commonplaces "represent strategies writers use to adapt evidence to their rhetorical contexts, disprove or challenge evidence hostile to their arguments, and relate sometimes highly technical arguments in terms that resonate with their audiences" (p. 20). These commonplaces are also partly responsible for the confusion and divisiveness that shadow discussions about science and the environment, so understanding these commonplaces helps people "see through" arguments in mainstream news, popular environmental writing, and the science used in public policies.
The book is divided into five chapters with an introduction that identifies eight commonplaces and provides a brief history of American environmentalism, a literature review, methods, explanations, and brief examples of each commonplace. Subsequent chapters include an examination of commonplaces in six works that have significantly impacted environmental discourses: Silent Spring; Cadillac Desert: The American West and Its Disappearing Water; An Inconvenient Truth; Field Notes from a Catastrophe: Man, Nature, and Climate Change; Collapse: How Societies Choose to Succeed or Fail; and Hot, Flat, and Crowded.
Since "one of the purposes of this genre [popular environmental writing] is to present arguments that readers can reuse in different contexts" (p. 43), it is important that readers understand how commonplaces are used to make the arguments that they may use themselves in conversations or as the basis for their beliefs on an environmental topic. A case study on Project GREEN: Friends of Pittman Wash make up the next chapter where Tillery analyzes commonplaces found in print and electronic media associated with this advocacy group. Through this case study, Tillery demonstrates how the balance of power can be shifted from government agencies making decisions that impact a community to "one where citizens and local communities shape decisions at the local level" (p. 110). Commonplaces found in visual environmental rhetoric is discussed in the fourth chapter, which presents a detailed discussion about the transformation of graphics from scientific to popular media contexts, specifically the controversial CO2 and "Hockey Stick" graphs used in An Inconvenient Truth.
Tillery ties up her discussion in the Conclusion where she presents insightful arguments about the positive and negative—as well as the unintended—consequences of using the eight commonplaces in environmental discourses. Her final argument is not to rid environmental discourses of these commonplaces but rather for writers and readers to recognize them, understand the consequences associated with such narratives, and, finally, use the commonplaces as "heuristics," which, in some cases, is a combination of several commonplaces that present more sophisticated, accurate, and engaged communication practices.
Commonplaces of Scientific Evidence in Environmental Discourses would be a useful book for a graduate class on environmental or science writing as it would provide a foundation for students to examine selected readings for these commonplaces, research the influence of the texts based on the arguments presented and recycled, and reflect on effective use of the commonplace Tillery says is the "simplest to describe but the hardest to implement" (p. 160): science as a source of information to be used when making decisions about environmental issues.
References
Alley, Michael. 2018. The Craft of Scientific Writing, 4th ed. New York, NY: Springer. [ISBN 978-1-4419-8287-2. 298 pages, including index. $US34.95 (softcover).]
Staddon, John. 2017. Scientific Method: How Science Works, Fails to Work, and Pretends to Work. New York, NY: Routledge. [ISBN 978-1-138-29536-0. 148 pages, including index. $US52.95 (softcover).]
Tillery, Denise. 2017. Commonplaces of Scientific Evidence in Environmental Discourses. New York, NY: Routledge. [ISBN 978-1-138-04822-5. 168 pages, including index. $US150.00.]
Yu, Han, and Kathryn M. Northcut, eds. 2017. Scientific Communication: Practices, Theories, and Pedagogies. New York, NY: Routledge. [ISBN 978-1-138-06478-2. 332 pages, including index. $US150.00.]
About the Author
Diane Martinez is an associate professor of English at Western Carolina University where she teaches professional and technical writing. She previously worked as a technical writer in engineering, an online writing instructor, and an online writing center specialist. She has been with STC since 2005.
Table 1: Summary of Reviews
Scientific Communication: Practices, Theories, and Pedagogies
Scientific Method
The Craft of Scientific Writing
Commonplaces of Scientific Evidence in Environmental Discourses
Audience
Academics, practitioners, graduate students
Academics, journalists, general publics
Practitioners, undergraduate and graduate students
Practitioners, academics, general publics
Major Strengths

Addresses wide range of topics related to scientific communication
Helpful chapters on teaching scientific writing

Strategic approach to learning scientific writing
Color-coded examples
Useful for a variety of classes related to scientific writing
Affordable

Commonplaces explained with relevant examples that demonstrate how such arguments are used in environmental discourses

Major Weaknesses

Unexplained collection of graphics in the middle of the book
Price may be prohibitive for classroom use

Poor writing that is also biased and exclusionary

No writing exercises included

Price may be prohibitive for classroom use

Comments
Highly recommended for practitioners and graduate-level classes
Not recommended
Recommended for classes designed to teach students how to write clear, scientific prose
Recommended for graduate classes, practitioners, and academics
Rating
*****
*
*****
*****
Cost
$US150.00
$US52.95
$US34.95
$US150.00