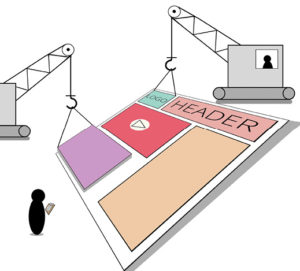 My image demonstrates the construction of a website, starting with a wireframe. The figures controlling the cranes represent the designers and developers that help place parts of a website. Graphics, text, videos, and other content will ultimately determine whether a user will stay or leave, so these are important. The figure with the clipboard represents the content strategist. The responsibilities of a content strategist are important as they dictate what will go on a website to represent a client, such as an individual or company. The clipboard represents the results of studies, notes, and other content ideals to keep in mind when building the website. Though the image primarily focuses on the practice of content strategy, theories are still being used to help the content strategist decide what direction to take with a website. Likewise, others learn good practices from content strategists as they work with them, such as designers and developers.
About the Artist
Elias C. Escobedo Degollado is a recent Kennesaw State University graduate. With a Bachelor of Science in Technical Communication, he plans to continue working at The Home Depot as a user experience designer, where he will apply his knowledge of usability testing to improve the user's experience. He is available at eescobed@students.kennesaw.edu.
Honorable Mention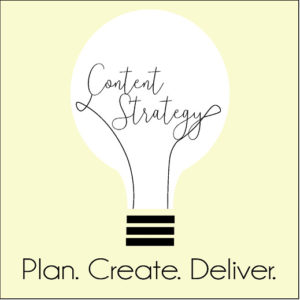 For this illustration of content strategy, I used a simple, minimalistic look with a simple color scheme. I used white, pale yellow, and black. I used Illustrator to pen a lightbulb that represents developing ideas and content for a website, with the wires spelling out "Content Strategy" inside. I then wrote "Plan. Create. Deliver." on the bottom. These words were found directly from the definition of Web content strategy. They describe the process of developing a strategy, planning, creating, and then delivering, as I did with the cover. I wanted the viewer to immediately know the intention of the image just by a quick look, while also keeping a minimalistic and stylish look.
About the Artist
Katherine Turnipseed is a senior at Kennesaw State University, where she is studying interaction design. She has a passion for creating designs that are minimalistic and striking as well as descriptive and informative. She hopes to spend her career creating designs that resonate with all people. She is available at kturnip3@students.kennesaw.edu.
Honorable Mention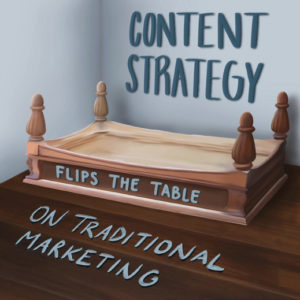 When researching content strategy, I came across a quote by Michael Brenner that struck me: "A content strategy flips the tables on traditional, linear marketing by defining the process and then securing the right resources for producing a consistent stream of content mapped to buyer needs across all phases of the buying cycle." The imagery of content strategy flipping the table on traditional marketing clung to me as I continued my research, and it became the focus of my illustration.
Using a mixture of Procreate, Photoshop, and Illustrator, I began with the table and branched out from there. I went through several editions of the design—with words, without words, without a room around the table, etc.—and decided to exhibit the main message of the quote within the image so it would be more understandable to the audience. Rather than writing it simply across the top, I took a more unique stance by integrating the message into the image itself—chalked into the floor, painted onto the table, etc.
About the Artist
Brianna McBride is a sophomore student at Kennesaw State University, where she is pursuing a major in Interactive Design and a minor in Technical Communication. She also serves as an Honors Ambassador and Writing Tutor for her university. After finishing her undergraduate studies, Brianna plans to work as a User Experience/User Interface designer to further meaningful media communication between people and technology. She is available at bmcbrid3@students.kennesaw.edu.