By Lynn B. McCool
Abstract
Purpose: The focus of this article is to examine how professionals may be adapting the once-stable résumé genre to a next-generation (next-gen) iteration of this genre by using multiple media to create and sustain personal branding.
Method: Using a qualitative case study methodology, this research examined LinkedIn's public user profiles. One case study participant was selected, whose profile met the criteria of promoting personal branding via multiple media artifacts, using transmedia storytelling techniques, and networking inside a participatory social media culture.
Results: In this case study, the participant, Jacobs, used multimodal composing and transmedia storytelling techniques on LinkedIn's social media site. Sharing smaller narratives across different media, Jacobs invites participation from his followers as well as responses from him to his followers. Within this participatory culture, his posts often blur personal and professional topics of interest but still remain singularly focused on promoting his personal branding to a wider audience
Conclusion: Young professionals are not turning to traditional resources for advice on how to establish personal branding. Instead, they are turning to a networked, social world and using multiple media and transmedia storytelling techniques to attract followers, connect to other professionals, and network with potential employers.
Keywords: convergence, participatory culture, transmedia storytelling, résumés, LinkedIn
Practitioner's Takeaway:
The résumé genre is evolving to address the exigencies of both media convergence and a participatory culture.
Technical communicators should consider using next-gen résumés as a long-term strategy to enhance their employment prospects.
Professional communication instructors (as traditional resources of advice on writing résumés) should continue to track the evolving conventions of the résumé genre and adapt instruction to meet the demands of an always-on, always-connected world.
Introduction
Before the advent of the Internet and Web 2.0 technologies, professionals who were seeking new jobs created paper résumés or curricula vitae (CVs) as the primary means of establishing personal branding. While both résumés and CVs employ aspects of personal branding, there are differences between them; for example, résumés tend to be shorter in page length, with concisely written content that summarizes education, work history, credentials, and skills, thus providing less space for personal branding. CVs, on the other hand, contain the same content as résumés but are longer in page length and allow additional space for personal branding via additional sections on research, teaching experience, publications, grants, fellowships, professional associations, licenses, and awards. Based upon basic commonalities of résumés and CVs, in this article, I will refer to both résumés and CVs by using the umbrella term résumé. Although résumés and CVs are not entirely interchangeable, job seekers will use one or the other to summarize skills and experience, and to present personal branding in order to persuade potential employers.
A job seeker's rationale for including personal branding within a résumé is to create a positive image in the mind of potential employers (Peters, 1997) via "emotional connections" (Thoms, McMasters, Roberts, & Dombkowski, 1999). In paper résumés, these emotional connections are often made in sections titled "Extracurricular Activities" and "Hobbies and Interests." Within these spaces, the job seeker hopes to relay personal branding information to demonstrate that s/he is a well-rounded individual who has interests beyond work and wishes to make an emotional connection with the potential employer's or hiring manager's own personal interests. However, in the one-dimensional, print-on-paper résumé, these emotional connections may be harder to convey and are often deemed of less importance than matching the more important education and skills sections to a particular job description (Thoms et al., 1999).
However, with the arrival of 21st-century networked communication technologies, job seekers now have additional resources to establish personal branding, make emotional connections to, and invite participation from a wider audience. As a result, certain communication practices, and even the conventions of the once-stable résumé genre, appear to be changing (Randazzo, 2016) in response to an "always-on, always-there" digitized world of resources (Bolter & Grusin, 2003; Jenkins, 2006) that include the affordances of Web 2.0 cloud computing and social networking, and the relative ease of access to digital media technologies.
Using a case-study approach, I sought to discover how professionals are sharing résumé content, creating personal branding, and making emotional connections by using social network communication technologies. Furthermore, the approach and tone of this article are informational rather than critical. That is not to suggest that résumé genre conventions are free from nuanced and multilayered interpretations or applications. Instead, the purpose of this article is to examine how professionals may be adapting the once-stable résumé genre to a next-generation (next-gen) iteration of this genre by using multiple media to create and sustain personal branding and display résumé content. To explore résumé conventions further, I provide a contextual understanding of the résumé genre, a discussion of theoretical considerations, a description of methods and results, and an assessment of the implications for practitioners.
Résumés in Context
American business discourse has included the résumé genre in its discussion of employment documents for more than a century (Popken, 1999). Historically, the résumé has been a reflection of a predominantly print-on-paper culture, and its conventions have been influenced by the systematization of business communication, which began during the Industrial Revolution—mid-18th to mid-19th centuries—and then blossomed in the Modernist era—late 19th to mid-20th centuries (Yates, 2005). Subsequently, résumé conventions remained relatively stable through most of the 20th century. These conventions typically depersonalized the individual and were characterized by a listing of facts in the form of "subjectless sentences" that used "stable categories" (such as objective, experience, education), which were encased in a linear document design that was limited to one to two pages (Popken, 1999, pp. 92–93). Thus, the 20th century iteration of the résumé genre reflected a modernist approach to communication genres, exemplified by tightly codified conventions, used by organizational managers to determine if workers fit the parameters of the advertised position.
Today, many of these same genre conventions still exist in 21st-century résumé conventions. For example, Kursmark (2014) recommended that résumés should be succinct, include stable categories of skills and experiences, contain action verbs, and be composed of "tight writing" that is "stripped of non-essentials" (p. 14). Nevertheless, key differences exist between 21st -century and earlier iterations of the résumé genre. For example, today's job-seeking professional is also advised to include live links to an "email address, LinkedIn profile,…online portfolios, a Twitter feed, a digital business card, or relevant website" (pp. 14–15). The inclusion of such digital artifacts (online or Web-based communication items) within the résumé content may suggest that the genre is evolving to address digital, Web-based communication practices.
As an example of evolving résumé genre conventions, as recently as 2013, Forbes reported that professionals were adapting résumés to the online interactive presentation software Prezi, which led to the coining of the term, prezumé, a résumé created using Prezi (Asghar, 2013). In 2016, the career website themuse.com advised readers to consider converting their LinkedIn profile and résumé information into an infographic. The content writer's rationale was that a well-designed infographic might actually "make a recruiter want to read it," because infographics visualize personal data in an accessible format (Little-Fleck, 2016). Apers and Derous (2016) noted that, in addition to prezumés and infographics, video résumés have become increasingly popular with professionals, because video résumés allow applicants to "present themselves to recruiters or potential employers and elaborate on their competencies, qualifications, and previous work experiences" (p. 9). Video résumés also are a good medium for storytelling, because they can provide verbal, non-verbal, visual, and auditory cues to potential employers (Apers & Derous, 2016, p. 9). These are a few methods that professionals are using to adapt traditional print-on-paper résumés into interactive media in order to tell their stories and to establish personal branding.
Kursmark (2014) clarified that the "final hallmark of the modern résumé is its storytelling style" (p. 19). Not only does storytelling breathe life into an otherwise dull set of particulars, but it also humanizes the job-seeking professional whom it describes. Stories are powerful, because they connect with their audience on multiple levels, and, thus, are more memorable than a mere listing of facts. Similarly, Kursmark (2014) pointed out that "storytelling aids in personal branding" in that it helps to distinguish a professional from others by establishing a unique and memorable point of connection (p. 21). Although Kursmark (2014) did not identify a specific type of storytelling, she hinted that job-seeking professionals were using various forms of media to tell their stories.
Theoretical Considerations
In today's highly competitive job market, professionals are creating résumés that exhibit traditional genre conventions. However, research (Chiang & Suen, 2015; Labrecque, Markos, & Milne, 2011; McCabe, 2017) has suggested that job seekers are also turning to social media (particularly, the professional networking site LinkedIn) to display résumé content and manage personal branding that is enriched by transmedia storytelling. Jenkins (2006) theorized that this is due to "media convergence" and "participatory culture" where users become producers, consumers, and sharers of content. The following sections examine an understanding of the theoretical interplay among genre, media convergence, participatory culture, social networking, and transmedia storytelling as a lens for analyzing changing résumé genre conventions and associated communication practices.
Genre Conventions
Miller (1984) defined genre as a "recurrent, significant action," an embodiment of "cultural rationality," and a key to "understanding how to participate in the actions of a community" (p. 165). She also noted that participation is in response to an exigence or set of exigencies that are not "material" and "objective" as Bitzer (1968) advocated, but as a "form of social knowledge—a mutual construing of objects, events, interests, and purposes" and as a "socially recognizable…occasion…for making public our private versions of things" (Miller, 1984, p. 158). Miller's definition has significantly altered our understanding of genre from a fixed form to a fluid one that is adaptable to the purposes and actions of those who compose in it. Likewise, Yates and Orlikowski (1992) suggested that genre was more than just an "isolated rational action," but instead was part of a "social process" (p. 299). However, Yates and Orlikowski (1992) extended the concept of genre from its rhetorical roots to a "structurational concept" of organizational communication (p. 300). In their theory of genre, Yates and Orlikowski (1992) posited that "social institutions…both shape and are shaped by individuals' communication actions" (p. 300). The genre-as-organizational-communication theory explained the interactions between how professionals communicate in the workplace and how workplace communication genres are shaped by communicative responses to workplace exigences.
Additionally, Killoran (2006) noted that Web-based communication technologies have "greatly facilitated genre production and dissemination" as well as a migration of print to digital forms (p. 425). As an example, job-seekers are expected to communicate their employment information in conventional, printed genres, but, in order to distinguish themselves from others, they must also consider how to migrate their résumé content to digital formats. Many have chosen to migrate content to personal websites, online dossiers, and social networking sites such as LinkedIn where a person may consume, produce, and share media. Furthermore, Droz and Jacobs (2019) suggested that genres really act as "chameleons," changing or adapting to meet the external pressures put upon a genre's set conventions. Malone and Wright (2018) observed the distinctions among genre conventions, genre history, and genre etymology to suggest that Miller's genre-as-social-action is a "bottom-up approach" and is "particularly well-suited to serve as a theoretical perspective" of and definition for genre (p. 117). This understanding of Miller's (1984) definition of genre is used in this article to broadly encompass the way an individual's communication practices may adapt and genre conventions may evolve in response to situation, exigency, audience, media, and networked technologies.
Media Convergence
Futurist Alvin Toffler (1980) first anticipated the evolution of communication practices in his work The Third Wave and coined the term prosumer to describe a type of technology user, who was not merely a consumer of content but also a producer of it. For 21st-century communicators, creating and sharing media on networked technologies is relatively easy and nearly instantaneous. The end result has been that users are producing, consuming, adapting, and remixing content in unprecedented ways (Bolter & Grusin, 2003; Gitelman, 2008).
According to Jenkins (2006), using multiple media in this way as both producer and consumer has created a "convergence" within the "brains" of individuals and has represented a shift in cultural logic so that now consumers "seek out new information and make connections among dispersed media content" (p. 3). Additionally, Jenkins noted that media convergence is "more than simply a technological shift," because it "alters the relationship between existing technologies, industries, markets, genres, and audience" (p. 15). The evolution of the résumé genre from merely a "collection of qualifications and accomplishments" to a "cohesive narrative of the job seeker's career" (Kursmark, 2014, p. 19) has been due, in part, to media convergence. In spaces where "old and new media collide" (Jenkins, 2006, p. 2), job seekers' relationships to their media and to their audiences continue to change, due to relatively easy access to multiple media technologies, social media platforms, and a growing participatory culture.
Participatory Culture
The relationship between media convergence and a participatory culture has been linked by the development of Web 2.0 technologies. In a participatory culture, contributors are invited "to actively participate in the creation and circulation of new content" and to share, repost, and comment on their own and other's content (Jenkins, 2006, p. 290). Contrasted against the static consumer mentality of a pre-Web 2.0 era, a participatory culture invites the use of social media sites such as LinkedIn, where users produce, consume, and repost content, respond to each other, and, as a result, shape culture through their social actions. Interestingly, communication may be to audiences both known and unknown as the sharing of social media messages range from private and closed to public and open.
To live in a participatory culture is to live with uncertainty. Jenkins (2006) observed that "none of us really knows how to live in this era of media convergence…and participatory culture" because people with different ideological stances may embrace or reject it. There is not a clear "mapping" of how these reactions will be determined (Jenkins, 2006, p. 170). So, while there are great opportunities to shape culture through participation, there are also corresponding anxieties in a world where the rules are not entirely clear and where content never really disappears forever. Nevertheless, despite these risks and uncertainties, many job-seeking professionals are turning to social media to market themselves with the aim of career advancement.
Social Networking
One important outgrowth of media convergence is a job seeker's use of social media to connect and communicate with a wider audience than was previously possible. McCabe (2017) commented that social media is disrupting or "interrupting the normal course of action" in the ways in which employees find jobs and the ways in which employers find employees (p. 87). Similarly, Reardon, Wright, and Malone (2017) also have noted that "virtual spaces—such as social media—… have given consumers much greater visibility and power than they had 30 years ago" (p. 53). Consequently, job seekers' increased visibility on social media has not gone unnoticed by potential employers. Chiang and Suen (2015) noticed that workforce recruitment has changed in response to social networking. For example, employers frequently use social networks to "source and screen candidates" (p. 571). Likewise, job seekers create "professional identities in combination with their personal profiles" (p. 517). These identities are reflected by the information displayed in sections of job history, professional roles, endorsements, service positions, civic interests, as well as the user's posts about and links to other content (Rangarajan, Gelb, & Vandaveer, 2017, p. 657). Additionally, Labrecque, Markos, and Milne (2011) suggested that these features of the user's LinkedIn profile have contributed to personal branding, which is similar to product branding except that "personal branding entails capturing and promoting an individual's strengths and uniqueness to a target audience" (p. 38). To echo Jenkin's (2006) observation about media convergence, the marketing of one's personal branding in a participatory culture invites the use of media in unprecedented ways. For example, some professionals are turning to the participatory method of transmedia storytelling to create and promote personal branding on social media sites such as LinkedIn.
Transmedia Storytelling
Narrative (or storytelling) has often been considered "a form of existential problem-solving" (Notaro, 2014, p. 13). Notaro posited that the Internet has offered an "expanded context" for storytelling to occur that is "perfectly apt for exploiting the already inherently 'social' character of literary culture" (p. 5). According to Notaro, this expanded context exemplifies Latitude's "4 I's: Immersion, Interactivity, Integration, and Impact" (p. 17). Using the affordances of the Internet, readers can "explore a story in greater depth" and reach a wider audience outside the "confines of a single medium" (p. 17). Often, Internet users will turn to multimedia storytelling—the use of multiple media or multimodal composing to create and share stories. Some will even embrace transmedia storytelling techniques to create personal branding on social media.
Transmedia storytelling differs from multimedia storytelling in that transmedia storytelling "involves distributing narrative across different media platforms to provide multiple, different, yet connected, narrative experiences focused on the same subject" (Barber, 2016, p. 8). On the other hand, multimedia storytelling uses various media "separately or in combination" to tell the same story (p. 7). An example of multimedia storytelling is adapting a book-length story into a movie or a play. This is the same story told in a different medium. By contrast, transmedia storytelling uses multiple media to tell smaller, distinct (not identical) narratives that comprise the larger narrative.
Professionals showcase their personal branding via social media in order to present answers to the existential questions of "Who am I?" "What do I value?" "What have I experienced?" and "What am I good at?" (Rangarajan, Gelb, & Vandaveer, 2017, p. 659). Rangarajan, Gelb, and Vandaveer noted in their research that both "competence" and "distinctiveness" were important qualities in creating and promoting personal branding (p. 657). Using transmedia storytelling strategies as a natural extension of their lived experiences, professionals can foster emotional connections with others to establish and maintain their personal branding.
Therefore, with transmedia storytelling, participants cannot understand the whole story without viewing all smaller, distinct narratives in various digital forms and without making connections among all the smaller narratives to comprise a cohesive whole. Additionally, consumers of transmedia storytelling are invited to participate in the experience. Thus, transmedia storytelling fosters active, dynamic participation from its audience instead of mere static consumer mentality, and so it is ideally situated for professionals to use in personal branding messages.
Methods
This research study seeks to answer the question: How do 21st-century professionals use transmedia storytelling techniques on the LinkedIn social media platform to create personal branding in response to the exigencies of both media convergence and a participatory culture?
Using a qualitative case-study methodology for investigating "a contemporary phenomenon within its real life context" (Rowley, 2002, p. 18), I conducted my research on LinkedIn, a popular social media platform, designed for "business professionals to network, get resources and support, and build relationships with potential customers, clients, and partners" (Duermyer, 2018). LinkedIn was a logical choice because its Web-based platform encourages networked connections, provides quick sharing of information, and attracts professionals as its target audience. In short, LinkedIn's Web-based platform allows for both media convergence and a participatory culture.
After procuring an IRB exempt research status, I searched for LinkedIn user profiles that were publicly available and that contained multiple media as part of their personal narrative techniques. I used purposive sampling by searching for LinkedIn profiles with multimodal iterations of résumé content, such as prezumés, infographics, and video résumés. Additionally, I used snowball sampling, because, after I found the first user with a public profile that included a multimodal iteration of a résumé, I read posts on that user's page, looking for response links by the user's "connections" (LinkedIn's version of Facebook's "friends"). I continued to click on other users' profile hyperlinks in search of a case-study participant that used the following criteria in promoting personal branding on LinkedIn:
Multiple media artifacts
Transmedia storytelling techniques
Networking and participatory culture
While clicking on and reviewing user profiles (I looked at 25 different profiles), I found one user who fit the evaluation criteria. I narrowed my research and subsequent discussion to that user's LinkedIn profile and used case-study methodology that "explored a real-life contemporary bounded system.…and report[ed] a case description" (Creswell, 2013, p. 97). Additionally, the next-gen résumé of this LinkedIn user, Tyrone Jacobs, Jr., was a relevant case study, because, as a recent graduate of the University of Toledo, Jacobs had been actively pursuing employment in the field of electrical engineering. His posts were responsive to the exigencies of locating and securing employment. As he was transitioning from student to professional, his profile provided an interesting look at how a motivated individual with limited prior work experience might use the affordances of both media convergence and a participatory culture to create personal branding via transmedia storytelling on LinkedIn. I contacted Jacobs to request that I might use his LinkedIn profile for the case study. He was given and has signed an informed consent form agreeing to become a participant in this case study. He also gave permission for use of screenshots (images) of some of his public posts on LinkedIn. To increase the validity of my research, I fact-checked my description of his use of LinkedIn with him via the message mail feature on LinkedIn.
Discussion
The case study discussion begins with a brief description of Tyrone Jacobs, Jr.'s publicly available user profile on LinkedIn and then discusses how he uses multiple media, transmedia storytelling, and social (participatory) networking to promote his personal branding.
User Profile on LinkedIn
Although most LinkedIn users provide traditional résumé content on their LinkedIn pages—such as sections on experience, education, licensure and certifications, volunteer experience, and skills—these sections are not the first to be displayed on LinkedIn's user template. Instead, a user's profile (or brief biographical information) is the first information that is displayed. By displaying a user's profile first, the LinkedIn platform is distinctively suited to connect professionals to one another. A user's profile typically includes a recent photo, a descriptive tagline, and perhaps a brief statement about the person. In Figure 1, Jacobs uses his photo, tagline, bio, and links to additional media to introduce himself to his audience and to connect his audience to his personal branding.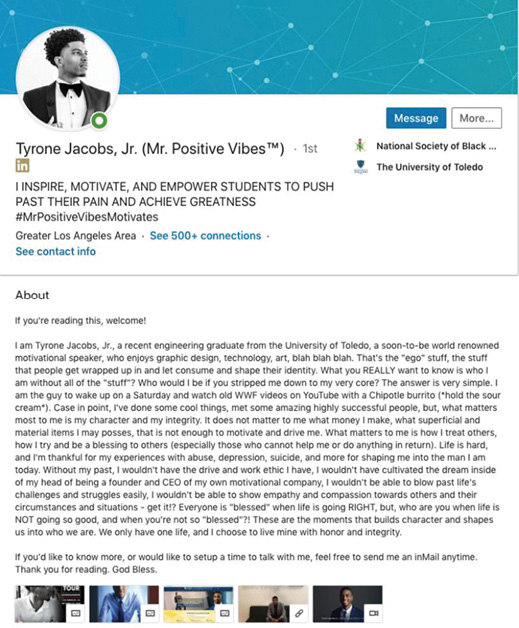 Figure 1. Tyrone Jacobs, Jr.'s profile information with links to additional "stories"
In his personal bio, Jacobs quickly departs from traditional résumé conventions and moves towards a storytelling style that humanizes him. His personal bio narrative focuses less on his professional accomplishments and more on what motivates him personally. His bio explains his "why" for getting out of bed and going to work each day. In fact, what motivates him is not his current employment as an engineer but the ability to help other people through hard times. Likewise, from his bio, the reader infers that Jacobs has not been a stranger to hard times. His energy and passion for others come through in his writing. His introduction quickly moves to a personal opening in which he states, "What you REALLY want to know is who I am without all the 'stuff'?" Then he proceeds to tell the reader that he likes to watch wrestling on YouTube, eat day-old Chipotle burritos, and follow his passion of being "a blessing to others" (Jacobs, 2018).
Traditional Résumé Content
The formatting of the template on LinkedIn's platform also provides designated spaces for traditional résumé content. Users fill out sections on experience, education, licensure and certifications, volunteer experience, and accomplishments. Figure 2 displays Jacobs' "Experience" section in which he lists not only his current employment at Boeing but also membership in other key organizations related both to his job at Boeing and to his interests in leadership and motivation. The strategic placement of both his vocational work and avocational interests in the same section form a link between Jacobs' work as an aerospace engineer and his passion for leadership. This link also strategically factors into his personal branding by establishing to other LinkedIn users that Jacobs, the professional, is more than the sum total of his formal education, skills, and experience.
Reading further, Jacobs' user profile reveals that he is a 2018 graduate of the University of Toledo with a BS in Electrical Engineering, and he is currently employed at Boeing. Correspondingly, Jacobs displays information from his undergraduate years. Thus, other LinkedIn professionals learn that he was a member of and was actively involved in the National Society of Black Engineers, for which he was an academic excellence chairperson, chapter vice-president, programs chairperson, and graduating senior reception coordinator. Jacobs' other college experiences include participation in undergraduate student research, two internships with Boeing, peer mentorship at the University of Toledo, and membership at Breathe University, a holistic, success-oriented, motivational organization. Jacobs' list of experiences and education mimics, to a degree, the information found in a traditional résumé. However, his inclusion of membership at Breathe University in his "Experience" section provides an important link to his self-description in his personal bio.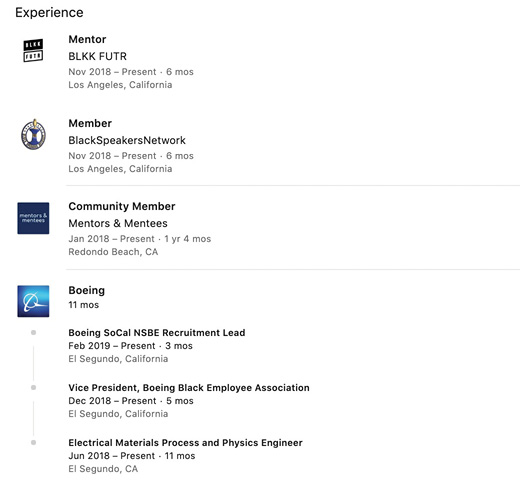 Figure 2. "Experience" section on Jacob's profile page. He links his employment with memberships in organizations.
Similar to the traditional résumé genre, a LinkedIn profile also includes spaces for skills and endorsements, recommendations, and interests. However, there are differences between these LinkedIn sections and those found within the traditional résumé genre. Figure 3 illustrates how Jacobs' LinkedIn connections provide him with endorsements of skills and recommendations of character in the participatory environment of LinkedIn's social media platform. By contrast, the content of a traditional résumé does not afford a professional the same type of participatory responses that the shared content of a résumé on LinkedIn does.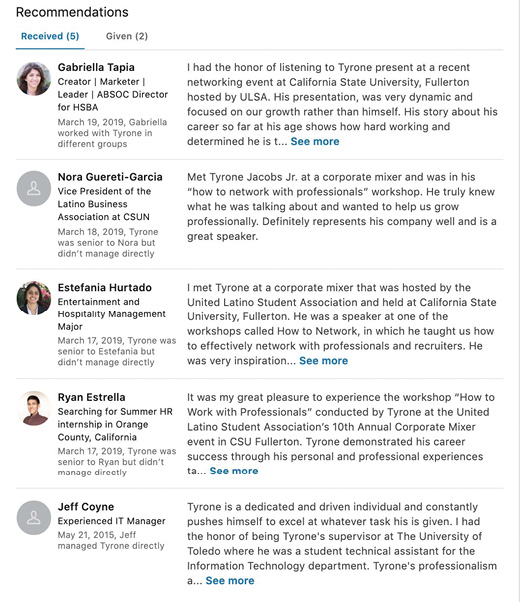 Figure 3. "Recommendations" section on Jacobs' profile. This section evidences a participatory culture.


Figure 4. Image links on Jacobs' profile direct users to additional media descriptions of his professional branding.
Additionally, by displaying his endorsements, recommendations, and interests, Jacobs makes stronger emotional connections with other professionals, and these connections help to bolster his personal branding. In part, the "Recommendations" and "Endorsements" sections demonstrate how the LinkedIn platform encourages both the production and consumption of media. Jacobs uses these sections to build his personal branding by showcasing accomplishments through multiple media artifacts and networking with other professionals and organizations on LinkedIn's social media platform.
Multiple Media Artifacts
To understand how Jacobs uses multiple media artifacts, I return to the space underneath his bio, where Jacobs provides links to five additional media stories that continue to build his personal branding. Figure 4 shows the image links to his five stories. I address them in reverse order to present a chronological understanding of Jacobs' professional branding.
From right to left, Figure 5 shows a link to a 1:25-minute video that presents Jacobs in business dress with upbeat music in the background. Unlike other video résumés in which the presenter begins with a list of education, skills, and experience, Jacobs begins with a rhetorical question: "Are you waking up to an alarm clock, or are you waking up to your calling?" He implies that life has not always been easy for him, but he has defied the odds as a young man who grew up under adverse circumstances. He challenges his audience to consider what motivates them, to strive for greatness, and to be better. The video allows us to see Jacobs' inner thoughts as he tells a part of his "story" that is not typically displayed in traditional résumé content.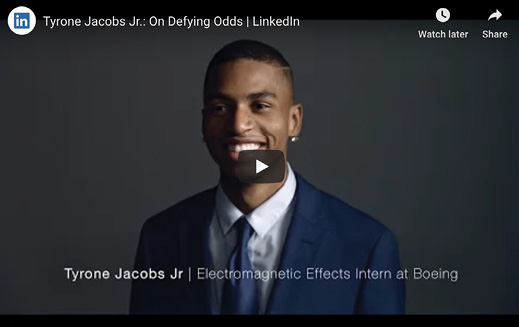 Figure 5. YouTube video in which Jacobs describes his personal motivation
Right to left, the second link is to the image of Jacobs sitting on a couch in front of a neutral wall with the LinkedIn logo behind him. This image in Figure 6 conveys a double story of sorts, because this image was included in an article on the "News" section of the University of Toledo's (UT) website, but the original image was taken and displayed at LinkedIn's headquarters in California.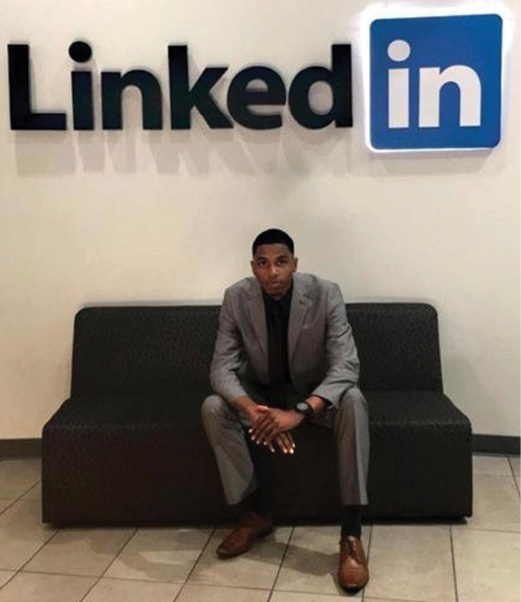 Figure 6. Photograph of Jacobs that is displayed on a wall at LinkedIn's headquarters in CA
The UT news article described how Jacobs' portrait ended up on LinkedIn's wall (Kroll, 2016). The Figure 6 image is also closely connected to the third media link under Jacobs' bio, which is displayed in Figure 7.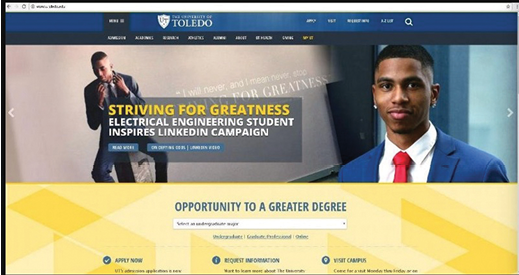 Figure 7. University of Toledo's website (2016) featuring Jacobs' LinkedIn story
The third media link is to Kroll's (2016) article on UT's website and is about Jacobs' experience of securing an internship at Boeing and his ensuing connection to LinkedIn. Kroll's (2016) article related that Jacobs had attended the National Society of Black Engineers conference in Boston and, subsequently, was interviewed by Boeing. When he was offered a summer internship at Boeing, he posted his good news on his LinkedIn profile page. This action, according to Jacobs, evoked a nearly viral response. Jacobs commented, "the post just blew up…[and] took off like a rocket. It had 13,000 to 14,000 likes and comments" (Kroll, 2016). Figure 8 shows Jacobs' corresponding response post to his instant celebrity.
When LinkedIn discovered Jacobs' post and the subsequent participatory activity of people viewing his post (14,000 likes and comments, according to Jacobs), the company decided to feature an image of him on one wall at the LinkedIn headquarters (Kroll, 2016). After the internship with Boeing, LinkedIn flew him out to their headquarters to meet CEO Jeff Weiner and other employees. From that point forward, LinkedIn has continued to promote Jacobs' content and has featured articles written by him. Interestingly, after graduation from the University of Toledo, Boeing offered and Jacobs accepted a position as an engineer. Jacobs returned the favor with a subsequent thank-you post including a link in the message to Jeff Weiner, CEO of LinkedIn. The likes and comments revealed in Figure 8 demonstrate how users both consume and produce content on LinkedIn's social media platform and also demonstrate how communication practices are evolving in response to the exigencies of media convergence.
Next, the fourth media link is another photo of Jacobs taken at LinkedIn's headquarters that was used by LinkedIn in their #ChaseGreat campaign (see Figure 9).
As a way to thank LinkedIn for its support, Jacobs posts his #ChaseGreat Campaign photo to his activity feed along with his words of gratitude. Interestingly, in Jacobs' written comments on this post, we also learn more about his early personal history, which, in turn, creates additional emotional connections to him.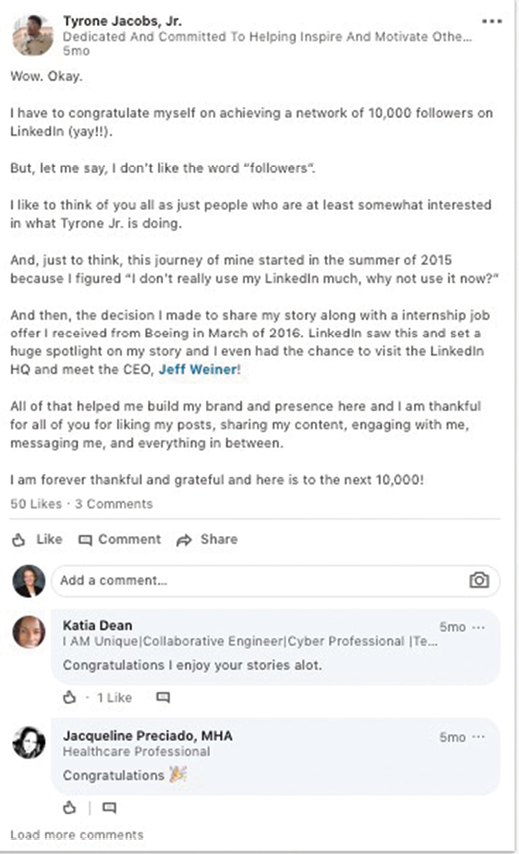 Figure 8. Jacobs' response post about acquiring 10,000 followers on LinkedIn
Reflecting a more recent experience, his fifth media link is to a promotional image for the Tech Jobs Tour, at whose Los Angeles conference Jacobs was a speaker (see Figure 10). Tech Jobs Tour aims to connect a diverse workforce with the 500,000 open tech jobs that currently exist in America ("About Tech Jobs Tour," 2019).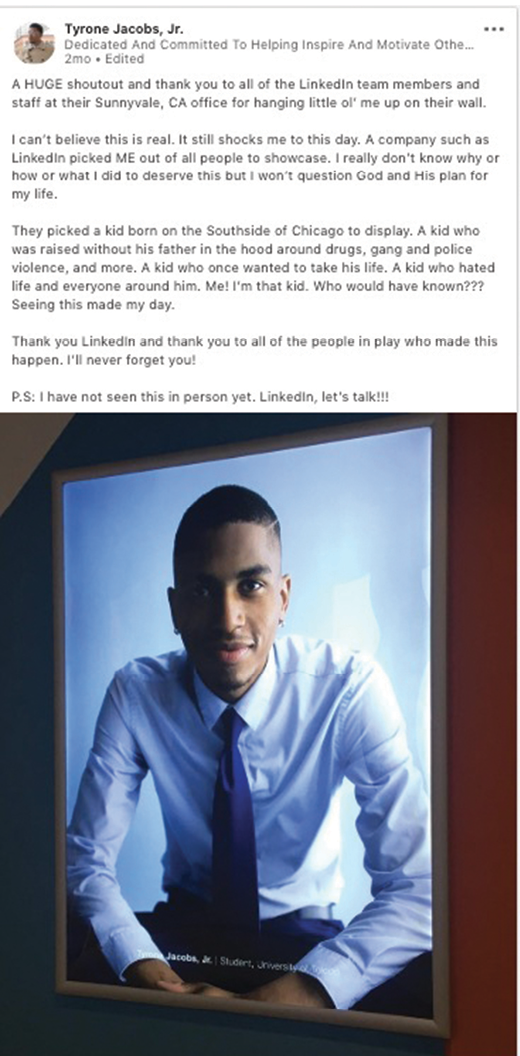 Figure 9. Photo of Jacobs for LinkedIn's #ChaseGreat campaign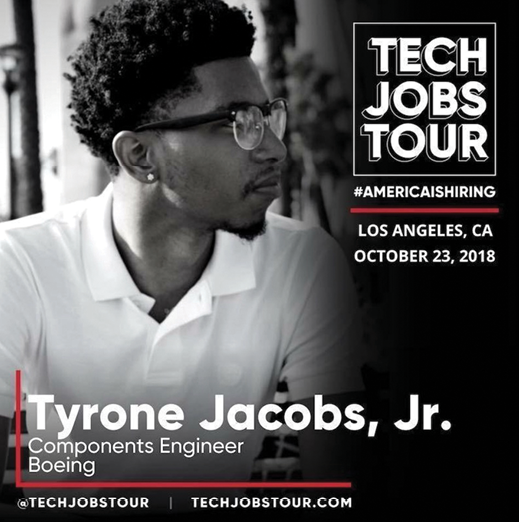 Figure 10. Jacobs at Tech Jobs Tour, 2018
This image of Jacobs demonstrates his ability to continue connecting and networking with other professionals in a way that affords him greater visibility and agency. Additionally, LinkedIn viewers witness the interplay of Jacobs' personal branding with Boeing's company branding and vice versa.
Lastly, in addition to the media linked under his profile, Jacobs regularly posts in his activity feed to share opportunities and accomplishments, connect with others, and promote his branding. For example, most recently, he spoke to a group of students at Grace Hopper STEM Academy. Figure 11 shows the promotional poster for this event along with the participatory responses by some of Jacobs' followers.
Jacobs continues to bolster his brand through his posts. His followers also engage in a participatory culture by responding to him with affirmative posts.
Additionally, as a follow up to his speaking engagement at Grace Hopper Academy, Jacobs shares, in his activity feed, one of his experiences with a student at the academy. Figure 12 demonstrates how strong emotional connections can be made with followers as Jacob describes his motivation behind his actions with a student at Grace Hopper Academy.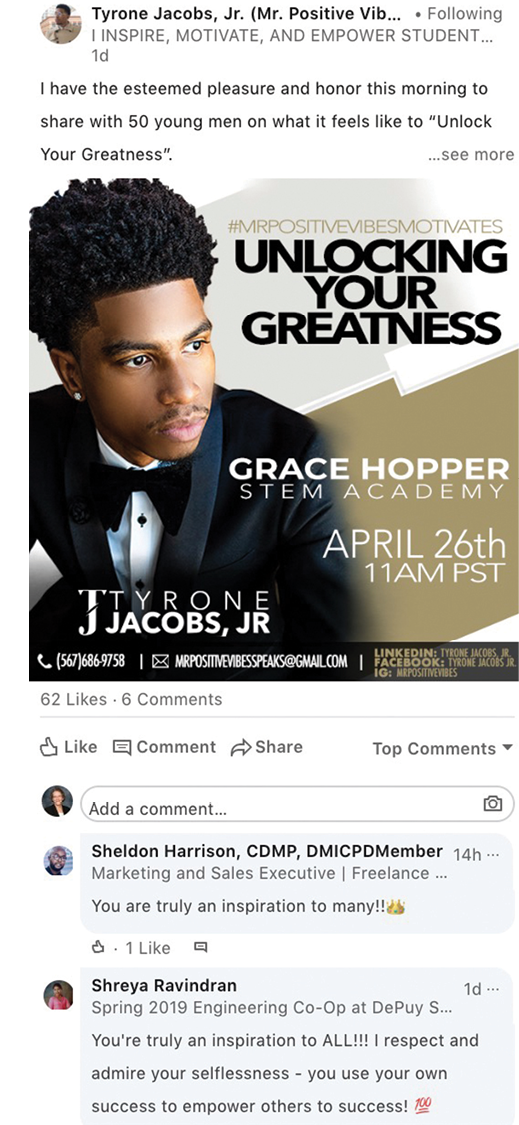 Figure 11. Jacobs' post about his speaking event
Using multimodal composing, Jacobs tells his story on LinkedIn through the inclusion of both traditional résumé content and multiple media such as images, video, and text that share details of his professional life. Each of these artifacts helps to create his personal branding. Although he does not connect to other personal social media streams via his LinkedIn profile, a quick Internet search reveals that Jacobs participates in Facebook, Instagram, Twitter, and YouTube. Jacobs epitomizes the 21st-century citizen where "net media usage has become the normality for an entire generation, who inhabit the Internet as a true living space and regard this space as natural to them as a non-digital environment" (Thimm, 2017, p. 93).
Transmedia Storytelling
Do all the different artifacts that Jacobs uses to build his personal branding on LinkedIn tell the same story, or are they smaller narratives of a larger story? While the artifacts display some overlap, I argue that Jacobs does use transmedia storytelling techniques to help his followers (audience) fully understand who he is as a person and as a professional. Unlike a narrative that is retold the same way in different media, Jacobs tells bits of his story, using one type of media and then another. His use of the social media platform LinkedIn invites participation from his followers. Moreover, Jacobs' followers will not get a full sense of who he is as a person until they read and digest all the artifacts he has provided. Likewise, Jacobs' followers are invited to interact (participate) with his LinkedIn posts. His followers offer affirmation, encouragement, and suggestions as they become part of a "dynamic-participatory medium" that empowers its users (Thimm, 2017, p. 94).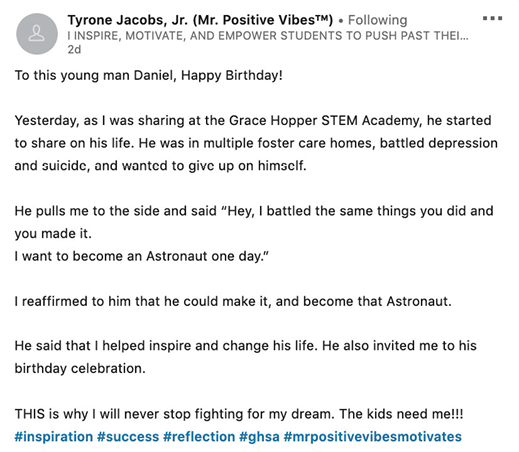 Figure 12. Jacobs' narrative of his Grace Hopper Academy experience
Implications
In addition to paper résumés, many young professionals use social media platforms as a way to post information about themselves to a wider audience (Dijck, 2009; Deurmyer, 2018). Posts often contain writing that blurs personal and professional topics of interest, and links to other writers' pertinent content. Posts may display completed projects, a discussion of the professional's skill set, and an "About Me" section intended to humanize the professional. Along with textual artifacts, professionals may create prezumés, infographic résumés, and video résumés, and include links to images, articles, or other media that creatively showcase education, skills, and abilities. Many use the social media platform LinkedIn as a professional dossier and as a way to network with other professionals by sharing articles, posting original content to a broader audience, and consuming content from others on the platform. The use of transmedia storytelling and multimodal composition in conjunction with a 21st-century social media platform is important for reaching a wider audience, building emotional capital, and inviting participation from viewers. These elements also are contributing to the changing conventions of the résumé genre.
For instructors of professional and technical communication, the realities of media convergence and a participatory culture deserve our careful consideration. First, tracking the evolution of résumé genre conventions is an important activity in order to understand and better respond to 21st century networked communication. Secondly, researchers may help mitigate the anxieties of media convergence and a participatory culture by offering "bottom-up" rhetorical strategies to address changing résumé genre conventions and thereby influencing cultural norms. Thirdly, rethinking professional composition pedagogy in regard to résumé and job packet assignments is a necessary next undertaking if we are to present relevant information to students. Not only does the evolving résumé genre afford instructors the opportunity to expand students' understanding of multimodal composing, but it also heightens their awareness of an always-on, always-connected world. More research is needed to examine the evolving résumé genre. Creating résumé content and personal branding on LinkedIn requires a critical examination of its affordances and constraints.
In brief, young professionals are not turning to textbooks, parents, academic journal articles, or other traditional resources for advice on how to create résumés and establish personal branding (Randazzo, 2016, p. 278). Instead, they are turning to a networked, social world and using transmedia storytelling to attract consumers and producers with "an always-on, always-connected" world. Within this virtual realm, sometimes, professionals are rewarded in the form of likes and comments. However, sometimes, as in the case of Tyrone Jacobs, Jr., the rewards come in the ability to use narrative to connect both vocation (a job at Boeing) and avocation (a personal passion to help others succeed) while promoting his personal branding and living out his aspirations.
References
About Tech Jobs Tour. (2019). Retrieved from https://techjobstour.com/
Apers, C., & Derous, E. (2017). Are they accurate? Recruiters' personality judgments in paper versus video resumes. Computers in Human Behavior, 73, 9-19. doi:10.1016/j.chb.2017.02.063
Asghar, R. (2013, September 11). Times have changed. Your résumé needs to change, too. Retrieved from https://www.forbes.com/sites/robasghar/2013/05/20/times-have-changed-your-résumé-needs-to-change-too-2/#626457332f47
Barber, J. F. (2016). Digital storytelling: New opportunities for humanities scholarship and pedagogy. Cogent Arts & Humanities, 3(1). doi:10.1080/23311983.2016.1181037
Bitzer, L. F. (1968). The rhetorical situation. Philosophy & Rhetoric, 1(1), 1–14. Retrieved from http://www.jstor.org/stable/10.2307/40236733?refreqid=search-gateway:59034272ed3a0888631393d648335dc4
Bolter, J. D., & Grusin, R. (2003). Remediation: Understanding new media. Cambridge, MA: MIT Press.
Chiang, J. K., & Suen, H. (2015). Self-presentation and hiring recommendations in online communities: Lessons from LinkedIn. Computers in Human Behavior, 48, 516–524. doi:10.1016/j.chb.2015.02.017
Creswell, J. W. (2013). Qualitative inquiry and research design: Choosing among five approaches. Thousand Oaks, CA: Sage.
Dijck, J. V. (2009). Users like you? Theorizing agency in user-generated content. Media, Culture & Society, 31(1), 41–58. doi:10.1177/0163443708098245
Droz, P. W., & Jacobs, L. S. (2019, February 04). Genre chameleon: Email, professional writing curriculum, and workplace writing expectations. Retrieved from https://www.stc.org/techcomm/2019/02/04/genre-chameleon-email-professional-writing-curriculum-and-workplace-writing-expectations/
Duermyer, R. (2018, May 13). Introduction to LinkedIn—Learn what It does and how it works. Retrieved from https://www.thebalancesmb.com/introduction-to-Linkedin-1794572
Gitelman, L. (2008). Always already new: Media, history and the data of culture. Cambridge, MA: MIT Press.
Jenkins, H. (2006). Convergence culture: Where old and new media collide. New York, NY: NYU Press. Retrieved from http://www.jstor.org/stable/j.ctt9qffwr
Killoran, J. B. (2006). Self-published web résumés: Their purposes and their genre systems. Journal of Business and Technical Communication, 20(4), 425–459. doi:10.1177/1050651906290267
Kroll, V. L. (2016) "Electrical Engineering Student Inspires LinkedIn Campaign." UT News, University of Toledo. Retrieved from utnews.utoledo.edu/index.php/11_07_2016/electrical-engineering-student-inspires-Linkedin-campaign
Kursmark, L. (2014). Today's modern résumé. Career Planning and Adult Development Journal, 30(2), 13–23.
Labrecque, L. I., Markos, E., & Milne, G. R. (2011). Online personal branding: Processes, challenges, and implications. Journal of Interactive Marketing, 25, 37–50. https://doi.org/10.1016/j.intmar.2010.09.002
Little-Fleck, J. (2016, September 28). 5 sites to create an awesome infographic résumé (even if you're the least creative person ever). Retrieved from https://www.themuse.com/advice/5-sites-to-create-an-awesome-infographic-résumé-even-if-youre-the-least-creative-person-ever
Malone, E. A., & Wright, D. (2018). "To promote that demand": Toward a history of the marketing white paper as a genre. Journal of Business and Technical Communication, 32(1), 113–147. doi:10.1177/1050651917729861
McCabe, M. B. (2017). Social media marketing strategies for career advancement: An analysis of LinkedIn. Journal of Business and Behavioral Sciences, 29(1), 85–99.
Miller, C. (1984). Genre as social action. Quarterly Journal of Speech, 70, 151–167.
Notaro, A. (2014). How networked communication has changed the ways we tell stories. Technology, Imagination, Narrative Forms. In L. Esposito, E. Piga, A. Ruggiero (Eds.), Between, 4(8). Retrieved from http://ojs.unica.it/index.php/between/article/view/1341
Peters, T. (1997). The brand called you. Retrieved from https://www.fastcompany.com/28905/brand-called-you
Popken, R. (1999). The pedagogical dissemination of a genre: The résumé in American business discourse textbooks, 1914–1939. JAC, 19(1), 91–116.
Randazzo, C. (2016). Where do they go? Students' sources of résumé advice, and implications for critically reimagining the résumé assignment. Technical Communication Quarterly, 25(4), 278–297. doi:10.1080/10572252.2016.1221142
Rangarajan, D., Gelb, B. D., & Vandaveer, A. (2017). Strategic personal branding—And how it pays off. Business Horizons, 60(5), 657–666. doi:10.1016/j.bushor.2017.05.009
Reardon D. C., Wright, D., & Malone, E. A. (2017). Quest for the happy ending to Mass Effect 3: The challenge of cocreation with consumers in a post-Certeauian age. Technical Communication Quarterly, 26(1), 42–58.
Rowley, J. (2002). Using case studies in research. Management Research News, 25(1), 16-27. doi:10.1108/01409170210782990
Roybal, P. (2017, September 21). Great examples of how members are using Linkedin video. Retrieved from https://blog.Linkedin.com/2017/september/21/great-examples-of-how-members-are-using-Linkedin-video
Thimm, C. (2017). Media convergence and the network society: Media logic(s), polymedia and the transition of the public sphere. In S. Sparviero, C. Peil, & G. Balbi (Eds.), Media convergence and deconvergence (pp. 93–112). Cham, Switzerland: Palgrave Macmillan. doi:10.1007/978-3-319-51289-1_5
Thoms, P., McMasters, R., Roberts, M. R., & Dombkowski, D. A. (1999, Spring). Résumé characteristics as predictors of an invitation to interview. Journal of Business and Psychology, 13(3), 339–355.
Toffler, A. (1980). The third wave. New York, NY: Bantam Books.
Weiner, J. (2018). User Profile, Linkedin, viewed 19 September 2018. https://www.Linkedin.com/in/jeffweiner08/
Yates, J. (2005). Control through communication: The rise of system in American management. New York, NY: ACLS History E-Book Project.
Yates, J., & Orlikowski, W. J. (1992). Genres of organizational communication: A structurational approach to studying communication and media. Academy of Management Review, 17(2), 299–326.
About the Author
Lynn B. McCool is an assistant professor of business communication in the College of Business and Public Administration (CBPA) at Drake University. She is an active member of the Council of Writing Program Administrators (CWPA), the Association for Business Communication (ABC), the Association of Teachers of Technical Writing (ATTW), the Society for Technical Communication (STC), and the National Council of Teachers of English (NCTE). Her work examines the intersection of social media, digital rhetoric, online writing instruction, and business and professional composition pedagogy. She is a frequent conference speaker, invited lecturer, and editor-in-chief of the Drake Management Review. She is available at lynn.mccool@drake.edu.
Manuscript received 21 September 2018, revised 30 April 2019; accepted 6 May 2019