I wanted to recreate a Matrix vibe, but I wanted to do something a little simpler. I used the "1's" and "0's" to symbolize binary code with "Transcend" and "Media" in green as an homage to The Matrix. I wanted there to be a combination/clash of media, and I purposely used a filter to wash everything out to look as if everything was "transcending" together. I also had a shadow cast to show the interaction between the original creation of media (the hand) to the language of the computer.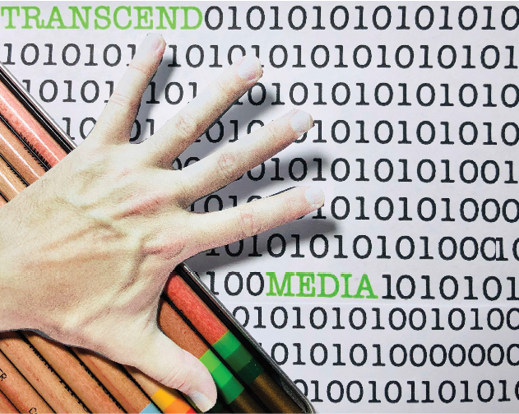 About the Artist
J.R. Harmon is a graduate student at Eastern Kentucky University, studying rhetoric and composition. This master of arts program includes the use of technology in the classroom and how educators can utilize multiple tools to enhance learning. J.R. wants to incorporate methods that not only appeal to a generation raised in the digital era but also foster an environment that encourages inclusiveness. He is available at jason_harmon24@mymail.eku.edu.
Honorable Mention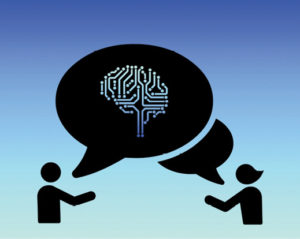 I wanted my illustration to emphasize discourse and communication in the Digital Age. The color blue sparks creativity, which is why I used a blue gradient for the background. I reversed the gradient for the digital brain icon I created and placed in the center of the conversation bubble. Also, I felt like the brain looked awfully close to a tree, so having the darker shade of blue toward the bottom helped distinguish the brain stem (or, at least, that was the goal). I chose to represent information with a digital brain icon because it blends technology, communication, and knowledge. I designed my figures to look like they are conversing and sharing ideas in a physical space about something ambiguous that is presumably related to technology and knowledge. Technology has given humans the ability to share knowledge at the blink of an eye. It's only appropriate to highlight this feat!
About the Artist
Daniel McFarland is a graduate assistant at Eastern Kentucky University, where he is earning a master of arts in English, concentrating on rhetoric and composition. As an undergraduate, Daniel received a BA in English Literature and minored in psychology. His research interests include 20th Century American literature, women and gender studies, sexology, and the benefits of substance use in therapeutic and clinical settings. Daniel is available at mcfarlandtd93@gmail.com.