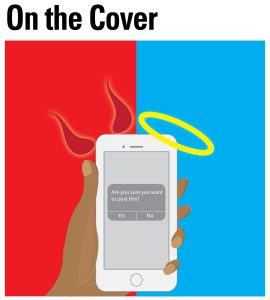 The topic of ethics is important when talking about how we present ourselves online. For the cover, I used an image of a hand holding a phone with the text "Are you sure you want to post this?" Then below, I placed text buttons saying "yes" and "no". The important part about this prompt is that we always have a choice about what we do or say on social media. We can choose to have proper etiquette and treat others respectfully or choose to do the exact opposite. I split the background down the middle in red and blue, which are colors that represent good and bad. The angel halo and devil horns emphasize the idea that we can choose to present ourselves online in a relatively good or bad manner.
About the Artist
As an undergraduate student in the College of Humanities and Social Sciences at Kennesaw State University, Erinn Mckine is studying Interactive Design. This Bachelor of Science degree includes the development of technical, theoretical, and problem-solving skills needed to become a user interface designer. Erinn is passionate about creating designs with meaning that are able to impact people across all generations. She is available at emckine@students.kennesaw.edu.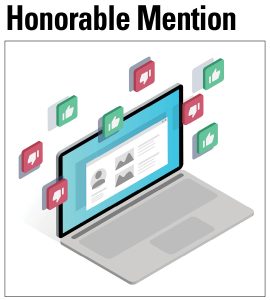 This illustration is a visual representation of the ethics of social media. I used the thumbs up icon to represent right and wrong and also to act as a reference to one of the most well-known icons in social media, the "like button." As social media evolves and changes so do the ethics and the responsibility of the companies to know the boundaries of their product and the impact that their product can cause on society. Currently we are seeing companies push limits and walk the fine line on ethics in an effort to maximize profits and monetize as much of their platforms as possible. This illustration shows that battle of right and wrong in a unique isometric design.
About the Artist
Parker Bomar is from Atlanta, GA. He recently graduated from Kennesaw State University with a B. A. in Interactive Design and a minor in Technical Communications. Parker is currently employed at a tech startup focusing on software development in the healthcare industry. He is available at parker@pbomar.com.