By Candice Lanius, Ryan Weber, Jackie Spiegle, Joy Robinson, and Robin Potts
ABSTRACT
Purpose: While many industry professionals, including user-experience designers, create personas to represent their target users, debate still exists about whether personas really help organizations improve user-centered attitudes and product design. This study tested whether personas increase performance and empathy on a creativity task.
Method: 172 participants completed a creativity task in which they were given seven minutes to draw a space alien. Participants drew aliens either for themselves, an unspecified author, or an author represented by a persona. Participants also completed a survey collecting their attitudes about the activity and alien drawings. Four coders then used a five-item rubric to evaluate the creativity of each drawing.
Results: There were no differences in creativity scores for the alien drawings between the persona, self, and other author groups. However, people drawing for themselves and the persona author were more confident in their alien drawings and more willing to share them. Within the persona group, those participants who reported thinking about the persona while drawing had more positive feelings about the drawing and the author who would use it.
Conclusion: While the persona did not result in more creative drawings, personas may increase confidence and user-centered attitudes among designers when actively used.
Keywords: personas, creativity, user experience, design processes, empathy
Practitioner's Takeaway:
Personas did not make people more creative in their designs. However, personas can increase designers' likelihood of thinking about the user and confidence that their work meets user needs.
User-centered attitudes only increase when designers actually report using the personas they receive, meaning that technical communicators and UX professionals should devote effort toward not just persona creation but also persona adoption among teams.
By enhancing user-centered attitudes, personas can make a valuable contribution to a company, one that helps technical writers develop their own organizational legitimacy.
INTRODUCTION
The experiment described in this article was inspired by the frustrations of our three authors who work as UX designers: Jackie, Joy, and Robin. As part of following the best practices of user-centered design (UCD), these three regularly produce personas that describe characteristics of key users, such as their goals, needs, frustrations, and behavior (see Figure 1 for an example persona). In theory, personas enhance product design, team communication, designer empathy, and team creativity (Miaskiewicz et al., 2009; Antle, 2008; Ferreira et al., 2015; Getto & St.Amant, 2015; Putnam et. al., 2016; Rose & Tenenberg, 2017). In practice, personas require significant overhead to develop and maintain correctly. This overhead includes meeting with users to gather data, compiling data to find trends in key areas, creating persona artifacts for sharing (posters, baseball cards, digital repositories, etc.), and updating these artifacts whenever more users are identified or user groups change.
Our authors have devoted a significant amount of time to developing personas and thus identified with the arguments of Friess (2012), who observed that, "Given the 1-4 month estimates for persona development, refinement, and deployment, personas appear to be a resource-expensive tool for design development" (p. 1216). According to a Nielsen Norman Group survey of 216 practitioners, empirical personas can take between 72.5 to 102.5 staff hours to create, placing their cost in the thousands of dollars (Flaherty, 2015). On top of the effort devoted to creating personas, these authors struggled to get developers and designers to adopt personas and reference them while making design decisions. Rationalizing the cost of personas can be difficult, especially with tight budgets, short timelines, and the neglected position of UX teams in some companies.
Our authors' own conflicted feelings about the value of personas play out in technical communication and user experience literature as well. Personas should help teams design for actual users instead of relying on assumptions about them, or even worse, drawing inspiration from the design teams' own preferences (Pruitt & Grudin, 2003; Mulder & Yaar, 2007). The goal, as Cooper (1999) describes it, is for the persona to become "a real person in the minds of the designers and programmers" (p. 128). In describing their use of personas at the company Cisco Systems, Nieters, Ivaturi, and Ahmed (2007) write, "a persona—as an archetypical figure—can guide decisions about product features, navigation, interactions, and even visual design" (p. 1818). Ideally, personas should allow designers to think like their users, enhancing both creativity and designer empathy in the process (Miaskiewicz & Kozar, 2011; Pruitt & Adlin, 2010; Hudson, 2013). Creativity involves original expression that is appropriate for the setting (Ivcevic & Mayer, 2009). In the realm of technical communication and user experience, personas represent both a product and process where artistic creativity is encouraged as a mechanism to achieve audience-focused documents and user-centered designs. Personas are the creative expression of rich, detailed research into the target audience and primary users, but knowing that something works in theory does not guarantee it will work in practice.
Despite the widespread use of personas and many books and articles asserting that personas work (Nielsen, 2013; Mulder & Yaar, 2007; Brown, 2010), questions have arisen about whether personas really live up to their potential in practice. Once created, are personas used? Some teams rarely use the personas they have developed (Friess, 2012). As Blomquist and Arvola (2002) concluded after a twelve-week ethnography of a design team, "The personas, Richard and Eric, had a limited role in the design work. [The personas] were in the background, hanging on the walls of the office landscape and in the conference room. Richard and Eric of course had the leading role in the scenarios but nobody talked about them" (p. 199). Are personas a genuine part of the writing/design process? Other teams use personas to justify decisions they made through other means (Rönkkö, 2005; Matthews et al., 2012). Even if teams use personas, they may not cultivate user-centered attitudes. Chapman and Milham (2006) argue that personas cannot be validated to ensure that they represent real users. Massanari (2010) argues that, despite the intent behind personas, they can "serve to reinscribe the conceptual separation between the user and the designer" (p. 401). Do personas honestly reflect the audience and users? Personas may rely on poor research (Brumberger & Lauer, 2020) or stereotypes (Turner & Turner, 2011; Marsden & Haag, 2016; Cabrero et al., 2016), limiting their ability to provide real insight on real users. Meloncon (2017) advocates for expanding the information provided in personas after working on projects where the "personas that we created using existing guidelines from the literature were not adequate to accurately convey the complexity of our users and their goals" (p. 51). Grace (2018), former director of product at Slack, puts her critique bluntly by writing that " . . . personas are garbage. I can't think of a more common offender than personas in creating a shield between companies and their customers" (Online). Addressing these questions and critiques of persona effectiveness have created a sense of urgency for scholars, practicing technical communicators, and UX professionals. Howard (2015) argues that empirical studies that challenge the usefulness of personas remind us "that we can't become complacent in our use of UCD tools" (p. 25). Our field must carefully validate our tools instead of assuming they work.
Our corporate authors wanted to experimentally test the value of personas for themselves. This process could provide evidence to justify persona creation and prove to management that personas can help a small UX team increase empathy, user-centered attitudes, and creative solutions throughout the company. In researching ways to test creativity, these authors encountered the work of Polman and Emich (2011), who adapted an experiment from Ward (1994) that asks participants to draw an alien in seven minutes. By evaluating the creativity of these alien drawings, Polman and Emich concluded that participants produced more creative aliens when they were asked to draw them for a story someone else would write compared to when they were asked to draw an alien for themselves. Those findings seemed to provide abstract empirical evidence for the value of personas in that designing with someone else in mind improves creativity. With the addition of a group that specifically drew for a persona, the alien task could provide one measure for how personas affect creativity and user-centered attitudes. This alien drawing task offered several advantages for practitioners wanting to quickly and reliably test the effects of personas. First, the task offers a concise and concrete exercise that nevertheless "has the capacity to assess individuals' ability to go beyond existing category information and generate something novel" (Polman & Emich, 2011, p. 493). Second, the creative task can be scaled and quickly explained to a broad group of participants who can be segmented into groups with different design imperatives. Additionally, drawing an alien for different audiences involves making creative decisions under specific constraints, much like more traditional corporate design tasks. Lastly, aliens can be reliably coded for creativity, with Kozbelt and Durmysheva (2007) finding strong inter-coder reliability when using multiple coding methods. Therefore, our corporate authors approached faculty at the University of Alabama in Huntsville to help design an experiment that would use the alien drawing task to give them insight on the value of personas.
This article describes the resulting experiment, which extends the Ward (1994) and Polman and Emich (2011) methodology to specifically test personas. In our experiment, participants were asked to draw a space alien for either themselves, an unspecified author, or an author described in a persona. This task tested the following hypotheses:
Hypothesis 1: Aliens drawn by participants for an author described in a persona will be more creative, on average, than those drawn by participants for themselves or for a generic author.
Hypothesis 2: The use of a persona while completing the alien drawing task will increase user-centered attitudes in participants.
The experimental results did not support the first hypothesis: Results indicate there was no difference between the persona, self, and unknown author group on the creativity rating assigned to the alien drawings by a team of raters. There was some evidence to support the second hypothesis: In responding to the questionnaire, participants showed better user centered attitudes if they relied upon the persona to complete and inform the creation of their alien drawing, suggesting that personas can foster user-centered attitudes.
As part of a special issue that establishes the dimensions of creativity in technical communication, these results offer a unique perspective on the issue of creativity in technical communication. First, the experiment uses a drawing-based research methodology as part of empirical research, suggesting that researchers can incorporate artistic methods into qualitative and quantitative research, following the lead of many UX practitioners (Fluery, 2012; Xu et al., 2009), as well as many technical communication scholars who have considered the pedagogical and research implications of drawing (Rice-Bailey et al., 2019; Salinas, 2002; Ross, 2017; Malone, 2019; Yu, 2015; Petersen & Matheson, 2020). Second, this article considers personas as documents that should facilitate creativity (So & Joo, 2017). Zhang and Kitalong (2015) found that technical communicators consider "thinking like a user" (p. 199) an essential part of their creativity, and personas can facilitate that creative process. Personas operate at the intersection of creativity, user research, and rhetorical work, one space where Lauer and Brumberger (2016) see technical communication and user experience converging (p. 262). Technical communicators should further consider how personas can inspire creativity and how we can produce more creative, aesthetically pleasing, and useful personas that combine research and artistry to improve creativity and design.
LITERATURE REVIEW
The Influence of Personas on Design
Technical communication, user experience, and other fields offer a rich body of research on how personas affect design. Many scholars argue that personas can improve design by fostering empathy, perspective taking, and user-centered design approaches that focus product creators on specific user needs (Grudin & Pruitt, 2002; Aquino & Filgueiras, 2005; Grudin, 2006; Brangier & Bornet, 2011). The hope among advocates is that personas can help designers tap into the potential described by Cooper (1999): "Looking at things through the lens of the user's goals can give us a unique and powerful perspective that opens up new opportunities for creative design" (p. 177). In a survey of experts, Miaskiewicz and Kozar (2011) found that audience focus, prevention of self-referential design, empathy creation, and innovative thinking all ranked among the top ten benefits of persona use. According to practical guides (Caddick & Cable, 2011; Unger & Chandler, 2012) and case studies (St. Peter, 2015; Getto & St.Amant, 2015; Cabrero et al., 2016), personas help designers think from their users' points of view. For instance, for technical communication faculty working with designers on improving an online coastal atlas, "personas can help digital rhetoricians to represent the user base of an application as a 'manageable and memorable cast of characters,' rather than just as a list of user requirements, numbers, and statistics" (Getto & Moore, 2017, p. 18). As Mulder and Yaar (2007) argue concerning the benefits of persona in Web design, "People who work on web sites know their business and know how things work, so their first instinct is usually to make decisions based on themselves. [ . . . ] Personas help you live in your user's shoes" (p. 23).
The perspective-taking prompted by personas may also contribute to product creators developing empathy for their users. According to Pruitt and Aldin (2010), "A major virtue of personas is the establishment of empathy and understanding of the individuals who use the product" (p. 155). Hudson (2015) echoes this goal, arguing that personas help create empathy to overcome the fact that many "developers assume the users are similar to themselves" (p. 52) and "find it hard to see a problem from a perspective other than their own" (p. 51). Miaskiewicz, Grant, and Kozar (2009) tested their assertion that personas "can introduce greater empathy into the design process" (p. 2) and found that "participants who had more empathy for the persona produced significantly better designs" (p. 5). So and Joo (2017) made a similar assertion that "empathy, in turn, ultimately should generate more creative and more human-centred solutions" (p. 460); their experimental results show that persona use does increase originality of ideas. The theory behind personas, long promoted by both user experience and technical communication scholars and practitioners, is that personas improve design by getting designers to empathize with the user's viewpoint.
However, many interview studies and ethnographies find that while teams create personas with good intentions, personas rarely drive design decisions (Blomquist & Arvola, 2002; Vincent & Blandford, 2014; Friess, 2012). In one team, design discussions only referenced personas 3% of the time as team members often referenced less well-defined tools and standards for decision making (Friess, 2012). Other teams have found that "it was, however, difficult for us to make the 'personas' live their own life and talk back in the design situation. The 'personas' did not get us any closer to imagining the actual use situations" (Bødker et al., 2014, p. 99). Designers have expressed concerns (Matthews et al., 2012; Guðjónsdóttir & Lindquist, 2008) that personas are too impersonal, abstract, or irrelevant to help in design processes; these designers most often use personas to communicate and justify existing design decisions to a group rather than make decisions. While some design teams express satisfaction with personas (Nielsen & Hansen, 2014), most seem to eschew using them, especially as a decision-making tool. Practical guides to persona creation often warn of this same problem. As Brown (2010) cautions, "Like any artifact not directly related to documenting the design, it can be challenging to ensure that personas are truly useful to the design process. They have the annoying habit of ending up on a shelf" (p. 37).
Fewer researchers have conducted formal experiments to understand the effects of personas on empathy and product design (Chang et al., 2008), but these experiments often produce positive correlations between persona use, empathy, design, and creativity. Personas can increase creativity by inspiring empathy, according to an experiment by So and Joo (2017) that asked 50 students to brainstorm solutions, either with or without personas, to make a workplace less stressful. The results indicated that "design thinking practitioners can expect more original ideas and overcome design fixation if they brainstorm on a persona which is modelled in a concise and consistent way that caters to understanding the user need" (So & Joo, 2017, p. 459). Similarly, personas engendered empathy and improved iterative design thinking in experiments that task participants with solving design problems (Miaskiewicz et al., 2009; Dahiya & Kumar, 2018). Personas with avatars "led to more user-centered, needs-oriented ideas" (Buisine et al., 2016, p. 583). Another study found that student teams using personas developed designs with better usability (Long, 2009). A semester-long experiment in a design course found that profiles and personas improved students' understanding of end-user needs and resulted in final deliverables ranked more highly for their user-centered design (though user profiles showed advantages over personas) (Ma & LeRouge, 2007).
Other studies find more nuanced benefits of personas. Information communication technology professionals have generally positive feelings about personas but share both advantages and drawbacks (Putnam et al., 2016); advantages included greater focus on users, empathy towards users, improved team communication, and helpful user research, while drawbacks included concerns that personas were too abstract, too unbelievable, or not used. Using personas for a heuristic evaluation of website usability does not help people identify more usability issues, but it does encourage more user-centered language in their reporting of issues (Friess, 2015). Personas improved the quality of ideas in two design teams, but the researchers Bornet and Brangier (2016) could not determine whether personas generate empathy, a finding that echoes Putnam (2010), who found that personas help focus designers on users without necessarily increasing empathy. Professional designers evaluated a product idea less favorably when they empathized with target users (Chung & Joo, 2017). The medium can also have an impact on how useful personas are; interactive personas may help participants produce more original and creative ideas than traditional, paper-based personas (Bonnardel et al., 2016).
Creativity for Self and Others
Several studies have explored how people make decisions differently for themselves and others. Most notably for our research, Polman and Emich (2011) conducted several experiments about how participants develop solutions for themselves compared to hypothetical others. In one task, participants were given seven minutes to draw an alien for a story that either they or another author would write. The results indicate that drawing "an alien for someone else led to a more creative outcome than drawing an alien for the self" (p. 494). In another experiment reported in the same article, participants were assigned to generate gift ideas for themselves, a close other (a family member or friend), or a distant other (a stranger). Paradoxically, the results indicated that participants generated the most creative gift ideas for distant others, about whom they had little information. The authors interpreted their findings through construal level theory, which suggests that individuals consider distant people and events more abstractly, leading to greater insight and creativity. Other studies have similarly shown positive outcomes when choosing for others over the self, an activity which relates to the user-centered mindset required by many design tasks. Participants had more fun making choices for others rather than themselves, and choices for themselves were more likely to reflect the status quo (Polman & Vohs, 2014). Another benefit is that people will pursue more information when making choices for others (Liu et al., 2018). That said, people tend to give more weight to desirability than feasibility when they make decisions for others (Lu et al., 2012).
When participants were asked to choose gifts for multiple recipients, they chose more unique gifts for each recipient, but the gifts were also less appealing (Steffel & La Boeuf, 2014). A meta-analysis by Polman and Wu (2019) found that participants tend to make riskier decisions for others than they make for themselves, though this finding conflicts with Michael et. al. (2019).
Our study is one of the first to combine psychological measures of creativity and decision making with experimental work from technical communication and user experience on the effects of persona use (Friess, 2015). Combining these approaches provides a rigorous methodology to evaluate how personas influence the creativity of designers. User experience has a long history of applying psychological research methods to study UX problems; Robinson, Lanius, and Weber (2018) documented the prevalence of psychological methods in empirical user experience research. For instance, So and Joo (2017) used ideational fluency tasks adopted from psychology to test the effects of personas on creativity. Our goal is to provide additional evidence about the measurable effects of personas to help practitioners decide if these tools are worth their cost and effort.
METHOD
Drawing as a Methodology and the Alien Drawing Task
User experience has identified drawing as an effective, inexpensive tool for unleashing and gathering creative ideas. Our use of drawing as a research method reflects user experience approaches that incorporate drawing for creative purposes. Some practitioners use drawing to produce low-fidelity prototypes during the early phases of rapid prototyping (Virzi et al., 1997; Kangas & Kinnunen, 2005; Brown, 2009; Traynor, 2012). Snyder (2003) endorses paper prototypes because their use "encourages creativity in the product development process" (p. 12). Participant drawings encourage freedom of expression and reveal things users cannot easily summarize in words (Fluery, 2012; Xu et al., 2009). UX designers also use drawing-based brainstorming activities with user focus groups during the early phases of product ideation (Bruseberg & McDonagh-Phillip, 2001; Tohidi et al., 2006; Friedman et al., 2002). Inspired by these studies and others, Poole, Chetty, Grinter, and Edwards (2008) advocate for "the promise of end-user produced sketches as a tool for eliciting information about how users conceive of entities that may be difficult to verbalize otherwise" (p. 456). Technical communication, too, has shown an interest in drawing, both in analyzing the communicative power of drawings (Salinas, 2002; Ross, 2017; Malone, 2019; Yu, 2016; Petersen & Matheson, 2020) and in connecting drawing to the larger practice of techne (Salinas, 2002; Moeller & McAllister, 2002). As Northcut and Brumberger (2010) argue, "The productive acts of visually (but without words) representing ideas and experiences are valuable, especially when students have a predisposition toward the written word" (p. 466).
To test the effect of personas on creativity, we adapted an alien drawing task developed by Ward (1994), who conducted several experiments asking participants to draw animals that live on another planet. Across the experiments, results showed that "individuals initially determine that a particular knowledge domain is relevant to the task and then access information from that domain to construct the novel entity" (p. 35). In other words, people tend to draw alien animals with features strikingly similar to earth animals, and thus base their creative decisions on what they already know, following what Ward terms the path of least resistance. Polman and Emich (2011) adapted this alien drawing methodology to evaluate the differences between self and other decision making. In their experiment, they gave participants instructions to draw "an alien for a story that they would later write or, alternatively, for a story that someone else would later write" (p. 494). Their instructions did not specifically ask participants to draw an animal, potentially allowing more creativity in the drawings.
We chose to apply a version of the alien drawing methodology to the study of personas because this activity already has a proven track record in testing the creativity of experimental participants; not only has Ward conducted several versions of the experiment (Ward & Sifonis, 1997; Ward et al., 2000; Ward et al., 2004; Ward et al., 2002), but other researchers have adapted and extended this experimental task as well (Marsh et al., 1996; Niu & Sternberg, 2001; Kharkhurin, 2009; Kozbelt & Durmysheva, 2007). Cockbain, Vertolli, and Davies (2013) used this alien drawing task because it evaluates "creativity in a way that better emulates the real world" (p. 14), while Goncalo, Flynn, and Kim (2010) used this drawing activity to measure creativity because it "gauges the extent to which people can overcome the constraints of past experience to generate a product that represents a novel departure from existing knowledge" (p. 1487), a type of creativity also required by product designers. The alien drawing task offers several advantages for the experimental study of creativity. This seven-minute activity can be quickly explained and easily scaled to include many participants, allowing us to test our hypotheses with a larger sample size. Aliens can be consistently and reliably coded for creativity based on a specific rubric, as described below. Drawing aliens is both familiar enough for the participants to have domain knowledge but unusual enough to allow their creativity to be influenced by the research variables. Further, the process of drawing an alien for a story to be written in the future mimics the process where personas are typically used: 1) identify the user; 2) understand their needs, expectations, and problems; and 3) create solutions based on knowledge gained about the user.
In this experiment, we also asked participants to draw an alien in seven minutes. We added an additional group beyond Polman and Emich (2011) that tasked participants with drawing an alien for an author described in a persona to determine if access to a persona influenced participants' creativity. We kept both the self and other groups so that we could test the differences in this creative task when performed for the self, a generic other (the abstract author), and a closer other (the author in the persona). Ideally, this methodology would allow us to differentiate the creativity of people designing for themselves, focusing on a generic and unclear user, or designing with specific information about the person who needs their work, as designers in the workplace create products through all of these mindsets. We pilot tested this methodology during a presentation at the 2019 Louisiana Tech Usability Studies Symposium and with our own technical writing advisory board. The study was approved by the UAH Institutional Review Board on July 23, 2019: E201949 for compliance with regulations on the protection of human subjects.
Experimental Methodology
To begin this research, we needed an author persona that we could provide to participants. To base the persona on actual authors, we conducted an online survey that used a convenience sample to recruit seven authors of various genres, including fiction and self-help books. The survey asked authors about their writing motivations, habits, and frustrations. The responses were then synthesized into a persona that represented the author archetype "Amber," represented by a Creative Commons stock photo of a woman working on her laptop (See Figure 1).
To measure the role that personas play in creative expression and design, we created three experimental groups. In the first group, participants were tasked with drawing a space alien for a story they would later write (Self group). In the second group, participants were asked to draw a space alien for an author who would be writing a story, but they were provided no details about the individual (Author group). In the third group, participants were given a persona for the author "Amber" and asked to create an alien that an author like her could use as the main character in a story (Persona group).
Once participants agreed to participate in the study, they were given the directions that corresponded to their experimental group. Each group was given two minutes to brainstorm and write down notes about their upcoming drawing task. Participants drawing for themselves were prompted to write about the kinds of stories and characters they liked. Participants drawing for a generic author were prompted to write about the motivations, needs, goals, and frustrations of an author writing a story. Participants drawing for the persona were asked to read the persona and write down any notes about the motivations, needs, goals, and frustrations of an author like the one featured in the persona.
After finishing the brainstorming task, participants were provided with a wide variety of crayons, markers, pens, pencils, and paper to draw a space alien by themselves during the seven-minute time limit. After the seven-minute time limit, they were asked to stop, number their final drawings, and complete a research questionnaire that collected demographic information, their attitudes about their final drawing, their beliefs about the author or audience they drew for, and their motives in completing their drawing (See Appendix A for the full survey instrument). The researchers collected the brainstorming notes, drawings, and research questionnaires from participants and thanked them for their time.
Participant Demographics
Participants were recruited from a university campus and from a local industry partner that offers cooperative educational work experiences for undergraduate students. The participant group, while limited in age range, provided access to the wide variety of disciplines involved in product development and design decisions, including majors in computer science and engineering (60), business and accounting (37), information systems (15), science and math (14), technical writing and English (13), communication (12), marketing (12), and art (3). Of the 172 participants recruited, 64 were women, 104 were men, and 4 indicated other or preferred not to identify their gender. Thirty-six percent of participants were in their final year of study, forty-five percent were two years from completing their field of study, and only sixteen percent were three or four years away from completing their degree program.

Analysis
We collected 50 drawings from the Self group, 52 from the Author group, and 70 from the Persona group. Four of the authors (Ryan, Joy, Jackie, and Robin) acted as raters and evaluated each of the 172 aliens. To ensure a "firewall" between the raters and the experimental conditions, Candice photographed and prepared the aliens for analysis. The aliens were also given non-sequential numbers so that their identifier was not a clue to the experimental group that they came from. These steps ensured that the raters did not know which group the alien came from and would rate based on the merits of the drawing without undue influence of the condition. To code the aliens, we generated a rubric that allowed the experimenters to assess each alien on five dimensions:1
Please rate the alien on creativity from 1 "less creative" to 5 "more creative."
Please rate the alien on how surprising or unusual the alien is from 1 "not surprising" to 5 "very surprising."
Please indicate the number of atypical features present on the alien (including size) from 0 to 5+.
Please indicate how similar this alien is to your knowledge of existing popular culture aliens from 1 "not at all similar" to 5 "identical to a known alien."
Please indicate how similar this alien is to an earth animal or human being with 1 "not at all similar" to 5 "identical to an earth creature."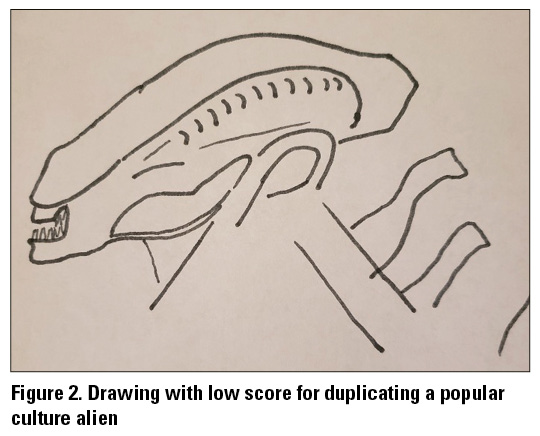 These criteria were developed by first consulting creativity research: Many focus on "divergent thinking" (Sternberg, 2006) which informed rubric items 2 and 4. We also conducted a coding session where the researchers discussed how they would evaluate drawings from a pilot research session. Coders were instructed to consider these pilot aliens as reference points when evaluating each of the drawings for creativity and surprise (items 1 and 2). Rubric items 3 and 5 come from the coding procedure of Ward (1994), Polman and Emich (2011), and Kozbelt and Durmysheva (2007), which considered aliens with fewer humanoid or Earth-like features more creative; thus, an alien with wheels instead of feet would be considered more creative. A novel question not found in existing literature (item 4) was also added after observing several aliens that duplicated or were similar to existing popular culture aliens. Aliens clearly based on existing fictional aliens (such as Marvin the Martian, the alien from the Ridley Scott film shown in Figure 2 below, or stereotypical "gray" aliens) were considered less creative because the participant directly copied an existing idea.
Since we were measuring creativity, we avoided rubric items that would focus on execution or aesthetic principles. Coders were also told to consider alien design over the aesthetics of the alien so as to not privilege participants with stronger drawing skills. All drawings were photographed in black and white to avoid raters using color as a criterion for creativity scoring (not all participants had equal access to varied colors for the drawing task). Additionally, because participants were only instructed to draw an alien and not its environment, coders agreed to ignore background details (spaceships, planet vegetation) unless those details provided information on the alien (such as its relative size). Coders normalized their coding process using drawings produced during the pilot sessions of this research.
Once the coding was completed by each of the individual coders, the reliability of the rubric and reliability of the coders was evaluated. The four coders had positive interrater reliability using the rubric with statistical significance (p-value) less than .001 in a Fleiss Multirater Kappa test. The rubric itself had high reliability between the coders for each of the five questions based on a Spearman correlation test. The strong interrater reliability and item correlations indicate that this rubric provides a highly reliable measure of creativity and could be applied as an assessment tool for other experiments.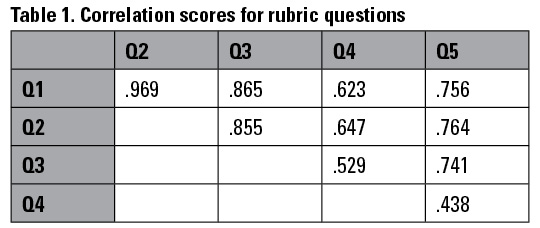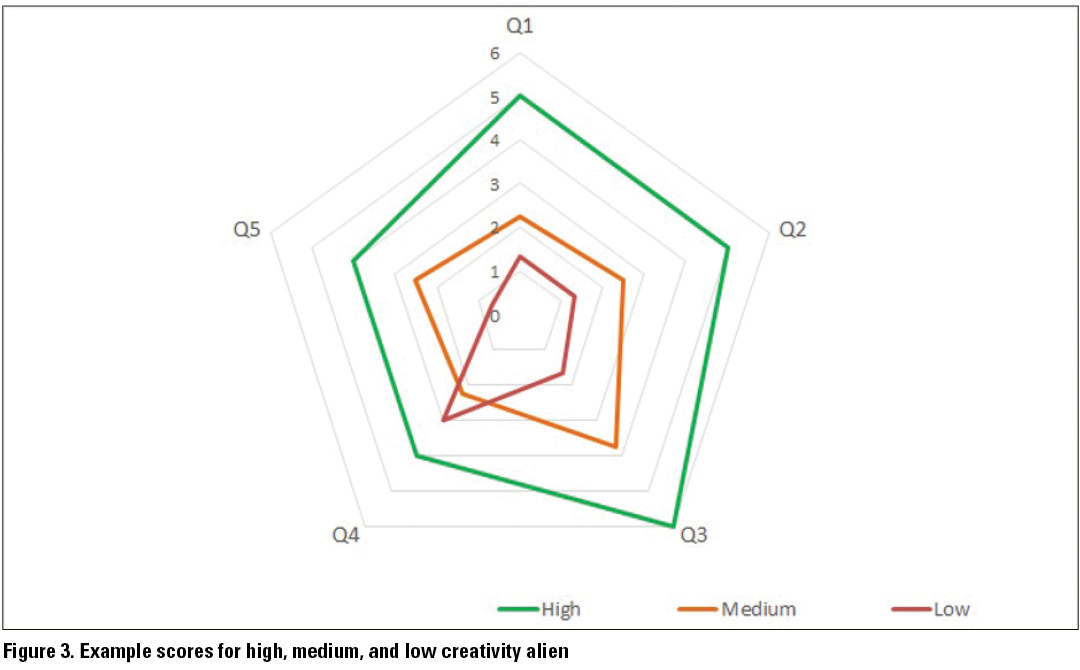 In Figure 3, a radial graph shows how these five questions worked together as strong indicators of creativity. Items 4 and 5 were inverted so that the scores were all in the same direction, with 1 being a low score and 5 being a high score.

The green line shows the score of the left most alien below (Figure 4). The non-human shape and non-traditional silhouette made this alien the highest rated in the 172-alien set. The second alien scored in the middle due to some atypical features (three appendages on each hand and foot), but the body shape is humanoid. The alien on the far right, due to its fairly stereotypical face, rated low for creativity, surprise, and presence of non-earthlike features.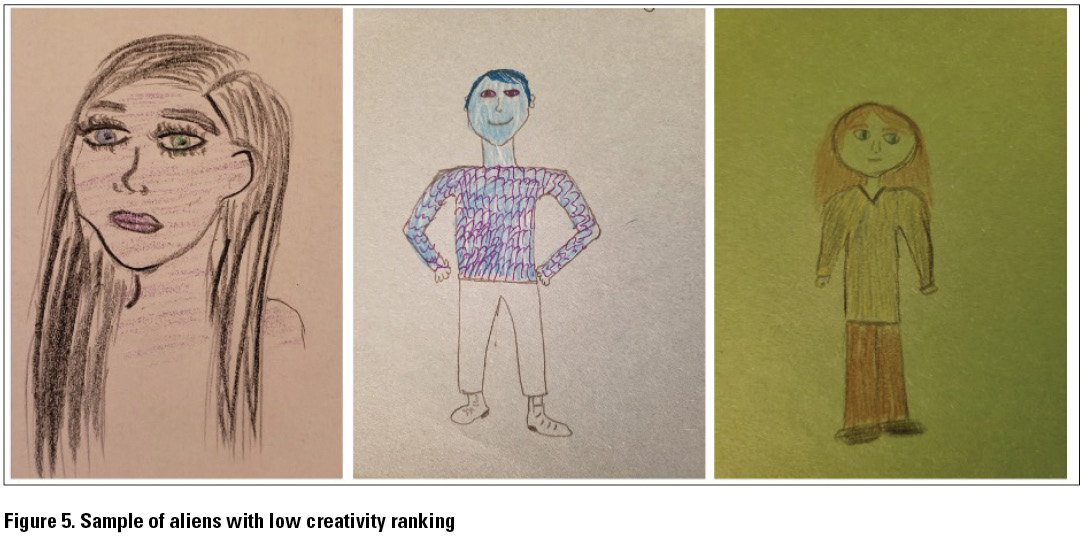 When you look at the aliens in "peer groups" clustered by score, the rubric clearly sorted the creative from the uninspired. In Figure 5, the three aliens rated for low creativity using the five-item rubric are almost indistinguishable from regular humans. While the middle alien could have some sort of scales on his torso, it could also be a regular sweater.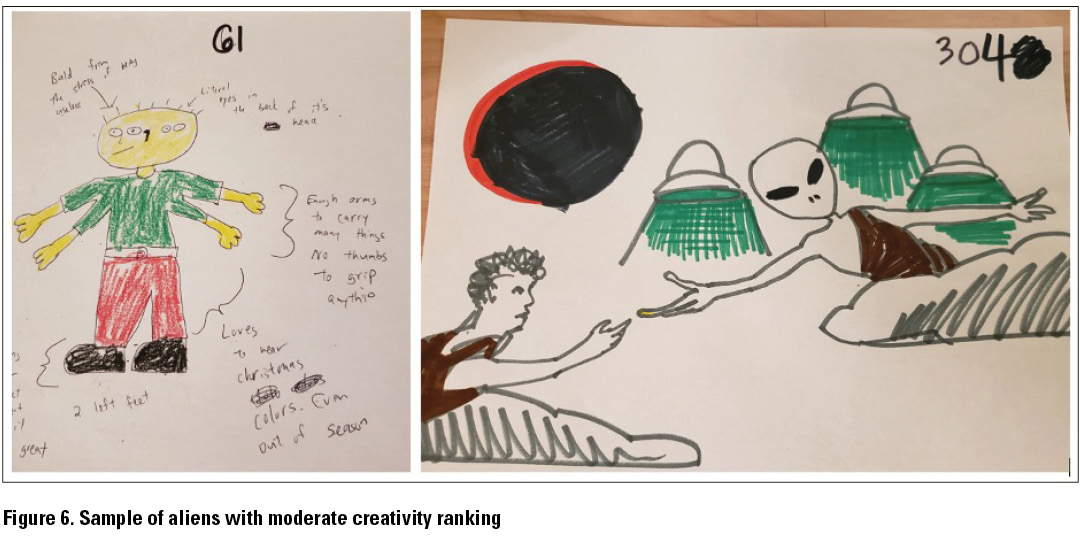 Figure 6 shows aliens with moderate creativity scores. While the aliens are still reminiscent of human figures, the one on the left has an unusual number of arms, two left feet, and two sets of eyes.
The strongest performing aliens shown in Figure 7 are surprising, do not duplicate common fictional aliens, and depart from Earth based animals or humans. The one on the far right, in particular, lacks the sensory organs expected from most earth creatures.

While the aliens were nicely clustered using the rubric as an assessment protocol, it was important to next identify if there were any differences between the aliens based on the participant's assigned experimental group.
RESULTS
To understand if there were statistically significant differences in the data, a series of inferential statistical tests were performed using SPSS 26 (IBM, 2019). The data, tables, and graphs were prepared using Excel. This section summarizes the results of those statistical tests and provides descriptive numbers while the full statistical report can be found in Appendix B.
Creativity Ranking of Drawings
A test of difference was performed to see if the three groups—Persona, Author, and Self—had differences in the scores given to the alien drawings by the raters. A Kruska-Wallis test showed that there was no statistically significant difference between the three groups for any of the five questions contained in the creativity rubric. Therefore, the results showed no difference in creativity among the drawings in the three groups. Figure 8 shows the average scores for the three groups. While there are small differences with the persona group slightly higher in all five categories, these differences are not significantly different or substantively different.

Participant Perception of Alien Drawing
There were statistically significant differences in the survey results between the three groups, indicating that participants using the persona had more user-centered attitudes than those drawing for a generic author. Figure 9 shows the substantive differences between the self-reported feelings of the three groups. Those drawing for the persona felt that the author would be satisfied with their drawing more often than those drawing for a generic author. Participants designing with a persona also felt more confident in sharing their drawing than those drawing for the generic author. Confidence that the drawing could be used to write a story increased in the Persona group and Self group compared to the Author group. The participants felt that they met expectations more strongly in the Self group compared to the Persona or Author group. Those who designed for a generic author were more nervous about sharing their alien than participants in the other two groups.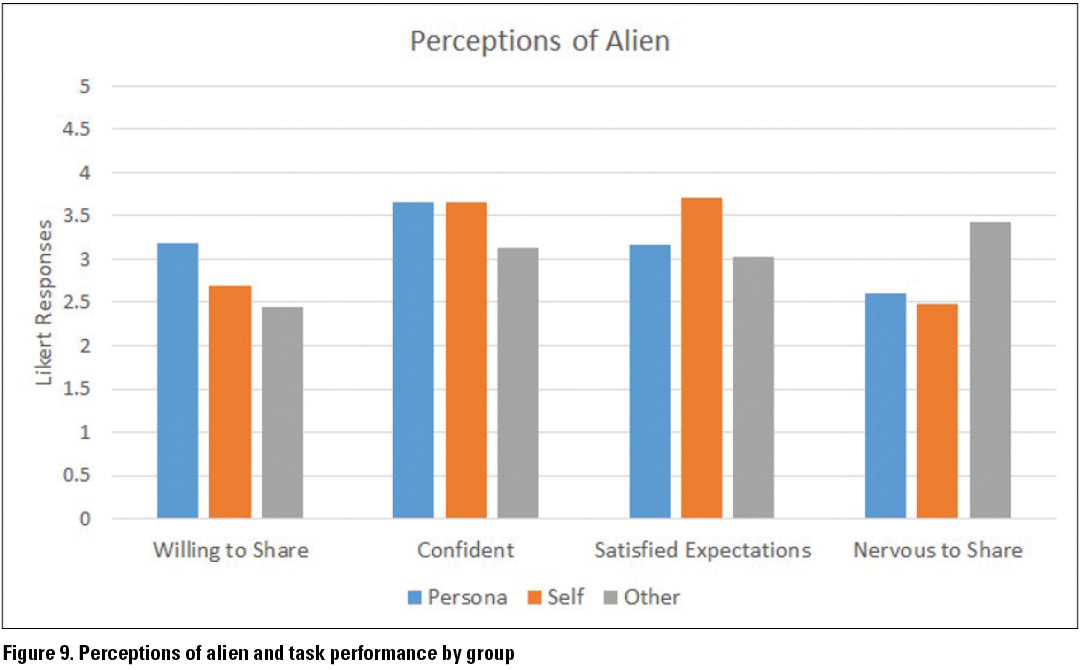 While there was no difference between groups for how much participants thought about the two-minute brainstorming activity while they drew their aliens, within the Persona group, there were numerous positive correlations between referencing the brainstorming activity and positive feelings towards the author and alien itself (Spearman Correlations, n = 70, p < .05). Table 2 shows a slight correlation for author satisfaction and moderate correlations for empathy, characterization, confidence, desire to please, and understanding if the Persona group participant used the brainstorming activity as they drew their alien.
There were also negative correlations between thinking about the brainstorming task and having negative feelings toward the alien or author (Spearman Correlations, n = 70, p < .05). Table 3 shows this relationship; if respondents said they did think about the brainstorming activity as they drew their alien, then they were less likely to self-report confusion or apathy towards their alien.
DISCUSSION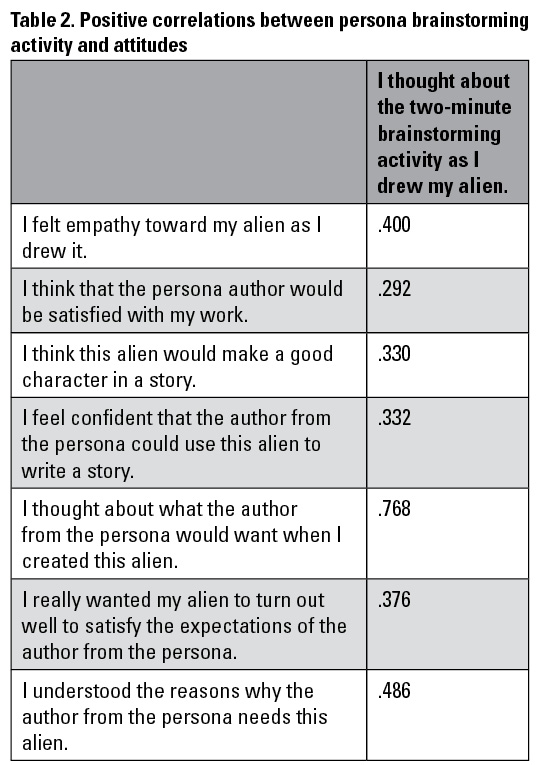 Our results did not indicate that personas increased designer creativity. Instead, all three groups produced alien drawings of similar creativity level. These results are surprising, given that Polman and Emich (2011) found that "drawing an alien for someone else resulted in a more creative alien" (p. 494). Our findings also conflict with many of the other experiments that found positive correlations between persona use and improved product design (Long, 2009; Miaskiewicz et al., 2009; Ma & LeRouge, 2007; So & Joo, 2017; Bornet & Brangier, 2016; Dahiya & Kumar, 2018; Buisine et al., 2016). There are multiple possible explanations for these findings. For one, other studies used different metrics to evaluate the products produced through persona use. For instance, others have conducted expert reviews to measure the user-centeredness of designs created with or without the aid of a persona (Long, 2009; Ma & LeRouge, 2007; Miaskiewicz et al., 2009). Alien drawings are more difficult to rate with a user-centeredness heuristic, though, theoretically, authors or other experts could evaluate how usable the drawings were for the purposes of creating a story; such ratings might produce different experimental results.
Other differences in research procedures may also explain the differing findings. For instance, So and Joo (2017) specifically note that their sample size may have affected their results. Additionally, some of these studies test the effects of personas on design within teams (Long, 2009; Buisine et al., 2016), while our study focused on the impact of a persona on one participant's creative output. Bornet and Brangier (2016) specifically note that "personas didn't generate more ideas. They increased the argumentative activity and language simulation. It is clear that personas promote cooperative dialogue, which would enable increased efficiency in the idea selection process" (p. 255). These findings echo many ethnographic findings that personas benefit idea communication more than idea generation (Rönkkö, 2005; Matthews et al., 2012). Testing the use of personas in teams potentially produces different results than testing personas on individuals. The increased creativity of personas may result from their use as team brainstorming tools.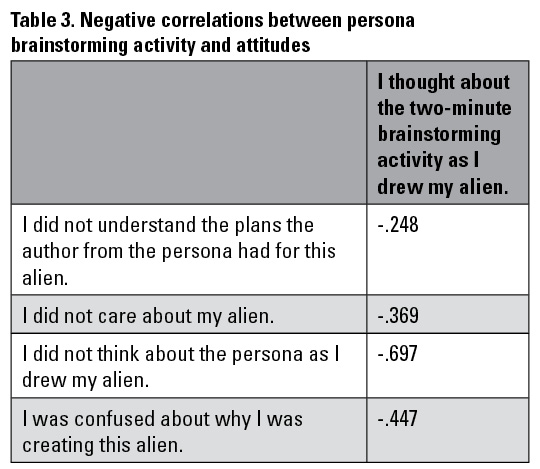 Another possible explanation for our findings is that personas are not equally helpful for all creative tasks. Perhaps personas increase creativity and designer effectiveness more noticeably in more blatantly design-focused tasks and tasks that have very specific design parameters, such as website development, than in less pragmatic tasks such as the seven-minute alien task. Personas may also benefit designers more in long-term design projects that require sustained engagement and consideration of user needs. While increasing creativity is a widely cited and tested benefit of persona use, some creative tasks may benefit more from persona use than others.
Despite our overall creativity scores suggesting that personas did not increase creativity on this task, our findings do indicate that personas offer benefits, especially when it comes to generating user-centered perspectives. Personas increase confidence, to the point where persona-using participants became as confident as those who drew an alien for themselves. Personas may also increase audience focus by making designers more excited to share their work with its intended user. Participants in the Persona group were most excited to share their aliens, suggesting that the concrete audience created by a persona increased their enthusiasm for their work and a connection with their user.
A more fine-grained analysis of the data suggests that actually referencing a persona during design increases user-centered attitudes that aid creativity. Just because designers receive a persona does not mean they will use it (Rönkkö, 2005; Matthews et al., 2012; Friess, 2012). Designers may ignore it in favor of their own preferences or other decision aids. In our experiment, not every participant in the Persona group reported thinking about their persona as they drew their alien. However, participants who reported thinking about the persona during the brainstorming task had higher self-reported scores on a number of other positive metrics: They felt more empathy toward their alien drawing, more confident that the author could use the alien in a story, more confident that the author would be satisfied with their work, more likely to believe that their alien would make a good character, more likely to think about the author as they drew, more likely to want to satisfy the author's expectations, and more likely to understand the author's reasons for needing the alien. Inversely, participants in the Persona group who reported not thinking about the persona brainstorming activity were less likely to understand the author's plans for the alien, less likely to care about their alien, less likely to think about the author while drawing, and more confused about why they were drawing the alien. Of course, confidence in a design does not automatically mean that the design better meets user needs. Still, these correlations suggest that personas can deliver some of their promised benefits by increasing the confidence and investment of designers and prompting them to think more about their intended users. With these findings, our study closely mirrors results from Friess (2015), who found that while personas did not increase performance on a usability heuristic evaluation, they did increase "the user-centric language of the recommendations" and make heuristic evaluation a "more user-centric endeavor" (p. 189). Similarly, our work suggests that personas can prompt user-centered attitudes and perspectives when people actually reference them during design projects.
LIMITATIONS AND DIRECTIONS FOR FUTURE RESEARCH
This research study contains several limitations worth noting. Our research only tests some of the potential benefits of personas related to creativity, empathy, and confidence. For instance, Cooper (1999) and many other scholars describe personas mostly as a team discussion tool and decision aid. By having participants work on their drawings individually, we do not test the capacity for personas to guide group communication and whether personas improve group decision making. Further, our sample population suffers from the same bias as many academic studies in that it relied on college students as participants. College students tend to skew younger, and some researchers (Galenson, 2006) have suggested that creativity differs between young and old individuals. Including a wider age-range among participants could change the study results.
There are several possibilities for future research into the value of personas and their impact on designer creativity. Our research intentionally excluded participants familiar with personas from the Persona group. However, researchers could test the effects of personas on creativity with both expert and novice persona users to determine how they use personas differently and the effects of personas on their designs. Additionally, researchers could test the creativity effects of different types of personas, such as paper-based, video, and interactive (Bonnardel et al., 2016; Bonnardel & Pichot, 2020). Several studies have also offered ideas for improving traditional personas (Cabrero et al., 2006; Cabrero et. al., 2017: Meloncon, 2017), such as user-generated personas (Cabrero, 2015) or personas that emphasize embodiment and mobility (Meloncon, 2017), so future researchers could test the effects of these approaches on creativity. Finally, there are questions about the impact of different industries where design and personas come together: Future investigations might consider the role of personas in a digital media field compared to legacy engineering firms. This study used authors as raters who come from a mixture of academic and user experience backgrounds; using raters from different professions, such as graphic designers or technical communicators, could validate or complicate this study's findings.
CONCLUSION
Our industry authors initiated this experiment to inform their persona use at work and to build the arguments they make about personas to management. The results suggest nuanced benefits to personas, and these results can help practitioners make more judicious decisions and arguments about when and how to use personas. Personas may be better suited for some projects and situations than others. Because they can impact designer confidence, willingness to share their designs, and emphasis on the user, personas might be best deployed on complex team projects that involve long-term product development and maintenance. When deployed as part of a short-term solo project, personas do not appear to be a boost to the final product design. Many projects with a sole technical writer or user interaction designer are constrained by a small budget and a limited timeframe. Therefore, these findings might suggest that personas are not the best use of time or resources for projects with a quick turn-around. As Bødker, Christiansen, Nyvang, and Zander (2014) argue, in short-term projects, "it seems like substantial overkill to develop complete personas" (p. 99). On the other hand, projects that require developing sustained empathy with the user and involve team members with varied perspectives could benefit from the investment into personas as part of the design and writing lifecycle. While personas are not a replacement for interfacing with users, teams that are eager to meet with their customers but have difficulty accessing them would be more likely to benefit from having personas. This is especially true in complex projects involving customized, novel solutions as opposed to those that require templated solutions to problems.
Further, our results confirm that personas only increase user-centered attitudes when designers actually reference them in design tasks; teams cannot hang personas around the office and expect them to instantly enhance user-centered design. Personas that end up on the shelf (Brown, 2010), hung up but ignored (Blomquist & Arvola, 2002), or barely referenced in conversation (Friess, 2012) are not worth creating. Therefore, the willingness of team members to use personas during their work would influence the decision whether or not to create them. Technical communicators and UX interaction designers also need to develop strategies to encourage persona use to see their full benefits. The evidence gathered here can be used to encourage other team members to reference personas as part of promoting a genuine user-centered culture in teams and corporations. Referencing personas provides a whole host of psychological effects that can focus designers on users.
Because personas generate user-centered attitudes, technical writing and UX professionals can also use them to justify their own organizational legitimacy. Technical communicators prove their value through user advocacy (Martin et al., 2017). Our own findings affirm Rose and Tenenberg's (2017) assertion that personas help user-centered professionals validate their role:
the use of personas is not random, natural, or inevitable, but rather a strategic rhetorical gambit by UX practitioners for gaining legitimacy within their organizational contexts: In speaking with a user's voice, the UX practitioners make the user present, and in this way, bulk up their own presence at the decision-making table. (p. 171)
Creating personas and referencing them to increase user-centered design shows design teams and management how technical communicators can contribute to organizations. While not an easily quantifiable business measure, cultivating user-centered attitudes can improve a corporation's relationship with its customers, lead to better products, save the business money, and generate more profits in the long term. When used, and used thoughtfully, personas can enhance user-centered attitudes among designers, enhancing the status of technical writers and UX professionals as well.
REFERENCES
Antle, A. N. (2008). Child-based personas: Need, ability, and experience. Cognition, Technology & Work, 10(2), 155–166.
Aquino, P. T., & Filgueiras, L.V.L. (2005). User modeling with personas. In CLIHC'05, 277–282.
Blomquist, A., & Arvola, M. (2002). Personas in action: Ethnography in an interaction design team. NordiCHI, 197–200.
Bødker, S., Christiansen, E., Nyvang, T., & Zander, P. (2012). Personas, people and participation – Challenges from the trenches of local government. PDC '12, 91–100.
Bonnardel, N., Forens, M., & Lefevre, M. (2016). Enhancing collective creative design: An exploratory study of the influence of static and dynamic personas in a virtual environment. The Design Journal, 19(2), 221–235.
Bonnardel, N., & Pichot, N. (2020). Enhancing collaborative creativity with virtual dynamic personas. Applied Ergonomics, 82, 1–7.
Brangier, E., & Bornet, C. (2011). Persona: A method to produce representations focused on consumers' needs. In Karwowski, W., Soares, M.M., & Stanton, N.A. (Eds.), Human factors and ergonomics in consumer product design, pp. 37–59. CRC Press.
Bornet, C., & Brangier, E. (2016). The effects of personas on creative codesign of work equipment: An exploratory study in a real setting. Codesign, 12(4), 243–256.
Brown, D. (2010). Communicating design: Developing web site documentation for design and planning. New Riders.
Brown, E. (2009). The life and tools of a games designer. In Bernhaupt (Ed.), Evaluating User Experience in Games: Concepts and Method (pp. 73–87). Springer.
Brumberger, E., & Lauer, C. (2020). A day in the life: Personas of professional communicators at work. Journal of Technical Writing and Communication, 50(3), 308–335.
Bruseberg, A., & McDonagh-Phillip, D. (2001). New product development by eliciting user experience and aspirations. International Journal of Human-Computer Studies, 55(4), 435–452.
Buisine, S., Guegan, J., Barre, J., Segonds, F., & Aoussat, A. (2016). Using avatars to tailor ideation process to innovation strategy. Cognition, Technology, and Work, 18(3), 583–594.
Buxton, B. (2007). Sketching user experiences-getting the design right and the right design. Morgan Kaufmann.
Cabrero, D.G., Winschiers-Theophilus, H., Abdelnour-Nocera, J., & Kapuire, G. K. (2016). A hermeneutic inquiry into user-created personas in different Namibian locales. In Proceedings of the 14th Participatory Design Conference, pp. 101–110.
Cabrero, D. G., Winschiers-Theophilus, H., Nocera, J. A. (2016). Re-conceptualizing personas across cultures: Archetypes, stereotypes and collective personas in two locales in pastoral Namibia. In van der Velden, M., Strano, M., Hrachvec, H., Abdelnour Nocera, J.,& Ess. C. (Eds.). Culture, Technology, Communication: Common worlds, different futures? Proceedings of the Tenth International Conference on Culture, Technology, Communication. London, UK, 15–17, June 2016, pp. 35–48.
Caddick, R., & Cable, S. (2011). Communicating the user experience: A practical guide for creating useful UX documentation. Wiley.
Chang, Y. N., Lim, Y. K., Stolterman, E. (2008). Personas: From theory to practices. Proc. NordiCHI 2008, ACM Press, 439–442.
Chapman, C. N., & Milham, R. P. (2006). The personas' new clothes: Methodological and practical arguments against a popular method. In Proceedings of the Human Factors and Ergonomics Society 50th Annual Meeting, pp. 634–636.
Chung, J., & Joo, J. (2017). Effect of empathy on designers and non-designers in concept evaluation. Archives of Design Research, 30(3), 57–71.
Cockbain, J., Vertolli, M. O., & Davies, J. (2013). Creative imagination is stable across technological media: The spore creature creator versus pencil and paper. The Journal of Creative Behavior, 48(1), 13–24.
Cooper, A. (1999). The inmates are running the asylum: Why high tech products drive us crazy and how to restore the sanity. Pearson.
Dahiya, A., & Kumar, J. (2018). How empathizing with persona helps in design thinking: An experimental study with novice designers. In International Conferences Interfaces and Human Computer Interaction 2018, pp. 35–42.
Ferreira, B., Williamson, S., Oliveira, E., & Conte, T. (2015). Designing personas with empathy map. In Proceedings of the International Conference on Software Engineering and Knowledge Engineering (SEKE), pp. 501–505.
Flaherty, K. (2015). How much time does it take to create personas? Nielsen Norman Group. https://www.nngroup.com/articles/persona-budgets/
Fleury, A. (2012). Drawing and acting as user experience research tools. APCHI 2012, pp. 269–278.
Friedman, B., Hurley, D., Howe, D.C., Felten, E., & Nissenbaum, H. (2002). Users' conceptions of web security: A comparative study. CHI 2002 Extended Abstracts, ACM Press.
Friess, E. (2012). Personas and decision making in the design process: An ethnographic case study. In CHI'12, pp. 1209–1218.
Friess, E. (2015). Personas in heuristic evaluation: An exploratory study. IEEE Transactions on Professional Communication, 58(2), 176–191.
Galenson, D. (2006). Old masters and young geniuses. Princeton University Press.
Getto, G., & Moore, C. (2017). Mapping personas: Designing UX relationships for an online coastal atlas. Computers and Composition, 43, 15–34.
Getto, G., & St.Amant, K. (2015). Designing globally, working locally: Using personas to develop online communication products for international users. Communication Design Quarterly, 3(1), 24–46.
Goncalo, J. A., Flynn, F.J ., & Kim, S. H. (2010). Are two narcissists better than one? The link between narcissism, perceived creativity, and creative performance. Personality and Social Psychology Bulletin, 36(11), 1484–1495.
Grace, M. V. (2018). Personas are garbage (and so are many other things, come to think of it). Medium.
Grudin, J. (2006). Why personas work: The psychological evidence. In J. Pruitt and T. Adlin (Eds.) The persona lifecycle: Keeping people in mind throughout the product design (pp. 642–664). Morgan Kaufman.
Grudin, J., and Pruitt, J. (2002). Personas, participatory design and product development: An infrastructure for engagement. Proceedings of Participation and Design Conference (PDC2002), Sweden, pp. 144–161.
Guðjónsdóttir, R., & Lindquist, S. (2008). Personas and scenarios: Design tool or a communication device? In Proc. COOP'08, pp. 165–176.
Howard, T. (2015). Are personas really usable? Communication Design Quarterly, 3(2), 20–26.
Hudson, W. (2013). User stories don't help users: Introducing persona stories. interactions, 20(6), 50–53.
Ivcevic, Z., & Mayer, J. D. (2009). Mapping dimensions of creativity in the life-space. Creativity Research Journal, 21(2–3), 152–165.
Lauer, C., & Brumberger, E. (2016). Technical communication as user experience in a broadening industry landscape. Technical Communication, 63(3), 248–264.
Liu, Y., Polman, E., Liu, Y., & Jiao, J. (2018). Choosing for others and its relation to information search. Organizational Behavior and Human Decision Processes, 147, 65–75.
Long, F. (2009). Real or imaginary: The effectiveness of using personas in product design. Irish Ergonomics Review, Proceedings of the IES Conference 2009, pp. 1–7.
Lu, J., Xie, X., & Xu, J. (2012). Desirability or feasibility Self-other decision-making differences. Personality and Social Psychology Bulletin, 39(2), 144–155.
Kangas, E., & Kinnunen, T. (2005). Applying user-centered design to mobile application development. Communications of the ACM, 48(7), 55–59.
Kharkhurin, A. (2009). The role of bilingualism in creative performance on divergent thinking and invented alien creatures. The Journal of Creative Behavior, 43(1), 59–71.
Kozbelt, A., & Durmysheva, Y. (2007). Understanding creativity judgments of invented alien creatures: The roles of invariant and other predictors. Journal of Creative Behavior, 41(4), 223–248.
Ma., J., & LeRouge, C. (2007). Introducing user profiles and personas into information systems development. In AMCIS 2007 Proceedings, pp. 1–12.
Malone, E. A. (2019). 'Don't be a Dilbert': Transmedia storytelling as technical communication during and after World War II. Technical Communication, 66(3), 209–229.
Marsh, R. L., Landau, J. D., & Hicks, J. L. (1996). How examples may (and may not) constrain creativity. Memory and Cognition, 24(5), 669–680.
Marsden, N., & Haag, M. (2016). Stereotypes and politics: Reflections on personas. CHI 2016, pp. 4017–4031.
Martin, S., Carrington, N., & Muncie, N. (2017). Promoting user advocacy to shift technical communication identity and value. Technical Communication, 64(4), 328–344.
Massanari, A. L. (2010). Designing for imaginary friends: Information architecture, personas and the politics of user-centered design. new media and society, 12(3), 401–416.
Matthews, T., Judge, T. K., & Whittaker, S. (2012). How do designers and user experience professionals actually perceive and use personas? In CHI 2012, pp. 1219–1228.
Meloncon, L. (2017). Embodied personas for a mobile world. Technical Communication, 64(1), 50–65.
Miaskiewicz, T., Grant, S. J., & Kozar, K. A. (2009). A preliminary examination of using personas to enhance user-centered design. In AMCIS 2009 Proceedings, pp. 1–7.
Miaskiewicz, T., & Kozar, K. A. (2011). Personas and user-centered design: How can personas benefit product design processes? Design Studies, 32, 417–430.
Michael, J., Gutoreva, A., Lee, M. H., Tan, P. N., Bruce, E. M., Székely, M., Ankush, T., Sakaguchi, H., Walasek, L, & Ludvig, E. A. (2019). Decision-makers use social information to update their preferences but choose for others as they do themselves. Journal of Behavioral Decision Making, 33(3), 270–286.
Moeller, R., & McAllister, K. (2002). Playing with techne: A propaedeutic for technical communication. Technical Communication Quarterly, 11(2), 185–206.
Mulder, S., & Yaar, Z. (2007). The user is always right. New Riders.
Nielsen, L. (2013). Personas – user-focused design. Springer.
Nielsen, L., & Hansen, K. S. (2014). Personas is applicable – A study on the use of personas in Denmark. In CHI'14, pp. 1665–1674.
Nieters, J., Ivaturi, S., & Ahmed, I. (2007). Making personas memorable. In CHI 2007. April 28–May 3, 2007, San Jose, California, USA. ACM 978-1-59593-642-4/07/0004
Niu, W., & Sternberg, R. J. (2001). Cultural influences on artistic creativity and its evaluation. International Journal of Psychology, 36(4), 225–241.
Northcut, K. M., & Brumberger, E. R. (2010). Resisting the lure of technology-driven design: Pedagogical approaches to visual communication. Journal of Technical Writing and Communication, 40(4), 459–471.
Petersen, E. J., & Matheson, B. (2020). Speaking so that we are heard: A Zulu comic book as women's social action in 1990s South Africa. Technical Communication Quarterly, 29(3), 271–286.
Polman, E., & Emich, K. J. (2011). Decisions for others are more creative than decisions for the self. Personality and Social Psychology Bulletin, 37(4), 492–501.
Polman, E., & Vohs, K. (2014). When choosing for others is more fun (and less depleting) than choosing for the self. In Cotte, J and S. Wood (Eds.), Advances in Consumer Research Volume 42 (pp. 47–52). Association for Consumer Research.
Polman, E., & Wu, K. (2019). Decision making for others involving risk: A review and meta-analysis. Journal of Economic Psychology, 72, 200.
Poole, E. S., Chetty, M., Grinter, R. E., & Edwards, W. K. (2008). More than meets the eye: Transforming the user experience of home network management. DIS 2008, pp. 455–464.
Pruitt, J., & Adlin, T. (2010). The essential persona lifecycle: Your guide to building and using personas. Morgan Kaufmann.
Pruitt, J., & Adlin, T. (2006). The persona lifecycle: Keeping people in mind throughout product design. Morgan Kaugmann.
Pruitt, J., & Grudin, J. (2003). Personas: Practice and theory. In: Proceedings of DUX 2003, ACM Press.
Putnam, C. (2010). Bridging the gap between user experience research and design in industry: An analysis of two common communication tools: Personas and scenarios (Doctoral dissertation). Available from ProQuest Dissertations and Theses database. (UMI No. 3422001).
Putnam, C., Reiner, A., Ryou, E., Caputo, M., Cheng, J., Allen, M., & Singamaneni, R. (2016). Human-Centered design in practice: Roles, definitions, and communication. Journal of Technical Writing and Communication, 46(4), 446–470.
Rice-Bailey, T., Chong, F., & Baker, K. (2019). Infusing TC pedagogy with artistic creativity through interdisciplinary partnerships. Proceedings for 2019 CPTSC Annual Conference. West Chester University, West Chester, PA.
Robinson, J., Lanius, C., & Weber, R. (2018). The past, present, and future of UX empirical research. Communication Design Quarterly, 5(3), 10–23. https://doi.org/10.1145/3188173.3188175
Rönkkö, K. (2005). An empirical study demonstrating how different design constraints, project organization and contexts limited the utility of personas. In Proceedings of the 38th Annual Hawaii International Conference on System Sciences.
Rose, R. J., & Tenenberg, J. (2017). Poor poor dumb mouths, and bid them speak for me: Theorizing the use of personas in practice. Technical Communication Quarterly, 27(2), 161–174.
Ross, D. G. (2017). The role of ethics, culture, and artistry in scientific illustration. Technical Communication Quarterly, 26(2), 145–172.
Salinas, C. (2002). Technical rhetoricians and the art of configuring images. Technical Communication Quarterly, 11(2), 165–183.
Snyder, C. (2003). Paper prototyping: The fast and easy way to design and refine user interfaces. Morgan Kaufmann.
So, C., & Joo, J. (2017). Does a persona improve creativity? The Design Journal, 20(4), 459–475.
St. Peter, H. A. S. (2015). Communicating user experience: 'Wicked' problems, patchwork personas, and the ICTD project lifecycle. International Journal of Sociotechnology and Knowledge Development, 7(2), 14–26.
Steffel, M., & LeBoeuf, R. A. (2014). Overindividuation in gift giving: Shopping for multiple recipients leads givers to choose unique but less preferred gifts. Journal of Consumer Research, 40(6), 1167–1180.
Sternberg, R. J. (2006). The nature of creativity. Creativity Research Journal, 18(1), 87–98.
Tohidi, M., Buxton, W., Baecker, R., & Sellen, A. (2006). User sketches: A quick, inexpensive, and effective way to elicit more reflective user feedback. NordiCHI, 2006.
Traynor, B. (2012). Rapid paper prototyping: 100 Design sketches in 10 minutes, 18 designs presented, 6 prototypes tested, student engagement – priceless! 2012 IEEE International Professional Communication Conference.
Turner, P., & Turner, S. (2011). Is stereotyping inevitable when designing with personas? Design Studies, 32, 30–44.
Unger, R., & Chandler, C. (2012). A project guide to UX design for user experience designers in the field or in the making. New Riders.
Valdez, M. (2015). Stop talking to yourself: Creating creative personas. ClearVoice.
Vincent, J. C., & Blandford, A. (2014). The challenges of delivering validated personas for medical equipment design. Applied Ergonomics, 45(4), 1097–1105.
Virzi, R. A., Sokolov, J. L., & Karis, D. (1996). Usability problem identification using both low and high-fidelity prototypes. In Proc. CHI'96, Vancouver, BC, Canada, pp. 236–243
Ward, T. B. (1994). Structured imagination: The role of category structure in exemplar generation. Cognitive Psychology, 27, 1–40.
Ward, T. B., Dodds, R. A., Saunders, K. N., & Sifonis, C. M. (2000). Attribute centrality and imaginative thought. Memory & Cognition, 28, 1387–1397.
Ward, T. B., Patterson, M. J., & Sifonis, C. M. (2004). The role of specificity and abstraction in creative idea generation. Creativity Research Journal, 16, 1–9.
Ward, T. B., & Sifonis, C. M. (1997). Task demands and generative thinking: What changes and what remains the same? Journal of Creative Behavior, 31, 245–259.
Ward, T. B., Patterson, M. J., Sifonis, C. M., Dodds, R. A., & Saunders, K. N. (2002). The role of graded category structure in imaginative thought. Memory & Cognition, 30, 199–216.
Xu, D. Y., Read, J. C., Sim, G., McManus, B. (2009). Experience it, draw it, rate it – capture children's experiences with their drawing. Interaction Design and Children, Proceedings of the 8th International Conference on Interaction Design and Children, IDC 2009.
Yu, H. (2016). The other kind of funnies: Comics in technical communication. Baywood Publishing Co.
Zhang, Y., & Kitalong, S. K. (2015). Influences on creativity in technical communication: Invention, motivation, and constraints. Technical Communication Quarterly, 24(3), 199–216.
ACKNOWLEDGEMENTS
We would like to thank the Louisiana Tech Usability Studies Symposium (LATUSS '19) for early feedback on our experimental design, in particular, Kirk St.Amant for his support. Thank you to the UAH Technical Writing Advisory Board, ADTRAN, Joseph Robertshaw, and Sinceree Gunn for supporting our data collection.
ABOUT THE AUTHORS
Candice Lanius is an Assistant Professor of Communication Arts at the University of Alabama in Huntsville. Her research areas include digital rhetoric, big data, and user experience, with articles appearing in the Journal of Communication Inquiry and Communication Design Quarterly. She is available at candice.lanius@uah.edu.
Ryan Weber is Associate Professor of English at the University of Alabama in Huntsville and Director of Business and Technical Writing. His work has appeared in Journal of Business and Technical Communication, Technical Communication Quarterly, Journal of Technical Writing and Communication, and other journals. He also hosts the podcast 10-Minute Tech Comm. He is available at rw0019@uah.edu.
Jackie Spiegle is a Senior User Experience Architect at Dynetics, a Leidos Company, in Huntsville, Alabama. His background covers nearly two decades of work in interactive training, human-computer interaction, and user experience in both government contracting and commercial projects. One of his areas of focus is implementing user-centered principles in all phases of the business process from proposal to development. He is available at jspiegle@gmail.com.
Joy Robinson is a User Experience Manager at Northrop Grumman an engineer and technical writer. Robinson worked as an assistant professor at the University of Alabama in Huntsville and is an accomplished researcher with published articles on User Experience methods and practice, innovative teaching practices, and collaboration. Her work has appeared in Computers and Composition, JTWC, CDQ, TCQ, and IEEE ProComm. She is available at joy.robinson@uah.edu.
Robin Potts is a User Experience designer with Northrop Grumman in Huntsville, AL. She offers a unique perspective and a strong sense of empathy for technology users. Her varied background in training, customer support, and technical writing crosses multiple industries including education, health care, information technology, telecommunications, and government. She has a passion for untangling messy problems and simplifying them through collaboration efforts. She enjoys her work bridging the gap between technical knowledge and communicating user needs. She is available at robin.potts7@gmail.com.
Appendix A: Research Questionnaire
1)   What is your major?
2)   In what year do you plan to graduate?
3)   What is your gender?
4)   (For Persona Group) How familiar are you with user personas?
5)   Please circle any hobbies that you often participate in during your free time:
Reading, Fishing/Hunting, Painting/Drawing, Watching Movies/TV, Hiking, Playing Video Games, Listening To or Playing Music, Watching/Playing Sports, Playing Cards/Board Games, Biking, Running, Traveling
Please answer the following questions on a 1-5 scale, where 1 = strongly disagree and 5 = strongly agree.
6)   I am pleased with the results of my drawing.
7)   I felt empathy toward my alien as I drew it.
8)   I would like to read a story featuring the alien I drew.
9)   I did not care about my alien.
10) I would like to share the drawing I did with others.
11) I think this alien would make a good character in a story.
12) I feel confident that I could use this alien to write a story.
13) I did not have a plan for creating my alien.
14) I thought about what I wrote down during the brainstorming activity as I drew my alien.
15) I did not think about the kinds of stories I like to read when I created this alien.
16) I did not know why I was creating this alien.
17) I struggled to draw my alien.
18) I do not think I could use this alien to write a story.
19) I would be nervous about showing my alien to someone else.
20) I understood the reasons why I was creating this alien.
21) I really wanted my alien to turn out well to satisfy my own expectations.
22) I was confused about why I was creating this alien.
23) I was not pleased with my final alien drawing.
24) I can predict how well readers would like the alien I have created.
Open-Ended Questions:
25) What were your goals in creating this alien?
26) What influenced or inspired the ideas you came up with for this alien (examples might include TV, movies, science fiction books, scientific discoveries, the brainstorming activity, etc)?
27) (For Persona group) Did the persona influence your decisions in drawing your alien?
28) If the persona did influence the decisions you made in your drawing, what decisions did it influence?
29) If the persona did influence the decisions you made in your drawing, please circle the parts of the persona that you found most helpful.
Appendix B: APA Inferential Statistical Test Information
Kruskal-Wallis Tests of Difference:
No statistically significant difference between persona, author, and self groups for Rubric Q1: "Please rate the alien on creativity from 1 "less creative" to 5 "more creative."

Persona m = 3.05, self m = 2.95, other m = 2.88; Kruskal-Wallis H (2) = .434, p = .805.
Rubric Q2: "Please rate the alien on how surprising or unusual the alien is from 1 "not surprising" to 5 "very surprising."

Persona m = 2.92, self m = 2.93, other m = 2.83; Kruskal-Wallis H (2) = .285, p = .867.
Rubric Q3: "Please indicate the number of atypical features present on the alien (including size)."

Persona m = 3.52, self m = 3.36, other m = 3.41; Kruskal-Wallis H (2) = .131, p = .936
Rubric Q4: "Please indicate how similar this alien is to your knowledge of existing popular culture aliens from 1 'not at all similar' to 5 'identical to a known alien.'"

Persona m = 2.47, self m = 2.3, other m = 2.38; Kruskal-Wallis H (2) = 1.473, p = .479
Rubric Q5: "Please indicate how similar this alien is to an earth animal or human being with 1 'not at all similar' to 5 'identical to an earth creature.'"

Persona m = 2.63, self m = 2.35, other m = 2.48; Kruskal-Wallis H (2) = 1.482, p = .477.
Mann Whitney Tests of Difference:
Author satisfaction for persona (m = 2.85) was greater than author (m = 2.28); U (n = 122) = 1348.5, p = .012.
Confidence in sharing the drawings was higher for persona (m = 3.19) than author (m = 2.44); U (n = 121) = 1275, p = .006.
Confidence that the drawing could be used to write a story increased with the persona (m = 3.66) and self groups (m = 3.66) compared to the author group (m = 3.13); U(n = 122) = 1410, p = .028; U (n = 102) = 997, p = .037.
Met expectations was greater in the self group (m = 3.7) compared to the persona (m = 3.17) or author (m = 3.02) group; U (n = 120) = 1305, p = .015; U (n=102)=933, p = .012.
Nervous about sharing their alien was greater in author (m = 3.43) compared to self (m=2.48) or persona (m=2.6): U (n = 122) = 1248.5, p = .002, U (n = 102) = 817.5, p = .001.