By Jackie Damrau, Editor
Books Reviewed in This Issue
by Kathleen P. Hunt, Gregg B. Walker, and Stephen P. Depoe, eds.
by Jennifer Brown Urban and Bradley Matheus van Eeden-Moorefield
by David S. Platt
by Darrell Rigby, Sarah Elk, Steve Berez
by Jonathan Reeve Price
by Daniel Stillman
by Kimberly Elam
by Joseph G. Allen and John D. Macomber
by Falk Uebernickel, Li Jiang, Walter Brenner, et al.
by J.D. Schramm with Kara Levy
by Cyrus Highsmith
by Tracy Bridgeford, ed.
---
Breaking Boundaries: Innovative Practices in Environmental Communication and Public Participation
Kathleen P. Hunt, Gregg B. Walker, and Stephen P. Depoe, eds. 2019. State University of New York Press. [ISBN 978-1-4384-7705-3. 344 pages, including index. US$95.00 (hardcover).]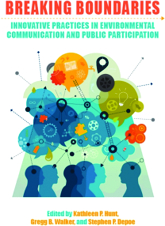 Before Rachel Carson published Silent Spring in 1962, environmental policy in the United States was typically shaped by lawmakers without much input from their constituents. Increased interest in environmental action, both in the United States and worldwide, has spurred an even greater interest in participating in public commentary for proposed environmental policies. In Breaking Boundaries: Innovative Practices in Environmental Communication and Public Participation, the editors explore the ways in which the public engages with their lawmakers to shape these environmental policies.
This book is a collection of chapters organized around four central themes: public participation should adapt to local conditions and stakeholder concerns, public participation practices should combine innovative approaches to engage the community, limitations of technology and digital media should be considered, and power dynamics between the constituents and the lawmakers should be accounted for (pp. 7–9). Each chapter explores these, and related, themes in a detailed, informative manner.
One major strength of Breaking Boundaries is the diversity of settings and communities offered as examples. In my experience, many academic works about public policy written by western authors tend to narrowly focus on dominant-culture American communities, overlooking the unique communities and policy issues that arise both within the United States and globally. The editors and authors provide an illuminating cross section of global communities and the environmental policies that affect them. For example, Chapter 2 explores the listening sessions hosted by the USDA Forest Service with Native American tribes; Chapter 3 examines public participation in land management policy in the American West; and Chapter 7 studies public participation in environmental policy in New Zealand. Through these rich case studies, the reader truly gains a sense of how environmental policy is shaped and the diverse cultural considerations and local factors that can affect it.
Breaking Boundaries is an enlightening collection that is not a casual read. The level of prose and the discussion of communication theory would challenge readers not familiar with public policy and related fields. Further, some chapters dive into the environmental policy scenario without much background or discussion of the issue's history, focusing instead on related communication theory. Academics may appreciate this strategy, while less-experienced readers may find this disconcerting.
A variety of audiences will find this book worthwhile despite its elevated prose and lack of contextual background information. Academics studying environmental communication and/or public policy would do well to have this volume on their shelves, as they will undoubtedly refer to these case studies repeatedly when designing their own research. As an academic myself with a great deal of public policy experiences, I bookmarked several discussions within the text for future reference. Advanced graduate students in technical communication, political science, or environmental or wildlife management would benefit from considering the cases presented.
Nicole St. Germaine
Nicole St. Germaine is a Professor in the Technical and Business Writing Program at Angelo State University, as well as a freelance writer and consultant. Her research interests include technical communication for a Mexican-American audience and technical communication in the health fields.
Designing and Proposing Your Research Project
Jennifer Brown Urban and Bradley Matheus van Eeden-Moorefield. 2018. American Psychological Association. [ISBN 978-1-4338-2708-2. 140 pages, including index. US$29.95 (softcover).]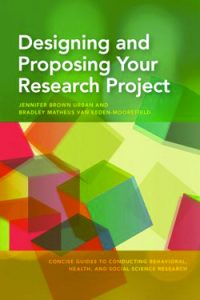 There's much to like about Designing and Proposing Your Research Project: It's a friendly, unintimidating, reasonably comprehensive overview of a complex subject. The authors explicitly note that more reading is necessary; for example, their description of sampling (Ch. 7) won't support quantitative research if you haven't already taken a statistics course. The many examples, helpful forms, and summary tables concisely present large amounts of information. Unfortunately, two flaws make the book hard to recommend.
First, it needed better substantive editing to eliminate egregious errors. For example, the authors suggest (p. 90) that readers with red–green colorblindness can't see red text (in fact, they can't easily distinguish red from green). Then there are contradictions. For example, the authors note that samples must be representative of the study population in quantitative research (pp. 63–64), then suggest that in qualitative research, it's more important to support the research question (p. 65). Are unrepresentative results more acceptable in qualitative research? Muddy advice includes the suggestion that surveys of adults use 7th to 8th grade language based on a readability formula. Readability formulas are meaningless; a better recommendation would be to use audience-appropriate language. The authors don't define many key terms on first appearance nor link to definitions in the index. For example, triangulation is indexed twice (pp. 56, 58), but with no definition on either page; the actual definition (p. 123) doesn't appear in the index. A glossary would have solved this problem.
Second, the authors incorrectly assume that quantitative and qualitative research are fundamentally different things, rather than different methods applied to the same research questions. Thus, Chapter 4 shows more similarities than differences between these research types. This division leads to subsequent questionable choices such as concluding that acknowledging and accounting for bias is essential in qualitative research (p. 53), but not mentioning its importance in quantitative research. Similarly, the authors emphasize the importance of strong and trusting relationships with subjects in qualitative research (p. 55), but not in quantitative research. Related errors include the belief that only quantitative research requires hypothesis testing. In fact, hypotheses are testable predictions in any type of research.
These flaws make it hard to recommend Designing and Proposing Your Research Project for self-study; they will discourage or mislead many readers. The same flaws frustrate its use as a classroom resource, exacerbated by an unpredictable combination of really good information, such as the advice to pretest and correct study methods before using them collect real-world data, with frustrating omissions, such as no discussion of the reproducibility crisis or the many forms of bias. Though the book's title suggests it will teach how to prepare a research proposal, that information is scattered throughout the book rather than gathered into its own chapter.
Better editing and a reality check would make a second edition more useful.
Geoff Hart
Geoff Hart is an STC Fellow and author of the book Writing for Science Journals: Tips, Tricks, and a Learning Plan.
Why Software Sucks…and What You Can Do About It
David S. Platt. 2007. Addison Wesley. [ISBN 978-0-321-46675-4. 244 pages. US$29.99 (softcover).]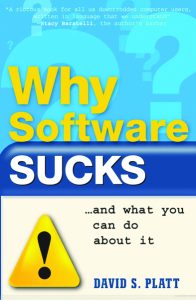 Why Software Sucks…and What You Can Do About It provides insight on why many software programs are hard to figure out and use. Sometimes, programs seem to crash at the worst possible time. Sometimes, programs cause a user to lose information. David Platt, a Microsoft-designated software legend and experienced programmer/consultant, also explains why websites are user hostile. He uses examples from starbucks.com, MS Word, and ups.com. On the other hand, google.com is a good site. Chapter titles include "I don't care how your program works" (p. 15).
Platt notes that many U.S. companies did not improve cars until customers started buying reliable Hondas and Toyotas. He also notes that a user can address issues of poor usability by:
Reading reviews before buying.
Providing reviews to help others.
Providing feedback as programmers may not know what is wrong.
Why Software Sucks is a good read to broaden your understanding of usability. What can help is to understand that programmers are not users. Usability testing should be a necessity, not an afterthought. A lack of usability testing can make the result unusable.
Jeanette Evans
Jeanette Evans is an STC Associate Fellow; active in the Ohio STC community, currently serving on the newsletter committee; and author and co-author of articles and columns in Intercom. She holds an MS in technical communication management from Mercer University.
Doing Agile Right: Transformation Without Chaos
Darrell Rigby, Sarah Elk, Steve Berez. 2020. Harvard Business Review Press. [ISBN 978-1-63369-870-3. 238 pages, including index. US$32.00 (hardcover).]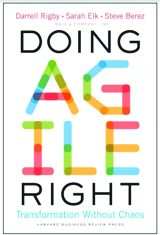 Doing Agile Right: Transformation Without Chaos is a straightforward, no-nonsense look at how senior leaders should approach their business agility journey. It is brimming with practical tips framed as do's and don'ts to guide leaders in becoming agile, not simply doing agile. The authors clearly are sending the message that "becoming" agile is what leads to success. Practical tips are heavily supported by customer examples to show successful and unsuccessful agile transformations, which help drive home key points and set realistic timeframes for change.
Digital disruption is driving the need for businesses to become agile. Today, all businesses are software businesses—regardless of the products and services they offer—because of the technology involved in running a business effectively. Responding to market changes rapidly is key to staying in business and growing market share. Agile is the golden egg when business leaders understand their business's purpose, how agile they want that business to be, and what that means regarding changes to their business. Agile can lead to dramatic improvements in time-to-market; employee morale, productivity, and engagement; higher quality products and services; customer satisfaction; and overall economic outcomes.
No two businesses are alike. Each business must look within to redefine its mission and vision before it embarks on an agile transformation. Businesses must not copy what others have done to become agile as this never works. A business must create its own agile business system by assessing a) the resources available to create the desired results, b) the activities (actions and processes) used to generate results, c) the output of the activities, d) the outcomes (changes and benefits) produced by the activities, and e) the purposes (the long-term, cumulative benefits derived from the activities, outputs, and outcomes). Then, the business must fill the gaps. Crucial to successful transformations are agile experts, agile training and coaching support, technology architectures that support agile, and facilities that promote the agile way of working.
Leaders set the vision for what is to be accomplished and why. They must also learn to think of "value" (not projects) and change the way they budget, fund, and review the work. Agile teams determine how the work gets accomplished and are empowered to make decisions about the work, including how much work can be accomplished in a short timeframe, and how that work is balanced. Customers know best what is valuable to them. When these things are harmonized, an enterprise will effectively deliver "value" to customers in the shortest sustainable lead time.
The authors' final message is that transformation to an agile enterprise takes place over time, there is no Big Bang possible. Many leaders seem to run afoul with their transformations because they don't understand how cultural change occurs. It takes time to transform an enterprise and all the individuals that are part of an agile business system, and it takes highly visible, committed leaders actively modeling the agile values, principles, and mindset to do it.
Doing Agile Right is spot on with its practical advice and is a must read for anyone actively involved in an agile transformation.
Cindy Currie
Cindy Currie is an STC Fellow and past STC president. She has served STC as the STC Summit Co-Chair and various other roles. Cindy has over 35 years of experience as a technical communicator, project and program manager, and most recently as an Agile coach and trainer.
Write a Use Case: Gathering Requirements that Users Can Understand
Jonathan Reeve Price. 2020. The Communication Circle. [ISBN 978-0-9719954-5-1. 232 pages, including index. US$9.95 (digital).]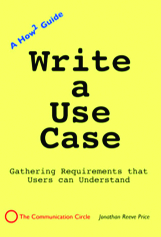 Technical communicators newly tasked with writing requirements will want to purchase Jonathan Reeve Price's Write a Use Case: Gathering Requirements that Users Can Understand to better comprehend their role in the process, avoid common mistakes like an overreliance on the development team driving requirements, and eliminate any second-guessing about exactly what they should be doing. This book is for writers. It helps writers create well-crafted requirements and a series of supporting artifacts as well as provides step-by-step instructions complete with examples. Technical communicators finding themselves already in the middle of a requirements gathering project and needing immediate help should proceed directly to Chapter 5, the longest and most informative, to learn how to write use cases. According to Price, use cases are preferable to requirement statements because they include the developer and the stakeholder as audiences and promote discussion, understanding, adaptability, and traceability.
It is atypical to begin reading a book at its end, but if you read Price's Author's Note (p. 206), you'll understand how his cumulative work and teaching experiences enable him to anticipate reader's questions thereby eliminating the gotchas. For example, if a writer is moving from a requirements list to use cases, the number of uses cases will not match the number of requirement statements because one use case may describe multiple requirements. That may not be common sense to the novice requirements writer.
Using examples, Price models concise writing showing readers how they can improve requirements including very specific direction on how the requirement must use "will" or "shall" as an auxiliary verb, describe what the system must do, be measurable, and avoid jargon unless defined clearly in the glossary. The book's format is also an excellent example of technical communication and fosters both learning and retention of material. The use of headings, subheadings, bulleted lists, tables, images, checklists, and workflow diagrams serve as reliable guideposts throughout the book. The step-by-step instructions are invaluable. If you have never written a requirement before, Price walks you through it including the why and how.
Also helpful to the technical communicator is Price's instruction in Chapter 6 about creating a test case. He thoughtfully explains the connection between testing and delivering a quality product and provides five methods to test for quality with an eye always toward the developer and stakeholder audiences. He concludes with a discussion about use cases versus user stories and when it makes sense to use the latter (short, small projects in a rapidly changing environment).
Price bases this book on the Rational Unified Process as the standard but notes that there is no one "sacred standard" (p. 6) with many organizations implementing their own processes around requirements gathering and use cases. Technical communicators will still be a step ahead of any organizational processes if they have this thorough resource to reference.
Liz Herman
Liz Herman, PhD, is an STC Associate Fellow, a knowledge management practitioner and is certified in project management and technical communication. She works for Senture, LLC as its Director of Knowledge Management.
Good Talk: How to Design Conversations That Matter
Daniel Stillman. 2020. Management Impact Publishing. [ISBN 978-94-6276-379-1. 274 pages. US$24.99 (digital).]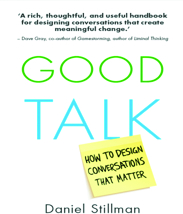 Daniel Stillman explains early in his book, Good Talk: How to Design Conversations That Matter, that the book's content comes largely from his The Conversation Factory podcast that has existed since 2017. What works well for a podcast does not always translate well into a book. While there are some valuable elements in Stillman's book, readers will need to sort through many disconnected examples and rely on materials and resources from other authors that are not necessarily fleshed out in detail. Most readers find examples helpful, but Stillman distracts the reader jumping from Spike Lee's Do the Right Thing, to Elon Musk's meeting preferences, to Japanese culture, to Nietzsche all within a few pages. Most readers also find references to other resources helpful, but it is difficult to parse out Stillman's own thoughts about conversations that matter. It is also worrying that Stillman takes almost a page to explain the book's organization. Once readers reach Part III, they can jump to the other nine elements of the conversation operating system that are most personally relevant. Most examples, however, build upon each other in successive sections.
Think of Stillman's book like an individual workshop for specific conversations readers want to improve. Perhaps it is a conversation with a manager, a colleague, or a partner. He encourages you to grab some sticky notes and jot down answers to rhetorical questions that are placed throughout the book. Stillman quickly helps readers understand that in many cases, we are not even giving conversations a chance to happen. We make assumptions about how others will respond so we do not bother to initiate a conversation. We tell ourselves it will not work before speaking or texting. Stillman uses an example throughout the book about a character named Eleanor to show how to use different techniques. The familiarity of Eleanor is a welcome contrast to the numerous other examples and references.
What is also welcome is Stillman's discussion about cadence and the surprising facts he includes mentioning that it takes people 600 milliseconds to compose thoughts, yet the gap between people speaking is only 200 milliseconds. It is no wonder why conversations go astray when we are spending most of the time composing our thoughts rather than listening to the person speaking.
Regarding the valuable elements mentioned earlier, the discussion around the Circle of Value and using three goals in conversation to understand what people need or are asking is a good takeaway. Stillman's inclusion of Julia Cameron's approach to reflection and writing—the morning pages—is also of interest to those facing writer's block. He offers it here to help us reflect on conversations and improve.
If truly stuck on a conversation that is going nowhere, Stillman's book may unstick things. You may want to pass on the book and go straight to his podcast.
Liz Herman
Liz Herman, PhD, is an STC Associate Fellow, a knowledge management practitioner and is certified in project management and technical communication. She works for Senture, LLC as its Director of Knowledge Management.
Introduction to Three-Dimensional Design: Principles, Processes, and Projects
Kimberly Elam. 2020. Princeton Architectural Press. [ISBN 978-1-61689-921-9. 168 pages, including index. US$29.95 (softcover).]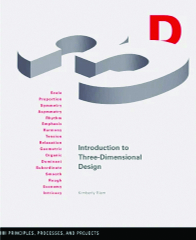 Introduction to Three-Dimensional Design: Principles, Processes, and Projects is a pedagogical exploration of principles and lessons in designing objects of art using depth, scale and proportion, and other aspects of three-dimensional (3D) design. Kimberly Elam takes a provocative approach toward illustrating 3D design concepts by showcasing the art created by her students in a series of class "experiments" or projects.
The book is divided into five chapters. The first chapter outlines and illustrates many overarching concepts of 3D design. Each subsequent chapter focuses on a different class project that puts these concepts into action. The projects include decorative masks, line-wire animals, paper food, and stunning acrylic birds.
The division of chapters I alluded to, where the first is theory and the remaining chapters are application, is a bit murky. While the first chapter is thoroughly a description of principles and the last three chapters are focused on describing the various deliverables of the student projects, Chapter 2 straddles this division by doing both. Chapter 2, like the chapters that follow it, showcases a project—decorative masks. The descriptions of the students' deliverables take a deep dive into the various theoretical applications of contrast, which seems to continue the thrust of the first chapter. We can see this in the Chapter 2 section headings "Concave to Convex Contrast," "Geometric to Organic Contrast," and "Static to Active Contrast." The focus shifts in Chapter 3, however, when we start to see headings like "Flamingo," "Monkey," and, in Chapter 4, "Cabbage," which describe the form of the students' projects rather than the principles that are at play. A clearer division of focus would help the reader navigate the book and parse the content.
The primary audiences are design students, who will find the principles and design projects useful in their studies, and design instructors, who may adapt or build upon the class projects featured in the book. Introduction to Three-Dimensional Design unapologetically favors the tactility of physical objects over the trendy but distant homogeneity of digital artifacts; however, technical communication practitioners could take a few lessons from the principles illustrated in this book. Many technical communicators are familiar with such principles of two-dimensional design as grid systems, contrast, repetition, alignment, and proximity, but many may not understand how to apply the concept of a vanishing point. For example, assembly and process diagrams can benefit from perspectives afforded by the application of tension and relaxation, atmospheric perspective, shadow, and scale to better communicate the relationships between objects. Although technical communicators will find value in this book, they can safely limit themselves to the first two chapters that more directly address 3D design principles.
Michael Opsteegh
Michael Opsteegh is an STC Associate Fellow and a technical writer in the software and financial services industries since 2004. He is a lecturer in the professional writing program at Cal State Long Beach. Michael holds a master's degree in English and is a Certified Technical Professional Communicator (CPTC).
Healthy Buildings: How Indoor Spaces Drive Performance and Productivity
Joseph G. Allen and John D. Macomber. 2020. Harvard University Press. [ISBN 978-0-674-23797-1. 304 pages, including index. US$35.00 (hardcover).]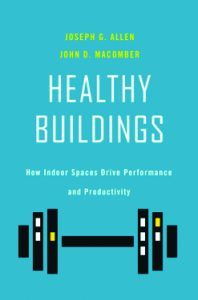 I'll start by saying that Healthy Buildings: How Indoor Spaces Drive Performance and Productivity is an engaging read, even if public health or environmental, safety, and health are not your primary career focus. The first part of the book is making a case for healthy buildings. Co-author Joseph G. Allen cites studies with this statistic: in North America and Europe, we spend 90 percent of our time indoors. In these terms, it becomes obvious that "our indoor environment would have a disproportionate impact on our health" (p. 39).
Shockingly, we discover that most of our exposure to outdoor air pollution can occur indoors because of infiltration factors like leakiness of a building, windows, and ventilation. Understanding how outdoor air quality affects indoor air quality and seeing the math for how indoor air quality is worse for us because we spend so much time indoors, it is easy to see why business owners, developers, and even CEOs need to understand this element of public health and take action.
Healthy Buildings shares information about indoor air quality, what affects it, and how to make improvements that are cost effective, improve employee health, and increase overall productivity. In Chapter 4, the authors introduce a pro forma income statement that shows how increasing ventilation rates is a relatively low-cost operating expense when compared to the benefit of employees taking fewer sick days and increasing their productivity. The explanation of ventilation and cognitive function will have you questioning the health of your work building (and maybe even your own home!).
Much of this book addresses Healthy Building strategies, with Part II starting with a chapter dedicated to a report, The 9 Foundations of a Healthy Building. They are ventilation, air quality, thermal health, moisture, dust and pests, safety and security, water quality, noise, and lighting and views.
We also learn the differences between "green" building certifications (like LEED certification, which stands for Leadership in Energy and Environmental Design) and "healthy" building certification. Healthy buildings are intended to have continuous monitoring of the nine foundations; they are not awarded a one-and-done certificate when they are built.
Allen and Macomber explain in Chapter 9 the benefits of moving from key performance indicators (KPIs) to health performance indicators (HPIs) and give examples of how to measure a building's health impact. This chapter describes how it's been done wrong and how to do it right.
Overall, Healthy Buildings is a terrific overview of how Healthy Building strategies are good business strategies. The key is to show that it's a win for all to "improve the health of all people, in all buildings, everywhere, every day" (p. 241). If that piques your interest, take the time to learn from the experiences of Joseph Allen and John Macomber.
Michelle Gardner
Michelle Gardner, CPTC, is an STC member and editor-in-chief for the Mi MoJo Methods Web site. She has a bachelor's degree in Journalism: Public Relations from California State University, Long Beach, and a master's degree in Computer Resources and Information Management from Webster University.
Design Thinking: The Handbook
Falk Uebernickel, Li Jiang, Walter Brenner, et al. 2020. World Scientific Publishing. [ISBN 978-9-811-20350-3. 308 pages, including index. US$38.00 (softcover).]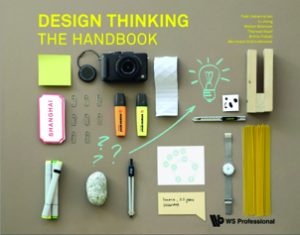 Traditional design practice tends to operate in a linear manner, with the underlying assumption that everything necessary to a successful outcome can be specified in advance, so that ideally only one prototype is necessary to prove the concept and begin production. When real-world complications arise, they are considered defects in the planning and design process. The most creative ideas, however, arise from accidents and mistakes, not from conscious thought. How, then, can we integrate the efficiency of linear design with the creativity of learning from direct experience?
Design thinking offers an answer. By focusing constant attention on user experience, it retains the direction and structure of classical design methodology. But it does so by replacing theoretical design work at the very beginning of the project with immediate prototyping of potential solutions. Through rapid, iterative prototyping coupled with constant reference to the customer experience, the "micro-cycle" capitalizes on insights arising heuristically from each prototype while maintaining the overall direction, and therefore coherence, of the project. This both disciplines and liberates the design process, leading to a more satisfying solution for the customer.
The micro-cycle begins by defining the problem through open-minded investigation of the customer experience, or "need finding," that is integrated with the design team's technical and aesthetic knowledge. The resulting "ideation" of the product is then realized through repeated, rapid prototyping. Initial ideations may be simple and crude, but are concrete and real, and therefore a source of practical knowledge about the customer experience that can be integrated into the next prototyping phase. As the prototyping approaches apparent completion, the testing phase begins, and reveals whether the product meets the full customer need or redefinition and more micro-cycles are required. Design thinking is therefore a "pragmatic approach that prefers experiment to theory" (p. 19), but with customer expectations determining the extent and nature of the experiments.
The micro-cycle operates within a "macro-process" or overall development methodology realized by iterating a set of micro-cycle prototypes: the "dark horse" (visionary, seemingly improbable); the funky (integrating divergent and convergent design ideas); the functional (complete enough to uncover finalization issues); the "X-is-finished" version (when a single, complex design element works); and the final prototype (ready for manufacture). Design elements can occupy different prototype states at different times, allowing them to be optimized wherever they are within the overall macro-process.
Design thinking emphasizes a tactile, visual approach, especially early in the development process, to keep user experience concretely embedded in the designer's mind: "Design thinkers prefer to work visually. Instead of logging data and information into computer systems, they cover walls with Post-its. Instead of talking about abstract concepts, they quickly build prototypes" (p. 24). Given user frustration with products and services, the need for design thinking is obvious, and its growing impact is encouraging. Hence the importance of Design Thinking: The Handbook: it both provides tools and techniques for design thinking and illustrates the principles of usability advocated within through its own layout and organization, and so serves as its own best recommendation.
Donald R. Riccomini
Donald R. Riccomini is an STC member and was a senior lecturer in English at Santa Clara University, where he specialized in engineering and technical communications. He previously spent twenty-three years in high technology as a technical writer, engineer, and manager in semiconductors, instrumentation, and server development.
Communicate with Mastery: Speak with Conviction and Write for Impact
J.D. Schramm with Kara Levy. 2020. Wiley. [ISBN 978-1-119-55009-9. 212 pages, including index (hardcover).]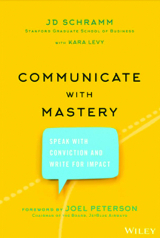 Communicate with Mastery: Speak with Conviction and Write for Impact is a good personal library addition if you appreciate how important it is to communicate clearly and effectively in dealing with clients, customers, and other business professionals. The book is divided into three sections focusing on a different communication aspect. Each section provides excellent guidance for someone wanting to improve their communication practices with the last third providing significant tips and resources.
Know Your Audience is one of the key messages with which technical communicators should be familiar. J. D. Schramm reminds us that engaging your audience is almost as important as the words themselves. He then explains ways in which you can tailor your message to suit a specific speaking occasion. While the book is mostly focused on oral and visual presentations, the chapter on writing for impact is a good refresher for any writer looking to brush up their skills.
Since we are immersed in such a visual culture, the discussion shifts from a focus on writing to that of a visual focus: presentation, performance, and delivery. The advice is straight up from public speaking books—good posture, eye contact, gestures—and Schramm's experience working with Stanford College students to deliver award-winning TeD Talks. Enthusiasm goes a long way in getting an audience immersed in the words and images you are communicating. The message, while important, isn't usually enough to engage people to act!
Communicate With Mastery has an excellent chapter on tailoring your communication goal. Schramm points out how easy it is to engage an audience using storytelling and how you can weave stories together into a presentation, so they don't seem overused or inappropriate. There's also some good advice about how to use visuals to reinforce main points, but I felt there could have been some additional information about designing such visuals.
The discussion on leadership covers what it means to be in control of a speaking situation. This comes by way of promoting and reiterating to your audience the positive aspects of yourself and the benefits of your presentation. Being in control in speaking, for example, is narrowing your focus and fine-tuning the three areas most important for information presentation: verbal, vocal, and visual. Just being conscious of verbal fillers such as "yea" and "um" and "like" means that you are gaining awareness of what it takes to be a more effective speaker.
All in all, Communicate With Mastery provides excellent direction for the individual seeking to develop the communication skills necessary in a fast-paced business environment. It's a tight, concise presentation that enhances its usability and makes it a fine first addition to any business communicators' library.
Lynne Cooke
Lynne Cooke is currently a Clinical Assistant Professor at Arizona State University where she teaches courses in technical communication, digital writing, and usability. She has presented at several STC conferences and has published two articles on eye tracking in STC's Technical Communication journal.
Inside Paragraphs: Typographic Fundamentals
Cyrus Highsmith. 2020. 2nd ed. Princeton Architectural Press. [978-1-61689-941-7. 104 pages. US$19.95 (softcover).]
As a beginning student of typography, have you felt confusion and dismay when tackling a detailed, rules-heavy book on the subject? Well, take heart. Type authority Cyrus Highsmith has published a short, highly visual book that illustrates the fundamental principles and no more.
At the same time, it can serve well as a review text for experienced communicators. And the author makes the study of typography feel worthwhile: "good typography does more than make text legible. It can add depth and character to the presentation" (p. 101).
Highsmith's six chapters show how elements of paragraph design—specifically, white space—can enhance readers' experience. He briefly examines Gutenberg's innovations to show how type works, focusing on the white spaces within a letter, between letters, between words, and between lines. He goes on to show how spacing impacts the reading process.
The core of the book is the four chapters on letter space, white space and line space, paragraph settings, and fine tuning. In most page spreads, Highsmith places explanatory text on the right and graphic examples on the left. This here's-how-it's-done approach lets you experience one moment of gotcha after another, much as when we read through a book published by America's Test Kitchen to see just why each step of a recipe works.
We learn, for example, the principle of tempo within a paragraph, to which other authors don't even allude: "Tighter spacing equals a fast tempo, while looser spacing results in a slow tempo. To maintain an even flow . . . the tempo should be consistent in each part" (p. 79). Much is said about hyphenation and justification: "Justification settings have the potential to undo the careful work that went into determining the appropriate tracking on the overall paragraph settings. Therefore, in the justification settings . . . set the optimum letter space to 0%" (p. 95).
Interestingly, Highsmith has designed the fonts used for the body text and headings in the book. He goes on to hand-letter all captions for the many illustrations. The font devised for this purpose, unfortunately, is hard to read.
Although the book is short, it would have been a good idea to include a topical index of perhaps two pages. The student wishing to review, for example, the advice about tempo might not recall that it's located in the middle of the chapter on paragraph settings.
If I want more detailed discussions and expansion upon typographic niceties, I turn to Robert Bringhurst, whose bible on type, The Elements of Typographic Style, is now in its fourth edition (Hartley & Marks, 2012). But if I want to introduce typography to students or do a fast lookup on a topic, I pick up Inside Paragraphs.
Avon J. Murphy
Avon J. Murphy is an STC Fellow and technical editor in western Washington. A retired college professor and government writer, he is a contractor and principal in Murphy Editing and Writing Services, specializing in computer and Web technologies. Avon served as book review editor for Technical Communication for 17 years.
Teaching Content Management in Technical and Professional Communication
Tracy Bridgeford, ed. 2020. Routledge. [ISBN 978-0-367-18126-0. 248 pages, including index. US$44.95 (softcover).]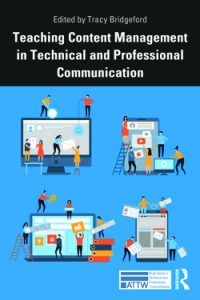 My first reaction when seeing Teaching Content Management in Technical and Professional Communication was, "It's about time." Instruction on content management (CMS) and structured authoring should be integrated into every aspect of technical communication curricula. Every graduate needs a basic understanding of these industry standards and concepts if they are to function in the current workplace.
In Chapter 2, Saul Carliner maps the importance of this coursework to the competencies a typical technical communicator needs. The best chapters in the book were the ones where the chapter authors included specific examples of assignments and explained why they are important. Instructors can take the examples and easily adapt them to their existing courses.
Chapter 8, which discussed inclusive audience analysis, gives excellent advice about this sometimes-touchy topic. The chapter would have benefitted from connecting the dots more clearly between internationalization (which, at its heart, is about removing cultural bias) and inclusivity. Chapters 9–11 provide additional concepts on structured authoring, project management, and global readiness that instructors should incorporate into every aspect of their coursework. The Afterword looks forward toward Content 4.0 and its implications for how we teach technical communication.
I took issue with two themes in the book's introduction and in Chapter 1: First, that CMS is new. It's not. The concept has existed for as long as filing systems and library science have, and the technology has existed for decades. Frankly, academia has been slow in responding to this trend. Second, the technology is "out of the cognitive reach of most technical communicators" (p. 30). The condescension oozing from that statement almost made me quit reading. Academia really needs to stop promulgating these negative views of our profession. They aren't true and are extremely damaging. In addition, I was disappointed to see so many references that were 10–12 years old. The technology has advanced significantly in the past 5 years, as has level of complexity and the way we approach our work in industry. This is an area that requires constant updating.
Every technical communication program should incorporate structured authoring and content management concepts into every aspect of the curriculum. As the authors demonstrate, you can weave these concepts into existing courses easily. Some of the assignments could be adapted for corporate workshops as well.
Katherine (Kit) Brown-Hoekstra
Kit Brown-Hoekstra is an STC Fellow and former Society President, and award-winning consultant. As Principal of Comgenesis, LLC, Kit provides consulting to her clients on localization and content strategy. She speaks at conferences worldwide and publishes regularly in industry magazines. She recently edited The Language of Localization. Her blog is www.pangaeapapers.com.