On the Cover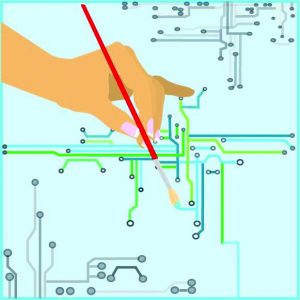 ARTIST'S NOTES
I made this design, keeping in mind traditional ideas of art and technical communication. A paintbrush is a classic representation of art because of the amount of creativity and skill that goes into painting. I chose a computer board because of its association with technology and complexity—two things that are associated with the jobs of most technical writers. In tying the two ideas together, I emphasize that technical writers put more than just technical skills into communicating.
About the Artist
Mykaela Chaffin is an undergraduate student at Eastern Kentucky University studying for a degree in English. Along with her degree, she is pursuing a certificate in technical writing, a minor in visual media, and a certificate in Japanese. She enjoys reading and hopes to work as an editor in the future. She is available at mykaela_chaffin7@mymail.eku.edu.
Honorable Mention

ARTIST'S NOTES
I wanted to illustrate the creativity of thought that is not always associated with technical writing or communication. It was all hand drawn on a digital tablet and transferred over as a jpeg. The image is supposed to represent a stream of thoughts and ideas flowing out of a person's head as they communicate over a social media website. The hair, obviously, is meant to embody all of the artistic aspirations of a student, teacher, or any professional where technical communication is relevant in their field.
About the Artist
Jonathon Collins is a graduate assistant at Eastern Kentucky University, where he finished his undergraduate education earlier this year with a Bachelor of Arts in English. He is pursuing a Master of Arts in English Literature and has a deep interest in 20th century American literature. He lives in Richmond, Kentucky, and plans on teaching at the university level after finishing school. He is available at jonathon_collins168@mymail.eku.edu.