On The Cover

ARTISTS' NOTES
The recent pandemic has drastically changed our routines, habits, and above all, the way we communicate. In a society that is more connected than ever before, we struggle to efficiently adapt to and overcome the challenges brought by this health crisis. Among the sea of information that floods both our devices and our consciousness, the simplest and most efficient message, besides social distancing, is to wear a mask. It protects you and others around you to an extended degree. It also communicates that you care and that you are doing your part. The multitude of masks of different shapes, sizes, and colors is a testament to an old common knowledge regarding human beings: no matter what our individuality looks like, we are stronger when we come together. Communicating public health and safety in a crisis can look like a lot of things, but at its essence, it can be best illustrated by our sense of collectiveness and community. That is how we got through difficult times in the past, and that is how we will do it again.
ABOUT THE ARTIST
Marconi Douetts is an undergraduate student at Kennesaw State University, where he studies interactive design. This Bachelor of Science degree provides students with the skills needed to serve as interaction designers and user interface designers. Marconi is passionate about visual communication and the study of human behavior. He is available at amarconi@students.kennesaw.edu.
Honorable Mention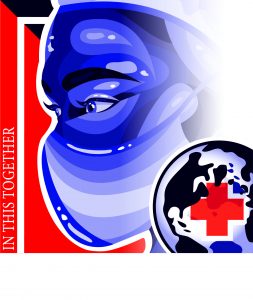 ARTISTS' NOTES
During the year of 2020, we witnessed how everyone plays a role in public health. I wanted to do my part and create an illustration promoting public health during this crisis. I also wanted to give thanks to the workers such as nurses, doctors, and researchers. They are doing a massive amount of work to save lives and get the community out of this terrible situation. I ultimately wanted to remind the audience that we are currently in a pandemic, and that everyone has a responsibility in this crisis.
ABOUT THE ARTIST
Kenric Kalpen is studying interactive design as an undergraduate student in the College of Humanities and Social Sciences at Kennesaw State University. This Bachelor of Science degree involves learning technical, theoretical, and problem-solving skills. These concepts are important to be a successful interactive and user interface designer. Kenric enjoys exploring interesting new topics that benefit his creativity. He is available at kkalpen@students.kennesaw.edu.