Speakers
Start
April 9, 2020 - 2:00 PM
End
April 9, 2020 - 3:00 PM
Mind the Maps: Connecting People Who Are Blind or Visually Impaired with Geographic Contexts
For the sighted, visual maps efficiently depict distinct features, such as landmarks, as well as structural information, such as distance between places, and even the relative directions of those features compared to others, which all can be assessed with a glance (Stock, Peterson, Hancock, & Verdi, 1995). We found this to be interesting terrain for scholars with various research agendas, including in technical communication, new media, media accessibility, disability rights, and Universal Design.
In this webinar, we will discuss our mixed-methods approach into Audio Description research of maps included feedback from diverse blind, visually impaired, and sighted stakeholders. We will also share how we tested these insight through field work, complemented by multiple interviews and focus groups.
Join us as we showcase the digital tools we developed – including open-source software and free mobile apps – for iterative testing and sharing of ideas, primarily at U.S. National Parks.
About the Presenter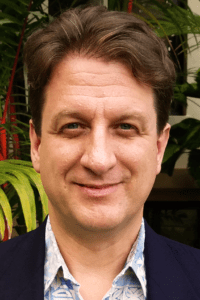 Brett Oppegaard, an Associate Professor at the University of Hawai'i, has earned such accolades as the Dr. Margaret Pfanstiehl Achievement Award from the American Council of the Blind, for his Audio Description research, the U.S. National Park Service's George and Helen Hartzog Award, for research into mobile app development and media delivery systems, and the national John Wesley Powell Prize, for outstanding achievement in the field of historical displays. For this work, his research has been supported by federal agencies, such as the U.S. National Endowment for the Humanities and the U.S. National Park Service, but also by private foundations and corporations, such as Google.
His research projects include collaborations with more than 75 national park sites throughout the country, including with America's first national park, Yellowstone, and Harpers Ferry Center, the Interpretive Design Center of the federal agency.
He works in the School of Communications, within the College of Social Sciences at the University of Hawai'i's flagship Mānoa campus in Honolulu, HI.
Frequently Asked Questions
When do education events take place?
Webinars are held every Wednesday afternoon from 2-3 PM EDT/EST (GMT-4/5).
A majority of online courses are held Tuesdays-Thursdays between 10:00 AM-1:00 PM EDT/EST (GMT-4/5), as to not conflict with webinar times.
When will I receive the GoTo Webinar/GoTo Meeting instructions for an event?
Registered attendees will receive the GoTo Webinar instructions three (3) hours before the webinar begins.
Registered attendees will receive the GoTo Meeting instructions one (1) day before the online course begins.
To participate in a webinar and an online course, you must be able to access GoTo Webinar or GoTo Meeting, STC's online meeting space. Check system requirements for GoTo Webinar and GoTo Meeting prior to joining. GoTo Webinar and GoTo Meeting are a standard web seminar tool (no separate download required) and all you need is a reliable Internet connection and phone line, or a computer with VoIP capabilities.
I registered for an online course, what are my next steps?
Once you register for an online course, you will receive a confirmation receipt that day. A majority of our online courses uses Moodle, STC's course management site, which attendees will receive the login instructions two (2) days before the course begins.
If you cannot access Adobe Connect and/or Moodle (as needed), then you will not be able to successfully complete an online course.
I registered for a webinar, but will be unable to attend. Will a recording be available?
If a registered attendee is unable to attend a webinar that day, they will receive an email with a link to the recording, and an evaluation link along with the PDF of the presentation.
I registered for a webinar and/or an online course, but cannot attend at that time. Will I receive a refund?
If a registered attendee is unable to attend a webinar and/or an online course, the cost is transferable to a future event, but is not refundable. Online registration closes one-two business days before the education event begins.
I want to take a specific course that isn't listed online. Will it be offered in the future?
STC rotates its courses every year as we try to offer the most popular ones within the first half of the year. Online courses are subject to change or are offered more than once per quarter. If a course is not listed, STC will offer it again in the following year.
Have an Education Question? Contact Us!
MORE DETAIL