By Jessica Kreger | STC Senior Member
Your technical editing skills can be an asset in the finance industry. Find out how to cash in and apply your skills in this profitable field. Learn the basics of a technical editor's job in finance. Review general editing guidelines, plus specific writing examples that are acceptable from a regulatory standpoint. We'll cover the roles of U.S. regulatory agencies, writing for an international audience, and resources for maturing your financial industry knowledge. This paper will add to your knowledge of this high-interest topic, by summing up the wealth of editing opportunities the financial industry affords.
My job is to manage the technical documentation team at TradeStation Technologies, an award-winning online brokerage firm based in Plantation, FL. My technical documentation team and I empower traders by accurately documenting the cutting-edge technology that TradeStation provides, and by describing the complex financial information customers need to succeed. With the right training and using the tools and techniques described in this paper, you too can learn how to reap dividends in the financial world, by honing skills you already have as a technical editor.
Writing for Traders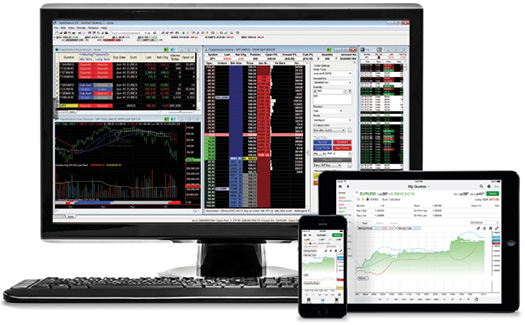 Before you begin technical editing for any financial product, it is essential to learn about the clients and markets. For example, my company, TradeStation, offers multi-channel trading through desktop, Web, and mobile apps, as portrayed in Figure 1.
We specialize in three asset classes: equities, options, and futures. We pioneered EasyLanguage, an object-oriented programming language that clients use to customize their trading strategies, and also offer a TradingApp store, an online marketplace where you can create, find, and share apps.
Our laser focus is on active traders, and our objectives include: supporting our business goals, informing clients on product usage to empower them to trade now, and enhancing client satisfaction for retention. We produce context-sensitive help for all of our platforms (see Figure 2), and also provide printed quick-start guides and client FAQs. We document EasyLanguage for advanced traders, as well.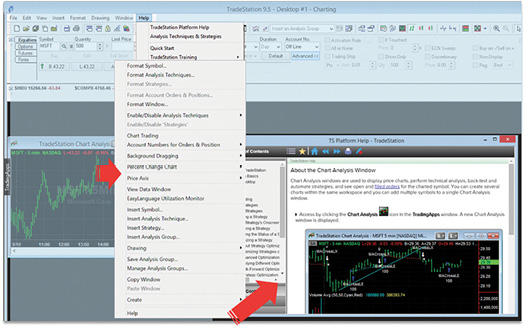 We work in an agile development environment in two-week sprints and use the MadPak Professional Suite by MadCap Software. I presented at the MadWorld Technical Communication and Content Strategy Conference in April 2016 in San Diego on translation management.
Editing Guidelines
My team and I support our clients through reference material. My team does not communicate directly with our clients or offer brokerage advice, because our help writers are not registered brokers. We do not purposely offer any suggestions, as you can see in the following examples of user documentation:
✓ "To place an order, enter a symbol in the Symbol box and click Buy." This is acceptable, because it is telling the client how to use the tool.
✓ "To place an order, enter a symbol in the form of AAAA in the Symbol box and click Buy." This is acceptable, too, and is even better. AAAA is an example of a symbol and provides useful instruction in the format the client must enter.
Χ "To place an order, enter <pick of the day> in the Symbol box and click Buy." This is not acceptable. We can't suggest what you should buy.
✓ "Trading hours are 9:30 a.m. to 4 p.m. Eastern Time." This is acceptable.
Χ "The best time to trade is <pick your favorite time>." This is not acceptable. We can't suggest what time you should trade.
Style Guidelines
On a day-to-day basis, I write and I edit just like other writers do. These additional style guidelines will be familiar to you.
We maintain a user-focus (we focus on active traders) and use a topic-based approach. This means using the tools of information architecture to chunk information into digestible topics.
Like journalists, we use the inverted pyramid approach to put the most important information first in any topic. When possible, we user test and mine analytics to continuously improve our documentation based on what our users search for. Usability gurus Susan Farrell and Jakob Nielsen recently released a new book, User Experience Careers: How to Become a UX Pro, and How to Hire One, that includes valuable advice for developing user experience (UX) skills, both formally (in the classroom) and informally (outside of school).
You may have noticed that in the past few years some of your bank and credit card statements have become easier to read and lot less cluttered and less wordy. That is because there is momentum in the industry to use plain language, an active conversational tone, and Simplified English. To learn more about streamlining your style, see Ginny Redish's book Letting Go of the Words, Second Edition: Writing Web Content that Works.
Beyond the words, in financial editing we try to avoid chartjunk, a term Edward Tufte coined in his seminal book The Visual Display of Quantitative Information. Chartjunk refers to extraneous information, such as distracting colors, symbols, and lines that take away from the purpose of a chart. Tufte's newer book, Beautiful Evidence, is another great resource for elegantly explaining and presenting data.
Market Breadth
Although many editing guidelines are the same throughout the finance industry, the industry itself has many different options on the chain. Within the finance world, there is tremendous market breadth. There are different tools, audiences, and products to take stock of for trading, financial advising, banking, credit, mortgage, accounting, and more. And there's a whole new industry called FinTech, short for financial technology, creating new business solutions, ensuring opportunities for technical writers.
Industry Knowledge
Launching your professional network can help you chart your path. You never know where you might end up. For example, one savvy investor, Laurie Itkin, became a money manager as a second career, wrote a book Every Woman Should Know Her Options, and is now known as the Options Lady for her work educating women to become successful investors.
In addition to the Society for Technical Communication (STC) and the Technical Editing Special Interest Group, I have also belonged to the International Association of Business Communicators (IABC). Like STC's Certified Professional Technical Communicator (CPTC) program, they are developing a new ISO certification program, following international standards. The Association for Women in Communications (AWC) is a broad group for women in all disciplines in communications.
Market Depth
To learn specifically about the finance industry you have to invest your time, but it's worth banking the hours to get to the top. Keep wearing that investigative journalist hat, and ask questions. If you already work in finance, shadow people in all of the main departments in your company for an hour—my company calls these shadowing sessions ride-alongs. You'll learn about the business, the industry, and the clients. Find a mentor to teach you.
On the micro-economic scale, one of the trickiest parts to any new industry is mastering the acronyms. Make your own glossary or find one that defines terms that are specific to your niche. You'll need to master these to understand the concepts behind them.
On a macro-economic scale, I've found watching the finance news stations to be an easy and fun way to keep a pulse on the industry. You can also check out publications like Barron's for general market knowledge, Investor's Business Daily (IBD), Bloomberg Markets, and tutorials or videos on areas on which you want to focus.
If you're interested in transitioning to the finance industry, you might want to scout the job descriptions online and develop the qualifications you need to diversify your editing portfolio. To learn the lingo, you could join an investing club or enroll in a program like the Online Trading Academy, which teaches investing and trading using the TradeStation platform, online or onsite. Additionally, TradeStation has its own University with videos, a daily market briefing, webinars, and more (see Figure 3).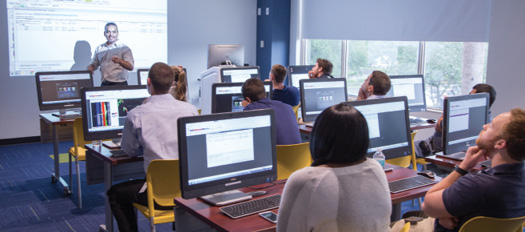 Regulation Nation
You may need to watch and create many instructional videos to ramp up your financial knowledge and share it, but when you're an editor in the finance industry, your clients and potential clients aren't the only ones watching you. There are several regulatory agencies in your audience. Here are a few examples of regulatory agencies:
Commodity Futures Trading Commission (CFTC);
Financial Industry Regulatory Authority (FINRA);
National Futures Association (NFA); and the
Securities and Exchange Commission (SEC).
We can tell our traders what the features of our platforms are and how to use the tools, but they use them at their own discretion and risk.
Global Economy
Although we live in a regulation nation, we operate in a global economy and empower active traders around the world. Monex, TradeStation's parent company, is based in Japan, and we have international brokerage partners that are regulated by their own exchanges. We manage multiple language versions of our software with different features and help systems for each (see Figure 4).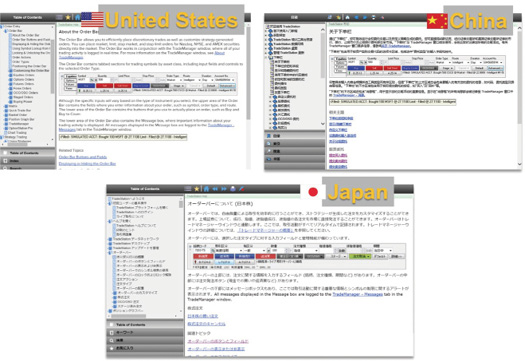 A Wealth of Benefits
Working with a geographically dispersed team both in the United States and abroad is exciting. The most important thing to remember is which time zone everyone is in. And there are a world of other benefits to cash in on when working in the finance industry. You're around educated, fun people, and you're always learning and growing. Keeping your mind sharp is one of the highest dividends in my book. Since no two days are ever alike in the market, you're always on your feet. And to me, that's a major asset.
Resources
Barron's (3 August 2016). http://www.barrons.com.
Bloomberg Markets (3 August 2016). www.bloomberg.com/market.
International Association of Business Communicators Certifications (3 August 2016). https://www.iabc.com/professional-development/certification.
Investor's Business Daily (3 August 2016). http://www.investors.com.
MadPak Professional Suite (3 August 2016). http://www.madcapsoftware.com/products/madpak.
MadWorld (3 August 2016). http://www.madworldconference.com.
Online Trading Academy (3 August 2016). http://www.tradingacademy.com.
Society for Technical Communications, Technical Editing Special Interest Group (3 August 2016). http://www.stc-techedit.org.
TradeStation University (3 August 2016). http://www.tradestation.com/education.
References
Farrell, Susan, and Nielsen, Jakob. User Experience Careers: How to Become a UX Pro, and How to Hire One (West Conshohocken, PA: Infinity Publishing), 2016.
Itkin, Laurie. Every Woman Should Know Her Options (San Diego, CA: The Options Lady Press), 2014.
Redish, Janice (Ginny). Letting Go of the Words, Second Edition: Writing Web Content that Works (Waltham, MA: Elsevier), 2012.
Tufte, Edward R. The Visual Display of Quantitative Information (Cheshire, CT: Graphics Press), 2001.
Tufte, Edward R. Beautiful Evidence (Cheshire, CT: Graphics Press), 2006.
JESSICA KREGER (jkreger@tradestation.com) leads the technical documentation team at TradeStation to publish information that empowers active traders around the world. With over fifteen years of experience in communications, she has worked at Dell, the University of Miami, Carnegie Mellon University, and Alcoa. Jessica is passionate about creating optimal user experiences. She earned an MA in Professional Writing from Carnegie Mellon and a BA in English from Penn State. She is an STC Senior Member and belongs to the Technical Editing SIG.