By Lisa Meloncon | Senior Member
Technical communicators have long worn many hats with many different job titles. The skills we bring to any communication problem can move easily across technical domains. Thus, health information and patient education offer opportunities for an alternate career path for technical communicators. The federal government has identified health communication "as a critical area," as seen in the continuation of this focus in HealthyPeople2020 and the Agency for Healthcare Research and Quality (AHRQ) (www.ahrq.gov). Other high-profile nonprofit funding initiatives, such as the Patient-Centered Outcomes Research Institute (www.pcori.org) and the Institute for Patient-and Family-Centered Care (www.ipfcc.org), also point to the increased importance of communication in health care. The Bureau of Labor Occupational Outlook Handbook demonstrates the demand for health communication professionals, listing the following careers and their career growth for 2010–2020:
Health educators—37%
Medical and health services managers—22%
Health information specialists—21%
More specific to issues directly connected to technical communication, AHRQ has reported that a total of 90 million Americans lack the health literacy and numeracy skills to productively participate and engage in their own health care. And as we well know, technical communicators are adept at producing and designing information that can be understood by specific, targeted audiences. With this growing need for health communication specialists, the question becomes: how do technical communicators participate? What can we do to enter/contribute to this discussion?
The answer? We apply our knowledge of user experience to the area of conveying technical information to patient. The approach? It's something I call patient experience design (PXD), and in what follows, I explain how PXD developed and what it is. I then describe why it matters and provide strategies for how technical communicators can use this approach to move into health communication and patient education careers.
Moving Toward a Definition
Over the last several years as I've done more work in healthcare, and in that work—both creating information and researching communication problems—I've struggled even more to explain what I do to a wide array of collaborators. Most every technical communicator has struggled with the question"what do you do?", but I found this question even harder to answer in the health and medical domains. The difficulty often connected with trying to get people to understand that, while many write health information or patient education materials, having a communication specialist can improve the quality of that information and increase the likelihood of patient understanding and use. For a while I found myself falling back on the tired and partial metaphors found in technical communication's history, using phrases such as "translator" or "bridging the gap between doctors and patients," or using "health literacy" as a catchall term since most health care professionals thinks they know what it means.
But I found these explanations exhausting, incomplete, and totally unsatisfying. Even though I have never been an advocate of neologisms, particularly for the sake of simply putting a new name to something that is fundamentally not new, I found myself creating a new term: patient experience design (PXD). At the start of a project, and for the first time in my experience when I was done describing what I do, everyone in the room understood. The patients, doctors, nurses, designers, hospital administrators, engineers, and students (from a variety of disciplines) all understood what I brought to the team. So how did I land on this term?
In its landmark 2001 report Crossing the Quality Chasm, the Institute of Medicine (IOM) identified patient-centeredness as one of six aims for the healthcare system. They defined patient-centeredness as providing care that is respectful of and responsive to individual patient preferences, needs, and values, and ensuring that patient values guide all clinical decisions. This emphasis and fore fronting of the patient is reminiscent of the primacy of the user in user experience. Thus, patient centeredness and user experience intersect and complement one another, which makes merging user experience with patient centeredness an easy and logical next step. See Figure 1 for one conception of how different domains and skills within those domains intersect to form PXD.
Working with patient information and education materials, I kept returning to user experience, such as usability, audience, interface design, and plain language. Moreover, user experience recognizes the importance of the person's attitudes, behaviors, and emotions as they interact with a company or a product. All of these things are key factors in whether and how a patient will use and engage with information and education materials.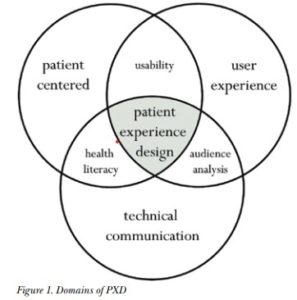 While patient safety and healthcare technology research has begun to integrate UX perspectives, those creating and researching patient information and education materials have been slow to adopt the user experience framework. Technical communicators can intervene in patient experiences by incorporating user experience principles and practices and through these practices improve patient engagement. In this sense, patient engagement can be seen as reducing no-shows to appointments, improving medication adherence, or increasing literacy and numeracy of specific information related to their health, or improving the efficiency of patient record portals.
Defining PXD
Patient experience design (PXD) is a collaborative space for patients, families, caregivers, and healthcare professionals to provide their insights and knowledge into the information design process and distribution of patient information and education materials. This information design process should be iterative as materials are written and designed and then distributed and, most importantly, when any changes in clinical practice can affect information and outcomes. Unlike other industries that often claim true user experience design is too expensive because of the time and effort it takes to find and incorporate users into the process, health care has a captive system that, with minor alterations, also has access to the exact population of users needed to test and help design patient information.
PXD is concerned with improving patient engagement and outcomes through education and communication that is focused on patient experiences and knowledge in conjunction with the usability of information and technology. Patient experience design incorporates an adaptive collaboration model between patients and other participants (such as doctors, researchers, technical communicators, nurses, clinicians, and others) in the design of patient education materials, and at its center it focuses on the quality of life and perceptions of the patients. This orientation means the primacy of how information is designed has the potential to improve health literacy, health numeracy, and patient comprehension.
Health information must be timely, accessible, accurate, and understandable. The proliferation of information found online and accessed via mobile devices increases this demand. Thus PXD can be an integral part of overall health outcomes because it can help patients
Better understand their own health and treatment,
Maintain their own health records, and
Facilitate care options by participating in shared decision making.
Patients who can understand, maintain, and facilitate their care more easily could potentially achieve two important goals in healthcare: getting better outcomes for patients through compliance, particularly for patients with chronic conditions, and through prevention by reducing overall heathcare costs. Providing patients with health information that they can use potentially enables both of these, and both are enabled by PXD.
A particular hallmark of PXD is its ethical dimension. As Carolyn Miller has argued, the creation of technical information is a matter of conduct rather than simply a matter of production. In other words, communication, particularly health communication, is a social action connected to other actions and activities that necessitates that the information can be used by those who need it most. This necessity has an implicit and explicit ethical dimension and moral obligation.
Importance of PXD to Technical and Professional Communication
PXD provides a defined path for technical communicators to be involved in the development of patient education. The field has long advocated for taking our skills and expertise into new areas, but in this case, PXD provides us the moment to better articulate the specialized knowledge we have in a new arena. Rather than simply calling this movement an extension of technical communication, I encourage technical communicators to think of it as the advancement of foundational skills and concepts into a new arena—thus, an ideal articulation of the work that we do.
In his editorial for the August 2014 issue of Technical Communication, Menno de Jong encouraged technical communicators to move toward theory. One area that he posited could be a theoretical direction is examining the relationships of usability with the overall user experience. A potentially rich area where this sort of exploration can be done is in the healthcare sector, where patient's interactions with information and technologies can provide a delineated approach to understanding their appreciation of how information and technology guide their experiences of health care. We have the potential to take existing ideas and build new theories and/or to test existing theories in hopes of creating generalizable knowledge. We can also improve scientific research methods to better account for the qualitative aspects that are necessary to fully test patient experience design. The vast amount of data that can be collected throughout the process should shed light on how to design patient experiences.
PXD is also important in a strict usability sense as more and more applications are being made in the healthcare market. The usability and patient experience of such things as electronic health records, websites, apps, and patient portals fully fit into the realm of technical communication. But when these things are used in addition to highly specialized information, then it becomes a paramount concern that technical communicators become involved. Through patient experience design, we have the opportunity to be part of the entire process including developing ways to "test" the comprehension of patient information from a variety of sources. For example, nutritional information is often unheeded because in many cases the patient's experiences, existing knowledge, biases, and emotions haven't been fully considered, nor have the complex cultural dimensions of food and eating. By focusing on PXD, technical communication could potentially provide a huge value added dimension to the delivery of care.
Patients' perceived use or non-use of information guidelines, medications, protocols, etc. has long been a concern to medical practitioners, and most interventions designed to help alter or change behavior have had little effects. For example, areas such as the underuse of certain technologies like personal health records, daily checks of blood pressure, or those diabetics who fail to test as often as necessary are all important areas where technical communicators using PXD could intervene. In each of these examples, a focus on PXD following the long-standing and tested techniques of usability could provide important dimensions to delivering health care. The patient's perception, emotions, knowledge, and the perceived usefulness of a product, information, medication, or technology is key to the potential of adherence, compliance, or if a behavior change can improve health outcomes.
How to Move into PXD
Using PXD to make the move into health communication and patient education is not as difficult as one might think. The medical healthcare complex has numerous opportunities for entryway into this area. Technical communicators have the skills necessary to work as patient experience designers in relation to patient education materials, internal communication specialists, marketing specialists, public relations, Web content strategists, and communication directors. In other words, hospitals, insurance companies, health practitioner groups, physical therapists, lab companies, and home health companies are just a few examples where technical communicators can look to find jobs that take their technical writing skills and move them into a different direction. Recent alumni of degree programs in technical and professional writing who work in the healthcare industry have job titles such as communication specialist in patient services, director of publications, health communication specialist, medical writer, Web editor for special projects (in a hospital system), and human resource communication (in an insurance company).
Other than knowing where to look, you can build a mini-portfolio in this area by volunteering at local nonprofits or in free community centers or clinics that offer health and wellness services. You can take a class on medical and science writing, many of which can be found in technical and professional writing programs and most of which have client-based projects that will give you an idea of whether this is a job for you. And finally, the next time you or a family member goes to the doctor and you're handed some sort of information (or told to read something online or watch a video), you can offer to update that material (because chances are it needs it!).
LISA MELONCON (meloncon@tek-ritr.com) is an STC Senior Member and associate professor of technical and professional writing. Her main interest is in health, environmental health, and medical communication, and the impact of communication in delivering complex information to lay audiences. She also owns a technical communication consulting firm.