If you are a technical communicator familiar with DITA, you can use your skills to optimize video production
If you produce video content, you know how time consuming it can be to film, edit, publish, and maintain videos. While there are various best practices for optimizing video documentation, it is ideal if technical communicators can port their existing expertise. Enter Darwin Information Typing Architecture (DITA)!
In this article, I will explain how applying various DITA principles, such as content architecture, topic-based authoring, and minimalism, to the video production process has helped me develop and establish standards and streamline the content for video production and maintenance.
Demand for Video Content in Technical Documentation
DITA, the Extensible Markup Language (XML)-based standard for content authoring and publishing, is widely used by almost 150,000 technical communicators, according to data from LinkedIn.1 Over the years, apart from developing content, technical communicators have assumed the roles of information architects, editors, instructional designers, content owners, illustrators, project managers, and increasingly video content creators.
In 2018, when my team was moved under new management, one of the phrases that we kept hearing was "increase in creating video content." Although my team was producing some videos at this point, we believed that we had the scope to modernize and standardize the process.
The rise of video content and demand for explainer videos has presented a use case for technical communicators to expand their horizons to cater to the video content needs of their audience. In 2021, a Wyzowl Video Marketing statistic2 found that 96 percent of people have watched an explainer video to learn more about a product or service. About 69 percent of people said they prefer to learn about a product or a service via video content, compared to 18 percent of people who prefer to read a text-based article, 4 percent who like to view an infographic, 3 percent who would download and read an eBook or a manual, and a mere 2 percent who would get on a sales call.
Hierarchy of Video Creator Needs and User Needs for Video Documentation
When I started creating product videos for Extreme Networks' wireless hardware networking products, it was crucial to analyze the users' needs. At the same time, it was also important to understand my needs as a video producer. Therefore, I established a two-part model to determine video creator needs and user needs based on Aarron Walter's Hierarchy of User Needs.3 This hierarchy suggests that a product must be usable for the user to derive any delight from using it (Figure 1).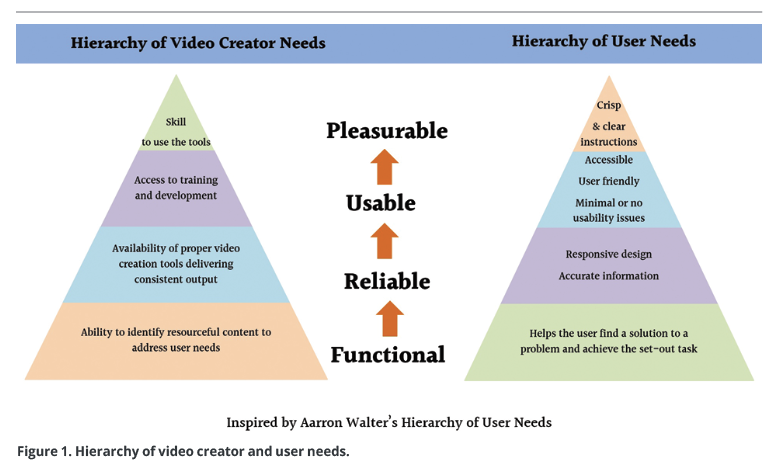 While technical communicators may be required to learn new tools to produce videos, the content creation process is not entirely unfamiliar. They can port their existing DITA skills to approach the video creation, production, and maintenance process. In my years of producing videos, I deployed my DITA knowledge and skills, and it has helped me streamline the video creation process. The three main areas where I use my DITA knowledge include:
Learning how to use DITA principles to identify appropriate content for video production
Analyzing the convergence of DITA principles and video content
Measuring content and customer success
Identify Video Content Using DITA Principles
The first step to successfully create video content lies in identifying a proper topic for video production. This ties closely with the technical communicator's ability to conduct thorough audience analysis. By understanding and anticipating the needs of the audience, the writer can determine the type of content that warrants video documentation. In this step, I will share which DITA principle works best for identifying content for video production.
DITA Principle Used: Information Typing
Information typing in DITA encourages the writer to structure the content based on the nature of the content. The three main types of content as described by DITA are concept, task, and reference. When identifying content for video production, use information typing to determine the type of video you want to produce.
Concept video: This type of video will tell your audience about a product. Examples include product introduction, new feature update, promotional and marketing videos, support information, and unboxing videos.
Task video: This type of video addresses how to use a product. It includes the steps required to install or navigate the product user interface (UI). Some examples include product installation information, software registration steps, and any type of procedural information.
Reference video: Use this type of video to state facts about a product. For instance, product specifications, software codes, command line information, safety guidelines, or product usage data are good topics for reference videos.
Convergence and Application of DITA Principles and Video Content
One of the most frequently asked questions during the video production process is, "What are some the best practices to follow when creating videos?" Let's use your DITA skills to address this question.
DITA Principle Used: Content Architecture
After you identify appropriate content for your video, it's time to put the "A" in DITA to use. Apply the principle of content architecture to create structure for your video content. How can you do this?
Standardized video scripts: Before you create any video, ensure that you have a script in hand. A standardized video script will help you determine the tools required to produce the video, content architecture for the video content itself, number of shots, and video duration. Scripts will also ensure that the overall video outline remains consistent across various products handled by your organization.
You can go even more granular by creating script templates based on your video's information type discussed in the previous section (Figure 2).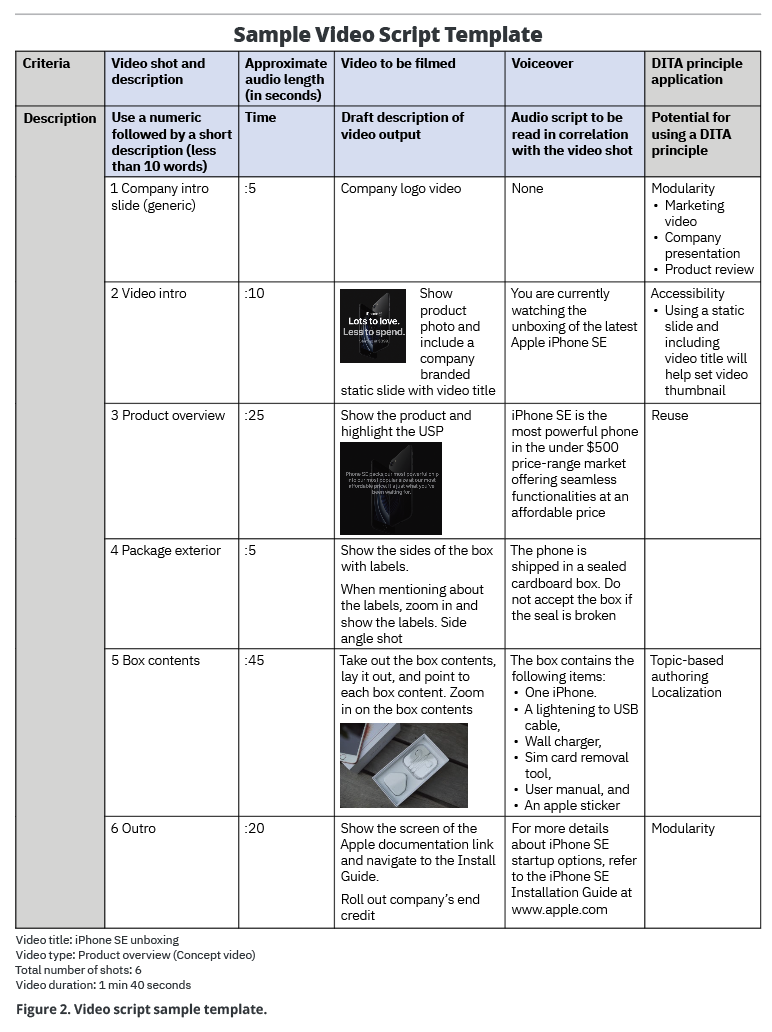 Brand design: Another important consideration is your organization's brand design. Include corporate colors, logos, and blurbs within your video content to increase brand awareness and maintain consistent video design.
DITA Principle Used: Topic-Based Authoring
One of the cardinal principles of DITA is topic-based authoring. By applying this principle during video creation, you can create smaller chunks of video content that make sense by themselves individually without being a part of the larger video content. This takes us back to information typing. A video can have components that form a concept, task, or reference topic. You can author this content as part of a single large video or create smaller videos, which ultimately leads to content reuse.
An example of this would be a common intro or outro video element that is uniform across all videos irrespective of the video content type.
DITA Principle Used: Modularity
You must bear in mind that creating modular video content may not happen during the initial few months or even years of video production. However, you can consciously create content, keeping this DITA principle in mind. Creating modular video content will ensure that you have different pieces of videos — part of a concept, task, or product reference video — that can be arranged and rearranged in different ways to create an entirely different type of video content (Figure 3).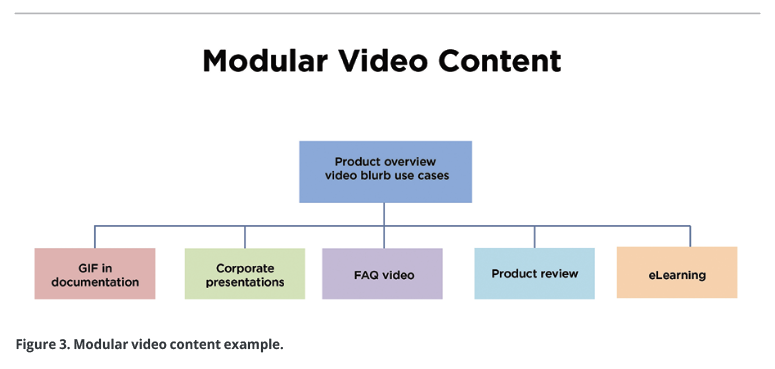 For instance, a product introduction video piece can be used in a company-wide video presentation, a product FAQ video, or a product review video. Therefore, my suggestions include keeping the following things in mind when creating video content for modularity:
Identify how a single piece of video content can be used for multiple outputs, such as animation, an infographic, FAQs video, product review, or company presentation.
Look for collaborative opportunities within your organization where video content can be deployed by different departments, such as corporate communications, sales, or marketing. Getting external stakeholders within your organization involved will also provide constructive feedback to create better content.
Create a common video repository for videos that can be accessed and used by other teams.
DITA Principle Used: Minimalism
When it comes to video content, less is more. A study by Wistia,4 a video marketing software company, found that videos less than two minutes long had the best engagement rates. I observed this firsthand on my job when I published videos that were over 15 minutes long versus videos that were less than three minutes long.
When I started implementing minimalism to my video content and adjusted the video duration, I observed a drastic jump in video views and positive feedback from the System Engineering team.
Other Consideration: Localization
When creating videos, your content must be understandable to your audience regardless of language. Whether the video uses hardware products or just a screen capture of a software product, the video must be self-explanatory to the audience and free of any language barriers.
Suggestions to keep your video script localization ready include:
Keep your content generic.
Avoid pop-culture references.
Use active voice.
Do not embed textual elements in images.
Keep your sentence structure simple.
Get your source content tested for localization by peers.
Other Consideration: Accessibility
Videos that are accessible by a large audience always perform better. When creating a video, ensure that it is accessible and inclusive to any audience that may be consuming the video. Some things to take into consideration to make an accessible video (Figure 4):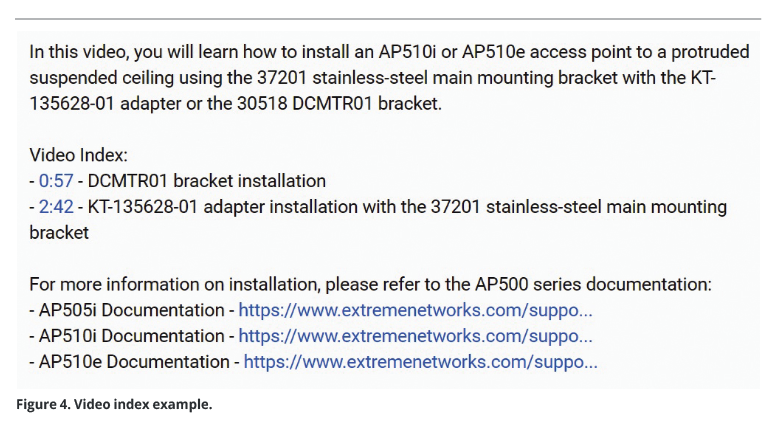 Do not use rapid-flashing content.
Include a video transcript in your description.
Create a video table of contents with timestamps to navigate the video to a specific point.
Include hyperlinks for related content in the video description.
Add closed captions or subtitles during your post-production process.
Ensure that your video is compatible for various screen resolutions.
Measure Content and Customer Success
After you publish your video, it is important to measure content and customer success to determine if your video production strategies worked. After publishing a video, promote it within your organization to create awareness. Here are some ways you can measure content and customer success:
Number of page views
Call for action usage or click for supported or related links
Direct feedback from customers
While the video production process can be challenging by itself, looking at the overall procedure with a DITA-centric perspective can make the process less intimidating. It has been a trial-and-error process for me to establish these standards for the videos I produce at work. However, deploying DITA principles has helped me streamline the video production process and establish consistency and quality when developing video content. 
References
Schengili-Roberts, Keith. 2018. "DITA Diversity in Technical Documentation." IXIASOFT. https://www
.ixiasoft.com/dita-diversity-in-technical-documentation/#:~:text=There%20are%20approximately%20150%2C000%20technical,5%20percent%20of%20the%20whole.
Wyzowl. 2021. "Video Marketing Statistics 2021." https://www.wyzowl.com/sovm-results-2021/.
Walter, Aarron. 2020. Designing for Emotion. New York: A Book Apart.
Fishman, Ezra. 2016. "How Long Should Your Next Video Be?" Wistia. https://www.wistia.com/learn/marketing
/optimal-video-length.
---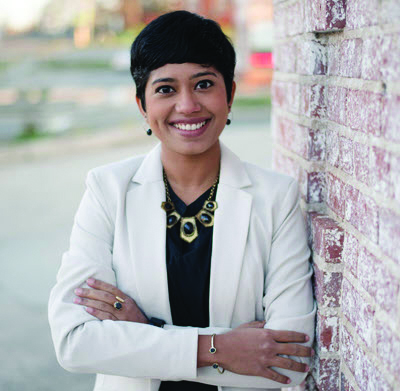 SREE PATTABIRAMAN (sreepattabiraman@gmail.com) is a lead technical writer at Extreme Networks, Inc., where she heads the documentation set for some of the company's wired applications products. Previously, she worked on creating hardware documentation and videos for the company's wireless networking product offerings. An alumna of North Carolina State University, Sree has worked on global teams and has led various initiatives to produce high-quality customer-facing documentation at her job and strives to promote technical communication in the Carolinas region. Sree is an STC board member, active STC volunteer, STC Carolina chapter mentor, past STC Carolina president (2019–2020), and a member of the Center for Information Development Management (CIDM).
---