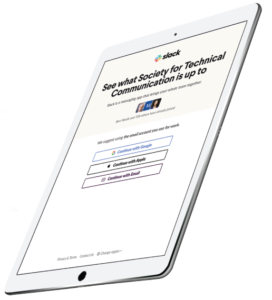 All STC members are welcome and encouraged to join the STC Communities Slack to meet, engage, and collaborate with fellow technical communication colleagues.
Get Started
First, create your Slack account. Once complete, visit https://www.stc-communities.slack.com and check out STC's workspace. A workspace is a segment of a Slack channel, to help with compartmentalizing information and discussion topics.
Slack Channels
STC has a great number of Slack workspaces. Everyone who joins the Slack will be added to these channels:
#introductions: Say hello and introduce yourself to the group.
#general: Start here for general STC and techcomm topics, questions, and conversation.
#slack-help: Get help with using STC Slack.
#webinars: Learn and join fellow STC colleagues for online education events.
#community-events: Check out what our virtual (SIG) and geographical (chapter) communities are up to.
Other Channels
#programideas: Let us know what topics and subjects we should consider for an education program.
#website-feedback: Having issues with the STC.org website or have suggestions? Tell us here.
Community of Interest (COI) Channels
We have topic-based channels for our virtual Special Interest Group (SIG) – Communities of Interest (COI) that are focused on specific subject areas within technical communication. Members of these communities are encouraged to use these channels to meet, engage, and collaborate with colleagues who have similar interests.
Conduct Guidelines (#slack-conduct)
Everyone who joins the STC Slack community is valued and should be treated with respect and courtesy. As such, we have a Code of Conduct thread that lays out the expected behavior of Slack members; it applies to all channels and areas of the STC Communities Slack workspace. We also have a thread with guidelines for Reporting Issues, for cases of conduct violations or instances where members feel certain behaviors should be looked into or addressed.
---
Visit https://stc-communities.slack.com/archives/C01FAJB8G10/p1606787932002400 for more information.
---