By Paula Robertson | STC Associate Fellow
STC members may know me as the person behind a Summit name tag.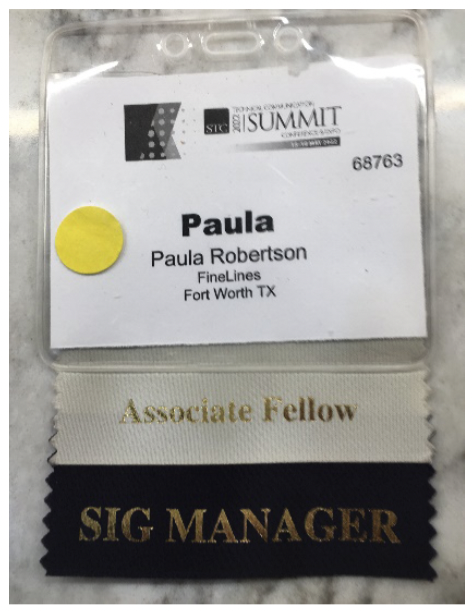 I have been in technical communication officially since 1995. That's when I started my technical writing and editing career after professional pursuits of different but complementary colors.
I became a member of STC in 2000. Since then, I have contributed to the Society locally and internationally. Currently, I facilitate the Solo Technical Communicator SIG. My motivation is to affirm how interwoven we are, for those of us who might not feel a part of the greater fabric of the profession. I also recently published a series of articles called Eye for Editing in Corrigo, the newsletter of the STC Technical Editing SIG.
My tech comm practice has been in industries as diverse as transportation, telecommunications, civil engineering, pharmaceuticals, defense, and primary and secondary education in STEM.
What you don't know about me is that my off-hours activities are as variegated as my on-hours career has been. Indeed, my formal education (Bachelor of Fine Arts in Fabric Design—weaving and screen printing) set me on a creative path into which I've woven not only tech comm expertise, but also volunteer commitments that enrich the quality of this patchwork called life.
In 1981, I was accepted into an auditioned community chorus. I tell people that it's a semi-pro choir, and I'm the "semi" part. I don't have a formal education in music, but I have many years' experience in reading and singing difficult choral music. I cannot imagine life without the rich colors of interweaving voices. I have enjoyed being one small thread in this group (with a "break" now and then) ever since.
I served on the choir board of directors several times, including two stints producing printed concert programs and brochures. Writing, editing, layout, and design skills are not just for tech comm!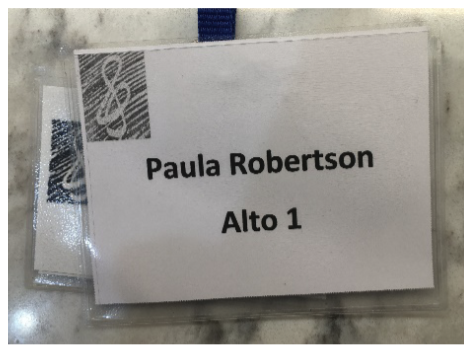 I was excited to make my first trip overseas with this group to participate in the first International Choral Festival, in Warwick, England in 1988.
When the tour ended in London, I boarded a train to experience my "homeland" Scotland, where I made a lifelong friend of a native Scot. Subsequently, I accepted the opportunity to live in Scotland. From there, I added European textures to my new-found wanderlust, including Denmark, Holland, Ireland, and France.
Upon returning to the United States several months later, I found myself homeless, unemployed, and somewhat unraveled. But the master quiltmaker had a pattern in mind. Eventually, I was hired by a major airline, with which I enjoyed air travel benefits.
My wanderlust had only just begun. I took full advantage, including trips to Puerto Rico, Canada, Peru, and Brazil. And since back singing with my choral group, I've toured Austria, Italy, Mexico, and Spain.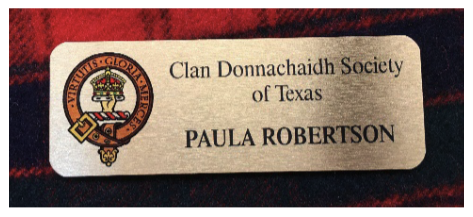 In 1994, I joined my Scottish clan society in both Scotland and Texas. In the fabric of my soul, the rich hues of the Robertson Red wool tartan embody our shared sense of home. Later, I became involved in the Clan Donnachaidh Society of Texas as newsletter editor of the Tejas Journal.
For many years, I have supported Habitat for Humanity International with my money and time, participating in builds in Alaska and my local community.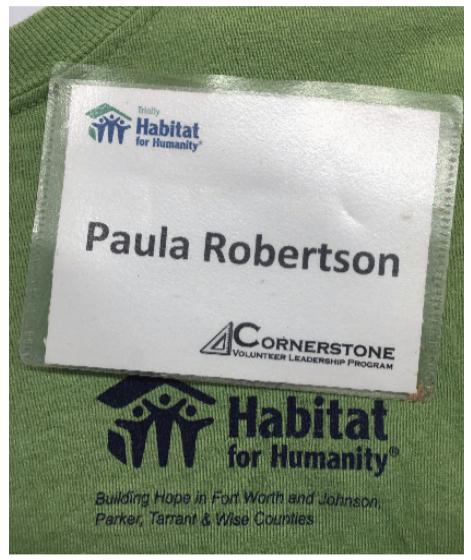 In 2017, I expanded my creative bent by completing Cornerstone College to become a volunteer leader with our local Trinity Habitat for Humanity. As a supervisor of volunteers on construction sites, I proudly wear the signature green shirt and hard hat, never mind that I look terrible in that color!
Altogether, I have practiced my craft of delivering quality in a wide variety of sizes, shapes, colors, and places. Now I am thrilled to use my editing talents to work with Dr. Craig Baehr on Intercom.
---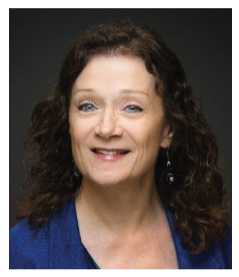 PAULA ROBERTSON is an STC Associate Fellow and Editorial Assistant for Intercom. She can be reached at finelinesdba@gmail.com.