STC has made the January/February 2022 
Intercom
,
"
Maximize Your Career Potential
" available as a 
complimentary issue 
to all who request it during #TechCommWeek. Learn how to chart a path that maximizes your career in technical communication!
CLICK HERE
to request access to this issue now through Friday, 4 February.
GET A SNEAK PEEK:
How Professional Certification Can Boost Your Career
By Craig Baehr | CPTC Chief Examiner
Objectively demonstrate your expertise and skills, regardless of your career level, specialization, or professional goals
For many of us, the pandemic has shifted our career priorities. As we look for a change of role or organization. Earning a professional certification can boost your credentials and career opportunities by demonstrating your understanding of the core knowledge, skills, and practices in the field, your performance capabilities by following standards of practice, and your commitment to continuing education by expanding your knowledge of emerging practices. It sets baseline standards for skills, knowledge, and performance across the range of products and services provided by technical communicators and the companies they work for. Professional certification is a portable credential that validates your skills through a formal examination process and continuing education requirements. It also allows you to demonstrate expertise over a broad range of core competencies and skills in technical communication. Unlike university-based programs which grant certificates on a singular, specialized topic, usually by completion of a few courses in a particular specialization (such as proposal writing or technical editing), certification programs are more broadly scoped as a professional credential. The Society for Technical Communication's (STC) certified professional technical communicator (CPTC) program certification allows candidates to demonstrate their ability to recall, recognize, and demonstrate comprehension of the theories, concepts, models, genres, and approaches outlined in the full range of the nine core competencies of technical communication (STC CPTC Study Guide – Foundation Level).
Why Professionals Seek Professional Certification
Certification enhances an individual's professional development or status in the field. It confirms that a candidate possesses the breadth of core knowledge and skills required to be a highly successful technical communicator. Certification builds professional credentials and a sense of personal achievement, as it serves as a portable career credential that has value in every organization or company, both professional and academic. It can lead to leadership opportunities or growth potential, by demonstrating a commitment to continuing education and high-quality standards, and by demonstrating knowledge and expertise in technical communication.
The Value of Professional Certification
Professional certification can help provide an added boost to your credentials and career. Certification tests an individual's knowledge and skills in the profession and validates them through an accredited third-party partnership. While technical communicators may specialize in one or more areas within technical communication, professional certification demonstrates skills and knowledge of all core competencies, in addition to their selected specializations, which span the entire range of professional occupations in technical communication.

Professional certification is an important résumé credential and an advantage on the job market, setting candidates apart from other applicants whose practical skills and knowledge have not been validated by an external entity. CPTC certification appears in job postings and requests for proposals as a required or highly desired qualification, in addition to the baseline skills required for positions or proposals. Some organizations require professional certification as a credential for higher level positions within an organization. It shows a commitment to the improvement of skills and knowledge outside of the organization and active engagement with the field, which demonstrates leadership potential in candidates. CPTC certification has application and value throughout the profession, and its benefits are realized across many industries and sectors that employ technical communicators. It has international recognition as a quality indicator of knowledge, skills, and practices in technical communication.
Continuing Education and Ongoing Knowledge
For certification to retain its currency, continuing education requirements are required to prove the candidate's knowledge and skills are current with trends in the field. These requirements may vary in length, scope, or type, such as participation or presentation at professional conferences, completing additional training or short courses on related subjects, active membership in professional societies and groups, or even publishing articles or papers on related subjects. In these and other ways, professional certification encourages candidates to remain current and relevant in a constantly changing profession by learning and demonstrating new knowledge, skills, and practices. Certification also demonstrates a sustained commitment to technical communication by supporting a higher standard of knowledge and skills for professionals. These standards also encourage a breadth of expertise across nine core competencies that represent the range of knowledge and skills technical communicators possess in their professional careers. And through many of the other benefits and goals of a professional certification program, including learning new skills and staying current and up-to-date with existing skills. By sharing that knowledge with others in the profession through activities such as mentoring, presenting, and publishing, certified professionals are demonstrating their commitment to the ongoing growth and development of the field of technical communication.
Employers Benefit from Certification
Hiring new employees is time consuming and costly. Certification can help to accelerate that process. It helps to objectively validate the knowledge and skills of current and potential employees. A CPTC certification allows organizations to differentiate between potential candidates for advancement or leadership roles. Certification also demonstrates a higher level of engagement and commitment to improved product and project quality. It helps professionals stay current in the profession, which ultimately benefits the business and can help reduce the risk of poor-quality products. Certified practitioners also enhance qualifications within work teams, through demonstrating best practices to colleagues.
Professional Certification Benefits Any Career Level
As a multi-tiered program, CPTC provides opportunities for credentialling technical communicators at different career levels, whether entry-level, intermediate, or senior. While candidates begin testing at the foundation level, they can move on to demonstrate mastery at the practitioner and expert levels as they progress in their knowledge and skills. The foundation level, designed for entry-level professionals, measures a candidate's general knowledge of the field and the ability to demonstrate comprehension of best concepts and practices. At the practitioner level, designed for mid-level professionals, candidates demonstrate mastery of applying best practices and current knowledge in the field as well as the ability to analyze complex problems and devise best practices and solutions. And finally, at the expert level, designed for senior-level professionals, candidates demonstrate expert competency through the creation and management of complex and successful projects, which are evaluated by a panel of experts in the field of technical communication.

Professional Certification Encompasses a Broad Range of Competencies and Specializations
Regardless of your specialization or job title within technical communication, the nine core competencies seen in Table 1 cover a breadth of knowledge and skill areas representative in all work specializations. At the practitioner and expert levels, these nine core competencies are organized into four major areas of specialization, which include project planning and analysis, visual communication, content development and organization, and writing and editing strategies. Each of these areas represents important functional areas of expertise within technical communication practitioners and their professional roles.
Project Planning and Analysis: This specialization area encompasses the core competencies of project planning, project analysis, and production and delivery, which are required in the planning and development of projects. This area covers the major phases of the technical writing process, methods of user analysis, developing research methodologies, as well as determining project scope and context. Additionally, it covers best practices for working on technical communication teams, setting goals, standards, and outcomes, and comparing them to the finished product, as delivered to its intended users.
Visual Communication: This specialization also represents one of the nine core competencies. However, due to its integral role information design and electronic publications, such as websites, PDFs, and the like, it is represented as one of the four major specializations in the field. Visual communication is well suited for information designers and encompasses both principles and practices of design work. Basic design principles, which are derived from design theories and research, include alignment, balance, contrast, consistency, and grouping, used in developing design products and layouts. Visual communication as a specialization area also covers methods and best practices for developing information graphics for use in technical reports and publications, including line graphs, bar charts, pie charts, tables, and other illustrations.
Content Development and Organization: This specialization area includes the content development, organizational design, and content management core competencies, which are required of technical communicators with the primary responsibilities of writing, organizing, and managing content for technical products and the teams that create and manage content. This area focuses on six major genres of technical writing products, including correspondence (email, memos, etc.), technical descriptions, instructional documents, proposals, activity reports, and analytical reports. It addresses both content and organizational patterns used for each genre, different types of reports, and methods for adapting genres to fit product, user, or organizational constraints. Managing and developing electronic content and documents, including methods for developing basic websites and adapting and writing content for various social media platforms, is also included in this specialization area.
Writing and Editing Strategies: This specialization includes the written communication and reviewing and editing core competencies, which are skills typically required for virtually all technical communication professionals, but often require specialists to handle the more complex aspects of writing content. Often thought of as the bread and butter of technical communication, the ability to write and edit clear, concise, and accurate content is at the core of the profession. Editing also includes the ability to recognize different levels of editing as well as usability testing methods that can be used in the editing and revising process.
So, whether you're an entry-level enthusiast, seasoned mid-career practitioner, or a veteran in the field, professional certification has potential value at all levels. It allows you to demonstrate the skills you have and encourages you to acquire others through continuing education and training throughout your career.
Validate Your Knowledge with Certification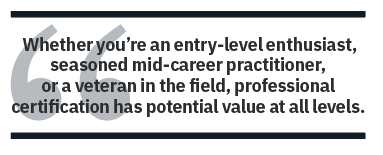 Professional certification is a great way to boost your career and build your expertise and skills, regardless of your career level, specialization, or professional goals. The nine core competencies of technical communication are representative of the breadth of skills and areas of expertise that represent the profession. Certification begins at the foundation level, for entry-level career professionals and continues through practitioner and expert levels, too, so there is growth potential in acquiring higher levels of professional credentials throughout your career.
Professional certification is ideal for individuals who have professional experience in other fields but are looking to specialize more in technical and professional communication.
Consider CPTC certification as the résumé booster that validates your knowledge, so you can move to the next level in your career. Learn more at https://www.stc.org/certification.
---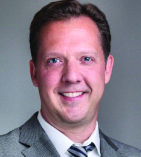 CRAIG BAEHR, PhD
(
stcbaehr@gmail.com
) is an STC fellow, CPTC chief examiner, accredited professional trainer, instructional designer, and published author with more than 25 years of technical communication experience. He serves as immediate past president on the STC Board of Directors, chief examiner for the Certified Professional Technical Communicator program, chair of the Certification committee, and board liaison for the Education and TCBOK committees. Baehr is author of three books, Web Development: A Visual-Spatial Approach; Writing for the Internet: A Guide to Real Communication in Virtual Space; and The Agile Communicator: Principles and Practices in Technical Communication. He also serves as associate editor on the editorial board of IEEE Transactions on Professional Communication. He has worked in both academia as professor and graduate director of technical communication at Texas Tech University and in industry as technical writer/editor, web developer, and program director for the U.S. Army Corps of Engineers.
---