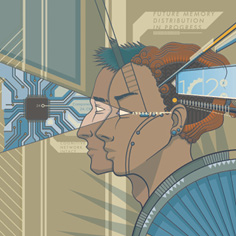 For this cover, we extended the concept of wearables to the future of authoring and digital distribution in technical communication. Technical communication practitioners and scholars have begun to discuss the impact of wearables (Rauch, 2014; Armfield, McGrath, Hill Duin, 2015), and we use this cover to imagine a reality in which wearables are computer chips embedded in the brain meant to interface with the distribution of content. In this cover, technical communicators directly connect with users in developing systems meant to support the creation and curation of people's memories. The cover does this by calling attention to the ethical responsibility of technical communicators as they develop content used by wearables. By imagining memory as distributed by and stored on a computer chip, the image invites conversation about the future of authoring and digital distribution in technical communication.
Armfield, D., McGrath, M., and Hill Duin, A. (July, 2015). Disrupting Identity through the Materiality of Wearable Technologies. Paper presented at the International Professional Communication Conference (ProComm), Limerick, Ireland.
Rauch, M. (May, 2014). Wearable Technology and Google Glass—Why It Matters. Paper presented at the Society for Technical Communication Summit, Phoenix, AZ.
About the Artists
Benjamin Lauren is an Assistant Professor of Experience Architecture (XA) in the Department of Writing, Rhetoric, and American Cultures at Michigan State University, where he teaches professional writing, XA, and rhetoric and writing. He is also a Writing, Information, and Digital Experience (WIDE) Researcher. His research focuses on how people manage creative and collaborative activities in a variety of professional contexts. Other recent projects have addressed mobile application development, workplace environment design, agile and lean project management, and play-based training. He is available at blauren@msu.edu.
Adam Taylor is a third-year MFA candidate at Michigan State University in the Department of Art, Art History, and Design. Previous to attending graduate school, Adam was an in-house print designer and illustrator for a research institution at the University of Utah. Adam's current area of research explores the contexts through which individual memories are recalled and transcribed and how technical systems intervene, interpret, and visualize these memories in community place-making experiences. He is available at taylo993@msu.edu.
Rebecca Tegtmeyer is an Assistant Professor in the Department of Art, Art History, and Design at Michigan State University. Through her active research, writing, making, and teaching agenda she investigates the role of a designer and the design process through a variety of forms—from static to dynamic, time-based to print. Working both individually and collaboratively, she approaches design as catalyst in facilitating systems that preserve, protect, and provide—further extending the capabilities and responsibilities of a designer in today's complex world. She is available at tegtmey2@msu.edu.
Honorable Mentions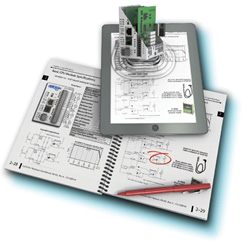 My illustration, created with Solidworks 3DCAD software, argues that, in the future, a 3D virtual counterpart of every manufactured product will be available to convey technical communication, and it invites practitioners to imagine the potential implications of this technology. Created with an assembly of original 3D models, it depicts a chain of conventional mediation from the printed manual to the digitally mediated iPad e-book file to an imagined data-saturated 3D virtual object*, which, in a fanciful scenario, appears to emerge from the iPad screen.
In the future, 3D virtual objects, laden with content and embedded metadata, will be deployed for rhetorical purposes. I imagine also these 3D virtual counterparts will have the potential to serve as "[q]ueriable illustrations" (Nelson, 1974, p. 19) that operate as an integrated multimodal interface to the flow of underlying technical data available in the "Internet of Things" (Ashton, 2009, para. 1). The elements and features that make up the 3D model might act as an index to associated or embedded content. When a user interrogates the model, the 3D counterpart can be materialized into multiple forms and expressed in a wide variety of genres to serve the needs of the user.
*Permission to map pages from the CLICK PLC Hardware User Manual to the 3DCAD model and to reproduce a model of the CLICK PLC was graciously provided by AutomationDirect.
Ashton, K. (2009). That 'Internet of things' thing, in the real world things matter more than ideas. RFID Journal. Retrieved from http://www.rfidjournal.com/articles/view?4986
Nelson, T. (1974). Computer lib/Dream machines. Chicago, IL: Hugo's Book Service.
About the Artist
Tom Burns recently completed his PhD in technical communication and rhetoric from Texas Tech University and works as a technical illustrator and information designer for AutomationDirect. The 3DCAD models he creates are used to illustrate product inserts, manuals, online publications, and marketing materials. His research interests include multi-modal illustrations, 3D interactive documentation, the visual grammar of 3-D illustration, and the potential of 3DCAD to expand the domain of technical communication. He is available at tomkburns@gmail.com.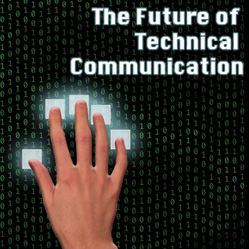 As society adopts new and exciting technologies, it is the role of technical communicators to adapt with these changes. This illustration tries to simply and effectively portray this.
The background was chosen because it is an instantly recognizable depiction of technology. The hand is interacting with the background, pressing on it, implying a direct interaction between the user and the technology. The blue glow that emits from this interaction is repeated in the title. This is done for two reasons: (a) to institute a repetitive element to give a sense of cohesiveness, and (b) to reinforce the idea that the future of technical communications lies in this human-technology interface.
About the Artist
Tyler Duniho is a first-year student in the Masters of Professional Communication program at Clemson University. After graduating, he plans to pursue a career in the field of technical communication. He currently lives in Anderson, South Carolina, with his wife and husky. He is available at tduniho@g.clemson.edu.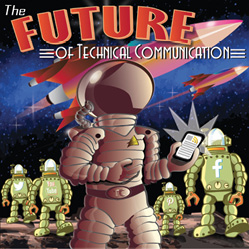 This 1940s pulp throwback takes us back to our roots while looking forward. Effective communicators have always tried to communicate using the mediums that their audiences want. Fortunately, this is becoming easier with advances in technology. The robots represent forums and other social media that encourage people to create authentic and up-to-date content. These outlets give communicators the ability to interact with audiences to better understand their needs. As encouraging as this is, audience engagement also presents challenges. A technical communicator could be drowned out when the audience's voice is added to the mix. Like the astronaut in the graphic, a communicator's role should evolve to welcome these voices and lead them to curate content. By working together, technical communicators can continue to create innovative and engaging content.
About the Artist
Jean-Guy Richard has always been interested in graphic communication. After earning a commercial design degree on Prince Edward Island, he immigrated to California as a graphic artist/illustrator, then worked as an illustrator/multimedia designer at a Midwestern major computer company. He is currently a graphic artist/illustrator at D2 in South Dakota. He is available at JeanGuy.Richard@d2worldwide.com.
The artist's note was composed by Mikara Bonham, a new member of STC and a writer at D2.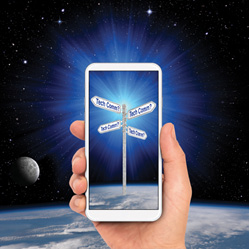 Lao Tzu wrote: "Those who have knowledge, don't predict. Those who predict, don't have knowledge." Predicting the future of technical communication, in particular, is no less problematic.
The clearest prediction seemingly comes from looking at trends in how people have already been viewing information. In 2014, Internet usage on mobile devices already exceeded usage on desktop devices. In the future, it seems clear that mobile devices will dominate the world of technical communication, while delivery via paper and desktop computers will shrink. (Hence, the image of the cell phone looking down toward the earth.)
Beyond that obvious prediction, however, details about the development and deployment of mobile information as well as other directions in technical communication seem much less clear. (Hence, the image of the question marks on the sign post inside the cell phone's screen.)
Nevertheless, although specifics are hard to predict, humanity will always need information—whether in the form of text, illustrations, and/or video—presented in a clear, concise, complete, and compelling way. (Hence, the starburst.)
The cover illustration is a heavily edited collage of multiple images—of the earth, moon, space, starburst, hand with phone, and a signpost.
About the Artist
Mark Stucky has been a technical communicator and an STC member for nearly 25 years. He has documented diverse products, including satellite communications, power amplifiers, custom truck bodies, and building automation controls. He has two master's degrees and currently works for KMC Controls. See more on https://www.linkedin.com/in/markstucky. He is available at markdstucky@gmail.com.