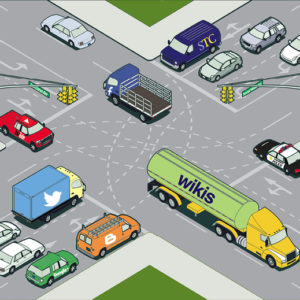 A recent Google search of "social media in technical communication" revealed a number of visually powerful images that included a rewiring of our brains, the coming down of walls, and the intersecting of ideas regarding social media and the traditional roles of technical communicators. Of these, I chose the image of an intersection as the foundational idea for my cover illustration. Many technical communicators haven't embraced social media and still view its varied forms as intruders in the world of technical writing. And as much as these professionals would like social media to go away, modern trends demonstrate that social media is not going away and that it will continue to transform how we communicate.
For these reasons, my illustration orchestrates both social media and technical communication into a working model using the traffic intersection metaphor. Instead of a chaotic intersection rife with accidents, this intersection is effectively managed using traffic signals and traffic control patterns. Not only does the intersection convey an intersection of communicational forms, but it also conveys an intersection of ideas, attitudes, and behaviors.
Image Credit: iStock by Getty Images, standard license purchased / Edits and additions by Richard T. Mangum
About the Artist
Richard T. Mangum is an assistant professor at Embry-Riddle Aeronautical University, where he teaches technical communication. He also is a PhD student in the Technical Communication and Rhetoric program at Texas Tech University. He lives with his family in Arizona, where life is always an adventure. He is available at mangumr@erau.edu.