Certified Professional Technical Communicator (CPTC) Foundation
The purpose of the Foundation qualification is to measure whether a candidate has sufficient knowledge and comprehension of the Technical Communication Today text to act as an informed member of a technical writing or a technical communication team within their professional work or in their organization.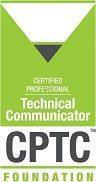 The successful candidate should be able to recall, recognize, and demonstrate comprehension of the theories, concepts, models, genres, and approaches outlined in 9 key areas:
Project Planning
Project Analysis
Content Development
Organizational Design
Written Communication
Visual Communication
Reviewing and Editing
Content Management
Production Delivery
About the Exam
The body of knowledge STC is using for the Foundation exam is Richard Johnson-Sheehan's Technical Communication Today. You can use the Fifth or Sixth edition to study for the exam.  More information on the certification program and the nine areas can be found in the January 2016 and March 2017 issues of Intercom.
The test is 50 questions, closed book. Test takers will have 40 minutes to complete the test under a proctor or online.
Once an applicant passes the test, he/she will be issued a certificate and entered into the STC certification database. Certificant's names will also appear on the STC and APMG websites under a list of current, certified practitioners.
Additional Resources
Candidates who intend to self-study may wish to review the STC Foundation Study Guide and Sample Questions before taking the exam. There is also a sample test you can take on the APMG site. You will want to find the exam: Certified Professional Technical Communicator (2015) Foundation from the drop down list.
Exam Cost
STC offers two-tier pricing to take the exam:
$260 for current STC members
$515 for nonmembers
Your exam fees will be processed in GBP. This cost may be translated into other currencies such as the Euro at the rate applicable at the time. There is currently no discounted pricing for less-developed areas of the world. The Foundation level has no educational attainment or work experience requirement to sit the exam.
Accredited Training Organizations
STC partners with a U.K.-based firm, APMG International, that specializes in professional certification administration, following ISO 9001 standards. The test is available online from APMG or through training organizations authorized by APMG. These trainers will combine a training session or sessions with the administration of the Foundation exam. If you or your organization are interested in knowing more about the requirements to be an authorized trainer, please contact Jennifer Hepler, APMG Business Development Manager, at jennifer.hepler@apmg-international.com.
Continuing Education Requirements
Continuing education units (CEUs) for CPTC Certification are point-based. Certifications will be in good standing if a technical communicator keeps current with continuing education requirements by achieving 12 points over a two-year period from the date of certification to remain current. At the end of the two-year period, point accumulation begins again.