Certified Professional Technical Communicator (CPTC) Practitioner
The purpose of the Practitioner qualification is to confirm whether the candidate has achieved sufficient understanding of how to apply and analyze Technical Communication guidance in a given organizational communications situation. A successful Practitioner candidate should, with suitable direction, be able to start applying the Technical Communication approaches and techniques to a real technical communication project but may not be sufficiently skilled to do this individually for all situations. Their Technical Communication expertise, complexity of the communications scenario, and the support provided for the use of Technical Communication approaches in their work environment will all be factors that impact what the Practitioner can achieve.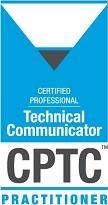 The successful candidate should be able to understand and apply technical communication concepts, guidelines and processes, to offer relevant insights and ideas that can aid decision taking.
Specifically candidates should be able to:
Plan and manage the work of technical communication teams
Identify the different types of readers and develop reader profiles
Define a research subject, formulate research question and develop a research methodology
Triangulate evidence, document sources and appraise evidence for an information product
Identify suitable content for an information product and organize the content of the product in the recommended pattern of arrangement for that product
Identify changes required to improve the writing style of a technical communication
Identify suitable graphics to present in a given set of data
Identify suitable changes to improve the visual design of an information product
Make edits to an information product appropriate for the required level of editing
Propose an approach for usability testing an information product
Propose appropriate Internet solutions for workplace communications.
About the Exam
The body of knowledge STC is using for the Practitioner exam is Richard Johnson-Sheehan's Technical Communication Today. You can use the Fifth or Sixth edition to study for the exam.
The test contain four questions containing 20 question-lines based on scenarios. Test takers will have 100 minutes to complete the test under a proctor or online.
Once an applicant passes the test, he/she will be issued a certificate and entered into the STC certification database. Certificant's names will also appear on the STC and APMG websites under a list of current, certified practitioners.
Additional Resources
Candidates who intend to self-study may wish to review the STC Practitioner Study Guide before taking the exam. There is also a sample test you can take on the APMG site. You will want to find the exam: CPTC Practitioner from the drop down list.
Exam Cost
STC offers two-tier pricing to take the Practitioner exam:
$380 USD for current STC members
$645 USD for nonmembers
Exam fees will increase on 1 January 2023. The exam fees on 1 January will be:
$418 USD for current STC members
$710 USD for nonmembers
Your exam fees will be processed in GBP (Great Britain Pounds). This cost may be translated into other currencies such as the Euro at the rate applicable at the time. There is currently no discounted pricing for less-developed areas of the world. If you do not pass the exam you must register again, and pay the full exam fee to retake the exam. The Practitioner level has no educational attainment or work experience requirement to sit the exam.
Accredited Training Organizations
STC partners with a U.K.-based firm, APMG International, that specializes in professional certification administration, following ISO 9001 standards. The test is available online from APMG or through training organizations authorized by APMG. These trainers will combine a training session or sessions with the administration of the Foundation exam. If you or your organization are interested in knowing more about the requirements to be an authorized trainer, please contact Darlene Irving, APMG Business Development Manager, at darlene.irving@apmg-international.com.
Continuing Education Requirements
Continuing education units (CEUs) for CPTC Certification are point-based. Certifications will be in good standing if a technical communicator keeps current with continuing education requirements by achieving 12 points over a two-year period from the date of certification to remain current. At the end of the two-year period, point accumulation begins again.