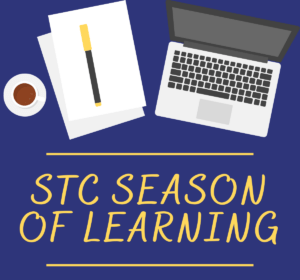 STC 2021 Season of Learning
The Society for Technical Communication is thrilled to launch the 2021 STC Season of Learning! Each month from July to September 2021, STC will provide FREE access to a series of themed education recordings exclusively to members. Whether you're looking to sharpen your skills for your current role, expand your knowledge for new opportunities, or are just starting your career in technical communication, STC wants to help you achieve your goals.
To access the content, simply click on the title below during the appropriate month to view the recording. A short registration form will need to be completed on the platform (Zoom and GoToWebinar platforms are used). Please note: the list of the below programs is subject to change.
Looking for more educational content? View STC's upcoming live webinars and online courses, or visit the STC Store to purchase past recordings.
Questions? Contact membership@stc.org
Available Programs
Tech Comm Essentials
(available 1 September – 3o September 2021)
Technical communicators help ensure their work and the applications they support are in fact usable on an array of mobile technologies. But how can a usability specialist conduct a remote usability testing session on a smartphone? Also, online work environments make the technical communicator's job more difficult when considering issues of usability and usability testing when the world shut down due to the COVID-19 pandemic. Learn more about these topics and get tips and suggestions—as well as recommend some budget friendly software—for conducting remote usability tests.
The discipline of technical documentation has been around for a very long time, but the discipline of content strategy and content design is still fairly new on the world stage. This webinar will explain how to integrate these two different worlds into the same strategy; combining the best of both in a way that makes sure all your content aligns with what users expect today.
According to the World Health Organization (WHO), close to 37.5% of the global population has at least one disability. Learn about things that we can do to make our documentation better for people with disabilities, such as improving color contrast ratios, using styles to create more accessible PDFs, adding captions to videos, and more.
The world has moved away from heavy, dense, linear manuals. Users refuse to read long topics and want short, simple answers. Companies are moving to cloud-based content and a lighter touch in tone and style. Learn to adapt techniques of minimalism to your legacy content and create lighter, simpler, more streamlined information solutions.
Learn a New Skill
(available 1 August – 31 August 2021)
In this webinar, designed for anyone interested in search engine optimization, attendees will learn how to leverage their existing competencies and make meaningful contributions to an organization's organic SEO or Search Engine Optimization efforts.
In this webinar, you'll learn about the added value of infographics and how to leverage them in documentation. We'll discuss the main infographic types: workflows, data flows, and conceptual infographics, and how to plan your own infographics. We'll also share tips on how to leverage visual language cues to get your message across, create interactive infographics, and use free resources to enhance your infographics.
Technical illustrations visually depict complex concepts and convey the intended information to the end user in a comprehensible and engaging manner. Learn how to decide if your material should be depicted visually, the different types of technical illustrations, raster versus vector images, types of colors (CMYK versus RGB), and various forms of graphical projections.
In this talk, we will discuss tips and tricks for all three stages of an interview—preparing, conducting, and following up. We'll discuss how to use the principles of both journalism and technical communication for an efficient and productive interview.
---
Upcoming Programs
---
Past Programs
Professional Development
(available 1 July – 31 July 2021)
Career Advancement Through Personal Branding
How is content strategy and technical communication viewed in your organization? Do the C-Suite executives think of your department as a core part of the development team, or a burdensome commodity to be acquired at the lowest possible price given an acceptable level of quality? What can you be doing to promote your corporate value and advance your career? Watch this webinar and find out!
The 5 Pillars of a Successful Tech Comm Career
This webinar is intended for beginners or those who are new to the industry. It will lead you through each of the pillars and provide the knowledge, skills, and abilities you need to acquire to be successful in tech comm over the long haul.
Show Off Your Skills With a Practical Portfolio
A good portfolio is the best way to highlight your skills and abilities. It goes much further than your resume or CV; it can show prospective employers or clients the quality of your work, while giving you an opportunity to showcase how you solved problems.
Resume Workshop: Four Secrets to a Killer Resume
This program may radically change how you think about résumés! The skills you learn in this session will allow you to effortlessly tailor your résumé for any job you want and win opportunities to interview.